Red White Blue And Simple To Do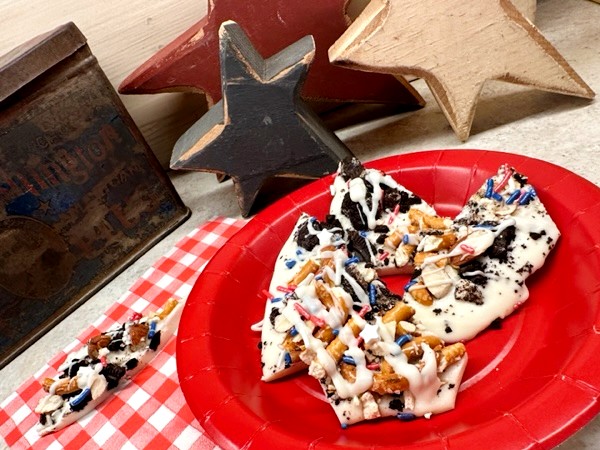 If you want something festive and colorful to bring to a summer picnic, make some Oreo Bark! The kids would love to help create something this fun and tasty! This candy is so easy to do; it's crazy.
Microwave almond bark, white baking chips, or white chocolate with a little bit of coconut oil until you can pour it into a puddle on a parchment-covered baking sheet, then add crushed Oreos, crushed pretzels, chopped toasted almonds, festive sprinkles, and chill, that's it!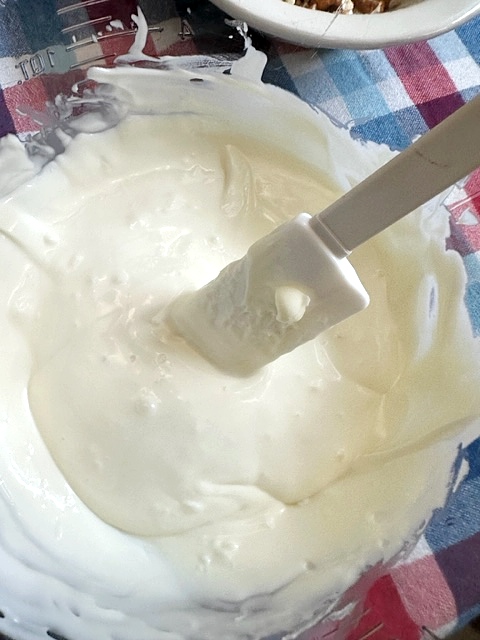 Yes, the white candy base ingredients are interchangeable in this recipe. Wikipedia defines almond bark this way; "Almond bark is a chocolate-like confection made with vegetable fats instead of cocoa butter and with coloring and flavors added." White baking chips are pretty much the same thing.
If you check the labels on both products, you will see they are essentially the same thing. White baking chips are far faster and easier to melt than almond bark, so I always pick the easy way!
I almost always have inexpensive white baking chips in the cupboard because they are an amazing addition to cookies of nearly every kind (try them in oatmeal cookies!) I always use them in my super easy Busy Day Lemon Bars for the creamy texture they add!
Of course, you can also use white baking chocolate if it's real chocolate you crave. Here's solid information from America's Test Kitchen about which to use and why.
Here's What You Need To Make This Festive Oreo Bark
I had no idea that Oreos have so many varieties or they have such a robust website! I was amazed! I became intrigued when I made an Oreo Dirt Cake earlier in the week! I had forgotten just how good Oreo cookies are and looked for more inspiration! That's where I found this fun idea for Oreo bark!
I was amazed at how many recipes I found using America's number one cookie! Here are a few highlights from Wikipedia as it describes Oreos! Oreo is a brand of sandwich cookie consisting of two chocolate biscuits or cookie pieces with a sweet creme filling.
It was introduced by Nabisco way back on March 6, 1912, over a century ago! Oreo cookies are available in over one hundred countries, and as of 2014, it is the best-selling cookie in the world!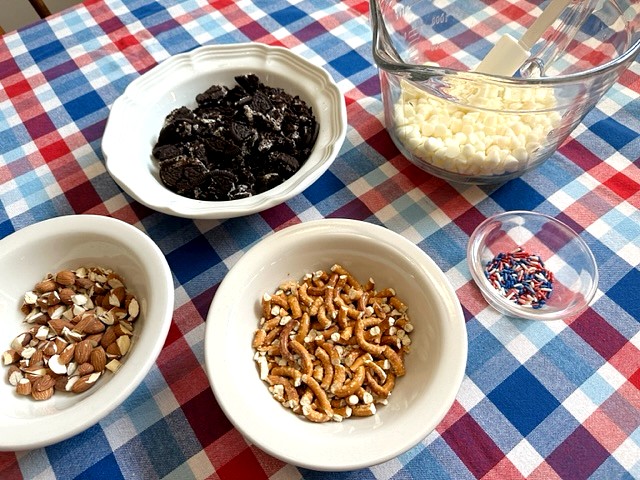 Prepare the toppings and have them ready to sprinkle on before the chips cool and set. Crush the Oreos and the pretzels into small pieces. Chop the almonds coarsely, and if you like, toast them in the microwave for a minute and a half in thirty-second increments, stirring in between.
I used my trusty Pampered Chef Batter Bowl because it works great in the microwave and has a convenient pouring spout! I used one bag of white baking chips for my recipe for the base. The package says the bag contains about two cups. I added about a teaspoon of coconut oil to help them melt better.
Ready Set Go Let's Make This Fun Oreo Bark Candy
Cover a rimmed baking sheet with parchment paper and melt the baking chips in the microwave. Melt them in thirty-second bursts, stirring in between, until it's pourable.
Pour the melted chips onto the parchment paper and use a spoon to spread it out to about 1/4 of an inch thick. Working quickly, sprinkle the toppings on the soft candy base and gently press it into place.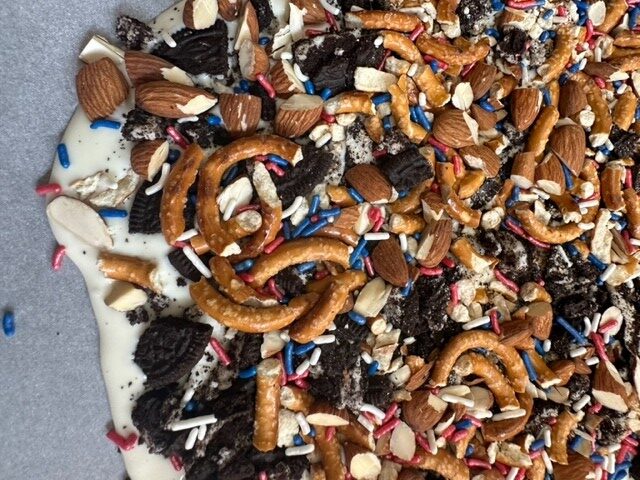 Finally, melt one cup of the chips and drizzle it over the top, adding more toppings and sprinkles if you like. This will help "glue" the toppings in place. All that's left to do is refrigerate the candy until it is firm and break it into pieces to serve.
Keep the Oreo bark in a tightly sealed container; if it's not all gone within two weeks, you can freeze it for up to six months!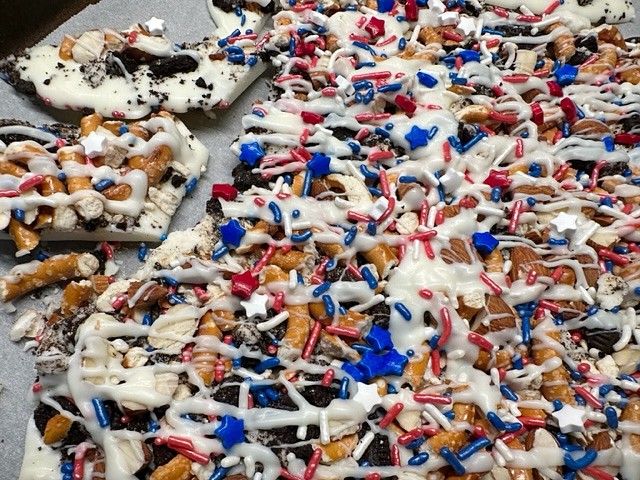 What a fun thing to bring to a picnic or potluck! You could add dried cherries or craisins for more color and use pecans, walnuts, or peanuts instead of almonds! Feel free to switch up the toppings!
Yield: 18 servings
Oreo Bark Candy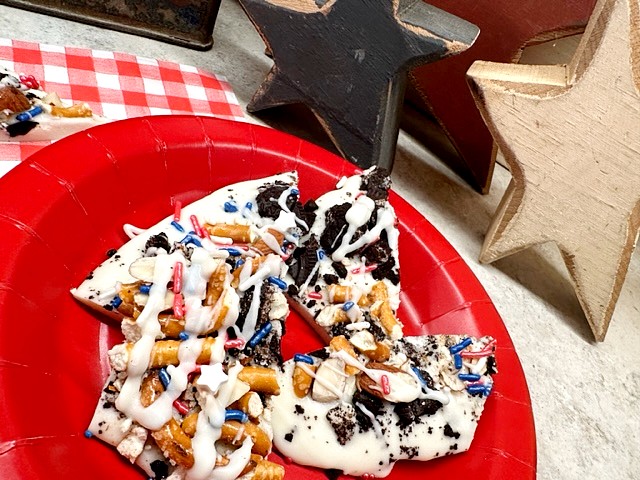 A fast, fun, and festive candy treat using Oreos, pretzels, almonds, and sprinkles in a base of melted white baking chips. Warning: addictive.
Total Time
2 hours
10 minutes
Ingredients
3 cups of white baking chips, divided
1 tsp coconut oil
7-8 crushed Oreos
1/3 cup crushed pretzels
1/4 cup chopped almonds, toasted if you desire
1 Tbsp festive red or patriotic sprinkles
Instructions
Cover a rimmed baking sheet with parchment paper.
Have all toppings ready to add before the baking chips set.
Melt two cups of baking chips with coconut oil in the microwave. Stir between each thirty-second burst until pourable.
Pour the melted chips on the parchment paper and use a spoon to spread it into a puddle about 1/4" thick.
Working quickly, sprinkle on the toppings and press them gently into the melted chips.
Melt the remaining white baking chips and drizzle the melted chips over the toppings to help "glue" them in place.
Add more sprinkles or topping as desired before the melted chips solidify.
Refrigerate for two hours or until the base is firm.
Break into serving-size pieces.
Keep candy in a tightly sealed container and refrigerate.
This candy can be frozen for up to six months.
We have a big sweet tooth here at Yeyfood, especially one person I will not name! We love candy, especially when it's easy to make. Here are some of our most popular recipes! Fantasy Fudge, Chocolate Peanut Butter Balls, and Saltine Cracker Toffee.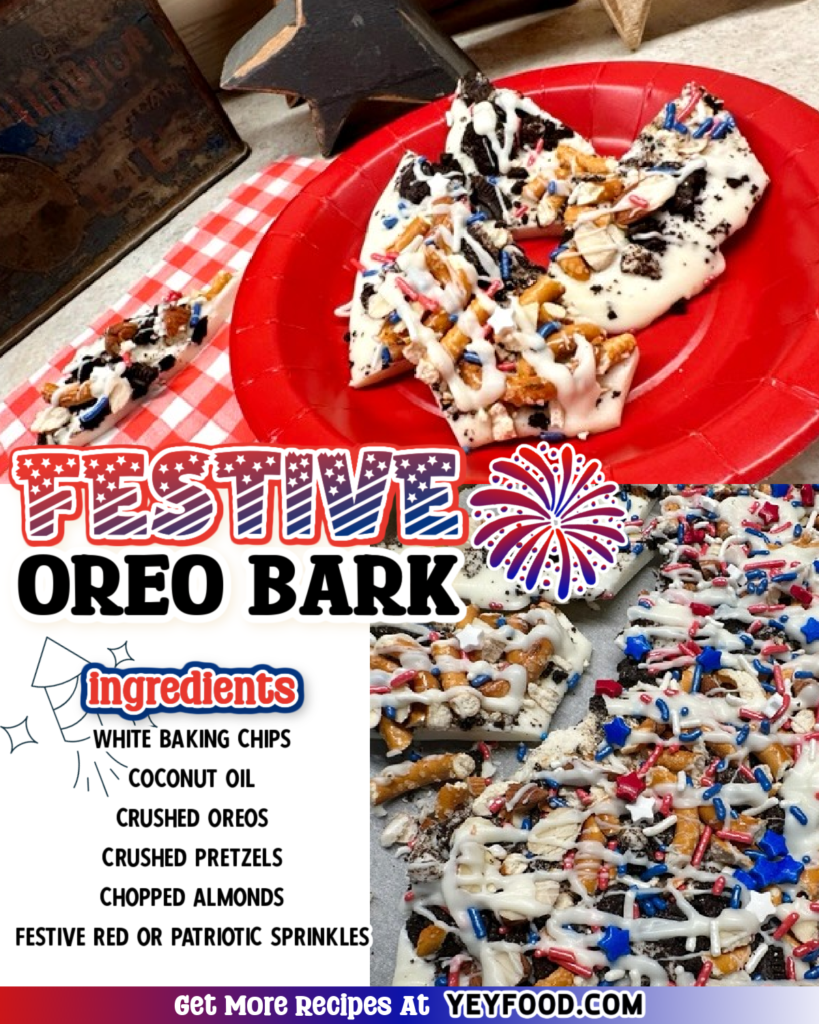 MORE OF OUR AMAZINGLY TASTY RECIPES: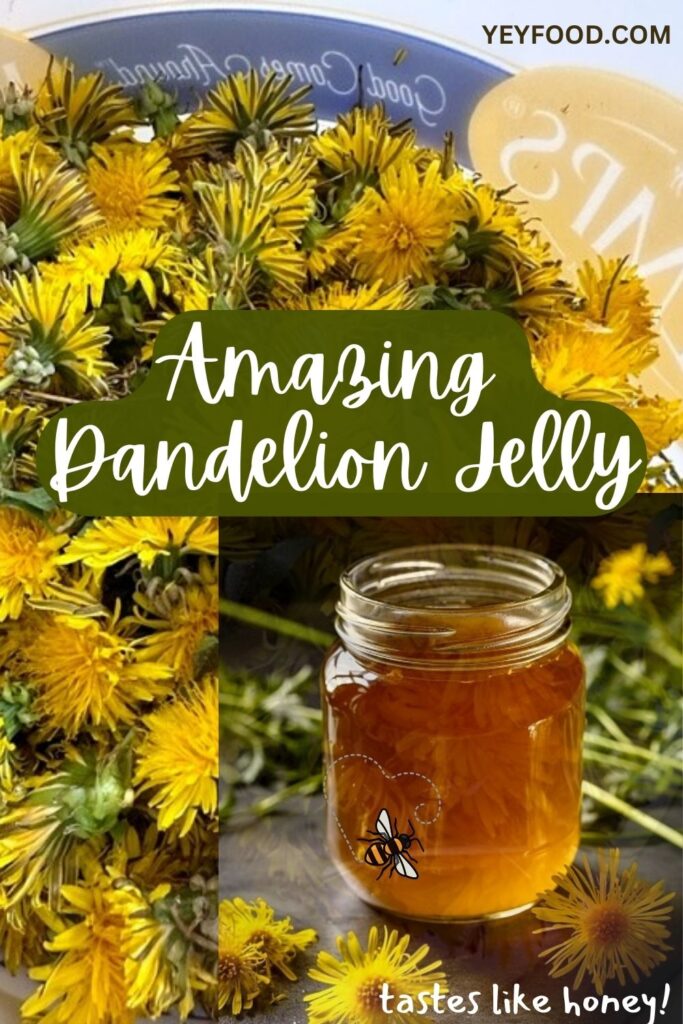 4 Reasons You Should Freeze Some Sweet Corn This Summer
How To Make The White BBQ Sauce That's Fascinated Us Since 1925
German Sauerkraut Casserole With Bacon And Brown Sugar
If you like these recipes, you are our people! You can check some related articles below or search via categories on the right. But be warned; you will be on here for hours. Enjoy!