Make Amazingly Tasty Jelly From Your Pesky Yellow Weeds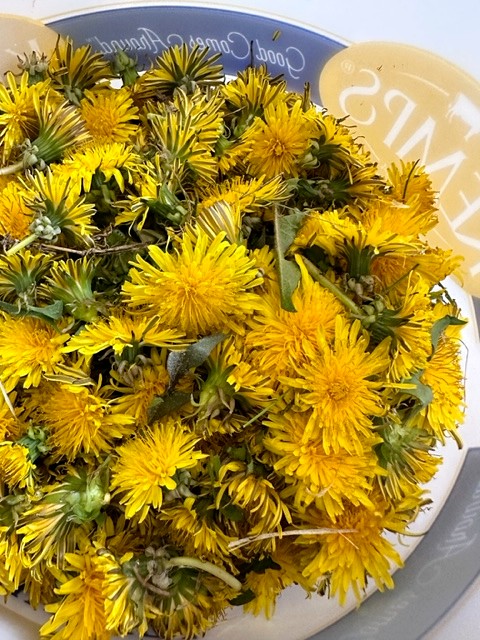 I've always been curious about making dandelion jelly, but this week I made up my mind to embark on the adventure and get it done. I have a complicated love/hate relationship with dandelions. This project made me love them, well maybe a little bit.
We live on two semi-rural acres. It's an old property and the soil is not particularly good so it's a battle to keep grass growing and weeds out. I hate the way those pesky yellow flowers mess up my dream of a lush, green carpet of grass.
On the other hand, I love their fascinating yellow flowers when I take a closer look at them and I admire their tenacity and ability to grow despite harsh conditions. Dandelions are rich in symbolism. You might find this article interesting.
One of my little treasures is this embroidered dandelion. It was hand stitched by my aunt in Denmark and it's probably eighty or more years old. It was once a pillow, but when it was too worn to use, I rescued the center and had it framed almost fifty years ago as a reminder of just how artful they are. It always makes me smile.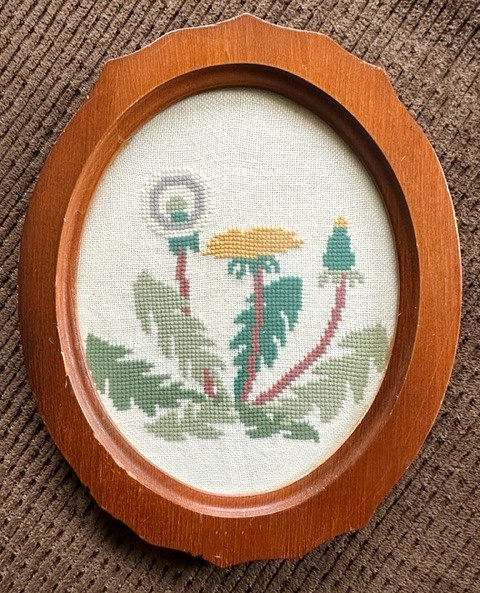 Dandelion Jelly Is A Sweet and Surprisingly Nutritious Treat
Yes, those pesky yellow flowers can be used to make beautiful, delicious dandelion jelly. The amber color makes it look like honey and it has a delicate honey-like taste with a hint of floral. Once you have picked the flowers and pulled the petals, it's easy to make.
The best time to pick the flowers is midday when the blossoms are fully open. Make sure the dandelions have not been sprayed, and stay away from picking any that are right along a highway where exhaust fumes could settle.
If you have children, it would be a great job for them. 😉 This isn't me in the picture, but my back and knees ached after filling my ice cream bucket with the blooms. I found myself envious of how big her flowers were and what flexible knees she has!!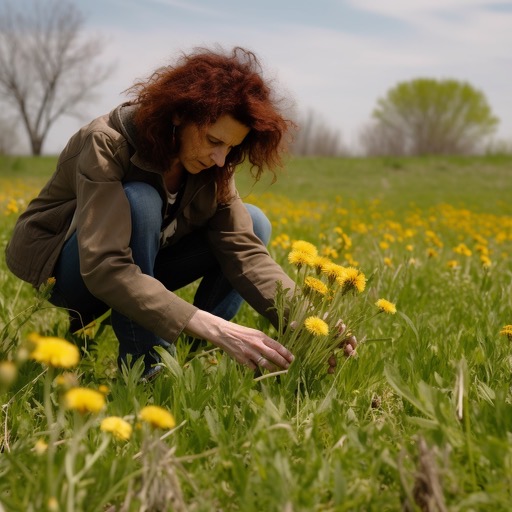 At last, I had filled a five-quart ice cream bucket and headed for the house to extract the two or more cups of petals I would need to make my first batch of dandelion jelly.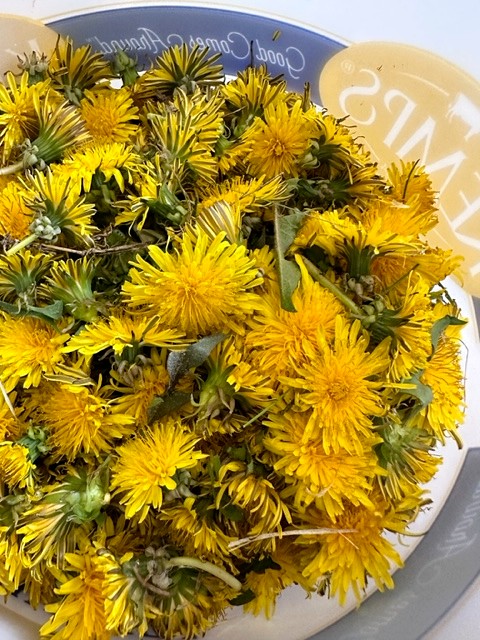 There is no fast way to do this, but the fastest way is to grab the green part under the flower between your fingers and sort of roll it while you pull out the feathery petals. Patience helps because you will need two or more cups of the petals to make your first batch of dandelion jelly.
Your fingers will look like this, but it washes off easily. The yellow pigment is amazing.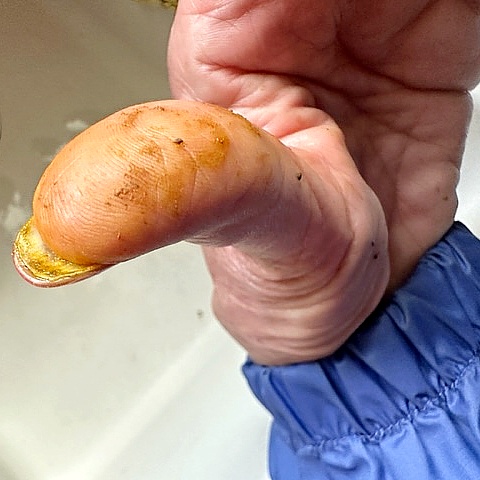 At last, you will have two cups of petals you need to make some "dandelion tea."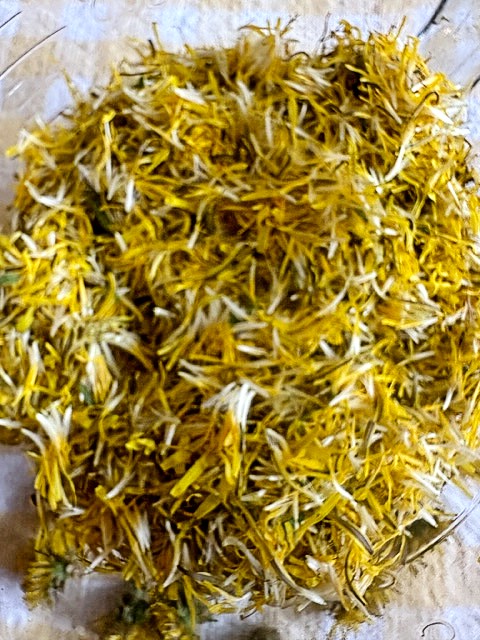 It's okay if you get a little of the green parts mixed in with your petals but it will affect the color, making it more amber than yellow. Avoid getting too much green, because that part is bitter.
Pour four cups of boiling water over the petals and let them steep in the refrigerator overnight. Here is what your "dandelion tea" will look like when it's steeping.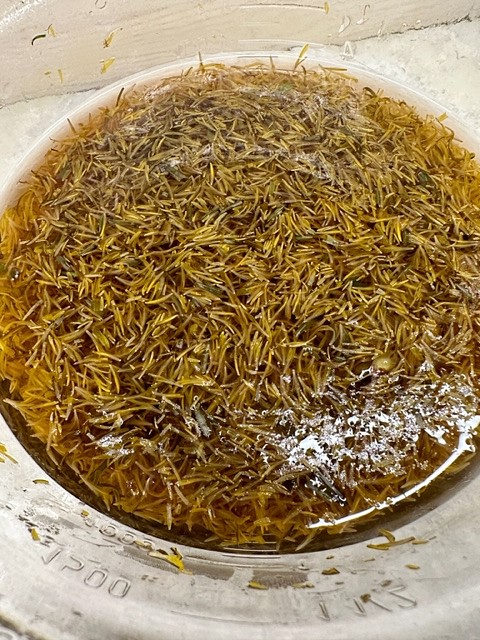 Now Make That Dandelion Tea Into Dandelion Jelly
After the petals have steeped, strain the liquid through a cheesecloth or fine mesh strainer to remove any solids. Squeeze them as dry as you can, pressing out as much liquid as possible. You should have about three or four cups of the dandelion liquid. Throw the soggy petals away.
Put your dandelion tea into a large pot, because as you make the jelly, it will foam up a lot and the mixture will get very hot! Use a long spoon to stir the jelly as it cooks. Add two tablespoons of lemon juice and one packet of powdered pectin. Measure and set aside four cups of sugar.
I always use the Sure-Jell brand pectin, it has never failed me! Over the years, I have learned that adding a teaspoon of butter to the jelly at this point will help minimize foaming. Bring that mixture to a boil, then add the four cups of sugar all at once.
Bring the mixture back to a boil while you stir it constantly to dissolve all the sugar, scraping down the sides of the pot as it cooks. When the jelly boils to a point you can't stir down the boil, set a timer for one minute and keep cooking and stirring.
Now, take the jelly off the stove and move it to a protected surface or rack to ladle the jelly into your squeaky clean jars. If there is any foam, skim it off and toss it.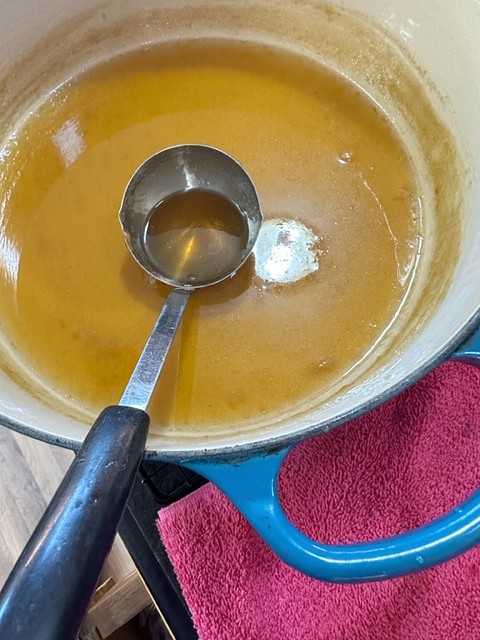 Ladle the hot jelly mixture into half-pint jars, leaving about one-half inch of headspace. Carefully wipe the rim of the jar with a clean damp dishcloth and put on the lid and the ring, tightened by hand.
Let it cool completely without disturbing the jar. Once the jelly has cooled, you can store it in the refrigerator for up to 3 months.
To keep the dandelion jelly safe for long-term shelf-stable storage, you will need to treat the jars in a boiling water bath for ten minutes. Use a canning jar lifter to put the jars into the boiling water bath and set a ten-minute timer. Be sure the water covers the jars by at least one inch.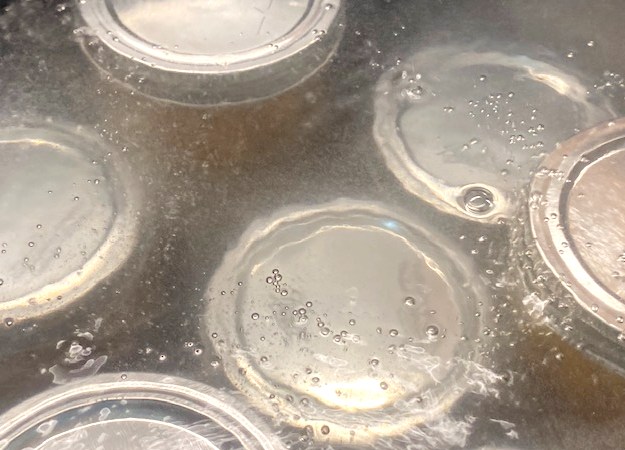 When the time is up, use the canning jar lifter to remove the jars and put them on a rack or thick towel to cool. Allow the jars to sit without moving or touching until they are completely cool. You'll hear the distinctive "ping" sound as the jars seal.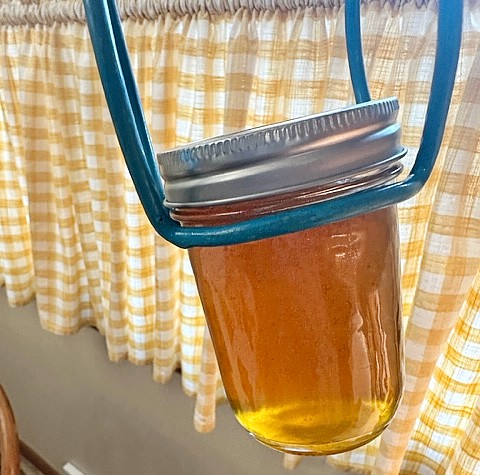 I was delighted with how well this jelly turned out! It is beautiful and tastes amazing. The recipe made six perfectly filled jars. I had to scrape the pot to treat myself to a sample! Love it and despite the fact it's a bit more work than some other jellies, I think this new dandelion jelly is really special and will make very unique gifts!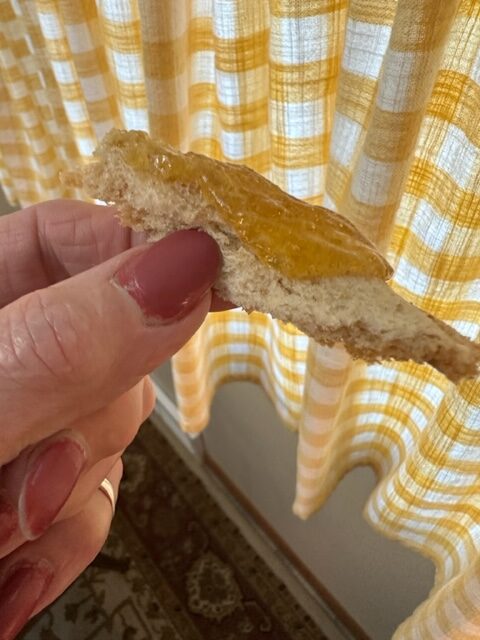 Not only is dandelion jelly delicious, but it's surprisingly nutritious. Dandelion flowers are rich in vitamins A and C, as well as potassium, calcium, and iron. They also have diuretic properties and have been used for centuries in traditional medicine to treat a variety of ailments.
So next time you see a field of dandelions, don't just think of them as pesky weeds. Instead, think of them as a source of delicious and nutritious jelly.
Yield: 6 half-pint jars
Dandelion jelly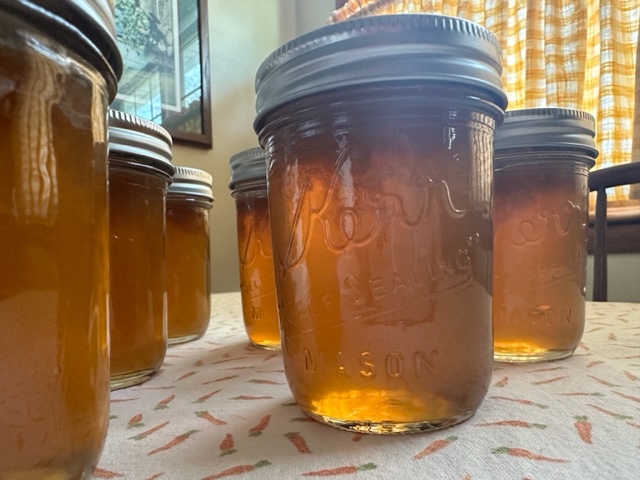 A beautiful and unique jelly made from dandelion petals that tastes like honey with a touch of floral essence.
Additional Time
10 minutes
Total Time
2 hours
22 minutes
Ingredients
Two to three cups of dandelion petals
4 cups water
2 Tbsp lemon juice
1 tsp butter
One 1.75-ounce box of Sure-Jell powdered pectin
4 cups sugar
Instructions
Pour four cups of boiling water over the dandelion petals and allow it to steep in the refrigerator overnight.
Strain the petals through cheesecloth or a fine metal strainer, squeezing out as much liquid as possible. You should have about three to four cups of "dandelion tea." Discard the petals.
Put the liquid into a large pot with lemon juice, butter, and pectin.
Bring the mixture to a boil.
Add the sugar all at once and cook, stirring constantly to dissolve all the sugar.
When it reaches a bill you cannot stir down, set a one-minute timer and continue to cook and stir.
Remove the pot for the stove and set it on a protected surface.
Ladle the jelly into jars leaving about 1/2" headspace. Seal with lids and rings tightened by hand.
Allow the jars to cool completely before refrigerating them for short-term storage for up to three months.
For long-term storage, process the jars in a boiling water bath for ten minutes, Make sure the water covers the jar by at least one inch.
Carefully remove the jars from the water bath using a canning jar lifter. Set on a rack or thick towel to cool completely without disturbing them. If they do not seal, refrigerate and use within three months.
Notes
Refer to the article for how to obtain the dandelion petals.
Nutrition Information:
Yield:
48
Serving Size:
1
Amount Per Serving:
Calories:

67
Total Fat:

0g
Saturated Fat:

0g
Trans Fat:

0g
Unsaturated Fat:

0g
Cholesterol:

0mg
Sodium:

3mg
Carbohydrates:

17g
Fiber:

0g
Sugar:

17g
Protein:

0g
We love making jelly and jam here at Yeyfood! Everyone gets excited when they receive a gift of homemade goodies like these! Here are some of our fantastically popular jelly and jam recipes. Peony Jelly, Corncob Jelly, Jalapeno Jelly, Christmas Jam, and Strawberry Rhubarb Jam.
If you're hungry for more, type "jelly" or "jam" into the search bar. For lots of great information on everything you need for making homemade jellies and jams, this article has everything you need to know about having what we call a happy "jam session!"
Canning and jelly-making are so much fun and so rewarding. Make some jelly as a group project! Just be sure someone brings some freshly baked bread to sample, sample, sample!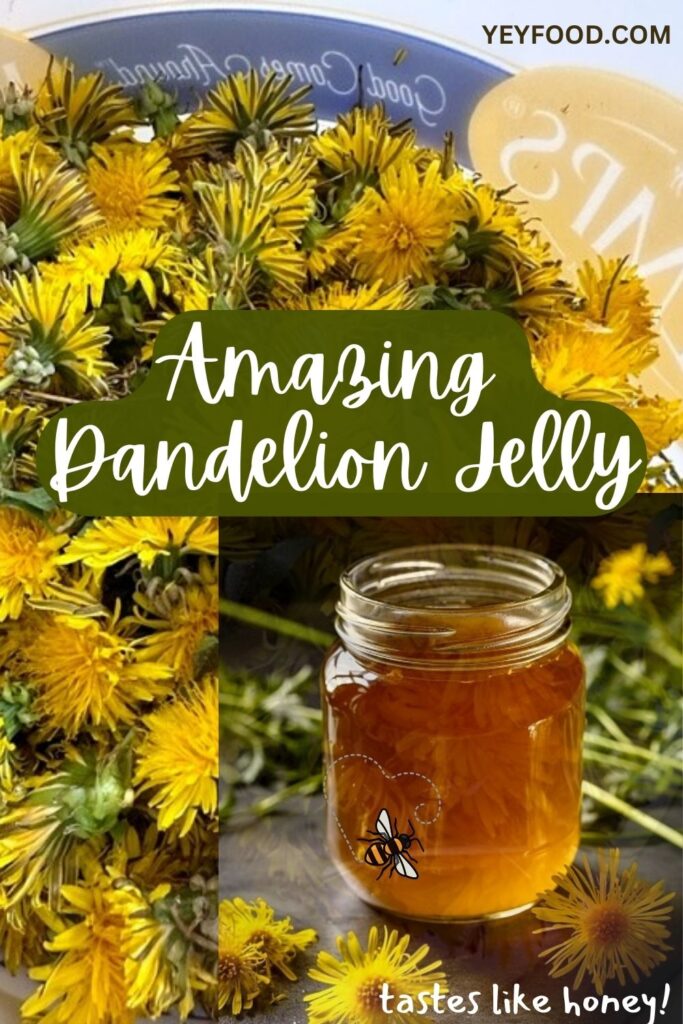 MORE OF OUR QUICK AND EASY FAMILY-STYLE RECIPES: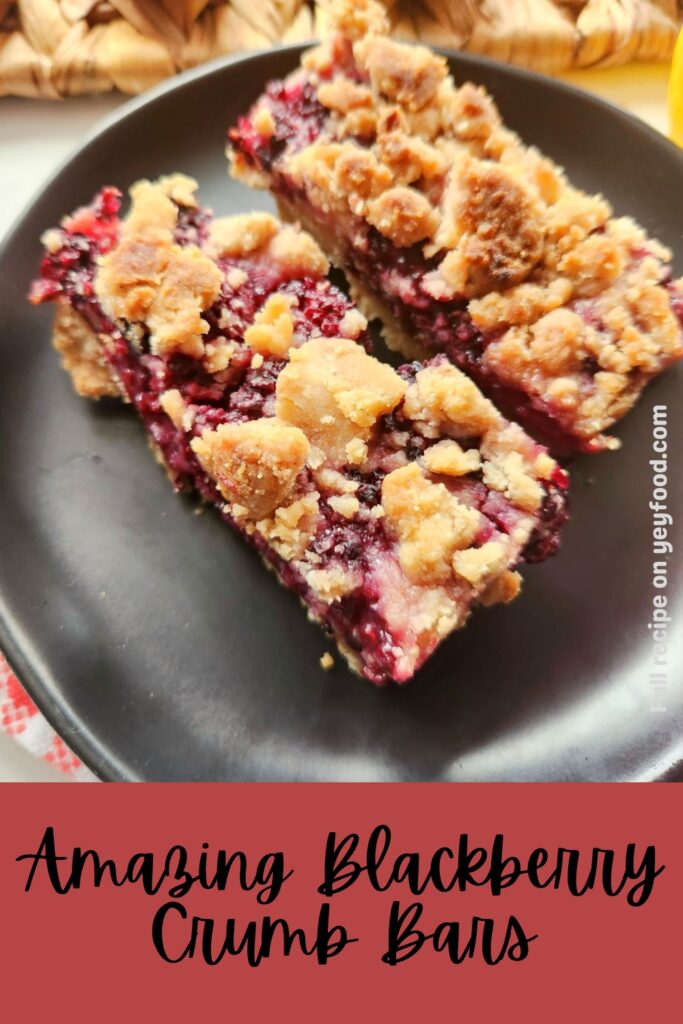 The Number 1 Practically Perfect Poppy Seed Bread
Oven-Baked Steak With Brown Gravy
Super Delicious German Dessert Recipes
Amazing Frosted Brownie Cookies
If you like these recipes, you are our people! You can check some related articles below or search via categories on the right. But be warned; you will be on here for hours. Enjoy!