Jiffy Corn Casserole Is A Classic American Comfort Food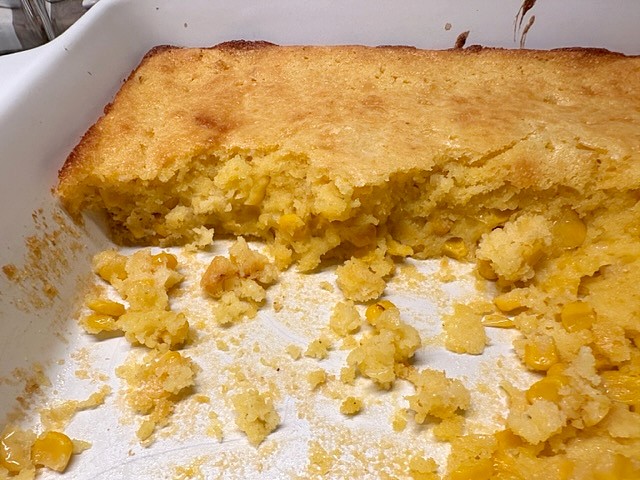 All across the country, every year on the "big" holidays, especially Thanksgiving, you'll see a Jiffy corn casserole on the table. This tasty casserole is always popular at potlucks and all family gatherings for two reasons; it's easy to make and it is absolutely delicious.
The ingredients in this dish are basic and readily available, and you can stir up a batch in five minutes without breaking a sweat. There are only five ingredients in it; a can of whole-kernel corn, a can of cream-style corn, a stick of butter, a couple of eggs, a box of Jiffy corn muffin mix, and some sour cream.
How To Make This Ever-Popular Jiffy Corn Casserole
I like to use my Pampered Chef Batter Bowl to make this recipe because it is microwave safe. Begin by melting a stick of butter in the microwave, then stir in the cream corn, the sour cream, the corn muffin mix, and the eggs. Mix that together until it's well blended, then drain and add a can of whole-kernel corn. That's it!
If you want to add anything, just stir it in before you bake it. You can add shredded cheese, some green chiles, garlic, or chopped green onions if you like. In my opinion, it's perfect just as it is. This casserole was promoted by the Jiffy company on little tear-off recipe sheets in grocery stores back in the 1960s.
Back then, the Jiffy company called it "Corn Bowl." It was later renamed "Spoonbread," a fitting name, because you dish it up with a spoon, preferably a big one, onto your plate.
When you have mixed everything together, pour the mixture into a greased baking dish and bake it at 350 degrees for about thirty or thirty-five minutes. The top should be golden brown and the middle set, but still be soft and spoonable.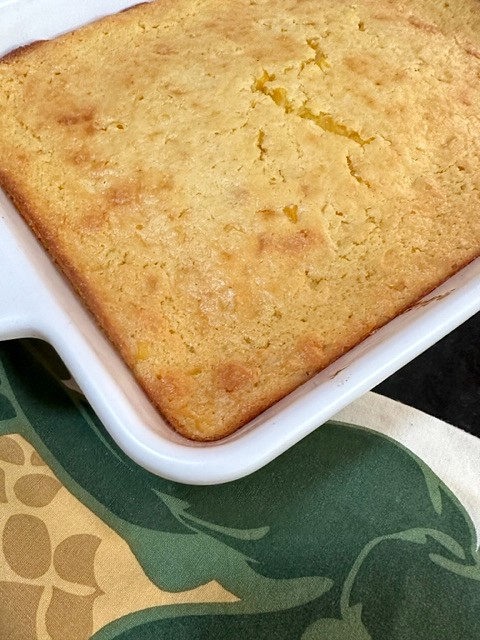 Jiffy corn casserole is a traditional side dish for holiday dinners and potlucks, and it's especially good at picnics where the main entree might be barbecue, chicken, or ham. It is just as good at room temperature as it is hot.
If you take Jiffy corn casserole to a potluck, you will probably come home with an empty dish.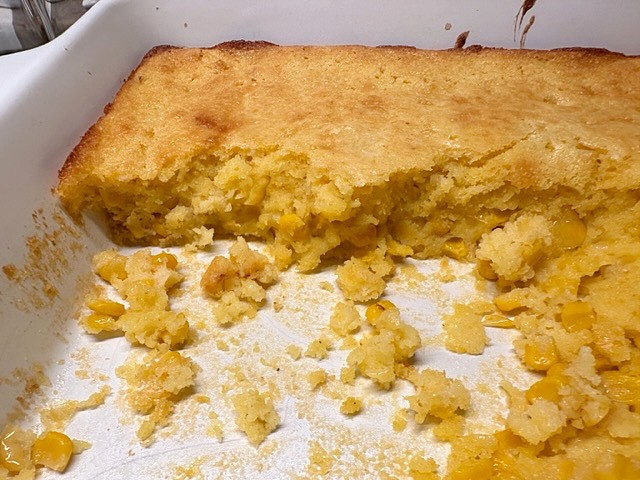 This wonderful Jiffy corn casserole is as popular today as it was when it was first introduced and has stood the test of time through at least three generations.
Why I Love The Story Of Jiffy Foods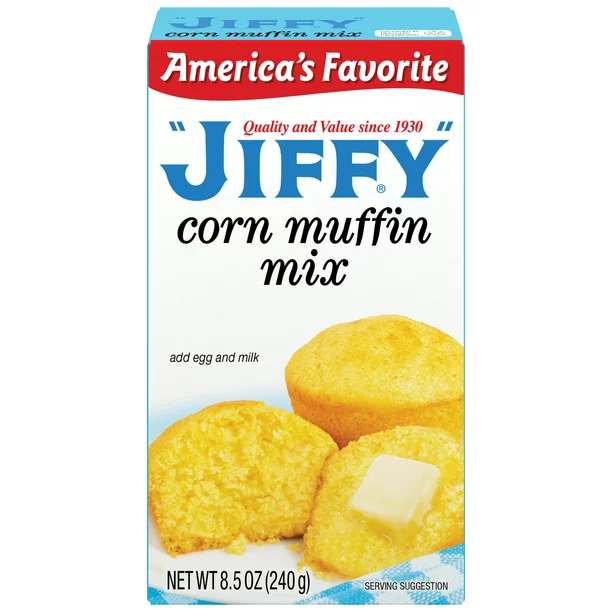 Jiffy Foodservice company is a family-owned company that produces baking mixes and other food products. The company was founded in 1930 in Chelsea, Michigan by Mabel Holmes and her husband, Howard. Their original product was a baking mix for muffins that could be made quickly and easily, hence the name "Jiffy."
If you love good old-fashioned American success stories built on doing the right things, you will love this article by their CEO Howdy Holmes. It makes me want to make Jiffy Cornbread casserole every week!
Jiffy sells more than fifty-five percent of the muffin mixes in America and doesn't spend a dime on advertising, they treat and pay their employees well, and are less obsessed with profit than doing right by consumers.
Today, Jiffy is known for its wide range of baking mixes, including corn muffin mix, cake mix, pie crust mix, and more. The company prides itself on using high-quality ingredients and keeping its products affordable and accessible to consumers.
The Jiffy company has a long history of providing convenient and delicious baking mixes to consumers, and it has earned its place as a well-loved household name product across the country.
Yield: 8 servings
Jiffy Cornbread Casserole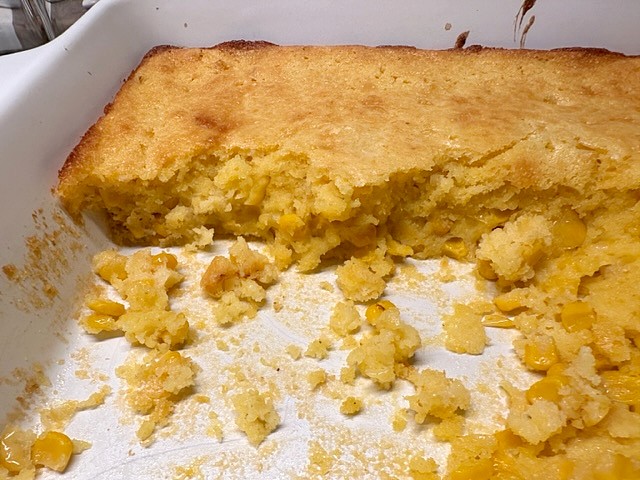 A classic corn casserole also known as spoonbread, it was developed by the Jiffy Foodservice company in the 1960s and is still as popular today.
Ingredients
8 Tbsp melted butter (one stick)
One 14.7-ounce can of Libby's cream-style corn
One 14.7-ounce can of Libby's whole-kernel corn, drained
1 cup sour cream
2 eggs
One package "JIFFY" Corn Muffin Mix
Instructions
Melt butter, then stir in the corn muffin mix, sour cream, cream-style corn, and eggs.
Fold in drained whole-kernel corn.
Put the mixture into a greased one-and-one-half or two-quart baking dish.
Bake at 350 degrees for about 35 minutes. The top should be golden brown and center set but spoonable.
Notes
Add shredded cheese, green onions, or green chiles as desired.
Oh, how we love comfort food here at Yeyfood! Here are some of our most well-loved recipes for comfort food that makes your heart and your tummy happy! Smothered Hamburger Steak, Hamburger Pie, Shepherd's
Pie, and Irish Colcannon.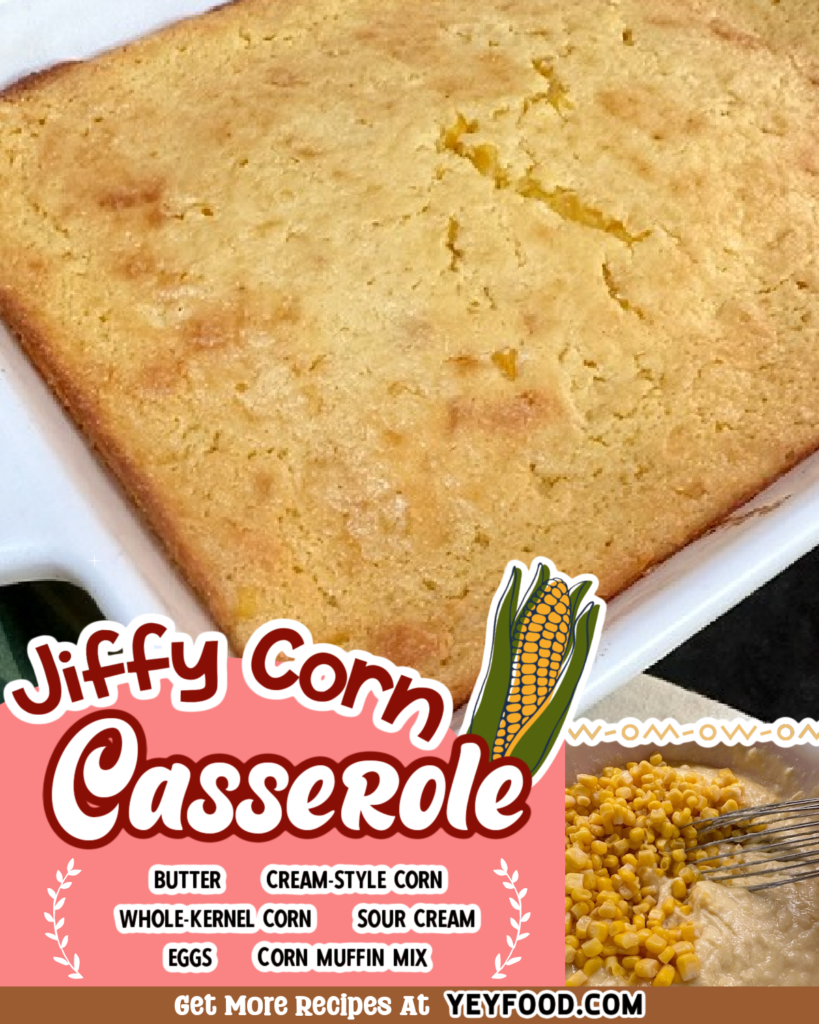 MORE OF OUR QUICK AND EASY FAMILY-STYLE RECIPES: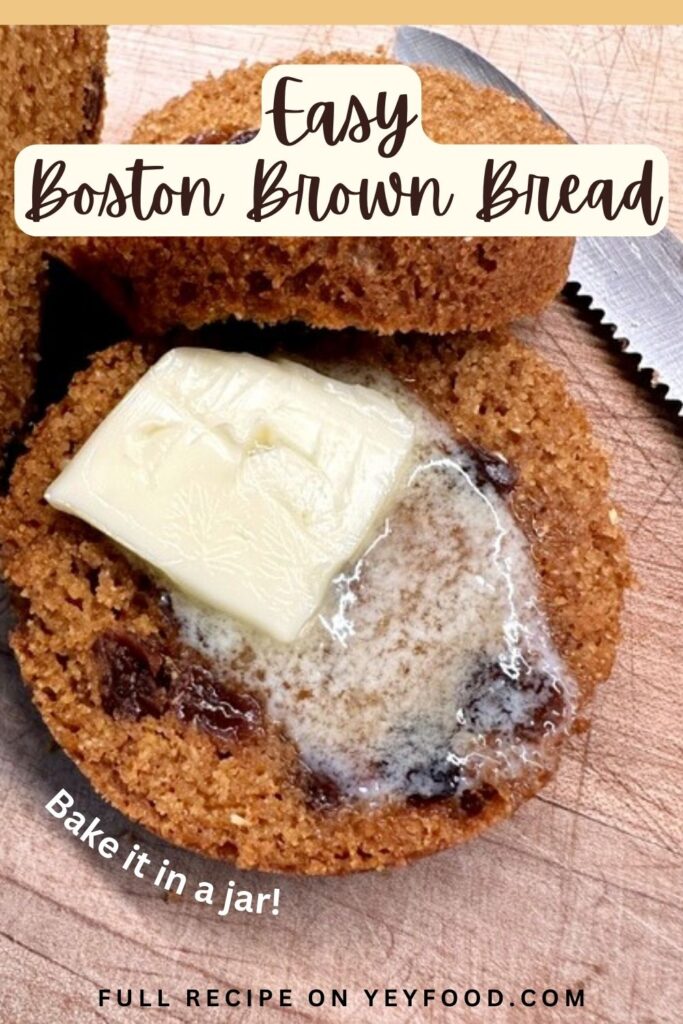 The Number 1 Practically Perfect Poppy Seed Bread
Oven-Baked Steak With Brown Gravy
Super Delicious German Dessert Recipes
Amazing Frosted Brownie Cookies
If you like these recipes, you are our people! You can check some related articles below or search via categories on the right. But be warned; you will be on here for hours. Enjoy! What are your favorite fruit desserts?