Creamy Cucumber Salad With Sweet Onion And Dill Recipe
Cucumber salad always says, "summer's here!" when you see it on the table at a potluck or cookout. This delightful cucumber salad is laced with fresh dill and sweet onion and has a slightly sweet and tangy old-fashioned dressing made with mayonnaise, vinegar, and sugar.
This cucumber salad is a great make-ahead because the flavor gets better as it marinates. You can also add more cucumbers and onions to the marinade as you deplete them because this keeps well in the refrigerator.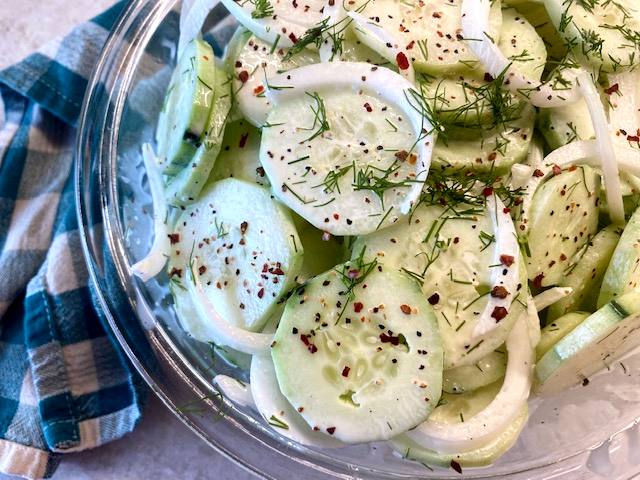 Cucumbers Are So Much More Than Just A Pretty Green Face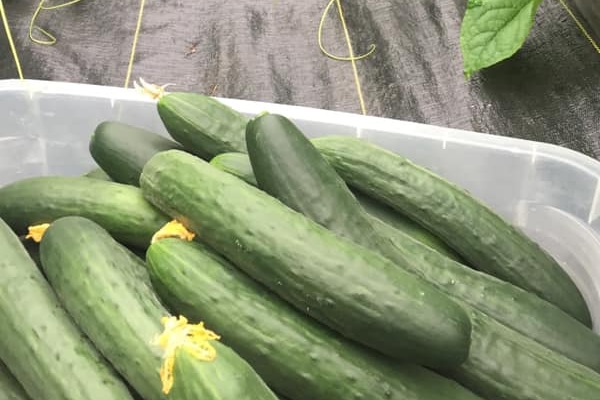 Today, the crisp green cylindrical fruit is one of the most popular items in the produce aisle. Yes, you read that right. Cucumbers are fruit by definition.
Cukes, as we call them here in Nebraska, are also a super popular item in the home garden. They are easy to grow and prolific! They like well-drained soil and lots of sunshine and water, but a few plants will reward you with cucumbers! You'll have plenty to share with friends!
Additionally, cukes offer nearly endless health benefits. They are much more than a crudité or a circular slice of green on the salad bar! They are a great, filling snack with a lot of bang for the calorie buck!
Cucumbers are a wonderfully refreshing way to hydrate because they are 95 percent water. But don't be fooled! They've got lots more going for them that's good for you! Remember, unpeeled cucumbers give us the highest nutritional value.
Take a look at just a few of the benefits!
High in fiber when eaten with the peel
Fat-free and very low in carbs
Contain potassium, magnesium, vitamin C, folate, beta carotene, and vitamin K. They also provide iron, sodium, zinc, riboflavin, and vitamin B -6.
Reduce the risk of cancer and other diseases
When I make this cucumber salad, I always leave some of the peel on for extra nutrition and color!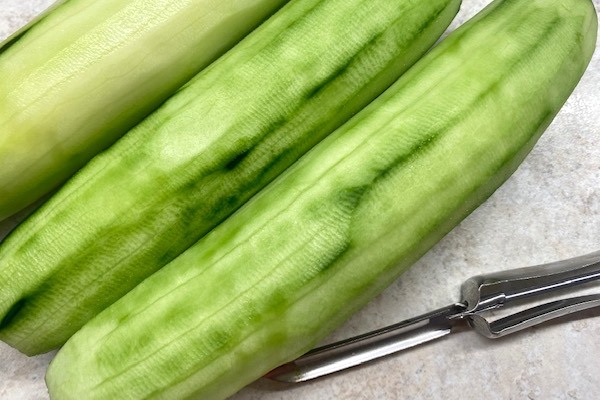 Onions are good for you, too! Recent studies on the benefit of eating onions are exciting! Onions are rich in antioxidants for immune health, anti-inflammation, and onions can help improve heart health. Onions may even reduce cancer risk.
I used sweet Vidalia onion in the recipe because that was in my pantry, but you can use a different type of onion. A red onion would taste great and provide beautiful contrasting color, too!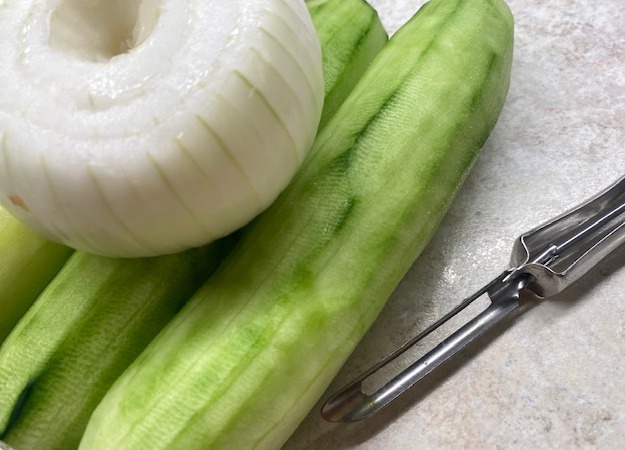 Dill Adds A Dill-icious One-Two Punch In Cucumber Salad
Dill weed is the feathery leaves of the dill plant. They are a bright green color that adds beautiful contrast and texture to this cucumber salad. It is also very aromatic and somewhat bitter, which plays nicely with the slightly sweet dressing. If you don't have fresh dill weed, use dried dill weed. The rule of thumb is one tablespoon of fresh herbs is the equivalent of one teaspoon of dried.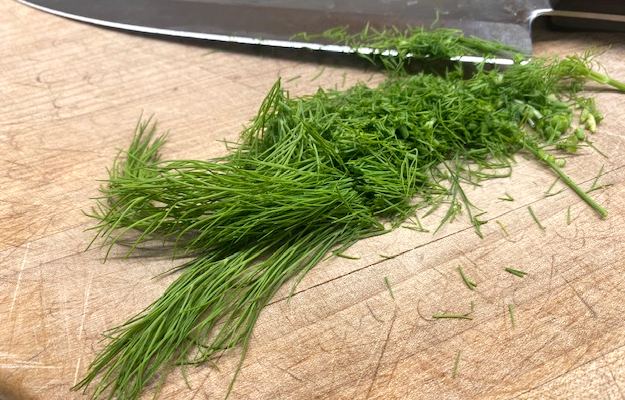 I'm proud to say this lovely fresh dill was grown less than twenty miles from where I live at Sprout House in Pleasanton, Nebraska. Isn't that the best name ever for a town?
It is efficiently packaged and refrigerated there, then distributed through certain regional Walmart stores. Check out their website for a yummy dipping sauce featuring their dill!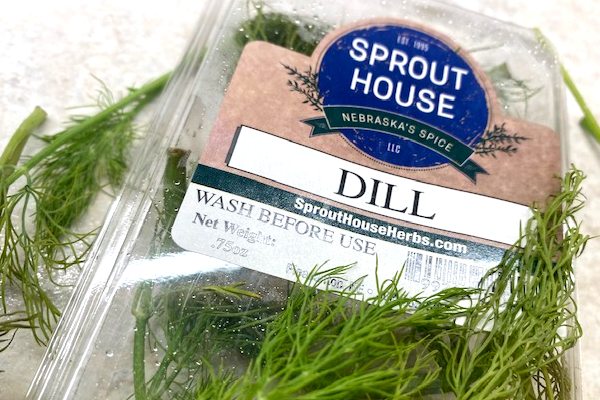 Let's Make Some Creamy Delicious Cucumber Salad
Yield: 8 servings
Creamy Cucumber Salad With Onion And Dill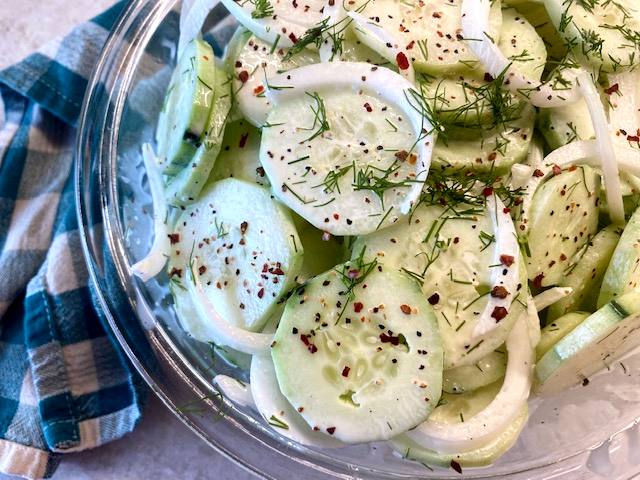 Here is a recipe for an old-fashioned creamy cucumber salad that's best to make ahead and keeps well in the refigerator.
Total Time
4 hours
10 minutes
Ingredients
3-4 medium cucumbers, depending on size
1 medium Sweet Onion
1 cup of real Mayonnaise
½ cup White Sugar
¼ cup Apple Cider Vinegar
1 Tbsp fresh dill weed, chopped finely
Salt and Pepper to taste
Instructions
Peel and slice the cucumbers. Leave a little of the peel on for color and nutrition.
Remove the outer skin from a medium onion and slice it thinly. I like to cut the onion in half and then slice. It's easier to eat.
Chop dill weed very fine.
Put cukes, onion, and dill in a large bowl.
Whisk together mayonnaise, sugar, and vinegar and pour over the vegetables.
Toss to combine, add salt and pepper to taste, and refrigerate for several hours or overnight.
Notes
Substitute one teaspoon of dried dill weed for one tablespoon of fresh.
Peel and slice three or four medium cucumbers and one medium onion. Put them in a large resealable bowl. Add the dill, and whisk up the simple dressing in a small bowl.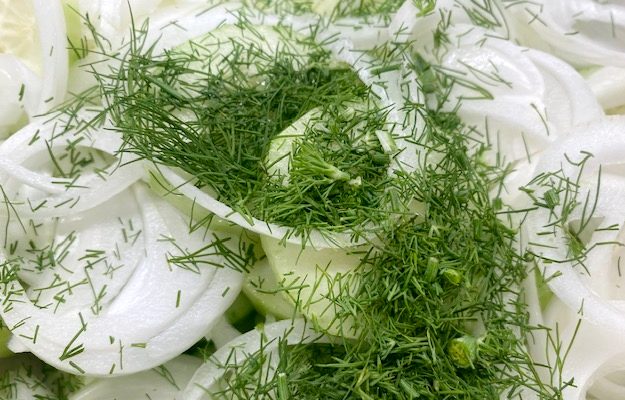 Pour the dressing over the salad and toss, so everything gets well coated. Refrigerate overnight or for at least a few hours for the flavors to marry and develop fully. Garnish with additional dill if you like.
I added a shake of Lawry's Seasoned Pepper for more color and a punch of flavor! (I am crazy about that stuff!) As you eat the onions and cukes, you can add more to the dressing, adjusting if needed by adding more mayonnaise or other seasonings.
Do you have a garden, and if you do, do you grow cucumbers? How do you like to eat them? Here is one of our most popular recipes for another way to fix them! Fat-free Danish Style Cucumber Salad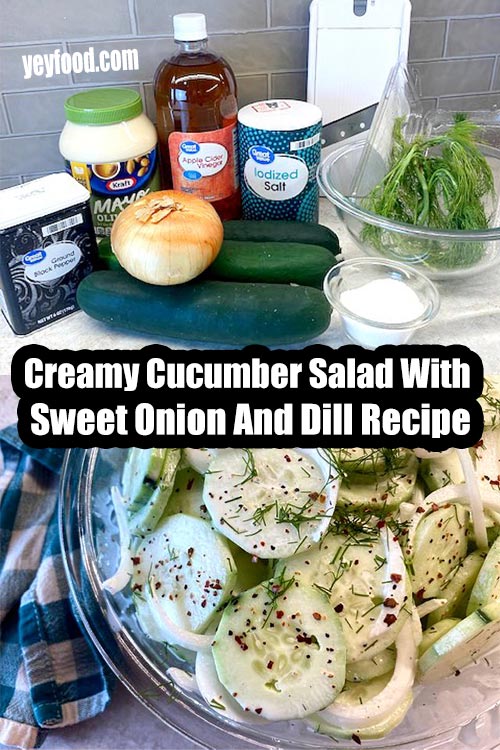 MORE OF OUR QUICK AND EASY FAMILY-STYLE RECIPES: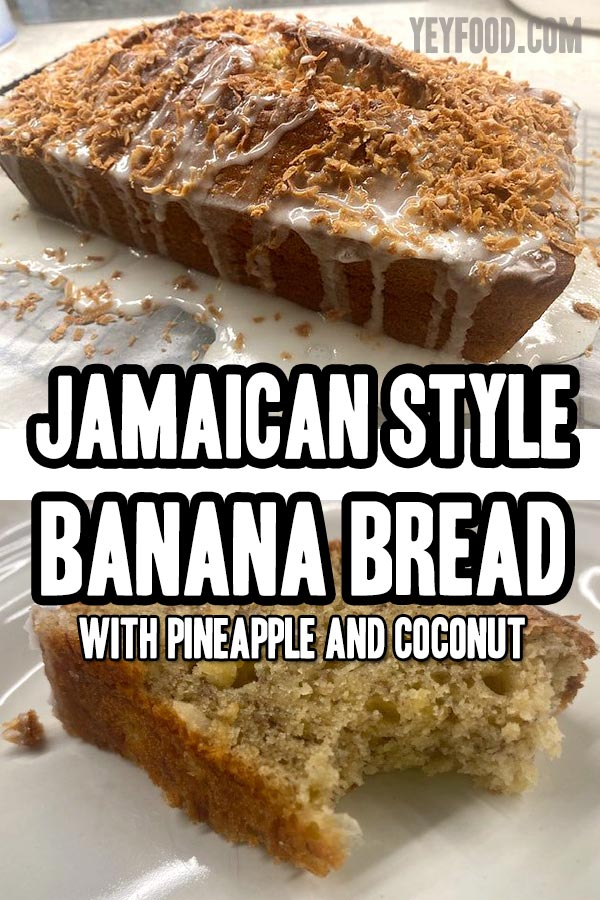 The Ultimate Bread and Butter Pickle Recipe
The Number 1 Practically Perfect Poppy Seed Bread
Oven-Baked Steak With Brown Gravy
Air-Fried Pickles With Bacon And Ranch
If you like these recipes, you are our people! You can check some related articles below or search via categories on the right. But, be warned; you will be on here for hours. Enjoy!