Homemade Hot Fudge Sauce Recipe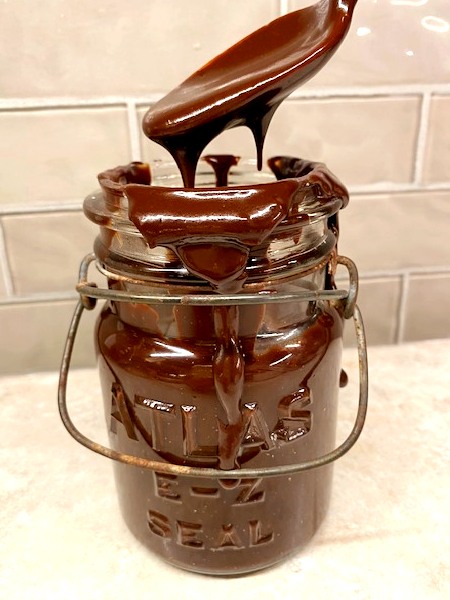 Homemade hot fudge sauce is light years better than anything you can buy in the store! Best of all, since you make it from scratch, you know exactly what's in it and that every ingredient is natural and pronounceable!
There is no better way to enjoy this wonderful concoction classically than to spoon it over a dish of good vanilla ice cream, but other good options would be butter brickle, peanut butter, or coffee ice cream! It's up to you to decide whether or not to add peanuts, but personally, I recommend it highly!
Ice cream has been around for centuries, but Thomas Jefferson popularized ice cream in America during his presidency. Only ten recipes in Jefferson's handwriting exist, and one is for ice cream! He probably brought the recipe home with him after traveling in France.
The Jeffersons often served ice cream at their home, and Jefferson enjoyed pouring maple syrup over his dish of ice cream! If you'd like to read more, here is an interesting article about his love for ice cream, including his recipe!
Americans Have Enjoyed Ice Cream Sundaes Since A Sunday In 1892
Hot fudge sundaes have been around a while, but the proprietor of a pharmacy gets the credit for inventing the "ice cream sundae." Chester C. Platt was the treasurer of his church in Ithaca, New York, and often invited Reverend John M. Scott to the shop after services for a chat.
On Sunday, April 3, 1892, Platt asked his employee at the soda fountain to dish up two bowls of ice cream for him. He topped each bowl with cherry syrup and candied cherries on a whim.
The product looked so good and tasted so delicious they decided the creation must have a name. They called it a cherry Sunday, but later on, the spelling changed to Cherry Sundae. It's interesting to know the story is well documented in newspaper articles and advertisements. Maybe it was a slow news day. 😉
Hot Fudge Sundaes Were Born In 1906 On Hollywood Boulevard In LA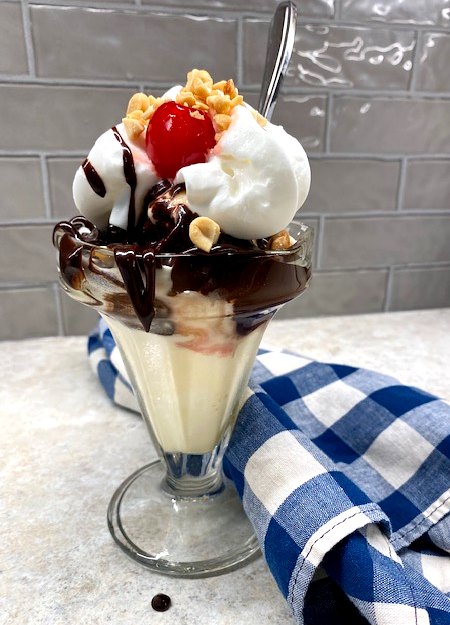 People began eating ice cream sundaes with great gusto from that day on. Fourteen years later, in 1906, Clifton Brown, owner of C.C. Brown's ice cream shop on Hollywood Boulevard in Los Angeles, created the hot fudge sundae.
He experimented with several fudge topping recipes before finding the right combination. At first, he served a small pitcher of hot fudge sauce next to the bowl of ice cream. People were crazy about the novel new hot/cold combination!
You have plenty of time to make a batch of homemade hot fudge day to celebrate National Hot Fudge Sundae Day on July 25!
Five Ingredients Are All You Need To Make Your Own Hot Fudge Sauce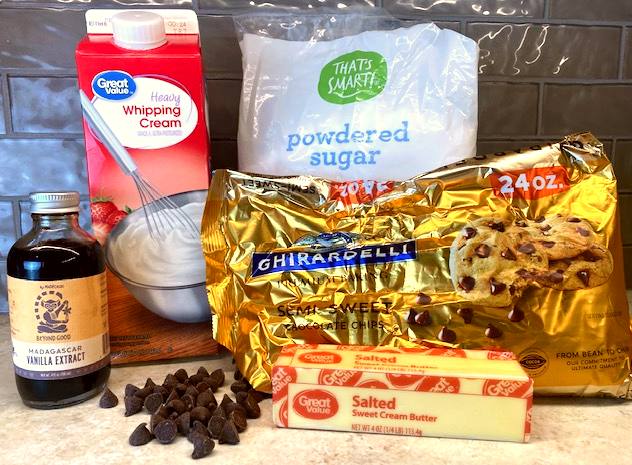 It's so easy to make hot fudge sauce at home in minutes. I used whipping cream, but you can use evaporated milk. I used salted butter because the sauce needs a hint of salt to bring out the flavor. If you have unsalted butter, add about 1/8th of a teaspoon salt.
Ditto with the vanilla. As weird as it seems, you need a bit of good vanilla to enhance the taste of the chocolate. Don't skimp on the quality of chocolate chips you use; no imitation stuff here, please. Chocolate chips melt evenly and easily; making this sauce is a joy.
In a saucepan with a heavy bottom, melt the butter with the chocolate chips over low to medium-low heat. Whisk in the cream and the powdered sugar and bring the mixture to a boil.
Turn down the heat and cook the sauce, constantly whisking until it is thick and shiny. Remove the pan from the stove and thoroughly whisk in the vanilla.
Yield: 20 servings
Homemade Hot Fudge Sauce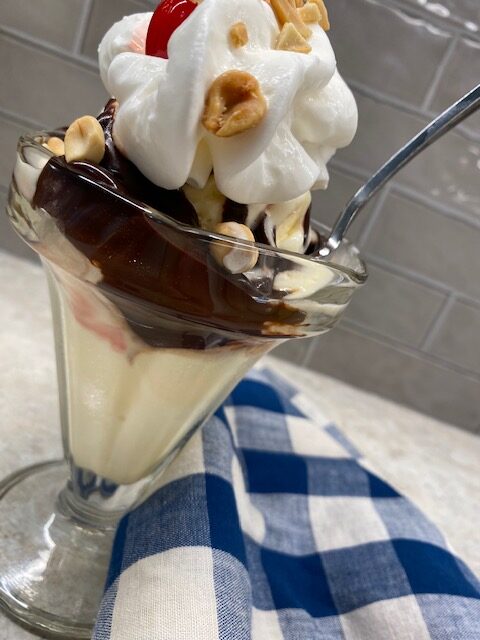 Here is a recipe for yummy, thick hot fudge sauce that gets all chewy and good when it hits the cold ice cream.
Ingredients
1 generous cup of your favorite good quality real chocolate chips
1/2 cup salted butter
2 cups powdered sugar
1 1/2 cups heavy whipping cream
1 Tbsp vanilla
Instructions
Melt chocolate chips with butter in a heavy saucepan over low to medium-low heat. Whisk or stir constantly.
Whisk in the cream and powdered sugar, turn up the heat a little and bring to a boil.
Turn the heat down to medium-low and keep whisking for 5 or 6 minutes until the sauce is thick and shiny.
Remove the pan from the heat and stir in the vanilla.
Use sauce now or pour it into a jar with a lid and refrigerate until you use it.
The sauce will get very thick when cold. To use, remove the lid and microwave in short bursts, stirring between each burst, until the sauce is hot and pourable.
Notes
If you have unsalted butter, add about 1/8 tsp of salt.
You can use milk chocolate, semi-sweet, or dark chocolate chips. You can also use the equivalent amount of good quality chocolate chopped.
You can use the sauce immediately or pour it into a jar with a lid and refrigerate it for later. The sauce will get very thick when it's cold. When you want to serve it, remove the cover and pop the jar in the microwave briefly, in short bursts, stirring in between, until the hot fudge sauce is nice and hot again!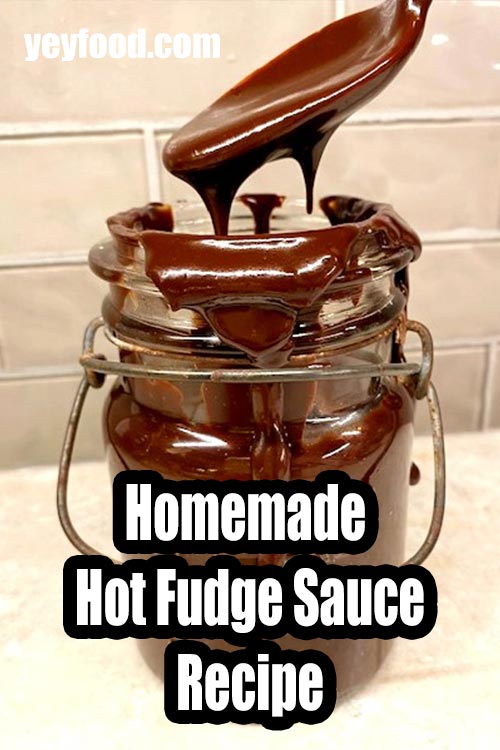 What do you like to put on top of your ice cream? Do you have a favorite topping? Do you add peanuts, and if you do, do you want them chopped or whole? Watch for more topping recipes! You might enjoy this two-ingredient recipe for a homemade magic shell. Don't forget, National Hot Fudge Sundae Day is coming up on July 25!
MORE OF OUR TASTY FAMILY-STYLE RECIPES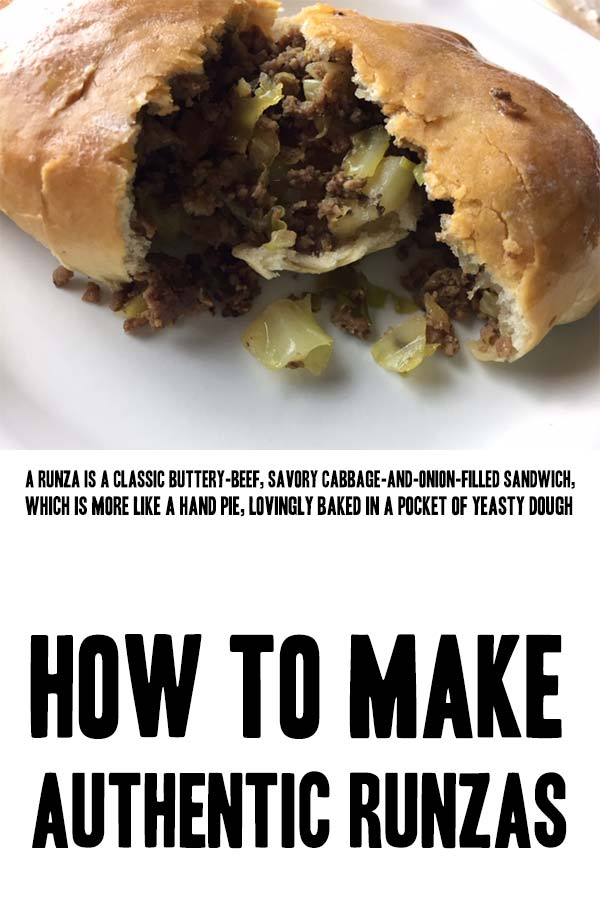 The Ultimate Bread and Butter Pickle Recipe
The Number 1 Practically Perfect Poppy Seed Bread
Oven-Baked Steak With Brown Gravy
If you like these recipes, you are our people! You can check some related articles below or search via categories on the right. But, be warned; you will be on here for hours. Enjoy!