This Pineapple Lemonade Is Summer In A Glass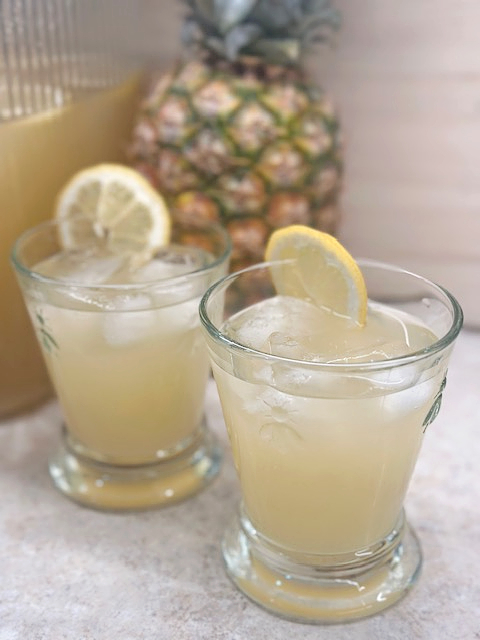 We're all anxious for summer weekends when school gets out, and the pace is a little slower. This beautiful pineapple lemonade is a perfect way to cool off and relax. We're more than ready for some porch and patio time.
Spring has been slow to arrive here, and those warm summer nights can't get here soon enough. In this punch, lemonade gets a touch of smooth sweetness from pineapple juice, and together they have a definite tropical vibe. When you add ginger ale, you get some added sparkle and a little fizz.
We can't wait for the summer weekends when we can gather at the lake, enjoy seeing the sun slip down after a long lazy day, and watch the stars come out. Summer never lasts long enough, and we can never get enough time with family and friends, laughing and talking around a table with wonderful food.
This pineapple lemonade is super easy to stir up in a jiffy and chill in a pretty dispenser in the fridge.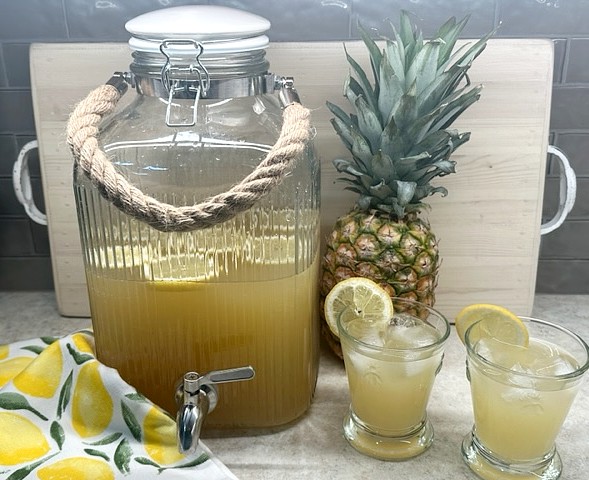 You only need a few ingredients, and they're all easy to find. I used frozen pineapple juice concentrate, lemonade concentrate, and sugar-free ginger ale. Scrub and dry the lemons before slicing them and use them to float in the lemonade and garnish the glasses for a festive touch.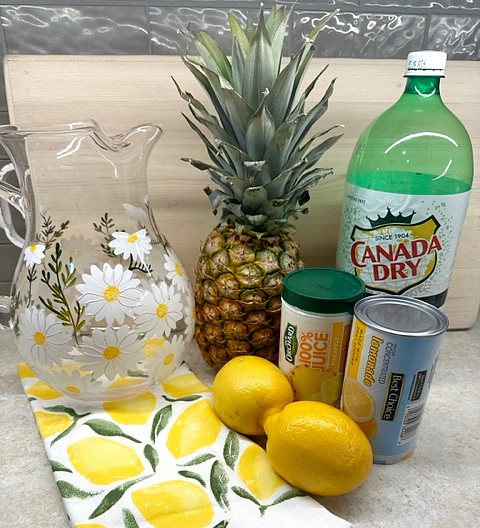 How To Choose The Perfect Pineapple
A chunk or spear of fresh pineapple would make a great garnish for this gorgeous drink. Have you ever wondered how to select a perfect pineapple in the produce department? Here are a few tips to help you fearlessly find the best one.
Look for a pineapple that has a golden yellow color on the skin. Avoid pineapples that are mostly green or brown.
Smell the base of the pineapple. It should have a sweet, tropical aroma.
Gently press the skin of the pineapple. It should be slightly firm but not too soft or mushy. If it's too hard, it may not be ripe yet.
Check the leaves at the top of the pineapple. If they are green and fresh-looking, it's a good sign that the pineapple is ripe. However, the pineapple may be overripe if the leaves are brown or wilted.
I have also learned that a bottom leaf close to the fruit should pull out fairly easily, showing the fruit is beginning to get a bit soft, how we want it!
Add Vodka If You Want A Tipsy Version Of This Beautiful Beverage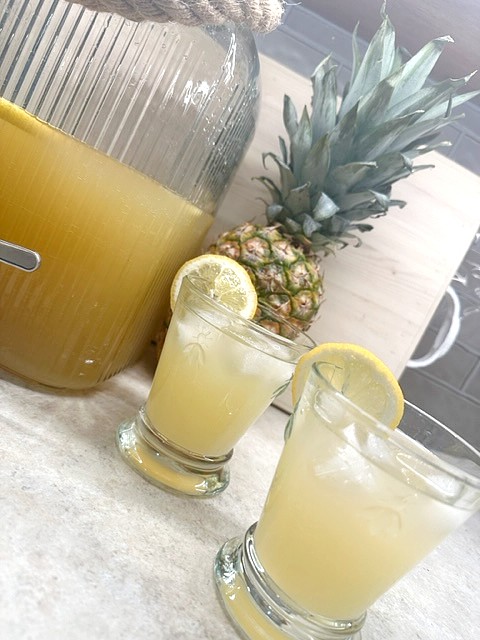 For adults-only get-togethers and girlfriend gatherings, you may want to add some alcohol. Tito's Vodka is a good choice for adding to lemonade because it adds a neutral alcohol flavor that complements the tartness of the lemonade. Vodka is a clear, colorless spirit that is distilled from grains or potatoes and has a relatively neutral taste and odor.
When added to this pineapple lemonade, it can enhance the overall flavor profile and provide a subtle kick of alcohol. Take it easy when adding, however, because vodka has a high alcohol content.
It's very important to remember that alcohol should always be consumed responsibly. If you choose to add vodka to your lemonade, be sure to drink in moderation and never drink and drive.
The amount of vodka in a cocktail will depend on the recipe and the desired strength of the drink. Typically, vodka cocktails call for anywhere from 1 to 3 ounces per serving. It's always a good idea to start with a small amount of vodka and only add more as needed to ensure it's balanced and to your liking.
It would be best to add the ginger ale close to when you will serve the pineapple lemonade to retain as much fizz as possible. Serve over ice and garnish as you like. This is a lovely beverage for summer enjoyment!
Yield: 10 servngs
Pineapple Lemonade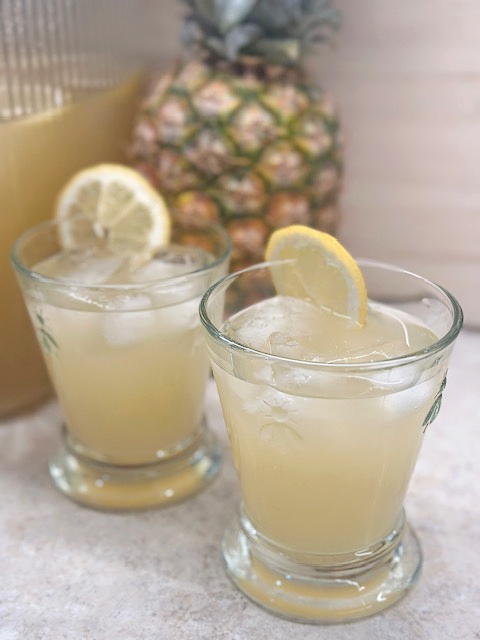 A delicious sparkling pineapple lemonade with lemon slices for garnish. Add Vodka if desired to make it a refreshing adult beverage.
Total Time
2 hours
5 minutes
Ingredients
Two quarts of prepared lemonade
16 ounces of Ginger ale
16 ounces of pineapple juice
Sliced lemon for garnish, if desired
10 ounces of vodka or to taste, optional
Instructions
Mix lemonade and pineapple juice in a large pitcher or beverage dispenser.
Add ginger ale close to serving time.
Stir well.
Chill for two hours.
Add vodka if desired.
Garnish with thinly sliced lemon.
Notes
I used frozen lemonade concentrate and pineapple juice concentrate, and sugar-free ginger ale. Chunks or spears of fresh pineapple would make a great garnish, along with a lemon slice on the rim of the glass.
We love everything summer at Yeyfood! Fresh produce, grilling, great salads, and eating casually. Here are some of our recipes that are summer's best! Sweet Corn Salad, Danish Style Cucumbers, Foil-Pack Potatoes On The Grill, Frozen Peanut Buster Dessert. What recipe says "summer!" to you?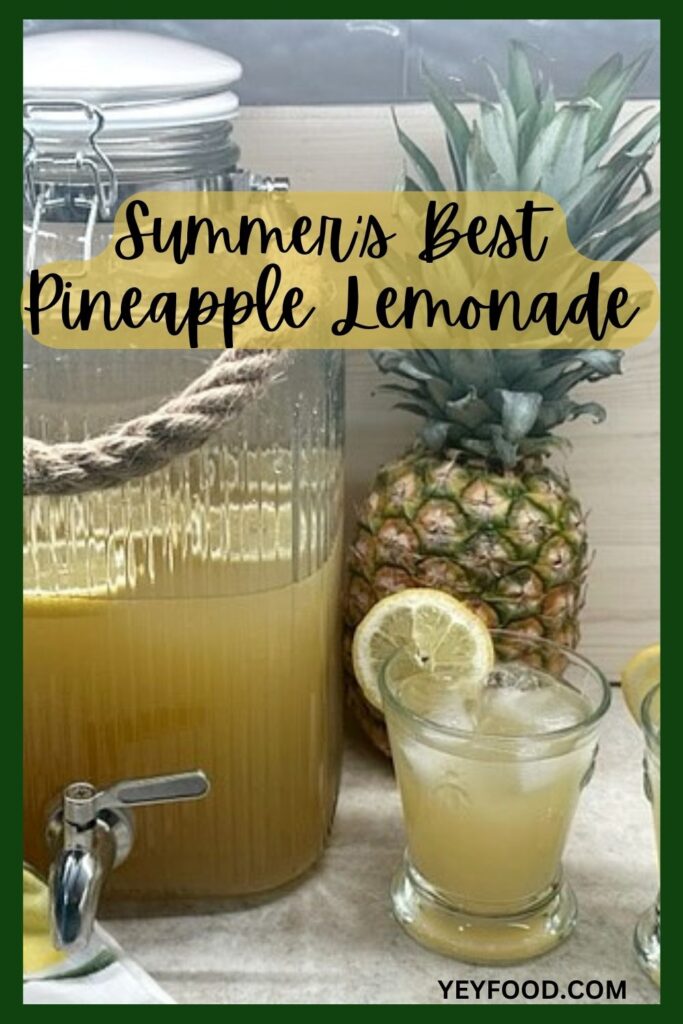 MORE OF OUR TASTY FAMILY-FRIENDLY RECIPES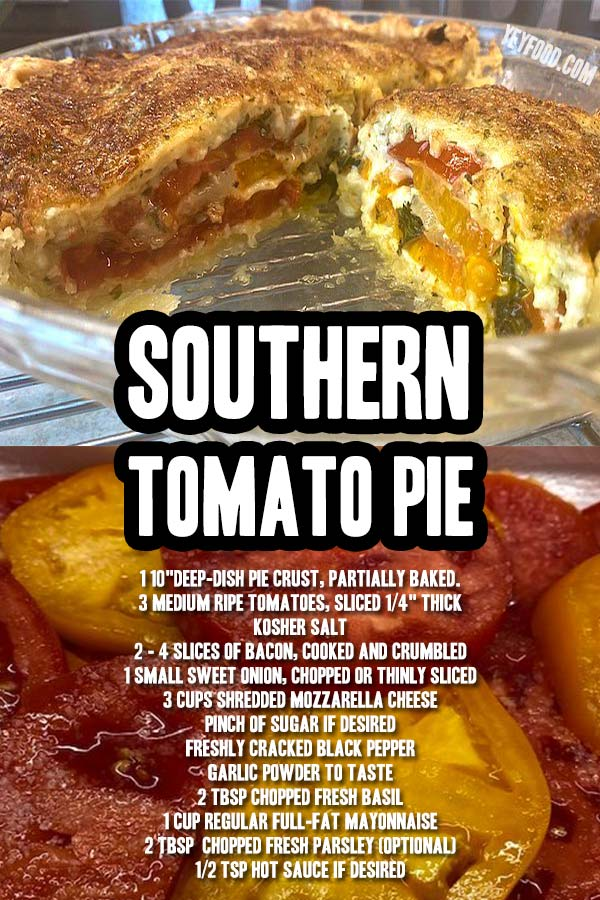 4 Reasons You Should Freeze Some Sweet Corn This Summer
How To Make The White BBQ Sauce That's Fascinated Us Since 1925
German Sauerkraut Casserole With Bacon And Brown Sugar
If you like these recipes, you are our people! You can check some related articles below or search via categories on the right. But, be warned; you will be on here for hours. Enjoy!