Dutch Baby German Pancake Recipe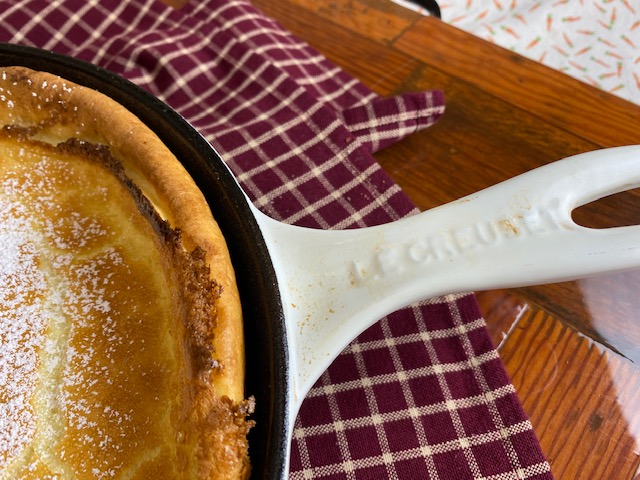 Watching a German pancake puff impressively in the oven is so much fun! A German pancake happens when a popover and a pancake have a child. Maybe that's why they are sometimes called Dutch Baby pancakes!
It is quick and easy to whip up one of these tasty creations from the simplest of pantry ingredients! All you need is flour, eggs, milk, vanilla, butter, and salt. Here's how the New York Times cooking website describes them:
"This large, fluffy pancake is excellent for breakfast, brunch, lunch, and dessert any time of year. And it comes together in about five blessed minutes.

Just dump all of the ingredients into a blender, give it a good whirl, pour it into a heated skillet sizzling with butter, and pop it into the oven.

Twenty-five minutes later? Bliss. It's wonderful simply with sugar, syrup, or preserves, but you also can serve it with fresh berries and whipped cream, apple slices cooked in butter and sugar, or banana slices lightly cooked then dusted with brown sugar."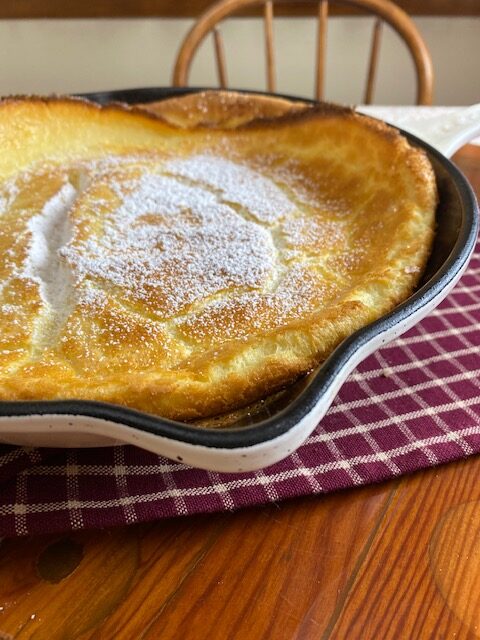 You're Less Than 30 Minutes Away From Your First Delicious Bite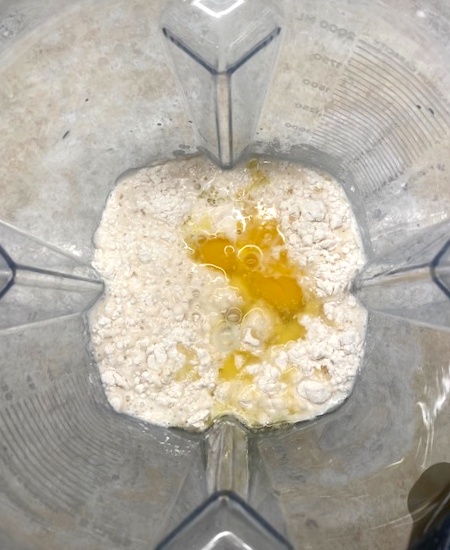 Preheat your oven to 425 degrees, put three tablespoons of butter in the skillet, and let it melt while you whip up the batter.
Pour the milk, eggs, flour, vanilla, and salt into the blender with two tablespoons of melted butter. I used my powerful Vitamix blender, an extremely generous gift from my niece!
I have used it often for ice cream shakes and frozen fruit smoothies; it is a workhorse! In a matter of seconds, the amazing machine had whipped everything into a perfectly light and frothy batter, ready to put into the sizzling skillet!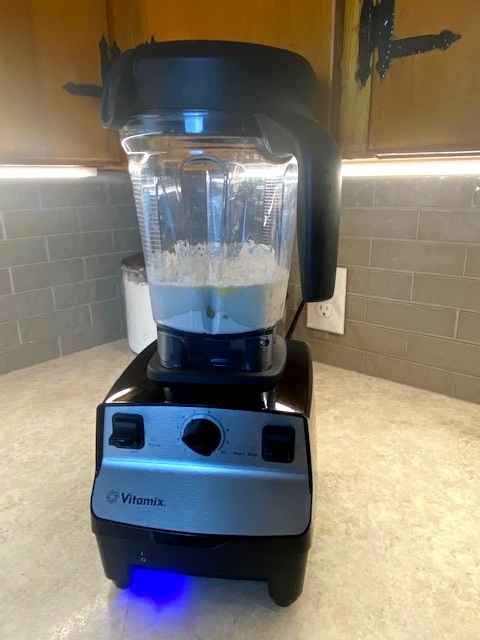 Dutch baby pancakes are perfect for a weekend brunch! I chose this wonderful LeCrueset enameled ten-and-one-quarter-inch cast iron skillet. It is the ideal pan to bake and present your impressive German pancake because it looks as good as it cooks!
I had melted three tablespoons of butter in the LeCrueset. And when it was sizzling hot, I poured the batter into it and popped it into a hot 425-degree oven! About twenty minutes later, a giant puffy impressive-looking pancake appeared all beautiful and golden brown.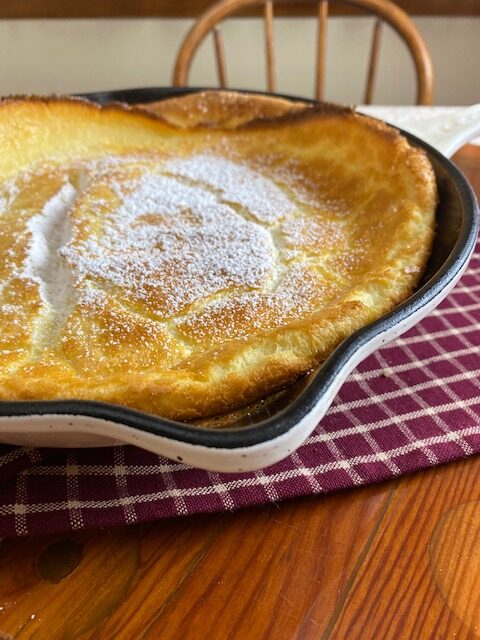 I dusted the pancake with powdered sugar and cut it into eight wedges.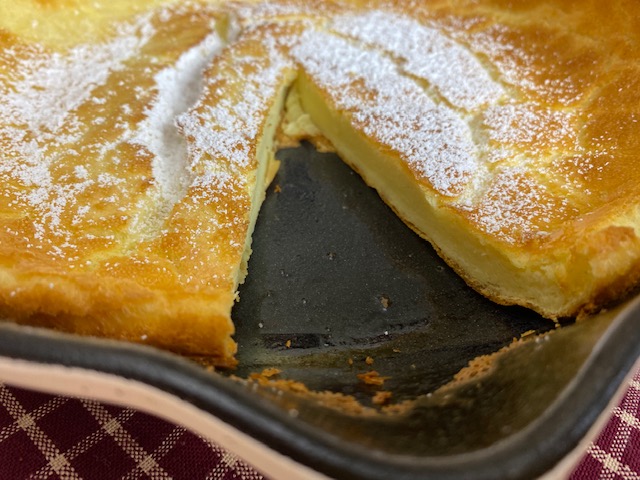 I served it with pure maple syrup and a couple of strips of crisp bacon. Next time, I'll be sure to have some fresh strawberries and blueberries on hand! It didn't need any butter; it was delicious, just like it came out of the oven.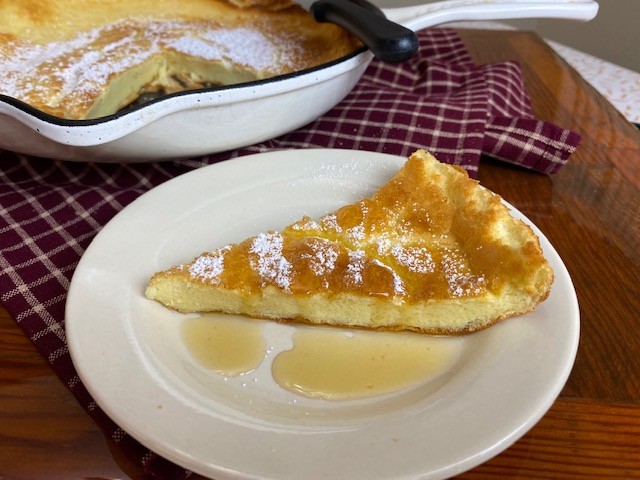 You may be wondering if a regular cast-iron skillet would work for this pancake, and it will. For this recipe, a ten-inch skillet is the best size.
No cast-iron or ovenproof skillet? You can use a standard nine by thirteen-inch baking pan. Metal pans make a loftier pancake, but glass pans also work. You may need to adjust the baking time a little; watch toward the end of baking so that it doesn't get too brown. Instead of wedges, just cut them into squares!
Yield: 8 servings
German Pancake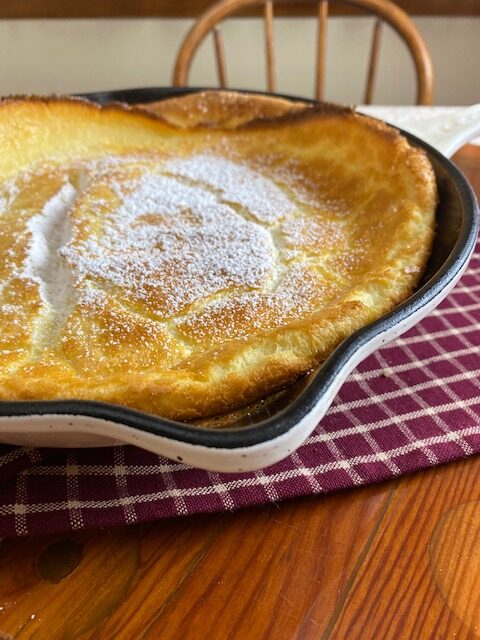 Greman pancakes are sometimes called Dutch babies. That's probably because thought someone Dutch when they meant Deutsch. These fabulous puffy pancakes originated in Germany, and they are Wunderbar!
Ingredients
1 cup whole milk
1 cup all-purpose flor
6 eggs
dash of salt
1 tsp vanilla
5 Tbsp butter, divided
Powdered sugar for dusting
Maple syrup for serving
Instructions
Preheat the oven to 425 degrees.
Melt three tablespoons of butter in a ten-inch o.ven-proof skillet and keep it on the burner to get hot while you whip up the batter
Put the milk, flour, eggs, salt, vanilla, and two tablespoons of melted butter in a blender and whip until it's frothy.
Pour the batter into the hot skillet and pop it in the oven for about 20 minutes or until it is puffy and golden brown.
Dust with powdered sugar, cut into eight wedges, and serve with maple syrup.
Notes
You can use a greased 13" x 9" pan for baking this pancake. A metal pan makes a loftier pancake.
We don't necessarily need to eat breakfast foods only at breakfast time! I used to feed grilled cheese, peanut butter sandwiches, or tortilla wraps to our daughters before they headed off to school! I could eat breakfast-type foods morning, noon, or night, and with this recipe, I can because you can make German pancakes savory, too, by adding cheese, meat sauce, bacon, cubes of ham, etc. when it comes out of the oven!😉
The heat of summer is finally losing its grip, and we're headed into a new season when soups and casseroles sound good! Here are some of our most popular "comfort foods." Classic American Goulash, Tuna Noodle Casserole, Beer Cheese Soup with Kielbasa. What are your favorite recipes as we head into the cooler months?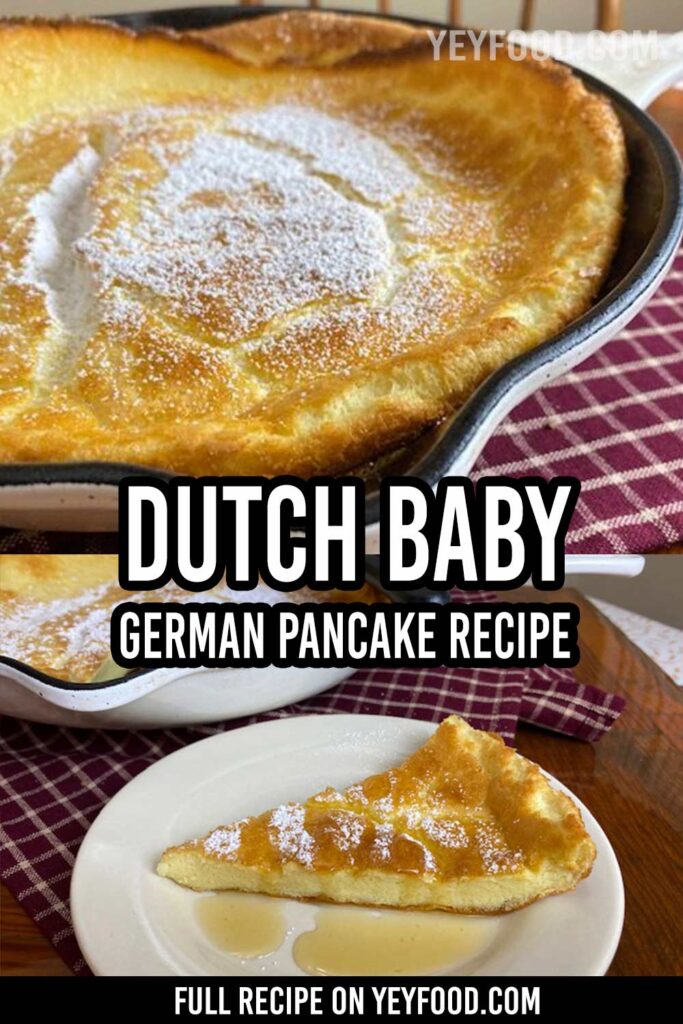 MORE OF OUR QUICK AND EASY FAMILY-STYLE RECIPES: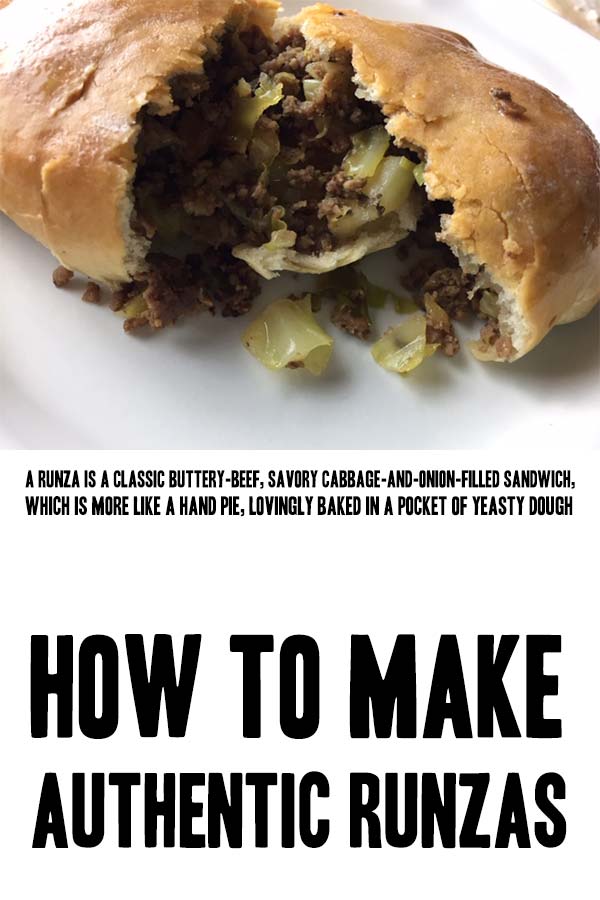 The Ultimate Bread and Butter Pickle Recipe
The Number 1 Practically Perfect Poppy Seed Bread
How To Make Authentic Runzas Right In Your Very Own Kitchen
If you like these recipes, you are our people! You can check some related articles below or search via categories on the right. But, be warned; you will be on here for hours. Enjoy!