Also A Great Way To Use Leftover Ham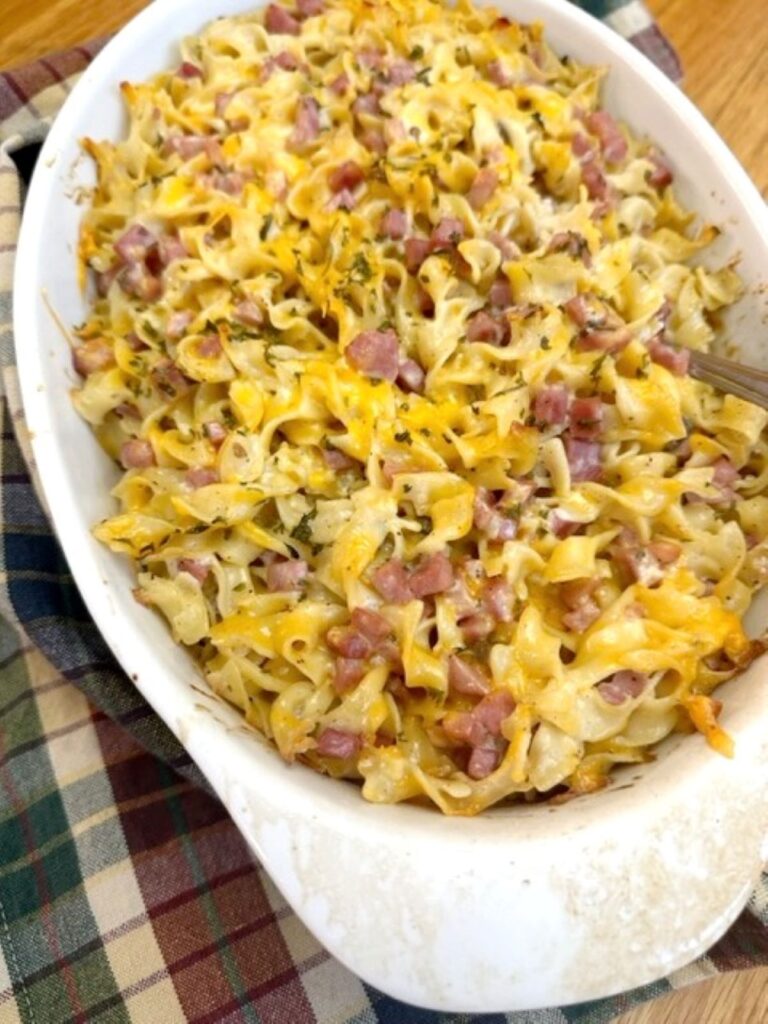 You'll Love This Ham Noodle Casserole
This ham noodle casserole ticks all the boxes! Easy, check! Full of flavor, check! Comfort food, check! Reheats well, check! I bought a package of Farmland Diced Ham on my last visit to the grocery store to find a quick and easy weeknight dinner recipe or two. This lean and tender diced Ham is a time-saver and a workhorse.
We're heading into an extra busy stretch around here because we're getting ready for a fall event on our property, including an antique show! We want our landscaping to look nice, and I'm working on some florals and crafts to sell, so for now, I want everything I make to be quick, tasty, and not involve doing a lot of dishes!
Here's What You'll Need To Make It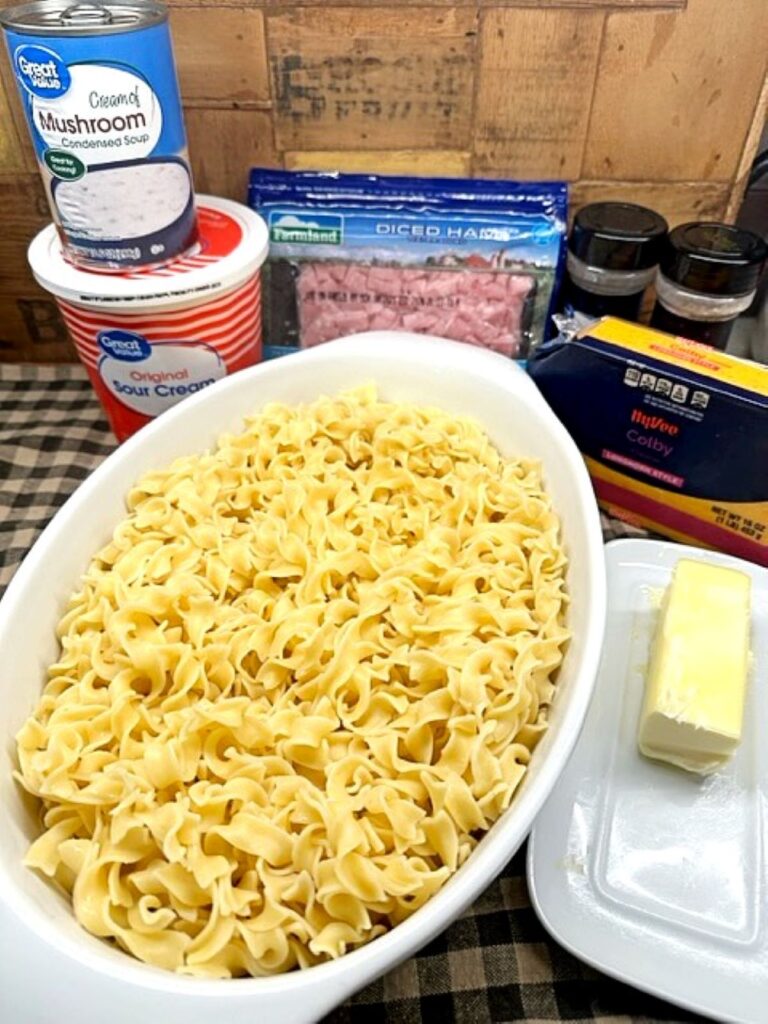 Diced Ham, either packaged or use up leftover Ham
Egg Noodles
Cheddar cheese
Mushroom Soup
Sour Cream
Milk
Garlic powder
Onion Powder
Butter
How To Make Ham Noodle Casserole
Boil an eight-ounce package of egg noodles in salted water as directed on the package. When done, rinse and drain the noodles to remove any extra starch that can make them sticky.
Put the noodles in a casserole dish you have greased or treated with a non-stick spray like Pam. Combine the mushroom soup, sour cream, garlic powder, onion powder, and milk in a small bowl. Pour that over the cooked noodles.
Put the diced Ham on top of the noodles, too.
Grate 2 cups of cheddar cheese. I always suggest grating cheese from a block because it melts much more evenly than shredded cheese from a bag. Shredded cheese in a bag is coated with something that keeps the shreds from sticking together but inhibits smooth melting. It can also dry out your other ingredients because of the coating.
Put all but about a half cup of shredded cheese on top of the noodles and stir all the ingredients together until they're blended evenly. Now, dot the top with butter.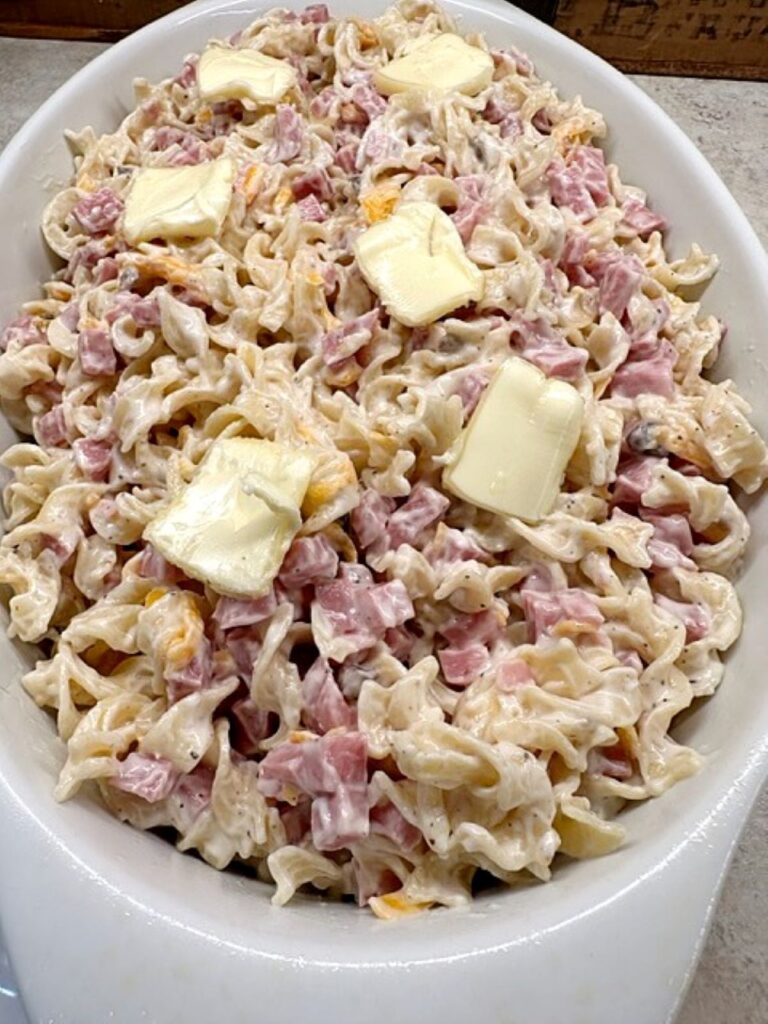 Top with the remaining cheese and some parsley for color if you like! I ALWAYS have to have some parsley; it's a thing with me!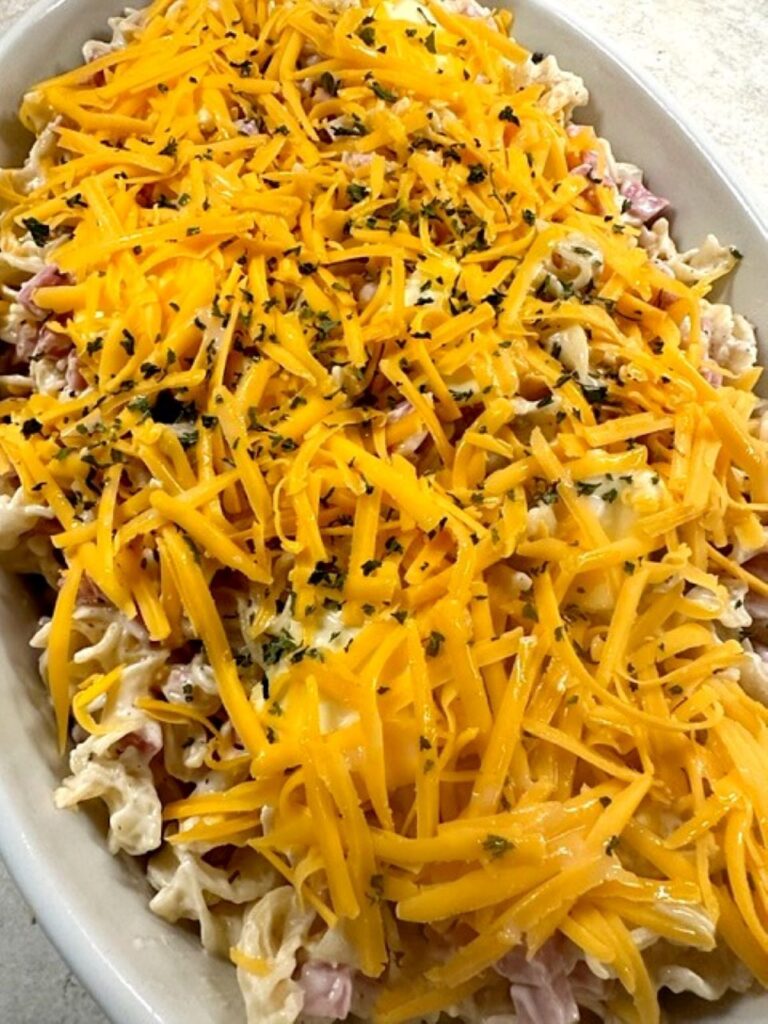 Finally, lightly cover the casserole with foil (hint: spray it with non-stick spray before using it to cover the dish), and bake for about 40 minutes at 350 degrees.
This ham noodle casserole recipe was a hit with Papa Steve; the flavor is excellent and makes a pretty good-sized casserole! Lucky for us, we found that it reheated exceptionally well in the microwave. The two of us eat a lot of what I call PLAN-overs because while I love to cook, I love a good cook-once-eat-twice recipe!
I think that might be our favorite thing about soup season! Papa always helps with dishes, so he's a fan, too!
What To Eat With Ham Noodle Casserole
All you really need to accompany this dish is a green vegetable like broccoli, peas, or our favorite, French-cut green beans! I always heat them in the microwave, then drain them and drizzle them with olive oil and a sprinkle of kosher salt. Next to fresh green beans, these are our favorite vegetable.
Toasted garlic bread or a crusty loaf of my 60-minute French bread would pair nicely, too!
Yield: 6 servings
Cheesy Ham And Noodle Casserole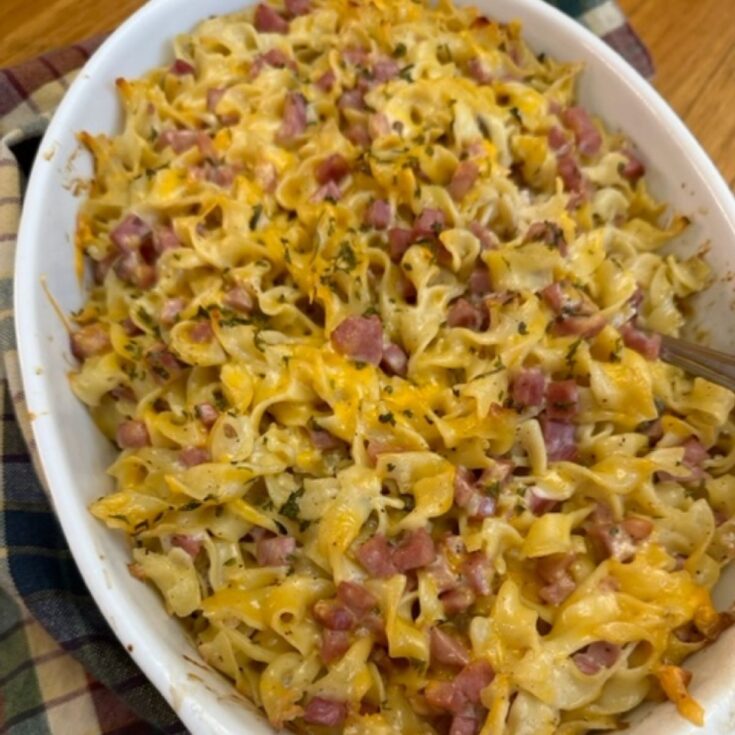 This is a wonderful casserole that goes together quickly and reheats beautifully! Use convenient packaged, diced ham, or this is a great way to use leftover ham!
Ingredients
One 8-ounce bag of egg noodles
2 cups diced cooked ham
2 cups shredded cheddar cheese
One 10.5-ounce can cream of mushroom soup
1/2 cup sour cream
1/4 cup milk
1 teaspoon garlic powder
1/2 teaspoon onion powder
2 tablespoons butter
Instructions
Grease your casserole dish and pre-heat oven to 350 degrees
Cook noodles in salted water according to package directions, then drain and rinse.
Put the cooked noodles in the casserole dish.
Grate 2 cups of cheddar cheese. Reserve 1/2 cup for topping.
In a small bowl, combine the soup, milk, sour cream, garlic powder, onion powder and stir until it's well blended.
Pour the soup mixture over the noodles.
Put the diced ham and 1 1/2 cups of the cheese over the noodles.
Stir to blend.
Dot with butter.
Top with reserved cheddar cheese.
Spray foil with non-stick spray and cover the casserole loosely with it.
Bake for 40 minutes, then uncover for a few minutes to let the cheese brown, if desired.
Notes
If you have leftover ham, you can dice it or chop it in a food processor. If you prefer a different kind of cheese, go for it! We used sharp cheddar. Add seasonings as you like, too- you may even want to add a little heat with Tobasco sauce or red pepper flakes! ENJOY!
Fall and back-to-school mean a busy schedule, meals at home, and comfort food. This yummy Ham and noodle casserole ticks all the boxes. We hope you'll try it soon.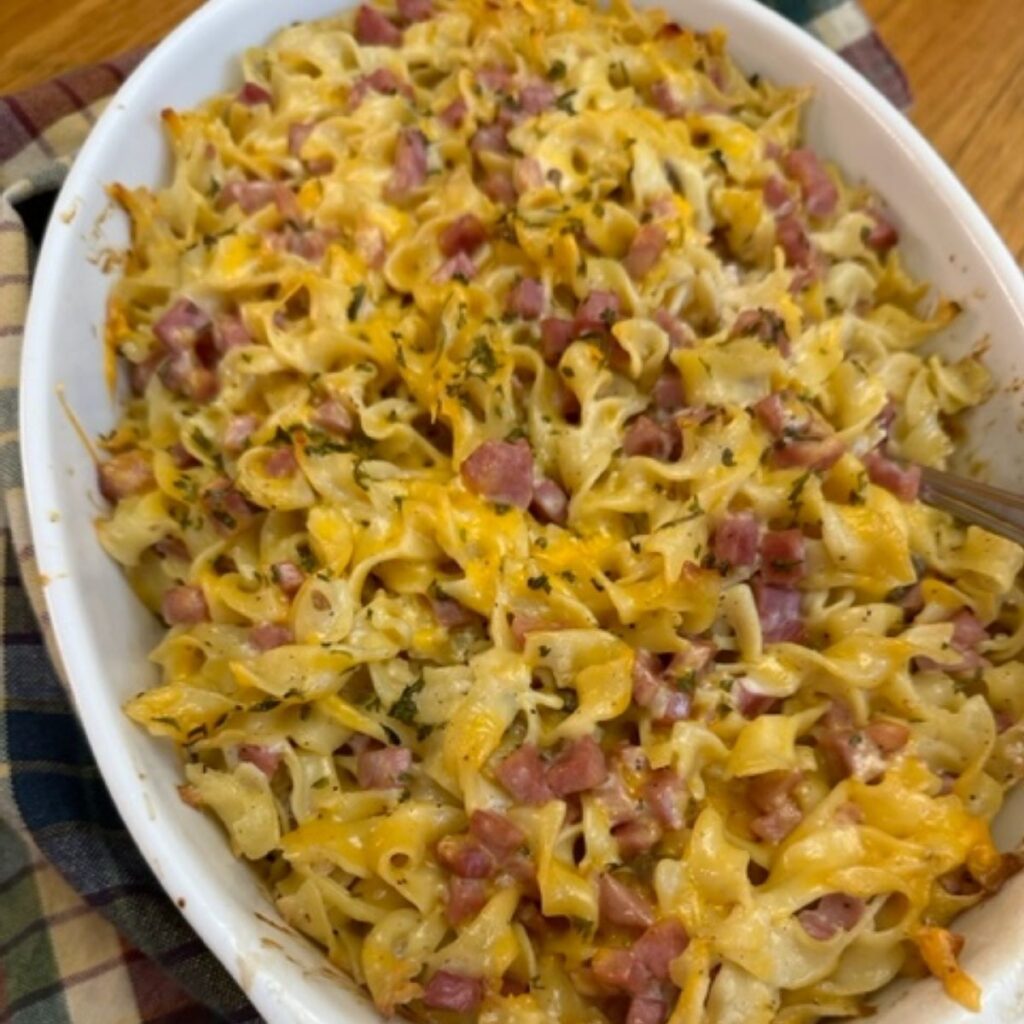 You may also want to consider these other well-loved recipes. Easy One-Pot American Goulash, One-Pot Lasagna Soup, and Yummy Hamburger Pie. Search for loads more family-friendly recipes on our site, and we'd sure be tickled to hear if you try a recipe or two!