Grape Jelly Is The Holy Grail For PBJs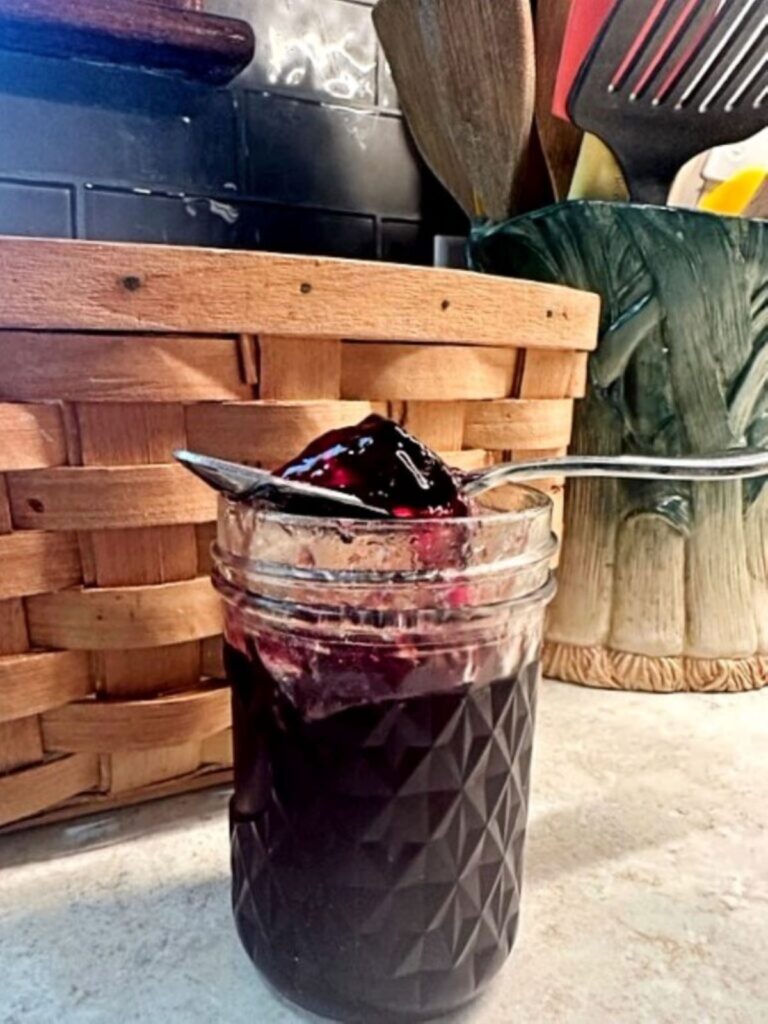 I always thought it would be an all-day thing to make grape jelly. My friend Mary Louise made fabulous grape jelly using her very own grapes that she raised in her yard. What a woman! While I admire her greatly, I just wasn't up to the mess. (And I don't grow grapes in my backyard, either.)
Imagine my delight when I discovered that grape jelly is easy to make and that I could let the fine folks at Welch's do all the prep work for me! Wlelch's grape juice is 100% grape juice, so all that's needed are a few ingredients to turn it into that delightful, familiar spread we love!
You Will Love This Homemade Grape Jelly
If you crave the sweet, grapey goodness of homemade jelly but don't have the time or energy for grape-picking and washing, I've got great news! It surprised me to discover you can create mouthwatering grape jelly from 100% grape juice in just a few simple steps.
This easy process allows you to enjoy the rich, full flavor of homemade jelly without the hard work. Let's get started!
A peanut butter and jelly sandwich is a beloved lunch or snack, and it tastes even better when made with your homemade jelly!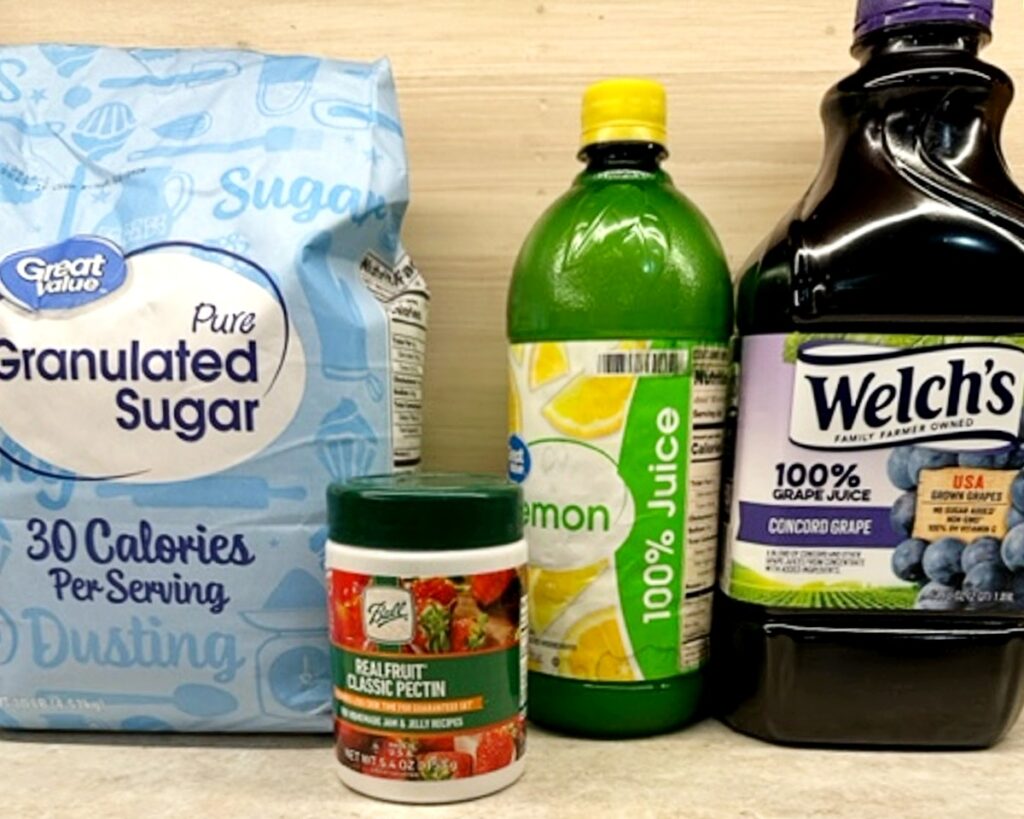 It only takes a few ingredients and is a fairly quick process! Here's what you'll need:
4 cups of 100% grape juice (no sugar added)
1/4 cup lemon juice (for natural pectin)
4 cups granulated sugar
One packet of powdered fruit pectin
Equipment You Will Need
Two tall soup pots or a tall soup pot and a water bath canner (one is for cooking the jelly, one for processing the jars if you want to process them for long-term storage.)
Clean jelly jars you've washed in hot, soapy water and rinsed thoroughly or washed in the dishwasher.
Measuring cups and measuring spoons
A long-handled spoon
A large measuring cup or bowl for sugar
Canning flats and rings
A ladle for putting the jam into the jars
A canning funnel
Tongs or a magnetic lid lifter to pick up flats from the hot water
A clean, damp dishcloth to wipe off jar rims before applying the lids
A jar lifter to move filled in and out of the boiling water bath
A thick old towel
A cooling rack or two
You'll need a large pot to cook the jelly, and if you are going to seal the jelly in jars for long-term storage, you'll need a second tall pot. The pot you will use for the boiling water bath needs to be tall enough to fill it with water at least one inch over the top of the sealed jars.
You'll need a long-handled spoon for stirring the jelly because it gets really hot! It gets even hotter than boiling water because of the sugar content!
Before you begin, get all your canning supplies together to avoid a mad rush to the store. Once you have started a batch, it's almost impossible to stop. You will need canning jars. For jelly, six or eight-ounce jars work well. I bought these online and was very happy with the quality and price.
Everything you'll need is readily available at grocery stores, hardware stores, online, and even Walmart. The things you'll need are inexpensive and last a long time. And believe me, you'll find lots of uses for jars, jar lifters, and canning funnels beyond making jam! I use two cooling racks when setting up my "jam sessions"; one for the hot pot of jelly and the second for the filled jars.
That's my lovely hot pink canning towel! It's probably a graduation gift from long ago. I keep it rolled up and stashed in a handy drawer on my island, where I conduct our jam sessions!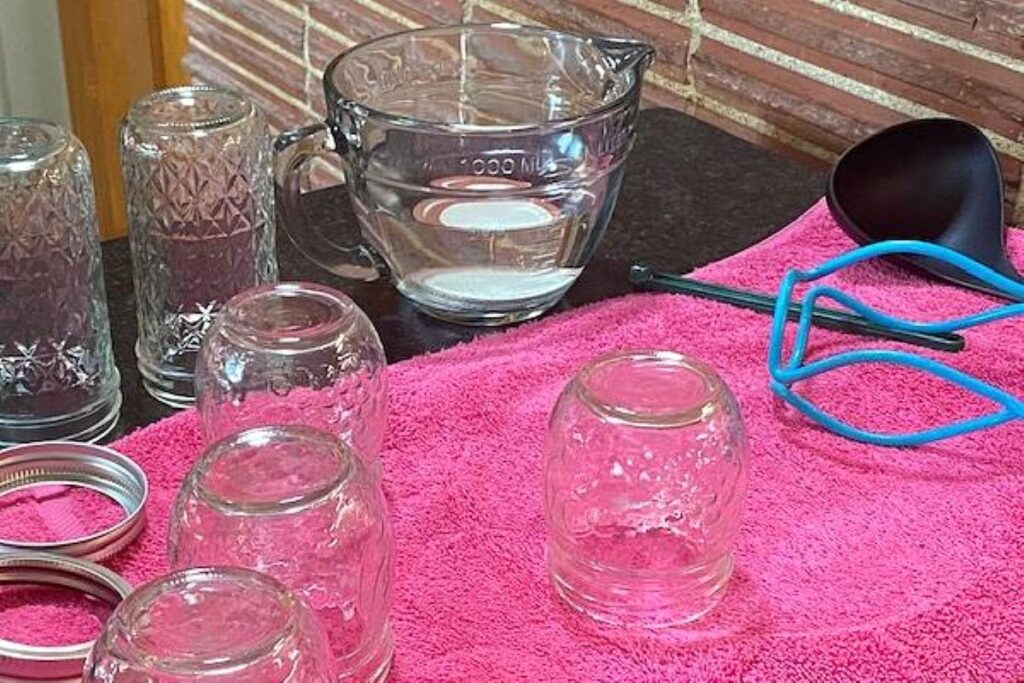 Please read through the instructions and be ready to follow them. They are simple but critical to success.
Instructions For Making Grape Jelly From Juice
In a large, heavy-bottomed pot, combine the 100% grape juice and lemon juice. If you want a firmer jelly, mix in the powdered fruit pectin at this stage. (I used pectin.) You can add a teaspoon or so of butter to help keep foam from forming on the jelly.
Measure the sugar into a bowl or big measuring cup now. When it's time to add the sugar, you will need to dump it in all at once.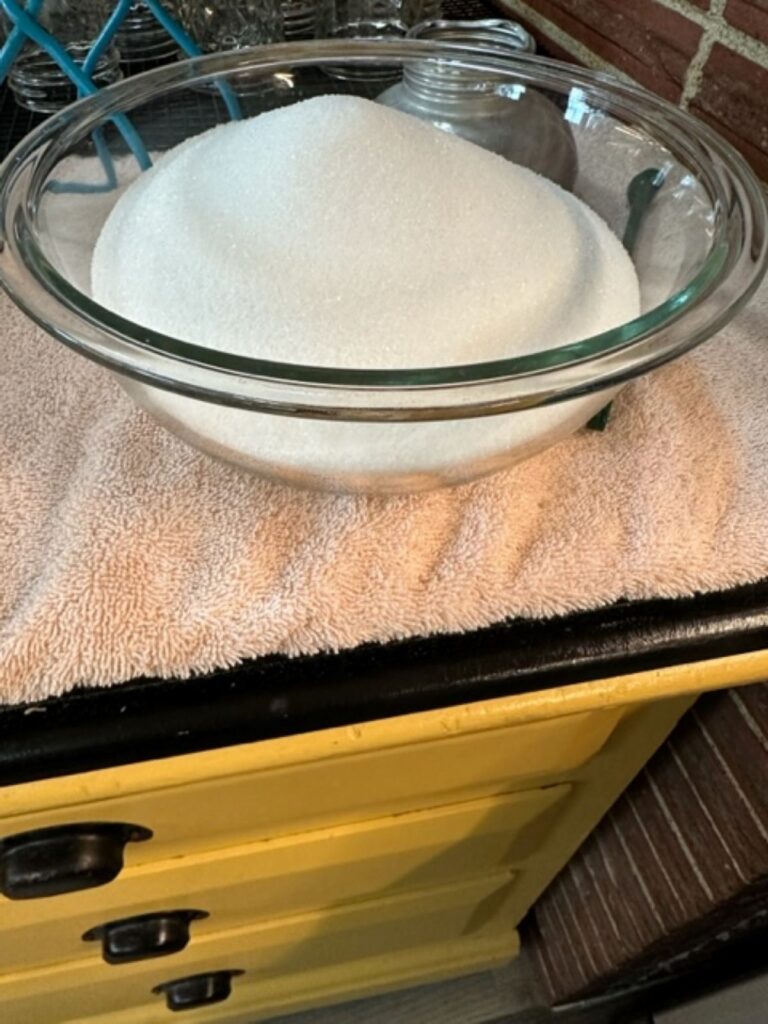 Bring the juice mixture to a boil over medium-high heat while stirring constantly. This should take about 5-10 minutes.
Add the sugar to the boiling juice and stir until all the sugar is completely dissolved. Bring the mixture to a hard boil that you can't stir down, then set a one-minute timer, keep cooking and stirring, then take it off the heat to a sturdy counter to ladle it into jars.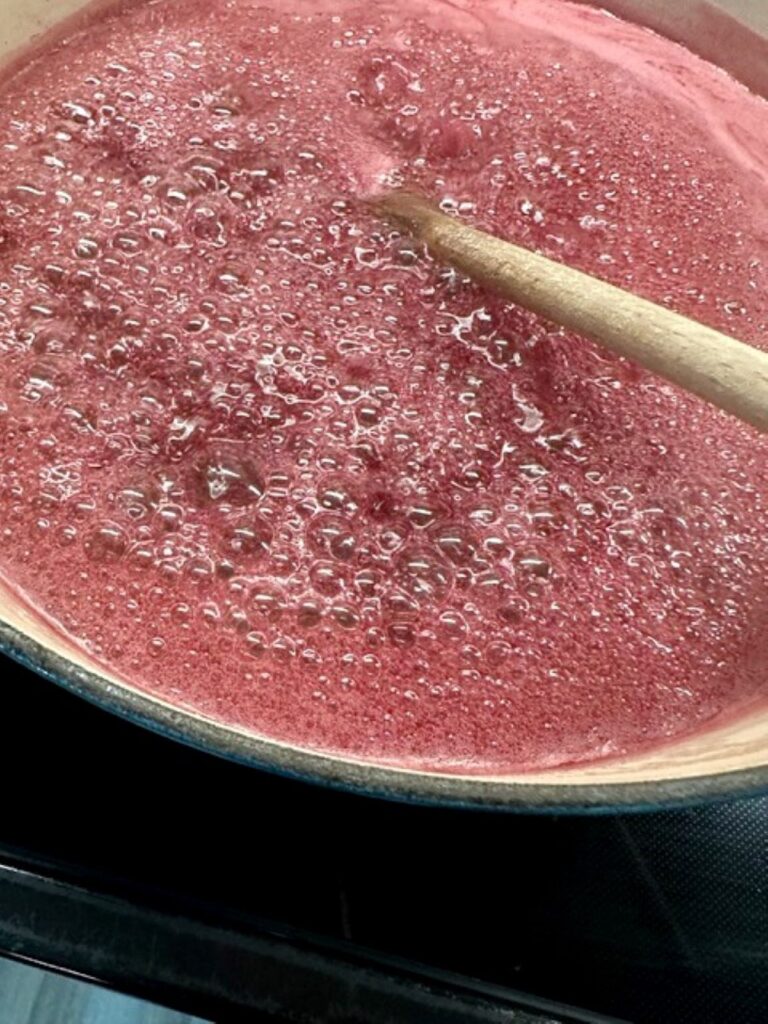 Carefully ladle the hot grape jelly into your prepared, sterilized jars, leaving about 1/4-inch headspace at the top.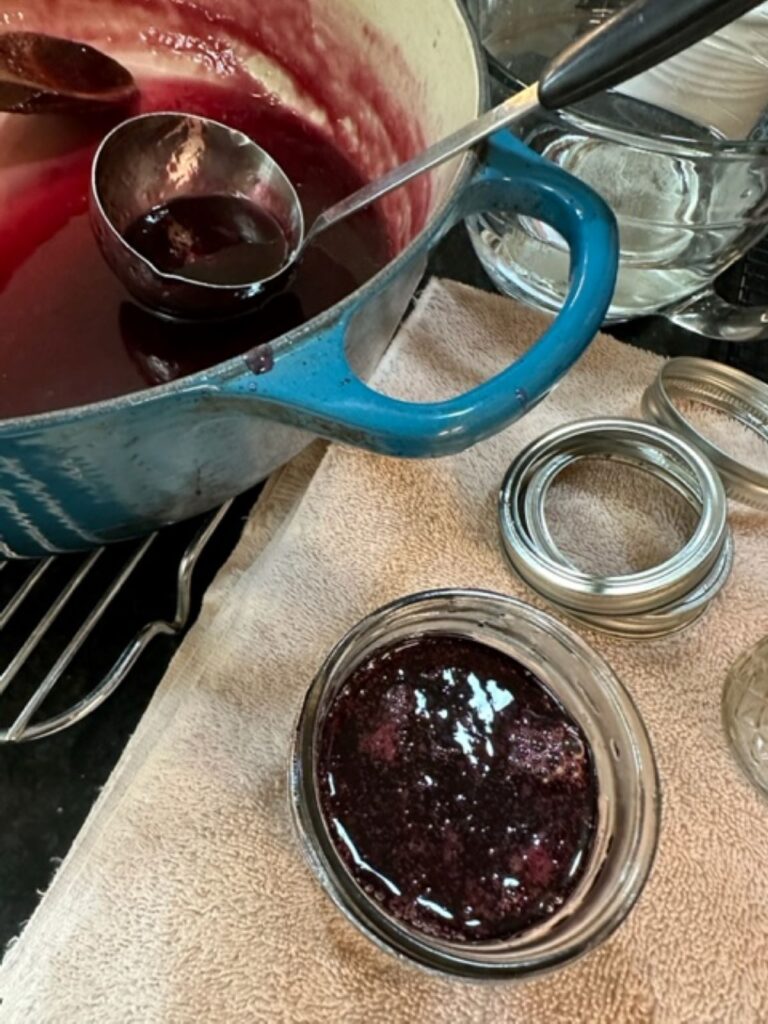 Use the clean, damp dishcloth to clean the jar rims to ensure a proper seal. Place the sterilized lids on top and screw on the bands until they're fingertip-tight.
If you want to store the jelly for a long time, process the sealed jars in a boiling water bath for 10 minutes. Make sure the boiling water covers the jars by at least one inch.
Carefully lift the jars onto a cooling rack or a thickly folded towel and let them sit undisturbed while you wait for the satisfying "ping" sound that lets you know they are vacuum-sealed!
Otherwise, let the jars cool on the counter, and you can store them in the refrigerator for up to a month.
Yield: 6 half pints
Grape Jelly From Grape Juice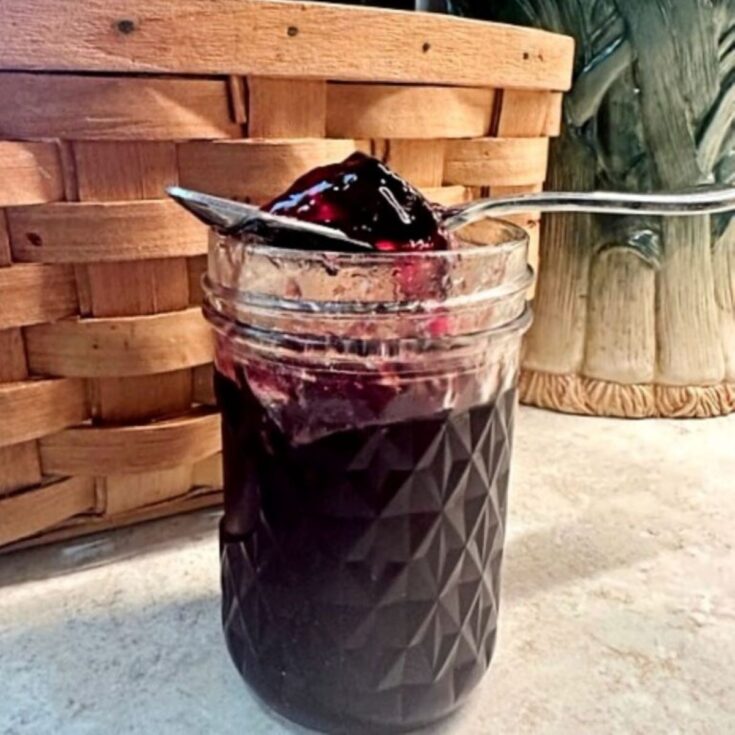 An easy and quick recipe for making homemade grape jelly from 100% grape juice. Delicious!
Additional Time
15 minutes
Ingredients
4 cups of unsweetend 100% grape juice like Welch's brand
4 cups of granulated sugar
1/4 cup lemon juice (natural pectin)
1 packet of dry pectin if a firmer jelly is desired. I used pectin.
1 tsp butter, optional
Instructions
Combine the grape juice, lemon juice, and pectin in a large pot. Add a teaspoon of butter if desired to help keep foam from forming on the jelly.
Cook over medium heat until the mixture comes to a boil.
Add the sugar all at once and cook until the sugar is all dissolved.
Keep cooking and stirring until the mixture comes to a full rolling boil that cannot be stirred down.
Set a one-minute timer and keep cooking and stirring until the timer sounds; then, remove the pot from the heat and place it on a rack.
Ladle the hot jelly into clean jars, leaving about 1/2 inch of headspace. Wipe the rim with a clean, damp cloth.
Place a two-part lid on each jar and hand-tighten it firmly.
Use a canning jar lifter to put the jars into a boiling water bath and set a ten-minute timer. Water must cover the jars by at least one inch.
When the timer sounds, remove the jars onto a cooling rack with a canning jar lifter and let them cool without touching or moving.
Refrigerate or freeze any jars that do not seal.
And there you have it! You've just made delicious grape jelly from 100% grape juice without the fuss of grape harvesting and washing. It's an easy, fun, and rewarding process that anyone can do.
Enjoy your homemade grape jelly on toast, pancakes, or as a glaze for meats – the possibilities are endless. Share the joy of homemade goodness with your friends and family, and tell them they can do it, too!
We love making all kinds of jams and jellies! Here are some of our most popular recipes we hope you will try! Corn Cob Jelly, Jalapeno Jelly, and Christmas Jam.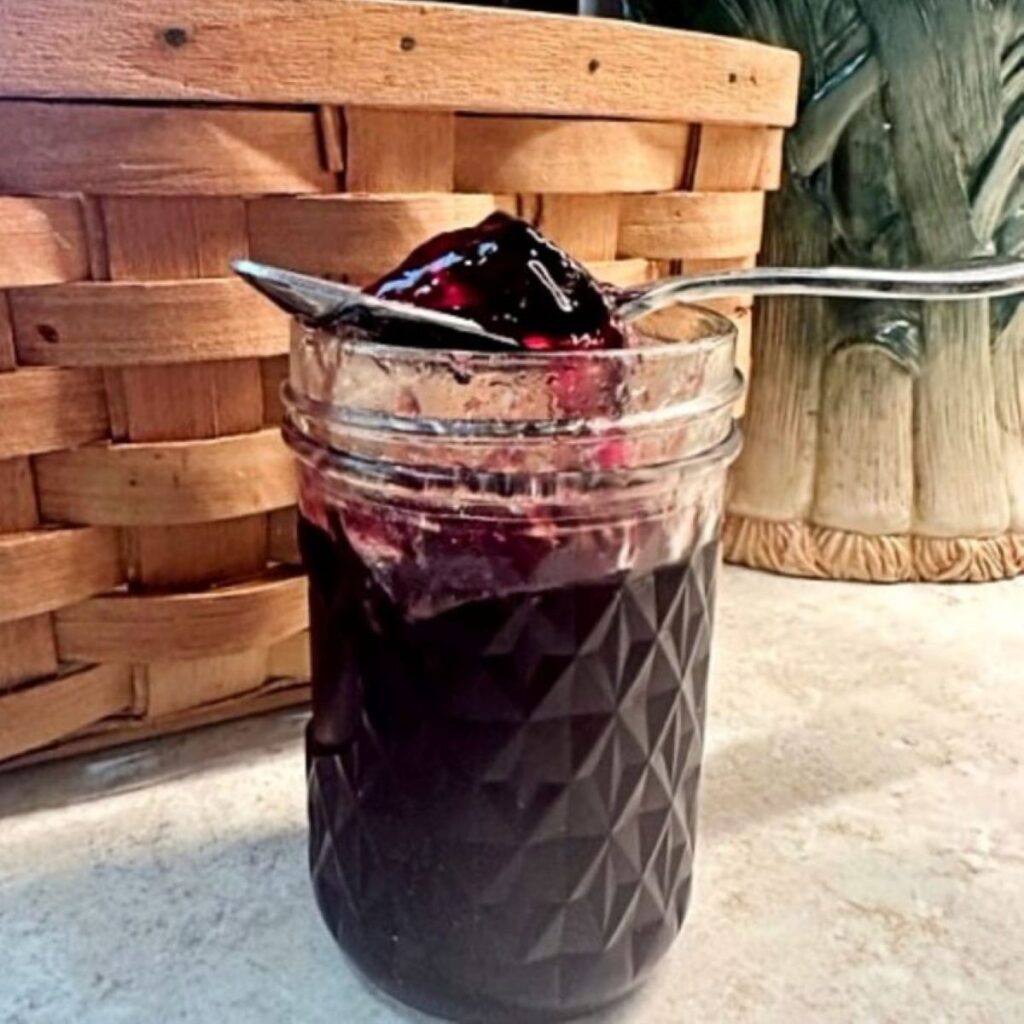 More tasty recipes from us: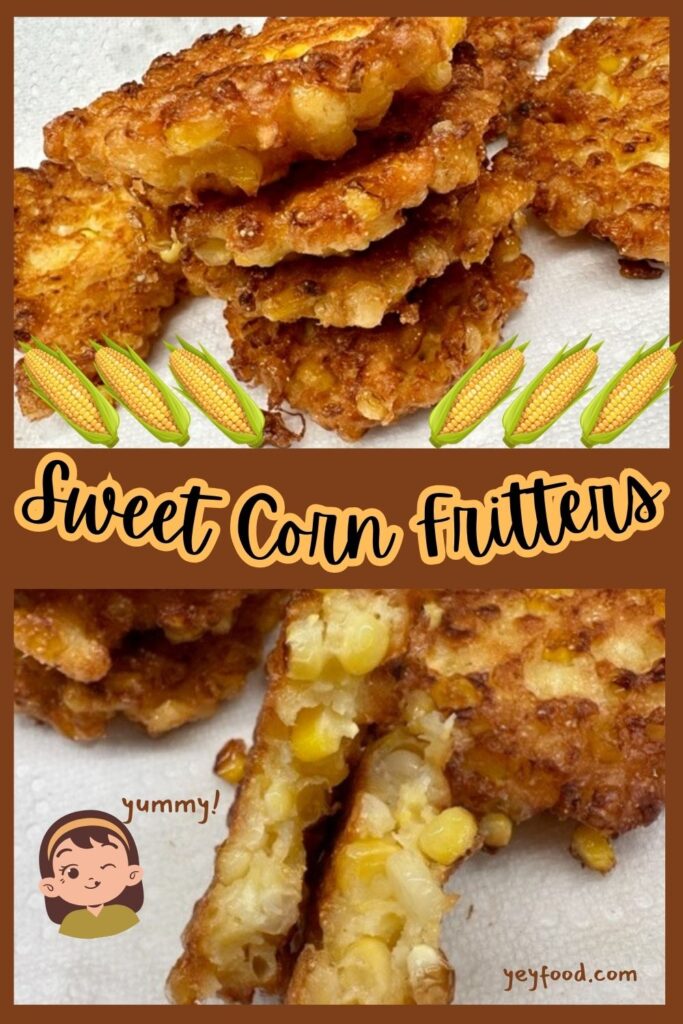 Easy 1 Pan Classic American Goulash
If you like these recipes, you are our people! You can check some related articles below or search via categories on the right. But be warned; you will be on here for hours. Enjoy!