When Corn Is This Sweet You've Gotta Make Corn Fritters!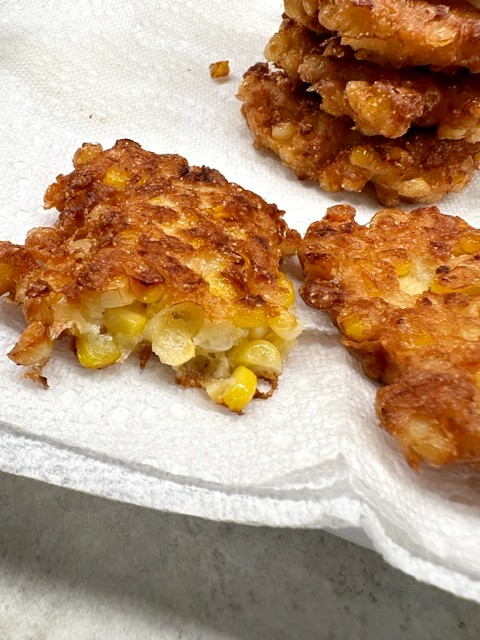 Sweet corn fritters are still another way to enjoy sweet corn! You know the expression, "You've gotta make hay while the sun shines," right? Well, while fresh sweet corn is this good and this plentiful, make it every way you can and eat it as often as possible! Because when it's gone, it's gone for another year!
Depending on where you live, we have about three more weeks to enjoy this delicacy. I cannot believe I waited this long to make sweet corn fritters because they are easy, fast, and amazingly delicious!
The first crop of corn in America was harvested in 1780 when corn was grown for animal feed, cornmeal, coarsely ground for mush, and before long, made into whiskey by early Irish and Scottish immigrants who brought their skills in distilling to the new world.
Early on, some folks found that if they picked it young enough, it was tender and sweet and became an occasional treat. My husband well remembers eating very young field corn with lots of butter and salt when he was a boy, and he thought it was very special.
It was not until the 1950s that what we know today as sweet corn was developed. Over the last seventy-five years, the tenderness, uniformity, sweetness, and how long it will stay sweet in the refrigerator have been genetically manipulated to create to wonderful sweet corn we enjoy today.
Make A Batch Of Sweet Corn Fritters Tonight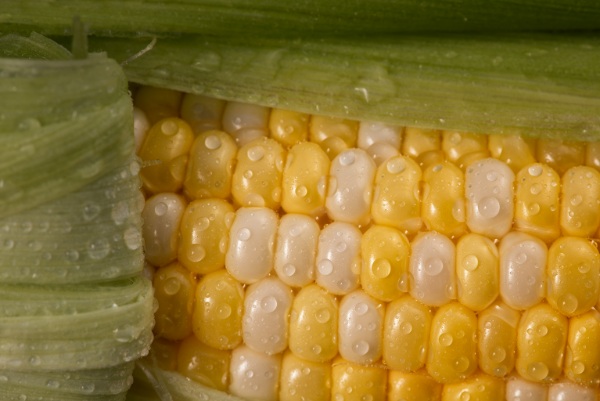 When sweet corn is this perfect and this abundant, try a new way to enjoy it. Make a batch of sweet corn fritters! It may be the best twenty minutes you spend this summer. 🤩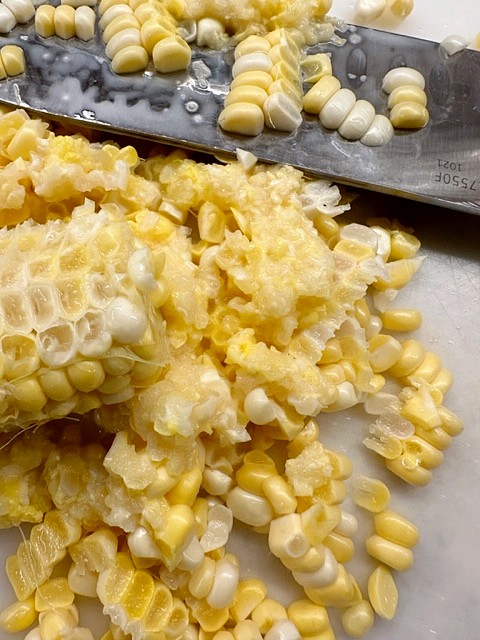 Remove the husks and silks from four ears of corn. Slice the whole kernels off from two of them, and when you slice the kernels off the second two ears, scrape the cob with the back of the knife to capture as much "milk" as you can from the ears. This extra bit of flavor and moisture is the thing that takes these fritters over the top.
Mince a shallot, or chop some green onion very finely if you don't have a shallot. For some odd reason, I had a shallot. (?) It must have been from a recipe a while back. You want a hint of mild onion in the fritters. I used half the shallot because it seemed like plenty.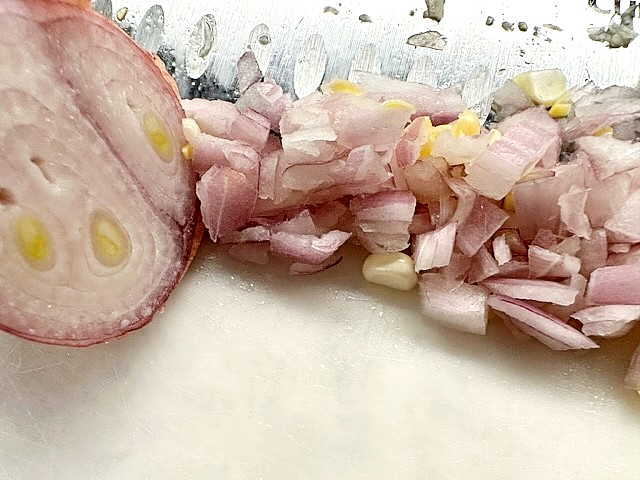 Put the cornmeal, flour, egg, milk, or cream, the finely minced shallot or onion, salt and pepper, and a dash of cayenne pepper into a bowl and mix it up into a thick batter.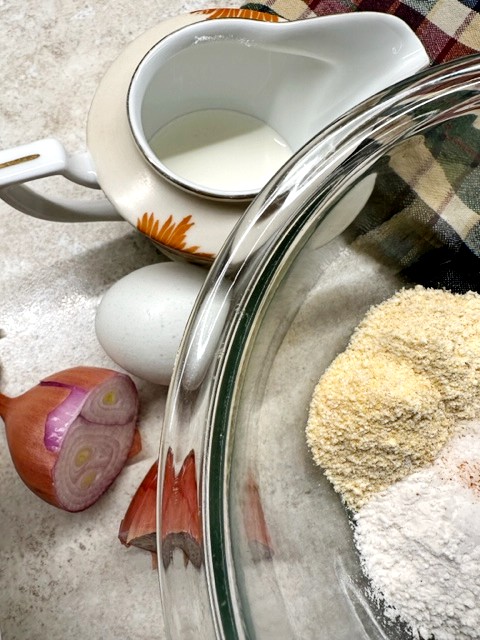 Now fold in the corn and as much milk from the corn as you can gather and mix it up so it's all a lovely, thick, corn-studded batter. Now you are ready to make some fabulous sweet corn fritters!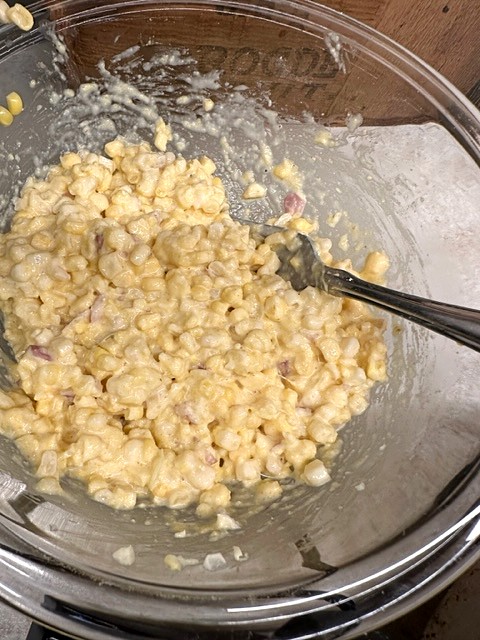 How To Fry Corn Fritters
Put about 1/4 to 1/2 inch of vegetable oil in a skillet and heat it to 375 degrees. I used my roomy electric skillet in which I could set the temperature. If you don't have a skillet like this or a thermometer, the easiest and safest way to tell is by using a wooden spoon!
Stick the end of the spoon into the oil. If you see a bunch of bubbles form around the wood and begin to float up, your oil is ready! If it is bubbling hard, the oil is too hot; let it cool a little and check the temperature again.
I used an ice cream scoop to keep the size of my sweet corn fritters fairly uniform so they'd cook evenly. I wasn't concerned about keeping them perfectly round; I wanted them to be a little rustic! The picture looks a little hazy because steam rose from the skillet as the corn fritters fried.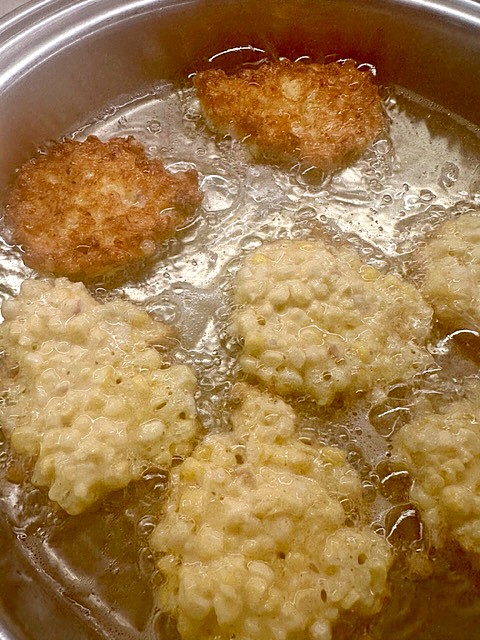 They smelled delicious as they fried! I was so excited about how they looked!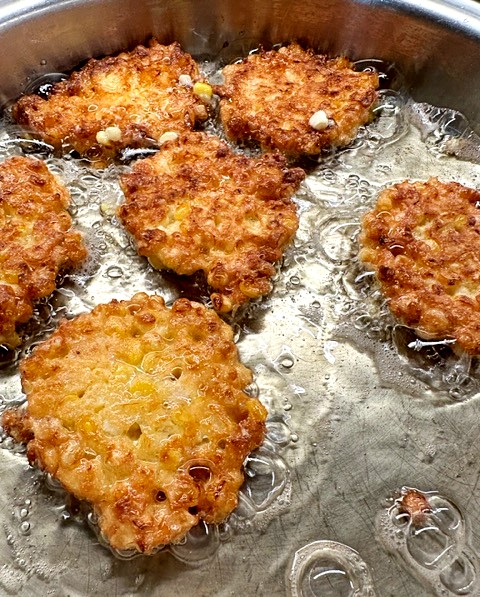 I lifted them out onto paper towels to drain, and I barely let them cool before I broke one in half to take a look and try a bite! Oh, my stars!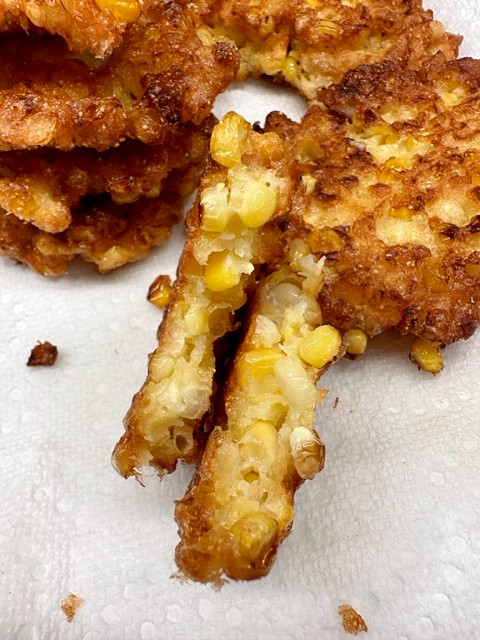 Look at all those plump, sweet kernels nestled inside a tender but crispy corn fritter! I discovered another new way to enjoy summer, and I will make them again and again before the season ends.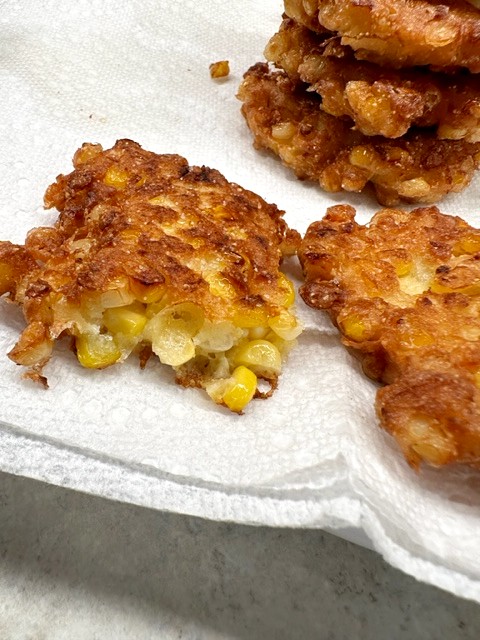 This recipe made about ten fritters that were approximately three inches across. I had every intention of experimenting with reheating them in my air fryer, but we ate EVERY SINGLE ONE in one sitting! Oh shoot, I guess I'll have to make more! I hope you try these corn fritters soon. Let us know what you think!
This time, I may try dropping the sweet corn fritters batter into the oil by spoonfuls and making sweet corn nuggets instead. I think the kids in the family will go crazy and eat them as fast as I can fry them!
Yield: 10 fritters
Sweet Corn Fritters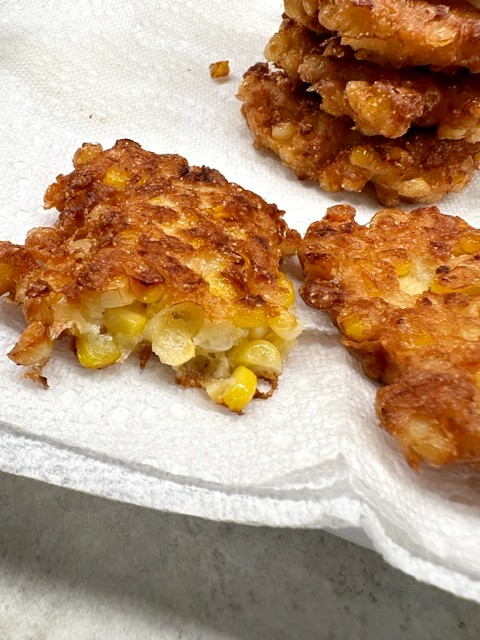 Fast, easy, and delicious fritters made from simple pantry ingredients and fresh sweet corn cut off the cob.
Ingredients
4 ears of fresh corn with husks and silks removed
1 large egg, beaten
3 Tbsp flour
3 Tbsp cornmeal
2 tbsp heavy cream
1 small shallot, minced, or minced green onion finely chopped, 1 Tbsp or to taste
1/2 tsp kosher salt
vegetable oil, about 1/4 cup or as needed to cover the bottom of your frying pan
pinch of cayenne pepper
Instructions
Remove the husks and silks from four ears of corn. Slice the whole kernels off from two of them, and when you slice the kernels off the second two ears, scrape the cob with the back of the knife to capture as much "milk" as you can from the ears. You should have somewhere around two cups of corn kernels.*
Make a batter of flour, cornmeal, salt, egg, cream, and shallot or onion.
Fold in the corn kernels and stir until the corn is well distributed.
Heat the oil to 375 degrees in a skillet. You should have about 1/4 inch of oil in the skillet.
Fry until browned, flip, and brown the other side. Do not crowd in the skillet. Cook in batches if necessary. (see post for tips on temperature)
Serve hot.
Notes
*Some recipes suggest grating the corn off the cob. This will give you a finer texture in the finished fritter- not as chunky.
We love corn, any time of year and in any way you serve it! Here are some of our popular recipes for corn. Jiffy Corn Casserole, Easy Mexican Corn Dip, and Sweet Corn Salad.
We're curious. Do you eat corn on the corn typewriter style in neat little rows, or do you chomp randomly all over the cob until every kernel is gone? Do you remember a summer with no front teeth when you couldn't eat corn on the cob until mom cut it off the cob for you?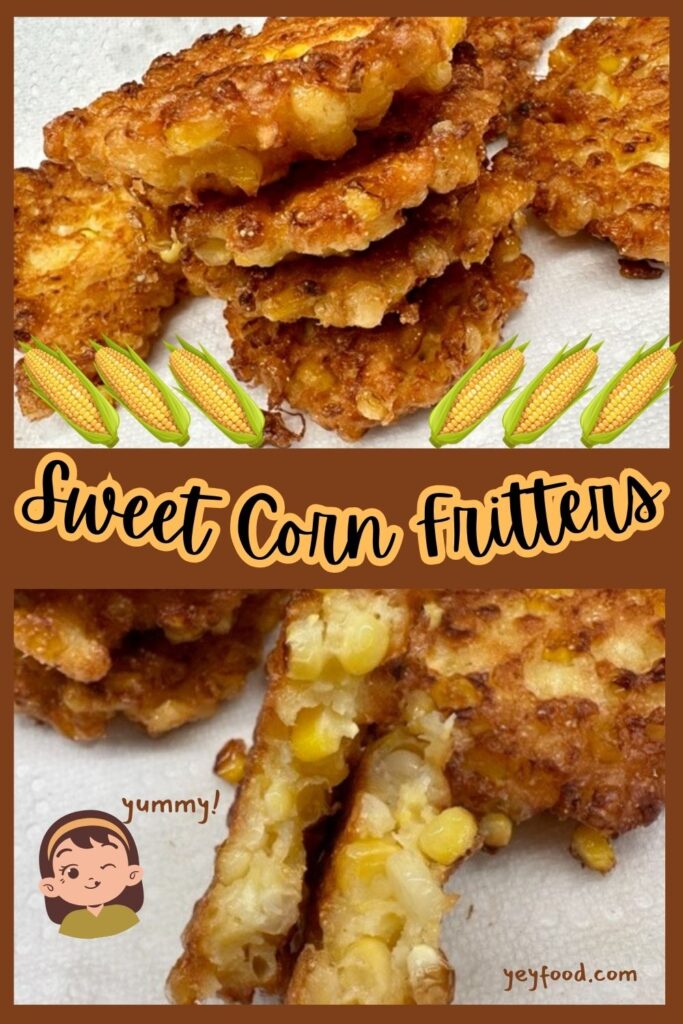 More tasty recipes from us: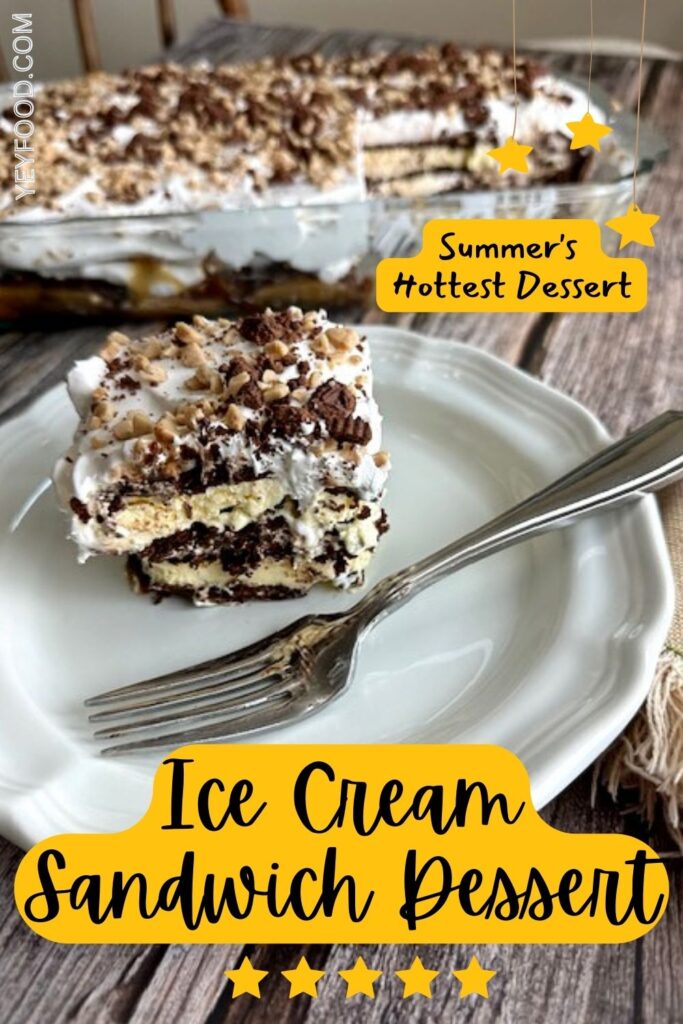 Easy 1 Pan Classic American Goulash
German Sauerkraut Casserole With Bacon And Brown Sugar
If you like these recipes, you are our people! You can check some related articles below or search via categories on the right. But be warned; you will be on here for hours. Enjoy!