A Perfect Dessert To Make Ahead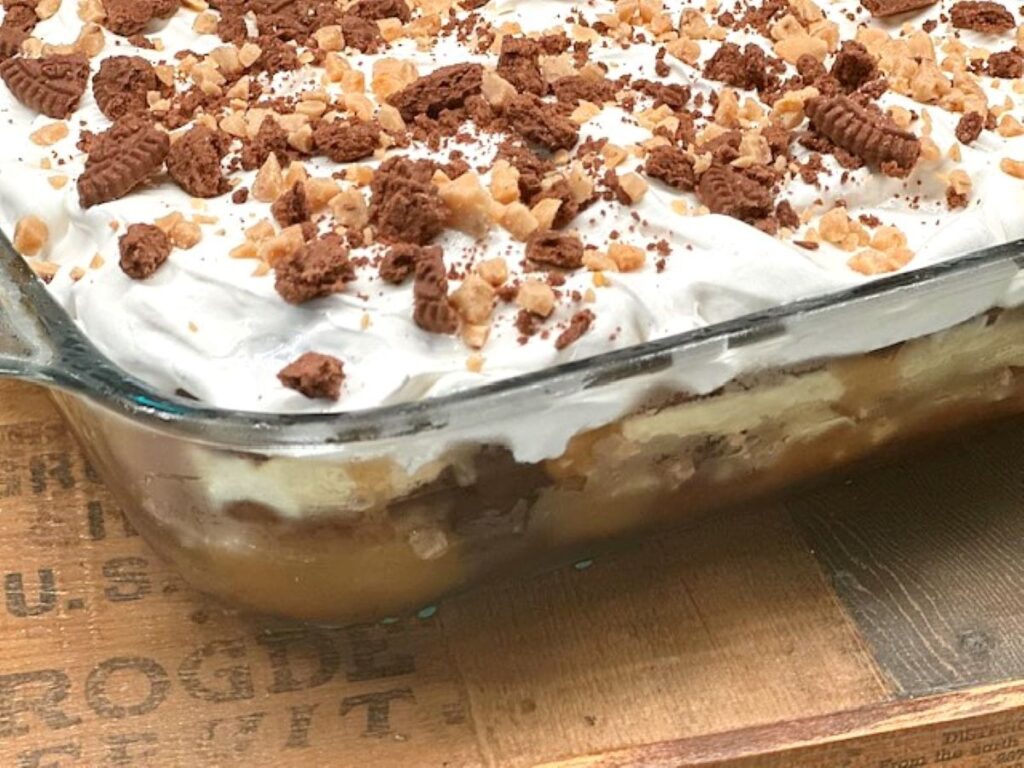 Ice cream sandwich desserts are the hottest culinary craze of this summer and for a good reason. They've been making waves and getting tons of "likes" among dessert enthusiasts, foodies, and social media influencers!
Everything about them is delightful! They are delicious, beautiful, easy to do ahead, and have all the possible variations of Changeable Charlie blocks. (Please tell me if some of you remember that simple childhood toy. We were much more easily entertained back then.)
Ice cream sandwich desserts and cakes are genius. Albert Einstein quipped, "The definition of genius is taking the complex and making it simple." These clever desserts are the chameleons of the dessert world, rewriting the script of traditional cakes.
Say goodbye to the same boring layers of cake and frosting and hello to creamy ice cream sandwiched between crisp cookies. It's a playful reinvention of an old childhood favorite. Besides, who wants to heat up the oven to make a summer dessert? Preposterous!
Then there's the element of unlimited possibilities! These desserts are tasty shapeshifters in the culinary world. Just when you think you've nailed it, up pops a new idea! Why not unexpected flavors and textures?
Go off script and use raspberry or orange sherbet and lemon curd or raspberry coulee between those familiar chocolate rectangles. Garnish with whole raspberries, maybe? Did I mention thinning peanut butter to a sauce-like consistency in a chocolate variation? My head spins with the options!
Think outside that cardboard box and consider cookies' n' cream, chocolate chip, and even the ever-popular salted caramel. Use your imagination, and you'll think up dozens of options to keep your taste buds on their toes.
Let's not forget the visual appeal! These treats are like edible works of layered art, a delight for our eyes before they ever hit our eager lips. Picture this: a majestic tower of frozen deliciousness bedazzled with interesting sprinkles, drizzled with luscious sauces, and garnished with crushed candies. Instaworthy, I think!
Here's A Basic Recipe For Your First Ice Cream Sandwich Dessert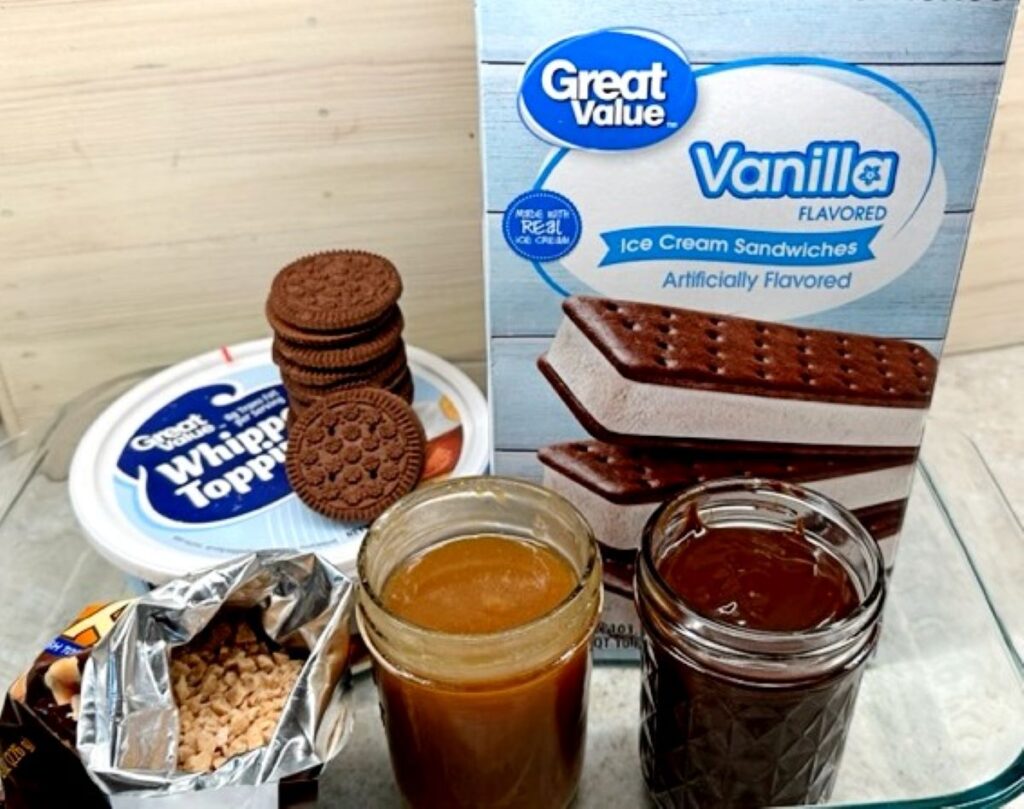 You will need two boxes of ice cream sandwiches to make two layers in a nine-inch by thirteen-inch pan. It will take twenty-one, so you'll have a few to eat plain. Two rows of four lengthwise, then put one and one half on the end of the pan. It's a great fit.
Next, drizzle on about a cup of hot fudge sauce warmed up just enough to make it pourable. I made my own and included the recipe here, but you can surely crack open a jar of Smucker's! It's good, too! I just didn't want to run to the store! I got carried away and threw on some brickle bits because you can never have too many!!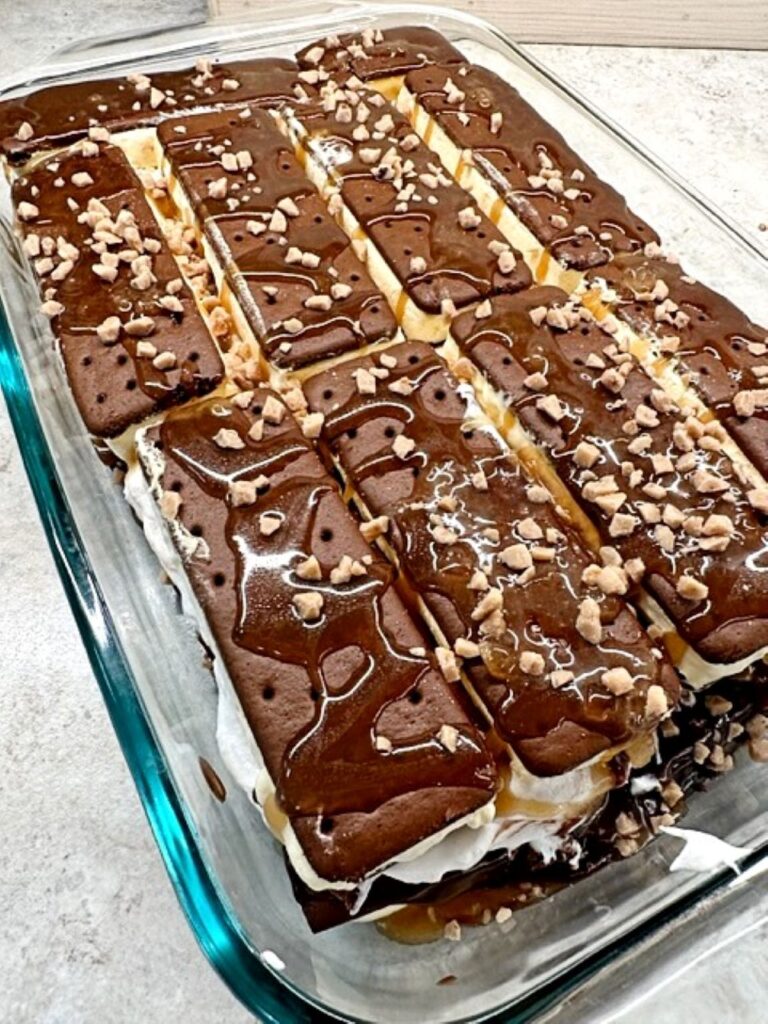 Now add a half cup or so of caramel sauce. I had a jar of homemade sauce from my friend Kimberley R, so I used hers, but I also put my recipe at the bottom of this post just in case.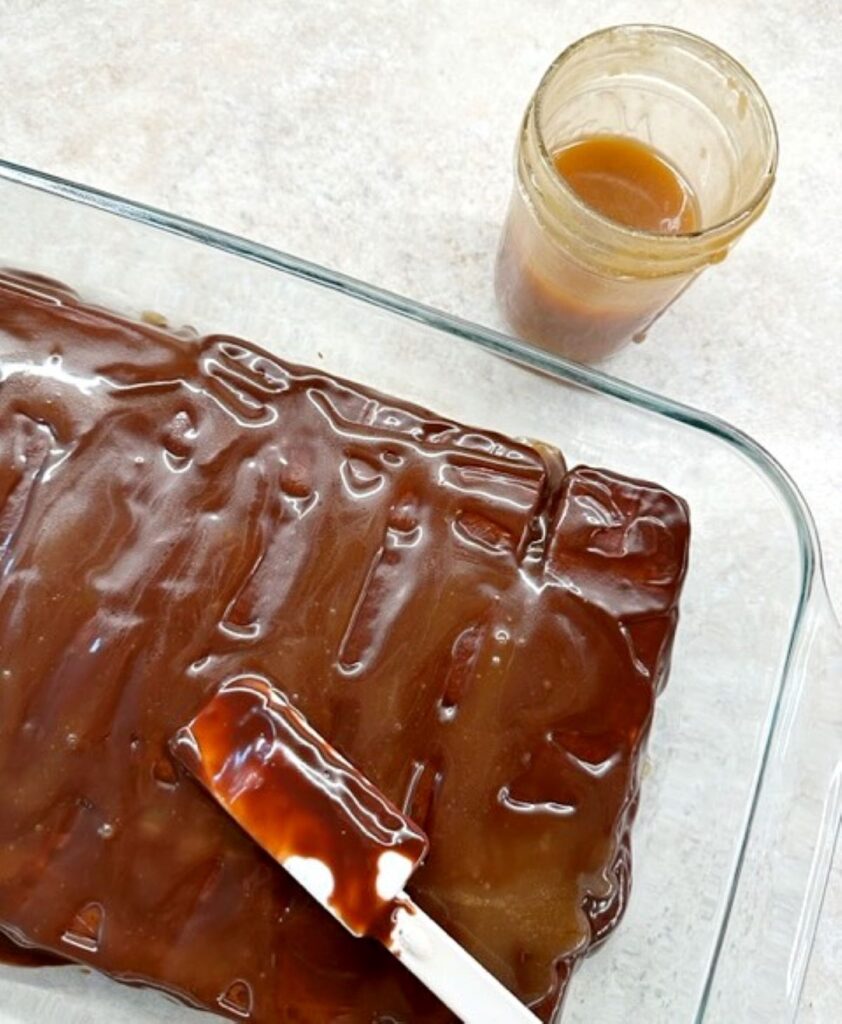 I will stop here and mention that you can also use bottled ice cream topping, and yes, even a store brand. This dessert is served frozen, so don't let that stop you from making your ice cream sandwich desserts until you have the "right" fancy sauces!
Add crushed cookies, chopped nuts, and/or brickle bits (anything goes!) if you want, then spread on whipped topping and repeat the layers. Ooh! I just thought about making this with coffee ice cream or peppermint ice cream and what sprinkles would taste good with them! 😋 (Squirrel!)
End with whipped topping and garnishes of your choice, and then freeze the ice cream sandwich dessert for four hours or overnight before cutting it. I ended up using one and one-half tubs of whipped topping to make this dessert, but I did get heavy-handed.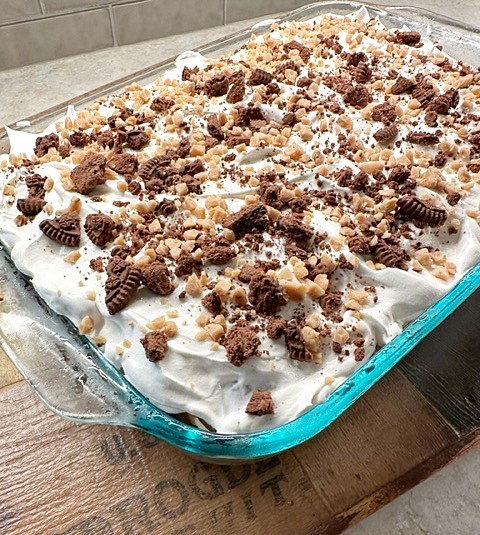 Why We Love These Ice Cream Sandwich Desserts So Much
There is something undeniably nostalgic about ice cream sandwich desserts. They take us back to those carefree summer days of our childhood when the ice cream truck would Pied Piper us into the street. What a highlight that was on a hot summer evening!
Whether you are having a pool party, a birthday bash, or a casual weekend BBQ at the lake, these ice cream sandwich desserts are the life of the party!! One nine-by-thirteen-inch pan can easily be cut into sixteen to twenty servings because it is as sweet and rich as your Aunt Opal!
This frozen dessert is a hot trend, so be the coolest kid on the block and serve one of these ice cream sandwich desserts at the next get-together! It is so easy to put together and stash in your freezer for the perfect moment!!
Yield: 16 servings
Ice Cream Sandwich Dessert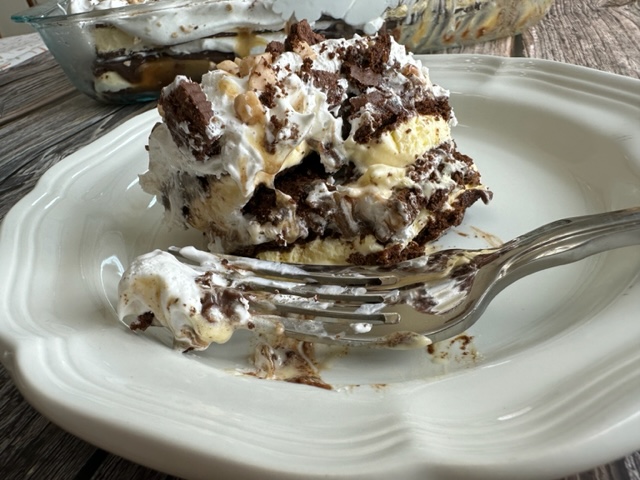 Here's an easy dessert you can vary in as many ways as you like using ice cream sandwiches, sauces, garnishes, and whipped topping.
Total Time
4 hours
20 minutes
Ingredients
20 ice cream sandwiches
1 cup caramel ice cream topping
2 cups of hot fudge toppings
one to one and one-half 8-ounce tubs of whipped topping
Garnishes as desired. Crushed cookies, candies, nuts. brickle bits, mini choclate chips, etc.
Instructions
Place ten ice cream sandwiches in the bottom of a nine-by-thirteen pan.
Pour half of the hot fudge sauce over them, then half of the caramel sauce.
Spread whipped topping over that.
Repeat layers.
Garnish as desired.
Freeze for four hours or overnight.
Cut into 16 to 20 servings.
Yield: 20 servings
Homemade Hot Fudge Sauce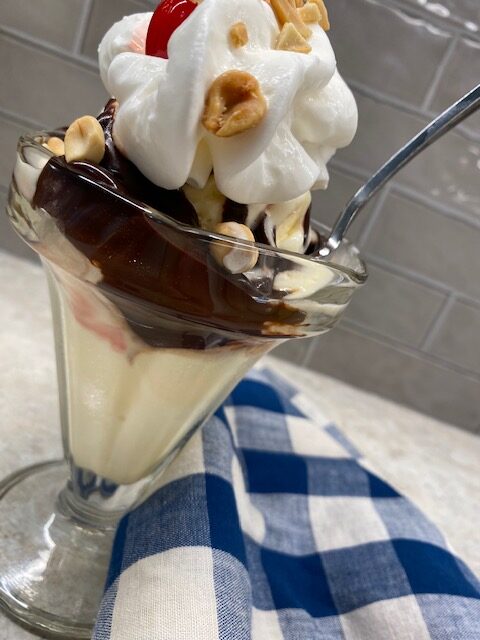 Here is a recipe for yummy, thick hot fudge sauce that gets all chewy and good when it hits the cold ice cream.
Ingredients
1 generous cup of your favorite good quality real chocolate chips
1/2 cup salted butter
2 cups powdered sugar
1 1/2 cups heavy whipping cream
1 Tbsp vanilla
Instructions
Melt chocolate chips with butter in a heavy saucepan over low to medium-low heat. Whisk or stir constantly.
Whisk in the cream and powdered sugar, turn up the heat a little and bring to a boil.
Turn the heat down to medium-low and keep whisking for 5 or 6 minutes until the sauce is thick and shiny.
Remove the pan from the heat and stir in the vanilla.
Use sauce now or pour it into a jar with a lid and refrigerate until you use it.
The sauce will get very thick when cold. To use, remove the lid and microwave in short bursts, stirring between each burst, until the sauce is hot and pourable.
Notes
If you have unsalted butter, add about 1/8 tsp of salt.
You can use milk chocolate, semi-sweet, or dark chocolate chips. You can also use the equivalent amount of good quality chocolate chopped.
Yield: 12 servings
Homemade Caramel Topping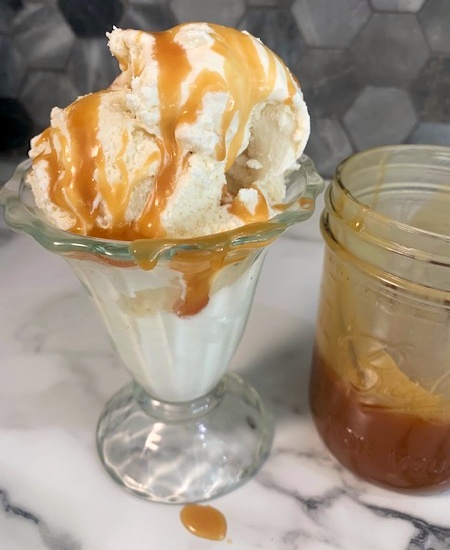 This is a recipe for a thick, rich, buttery caramel topping you can make with simple pantry ingredients and some patience.
Additional Time
10 minutes
Ingredients
One cup granulated sugar
One-fourth cup water
6 Tbsp butter, cut into pats
1/2 cup heavy cream
1 tsp vanilla
1/8 tsp salt
Instructions
Put one cup of sugar and one-fourth cup of water in a pan with a heavy bottom.
Set the pan on a stove burner set on medium and stir it a little to get things started and evenly distributed in the pan.
At first, the mixture will be cloudy, but as it heats for 3 three or four minutes, the liquid will begin to get clear and start to bubble and boil.
At this point, RESIST ANY URGE TO STIR, as this makes sugar crystals form.
Swirl the pan gently and use a silicone spatula to gently brush any sugar crystals down from the side of the pan.
Continue swirling and cooking and watch in amazement while the mixture gets thicker and turns a gorgeous honey-amber color. This process can take anywhere from eight to twelve minutes.
Be patient. You cannot leave the stove. You must watch carefully to be sure the mixture doesn't get too dark and burn.
When the caramel turns a golden amber color like honey, carefully whisk in the butter pats and keep whisking until it melts completely.
Remove the pan from the stove and carefully, slowly whisk in the cream until it's all completely blended.
Whisk in the salt and vanilla.
Set the pan aside to cool for 10 minutes.
Pour into a resealable jar with a tight-fitting lid and refrigerate for up to three weeks.
The caramel will thicken and get hard when it's chilled. Reheat it in the microwave in short bursts, stirring in between until it is the consistency you want.
Nutrition Information:
Yield:
12
Serving Size:
1
Amount Per Serving:
Calories:

150
Total Fat:

9g
Saturated Fat:

6g
Trans Fat:

0g
Unsaturated Fat:

3g
Cholesterol:

26mg
Sodium:

72mg
Carbohydrates:

17g
Fiber:

0g
Sugar:

17g
Protein:

0g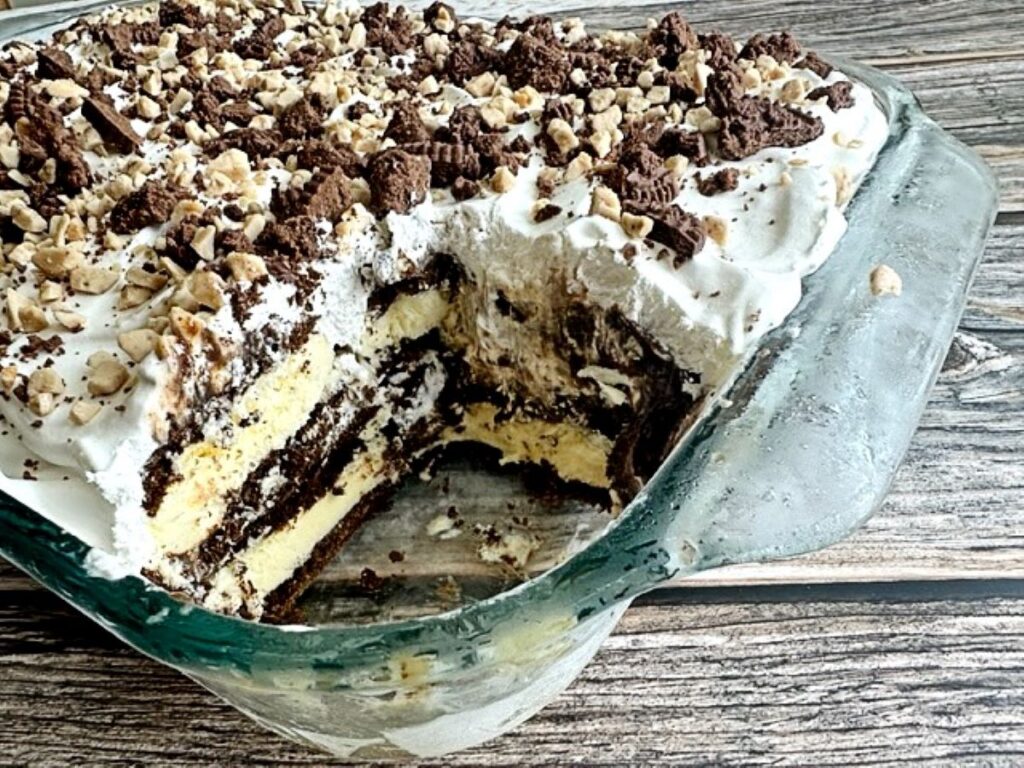 We love desserts and sweets of all kinds here at yeyfood, especially one of us. Here are some of our most popular sweets and dessert recipes! Coconut Cream Pie, Magic Rhubarb Pudding Cake, and Original Fantasy Fudge.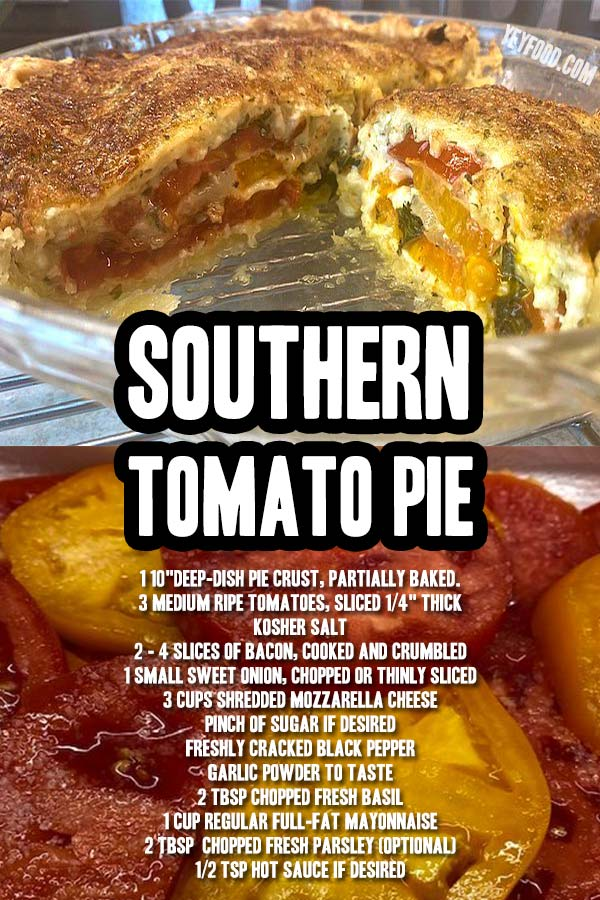 4 Reasons You Should Freeze Some Sweet Corn This Summer
How To Make The White BBQ Sauce That's Fascinated Us Since 1925