So Crisp And Tasty The Flavor Will Amaze You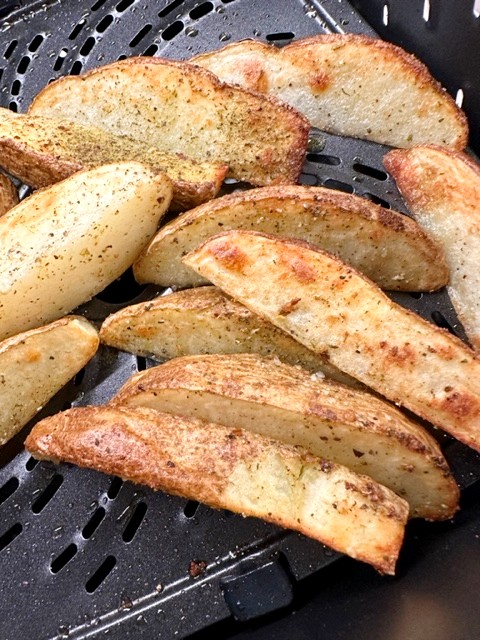 Nothing could be easier than these yummy air fryer potato wedges. They are a perfect side to almost any main dish. We are potato people, so when I find a better, faster way to make them, I'm all in.
Air fryer potato wedges are somewhere between a baked potato and a steak fry. They are crisp outside like a fry, and the inside is a little like the inside of a baked. They are delicious dippers, whether you like ketchup, ranch, or a yummy sauce like Freddy's Fry Sauce, one of our favorites.
The fluffy interior soaks up and holds your favorite condiments. More is more in this case, right?
Just Three Ingredients To Make Air Fryer Potato Wedges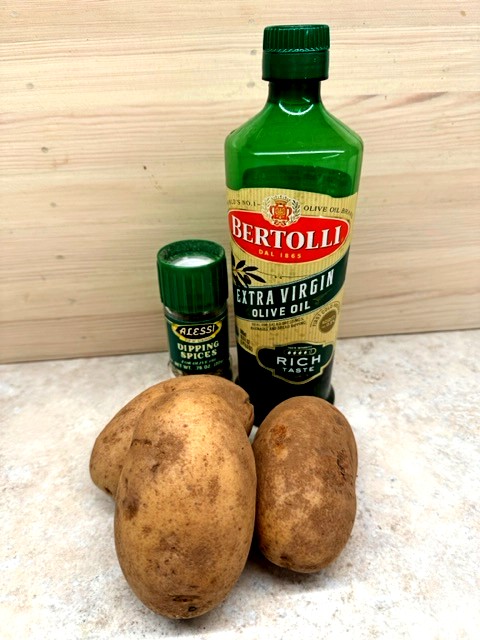 I'm a huge fan of Russet potatoes. They are a starchy or "floury" type of all-purpose potato. After 50 years of marriage to Papa, potato lover extraordinaire, I thought I knew everything there is to know about potatoes. Still, "floury" is relatively new potato terminology for me.
What does that mean? Floury potatoes are low in water content; most of their sugar has been converted to starch by harvest. This characteristic means they will have a dry, fluffy, cooked texture accentuated by baking and mashing. Floury potatoes also fry well; low sugar levels mean less excessive browning.
I was looking for the shortest possible shortcut when I tried making air fryer potato wedges, so I grabbed my little bottle of Alessi dipping spices. This delicious sea salt and spices blend has everything you need to create tasty potato wedges in one handy little grinder. You can add any additional seasonings you want, of course.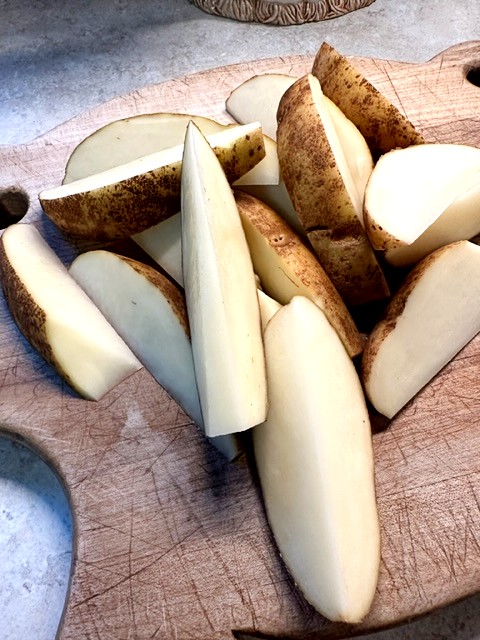 Allow about one six to eight-ounce potato per person. Begin by scrubbing them thoroughly and drying them with terrycloth or other absorbent cloth. Cut each potato into eight wedges, then pat them dry so the olive oil sticks to each wedge better.
Put the olive oil in a shallow dish and turn the wedges until all sides are coated, then sprinkle them generously with the dipping spices. You could add some grated Parmesan or Romano cheese if you like.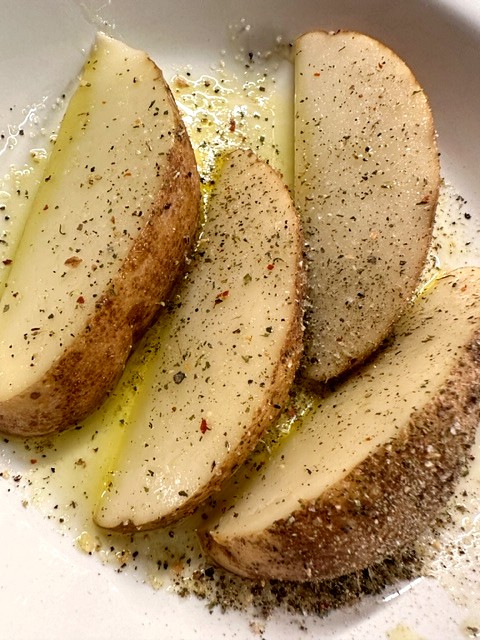 Now put the potato wedges into the air fryer basket. Try not to crowd them so they cook faster. Cook them at 400 degrees for about twelve to fifteen minutes, then shake the basket and cook until you can pierce the potato easily with the tip of a knife. Add time if you like until you achieve your ideal crispy brown exterior!
The air fryer creates a magical tornado of hot air that crisps up the potato skin to absolute perfection. The air fryer potato wedges come out with a golden, crispy exterior and a fluffy, cloud-like interior.
Air fryers are the ultimate multitasking tool Minimal fuss, maximum flavor: Air fryers are lazy (or busy!) cooks best friends. Just pop those spuds in, set the temperature and timer, and let the air fryer do its thing. No babysitting is required! Plus, the hot air circulation ensures that every bite is packed with flavor.
Yield: 4 servings
Air Fryer Potato Wedges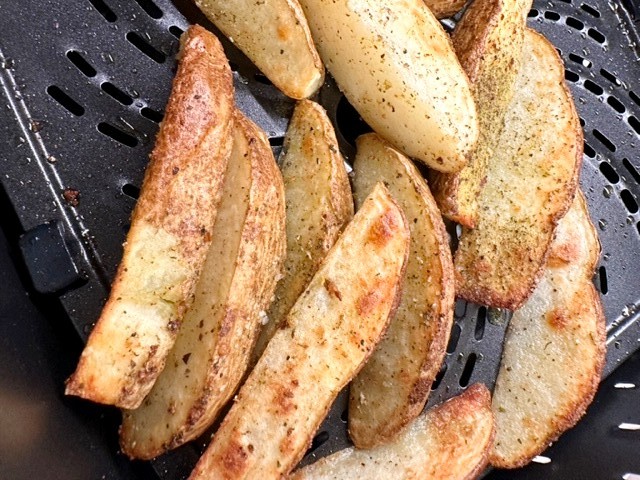 Use Russet potatoes and just two ingredients to make super tasty potato wedges in your air fryer.
Ingredients
Four 6 to 8-ounce Russet potatoes
Olive oil for coating the wedges
Alessi dipping spices for seasoning
Instructions
Scrub and dry the potatoes. Do not peel.
Cut into eight wedges lengthwise. Dry the wedges with paper towels of absorbent cloth.
Coat wedges on all sides with olive oil.
Season generously with Alessi spices and add other spices if you want, like red pepper flakes, chili powder, cumin, etc.
Add grated Romano or Parmesan cheese if desired.
Put into the air fryer basket and cook at 400 degrees for about 15 minutes.
Shake the basket, and test the potatoes for doneness. When done, the potatoes can be easily pierced with the tip of a knife.
Continue cooking until done and the desired shade of brown is achieved.
Serve with your favorite condiments.
Nutrition Information:
Yield:
4
Serving Size:
1
Amount Per Serving:
Calories:

364
Total Fat:

4g
Saturated Fat:

1g
Trans Fat:

0g
Unsaturated Fat:

3g
Cholesterol:

0mg
Sodium:

143mg
Carbohydrates:

74g
Fiber:

8g
Sugar:

4g
Protein:

9g
The calorie calculation is inflated. Not much olive oil stay on the potatoes. More like 220 calories.
Air fryer potato wedges are faster than baked potatoes and much more fun to eat because they are the perfect finger food you can dip into ketchup, mayo, ranch, cheese sauce, or any other condiment you love and shove hungrily in your mouth!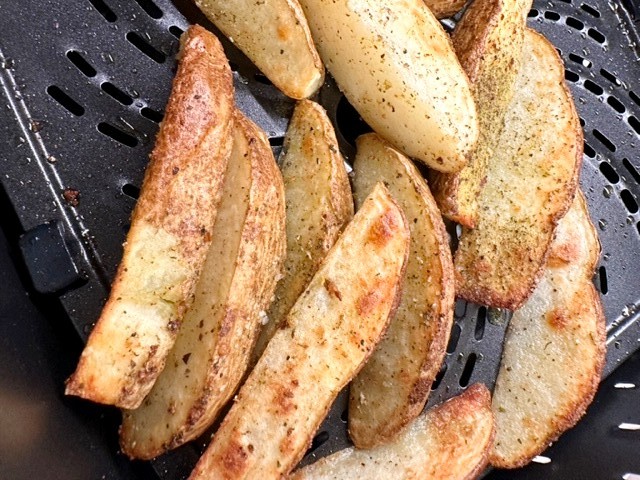 Every day, all around this planet, over a billion people will eat at least one potato. They are a beloved food. The average American eats about 140 pounds of them per year. At yeyfood, we love our spuds! Here are some of our favorite recipes for potatoes! Buttery Melt In Your Mouth Potatoes, Speedy Skillet Scalloped Potatoes With Ham, and Best Cheesy Potato Casserole.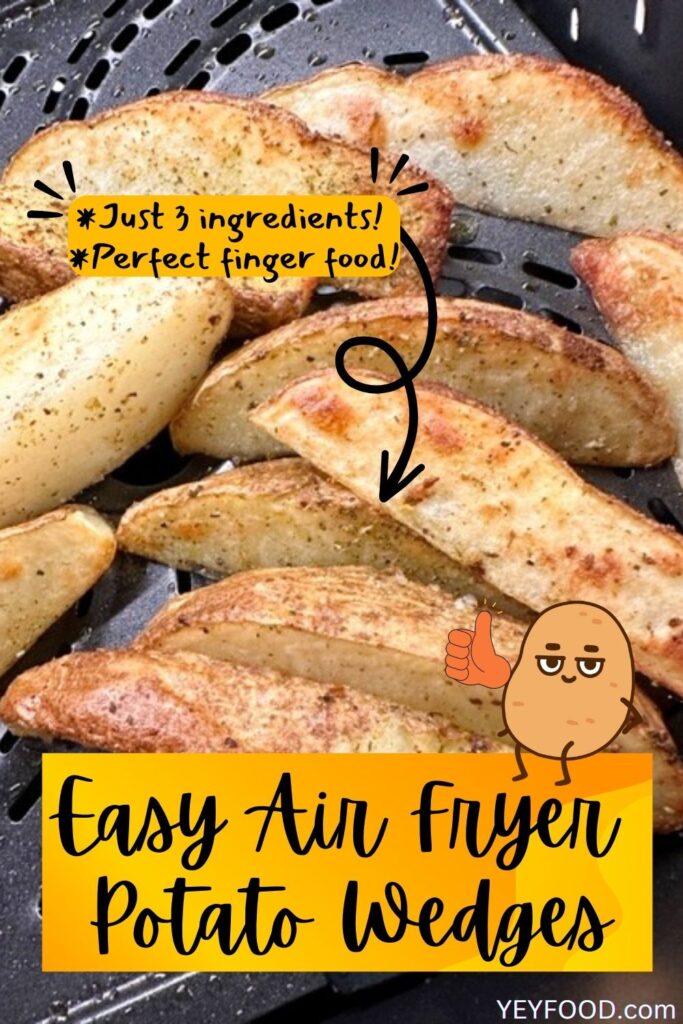 MORE OF OUR TASTY FAMILY-FRIENDLY RECIPES
4 Reasons You Should Freeze Some Sweet Corn This Summer
How To Make The White BBQ Sauce That's Fascinated Us Since 1925
If you like these recipes, you are our people! You can check some related articles below or search via categories on the right. But be warned; you will be on here for hours. Enjoy!