Who Could Guess These Two Would Play So Nicely
My brother and I share a love of food. He's the one who first mentioned a peach and tomato salad and how he was surprised by how well the two elements tasted together. From when he was a teeny boy, he loved tasting new things. Our mom called him her little gourmet.
I filed that possibility in the back of my mind until last weekend when I had gloriously ripe peaches and perfectly ripe garden tomatoes. I knew it was now or never, and he was right; peaches and tomatoes do make beautiful music together!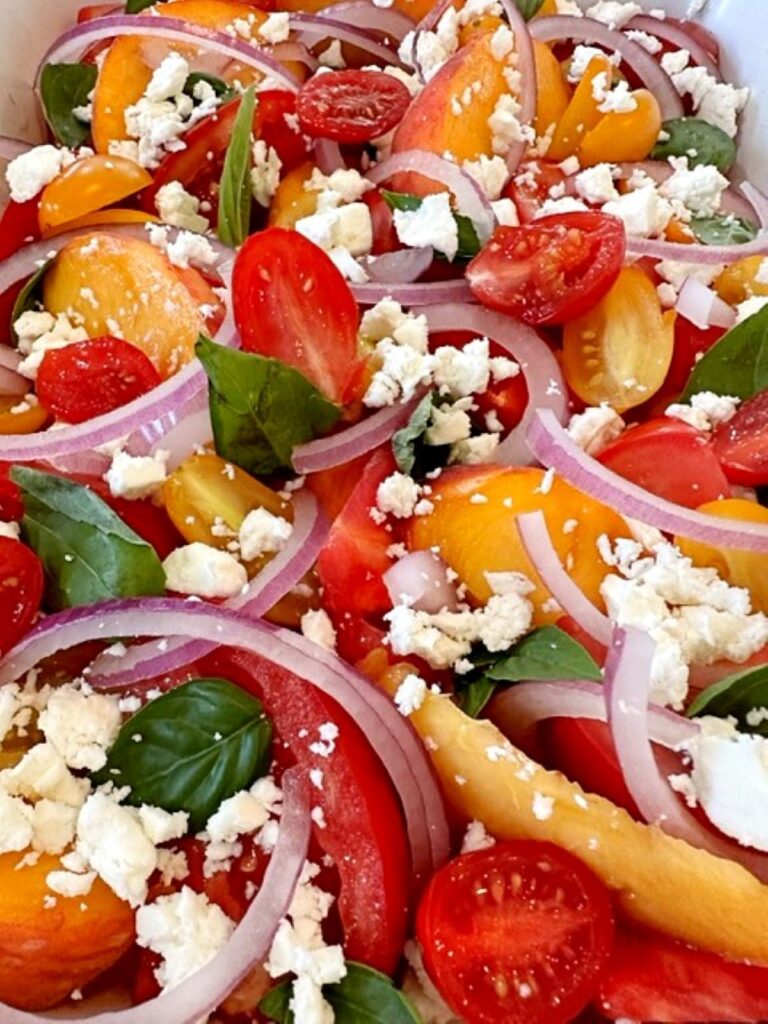 How To Make This Peach And Tomato Salad
Choose a pretty platter or dish to showcase this colorful salad. I chose a simple white casserole dish about eight and a half by ten inches.
Place the sliced or quartered tomatoes, red onion slivers, halved grape or cherry tomatoes, and peach slices in attractive layers. Add some lightly blanched kernels of corn if you like. Pepitas would be a wonderful, crunchy addition to this pretty dish!
Top with fresh basil and crumbled feta cheese. I love feta, but you might enjoy some cotija or goat cheese if you don't. Leave off the cheese if you want the salad to be vegan.
Balsamic glaze makes a wonderful dressing. Serve immediately for the best flavor!
Peach And Tomato Salad Works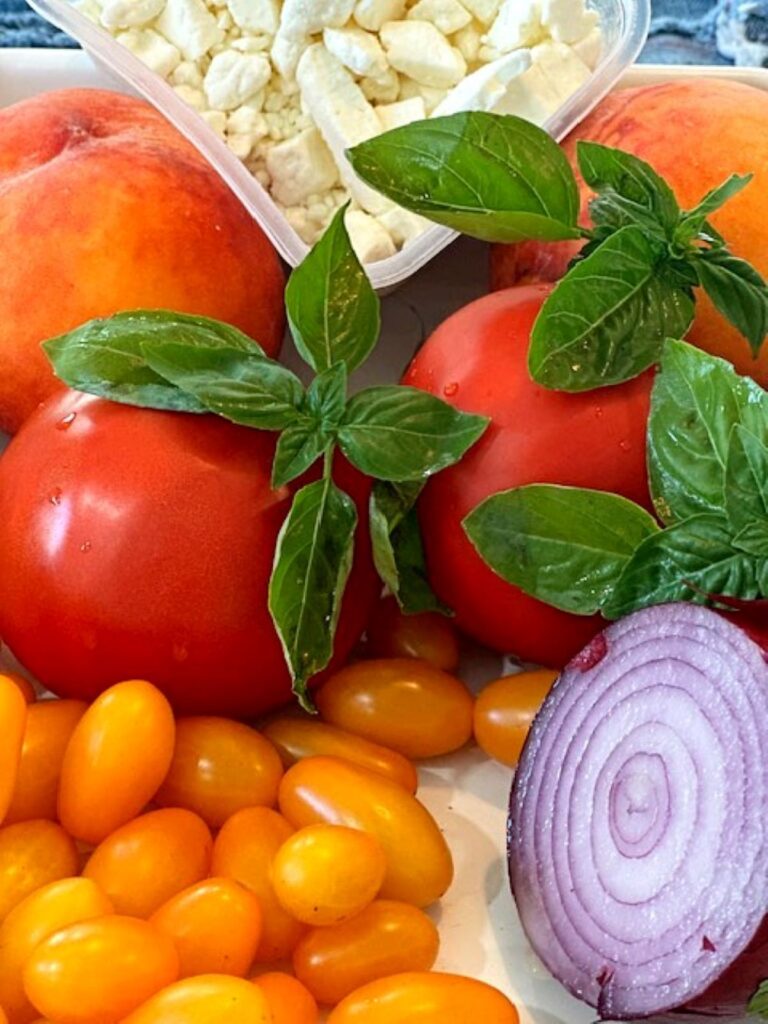 Peach and tomato salad may seem like a weird combination, but it is surprisingly delicious because it balances sweet and savory flavors while offering a refreshing contrast in texture.
The key to this unique salad is using fresh ingredients, which are at their peak now! August and September are the ideal times to do it, so don't wait around!
Peaches are naturally sweet and juicy, while tomatoes are more savory and slightly acidic. The contrast between the sweetness of the peaches and the tanginess of the tomatoes creates a unique flavor profile that's quite appealing.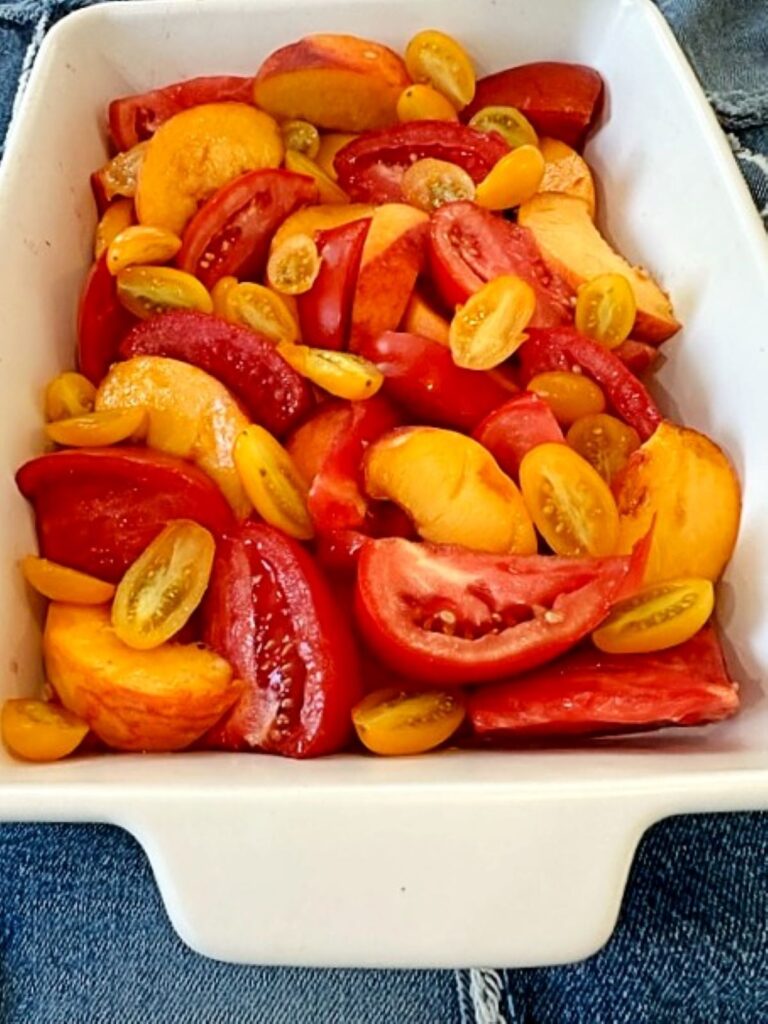 There's a great textural contrast when you combine all these ingredients. Peaches are soft and juicy, while ripe tomatoes are more firm. This makes your mouth delight in each interesting bite.
Total eye candy! Peaches and tomatoes have vibrant, contrasting colors! The warm oranges and golden yellow color of ripe peaches and tomatoes' deep red or bright yellow create a beautiful, artful composition.
Throw in some gorgeous purple onion and shiny green basil for a stunningly artistic presentation! We really do eat with our eyes! Salty feta cheese crumbles and a wonderful balsamic glaze enhance both the flavor and look of this beautiful salad.
Feel free to customize this peach and tomato salad! For instance, you might enjoy adding some lightly blanched sweet corn kernels! We tried it, and it was delicious, too!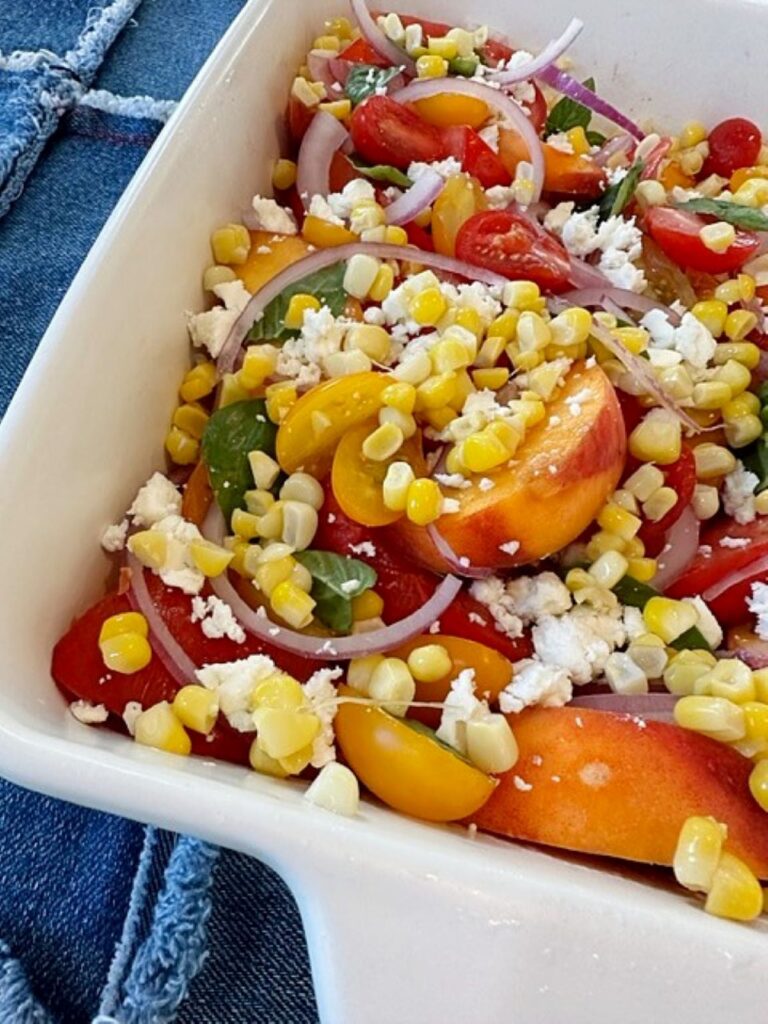 Yield: 6 servings
Peach And Tomato Salad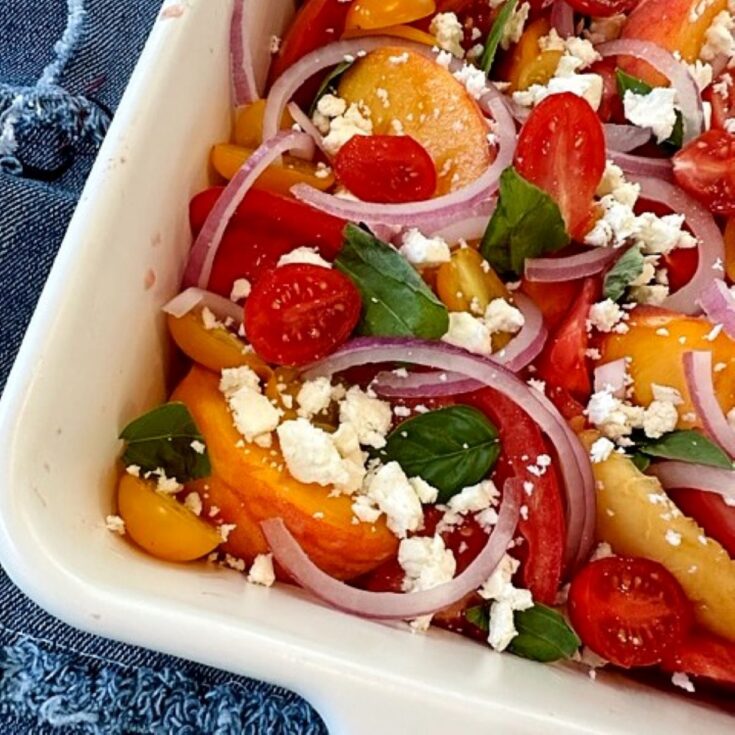 A beautiful and unique salad to toast the peak season of peaches and tomatoes. A surprisingly delicious combination!
Ingredients
2 or 3 ripe, perfect tomatoes, sliced or quartered
2 large peaches
1/2 cup grape or cherry tomatoes cut in half
1/4 cup thin red onion slices
1/4 cup crumbled feta cheese, or more to taste*
3 tablespoons fresh basil leaves
Balsamic glaze for drizzling over salad, optional
Salt and pepper to taste
1/2 cup fresh, lightly blanched kernels of corn (optional)
Pepitas for garnish (optionl)
Instructions
Place sliced or quartered tomatoes, sliced peaches, halved grape tomatoes, and red onion on a large plate or platter.

Top with feta cheese and fresh basil. Drizzle with balsamic glaze and season with salt and pepper to taste.

Serve immediately.
Notes
* Substitute goat or cotija cheese if you prefer
Make The Most Of Every Season
As the seasons change, we all eat differently. A steaming bowl of chili is not what we want to eat on a sweltering day in August! Always shop for foods when they are in season because they will be fresher, tastier, and less expensive! Enjoy what's abundant right now as we move into fall. I hope you'll try this unique salad soon!
We love using the freshest ingredients when we make meals for our family. Here are some recipes we think you'll enjoy trying! Tomato and Cucumber Salad, Roasted Acorn Squash, and Butternut Squash Soup.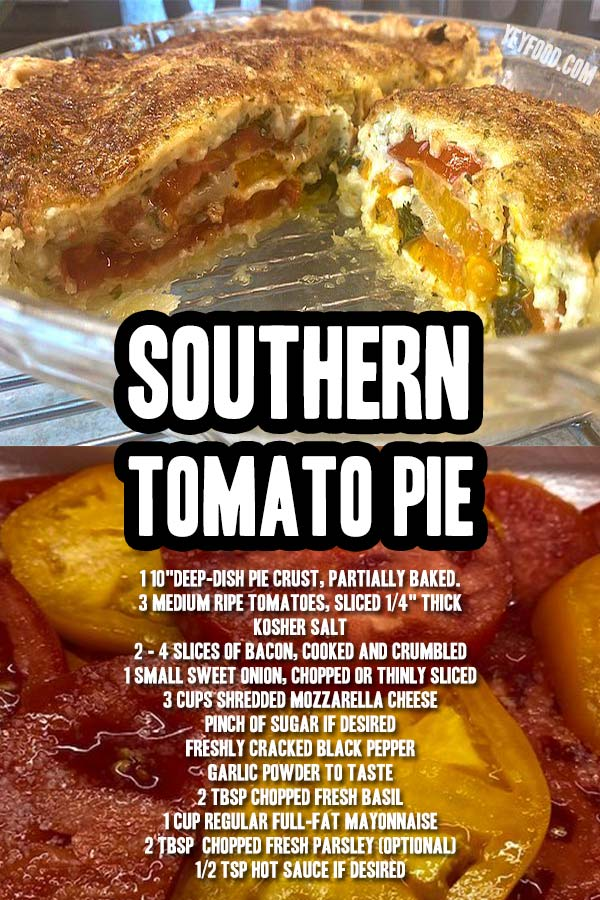 S'mores Bars How To Make Them Super Fast and Super Good
Incredible Whole Orange Blender Cake
How To Make The White BBQ Sauce That's Fascinated Us Since 1925
German Sauerkraut Casserole With Bacon And Brown Sugar
If you like these recipes, you are our people! You can check some related articles below or search via categories on the right. But be warned; you will be on here for hours. Enjoy!