There's Nothing Cuter Than These Little No Bake Nests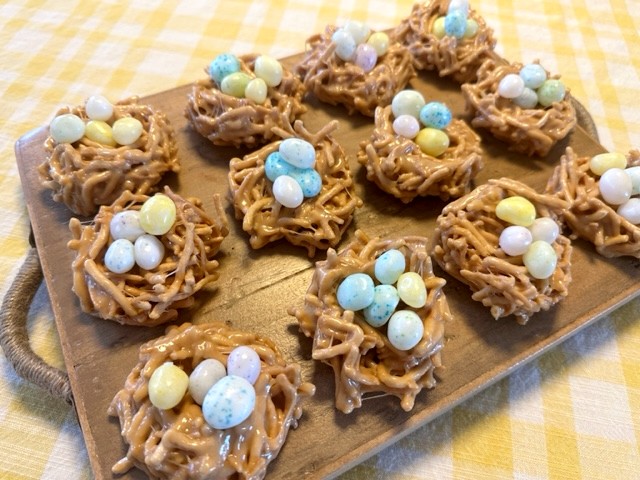 I can't remember a year when I've been more anxious for spring to arrive! I have such warm memories of these bird nest cookies from when our six grandkids were "littles." They swept over me today when I was making them.
Easter has always been a very important and special day for us! We have many March and April birthdays in our family, and over the years, we often celebrated birthdays right along with Easter. Thanks to our daughters, there were always some bird nest cookies on the table.
Our families took turns hosting, and we always had an Easter egg hunt and took a ridiculous amount of pictures, hoping we could freeze time somehow.
The years fly by as they do, and kids grow up as they must, but the precious memories will always flood over me on the first sunny days when there is a promise of tulips, lilacs, and the laughter of happy kids.
Here's How To Make These Sweet Little Bird Nest Cookies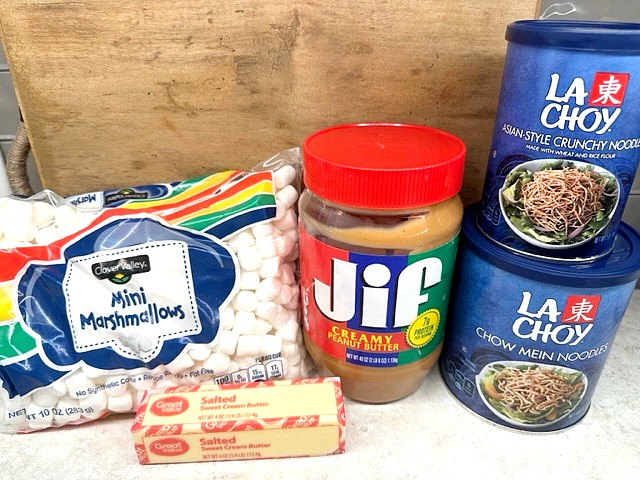 You only need a few ingredients to make bird nest cookies, and you'll see endless variations on Pinterest. I chose to use the old tried-and-true combination of marshmallows and butter that have made Rice Krispie Treats the iconic no-bake favorite thing they have been for decades.
There were two types of La Choy Chinese noodles, which intrigued me. I haven't seen skinny La Choy noodles before. I chose the common chow mein noodle and picked up a can of the thinner, crisper noodles for interesting textures.
Bird nests are not tidily constructed. Birds tend to have messy homes, and I wanted to make the nests look a little shaggy like real nests. Skinny noodles? Good call! They are extra cute and crunchy! I love them!
We all love peanut butter, so I added a half cup of creamy peanut butter, and now the chewy nests have a yummy fluffernutter taste that I think is amazing!
Yield: 12 cookies
Adorable Bird Nest Cookies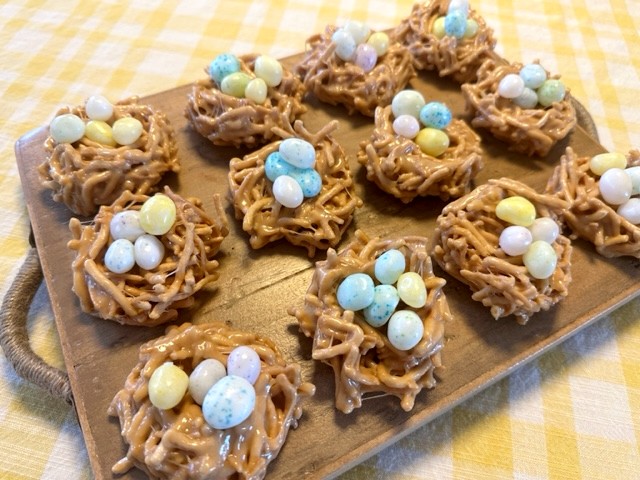 Easy, no-bake cookies that look like little bird nests. Fill them with candy eggs of your choice or Peeps Easter chicks.
Ingredients
One 10.5-ounce bag of mini marshmallows or 40 large marshmallows
1/4 cup of butter
1/2 cup peanut butter
4 cups La Choy chow mein and/or crispy rice noodles
Candy eggs or Easter Peeps for garnish.
Instructions
Spray a large pot with non-stick spray and melt the butter.
Add the marshmallows and the peanut butter and stir until everything is melted and combined.
Gently fold in the chow mein noodles and stir until they are all well coated.
Using your hands, pick up tangerine-size blobs of the mixture and form them into nest shapes. Use your knuckle to create an indentation for the eggs.
Set each nest on a non-stick surface until they are set.
Fill with candy eggs of your choice or an Easter Peeps candy.
Notes
Coat your fingers with salad oil or non-stick spray when forming the nests.
Begin by melting one-fourth cup of butter, half a stick, in a heavy pan. Add the marshmallows and the peanut butter and keep stirring until it melts together in a tasty goo. I always spray the sides of the pot with non-stick spray, too.
You can use full-size marshmallows, too, if that's what you have on hand. You will need to stir them longer so they melt. It will take about 40 large marshmallows or about three-fourths of a bag.
Large marshmallows come in twelve-ounce bags, and mini marshmallows are packed in ten-and-one-half-ounce bags. Who can explain these things?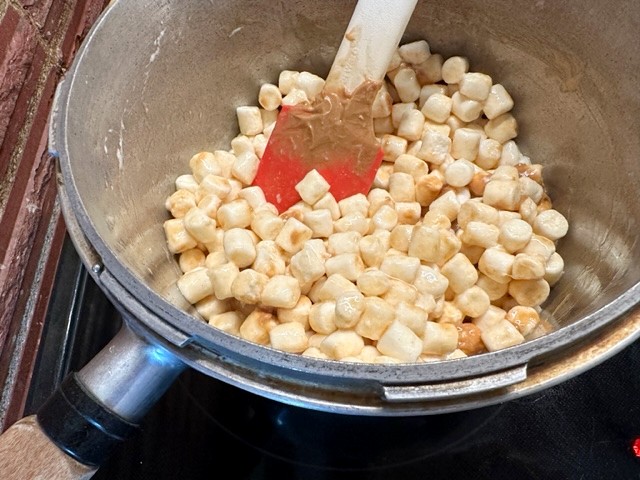 Now fold in four cups of noodles as carefully as possible to minimize breakage. Turn off the heat and let the mixture cool JUST long enough for you to handle it. You will need to move pretty quickly.
I had the best results with forming the nest when I dipped my fingers in salad oil and rubbed it in. I put a small amount in a little saucer to dip my fingers between nests. I still had to rinse my fingers a few times in the process.
I found a picking up a ball of the mixture about the size of a tangerine worked well, and I came out with twelve nests. You can make them in greased muffin cups, but I wanted a.) fewer dishes to wash and b.) cute free-form nests, like the birdies would make.
I used my knuckle to form a depression in the center of my bird nest cookies for eggs and lined them up on my Silpat silicone mat. You can also use parchment paper or wax paper.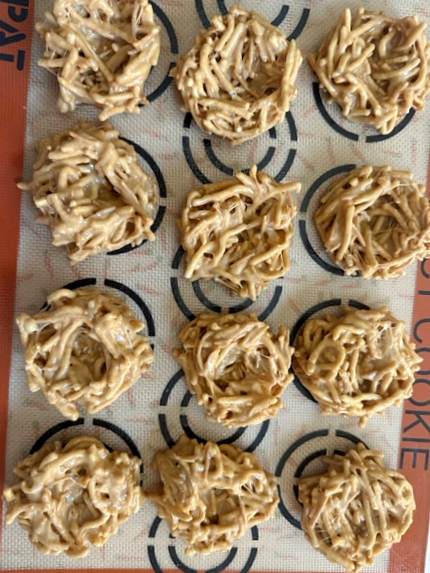 Like usual, I was rushing through the store, and I picked up cute and tasty jelly bean eggs. (Second best!) My first choice for eggs in the cute little bird nest cookies would have been some candy-coated chocolate eggs because peanut butter and chocolate flavors are such a classic combo. Chocolate would have been better, but they're still cute!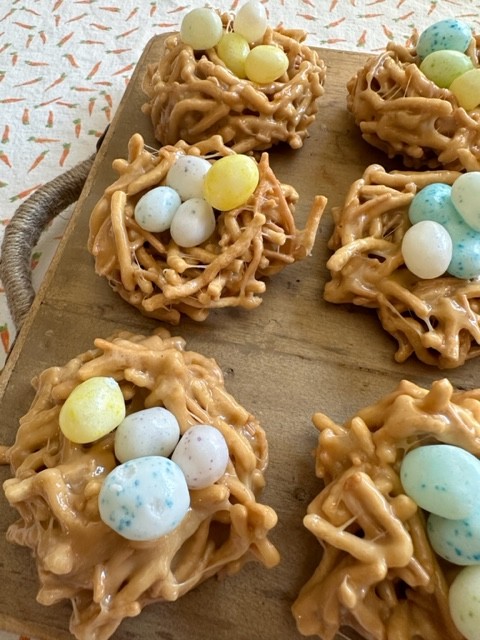 We love spring and all the light and fun foods that come with the new season! We are excited about brunches and lighter meals! If you plan to dye Easter eggs, here's a way to make a large batch of hard-boiled eggs in your oven without a mess.
Here are some more of our favorite recipes we know you will love. Easy Two-Ingredient Lemon Squares, How To Make Perfect Asparagus, Easy Do Ahead Creme Brule French Toast.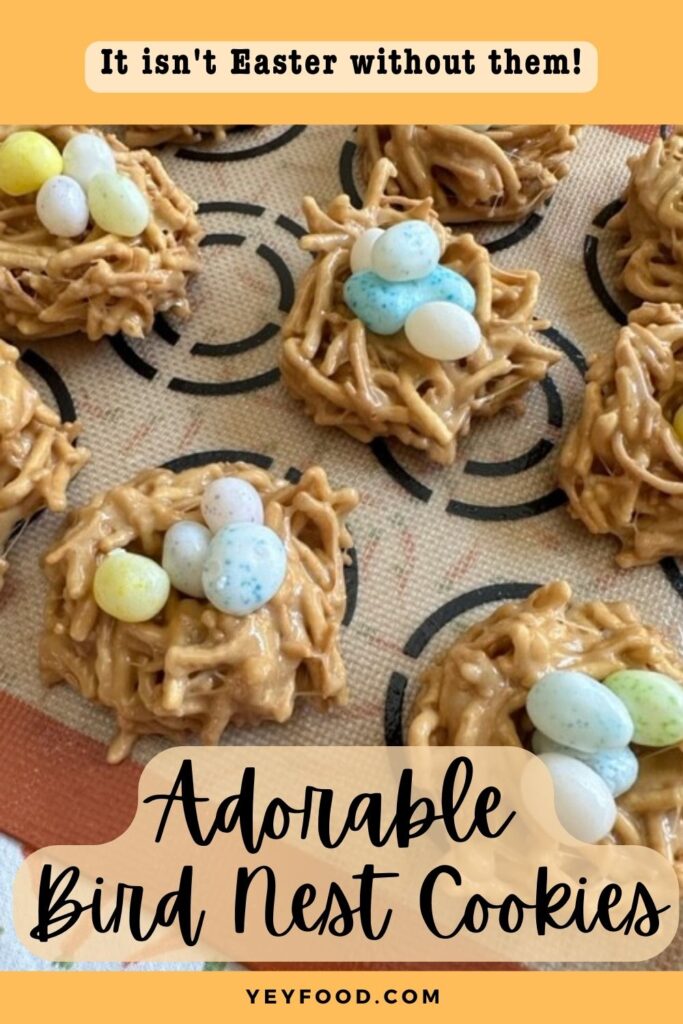 More recipes from us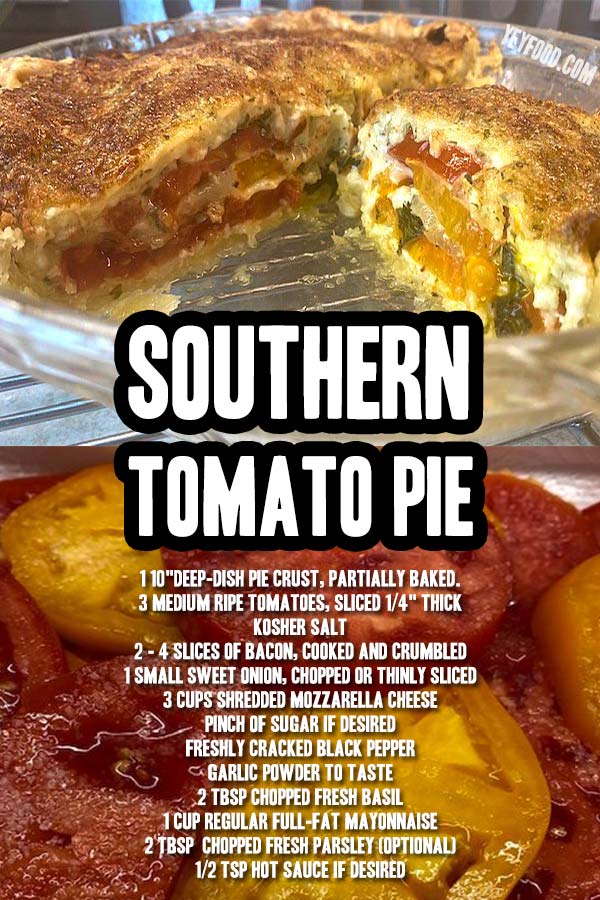 S'mores Bars How To Make Them Super Fast and Super Good
How To Make The White BBQ Sauce That's Fascinated Us Since 1925
German Sauerkraut Casserole With Bacon And Brown Sugar
If you like these recipes, you are our people! You can check some related articles below or search via categories on the right. But, be warned; you will be on here for hours. Enjoy!
So, please share this recipe on your social media accounts like Facebook, Instagram, Twitter, and Pinterest. We would be honored and ever so grateful; thank you!