This Glorious Concoction Is Also Called Watergate Salad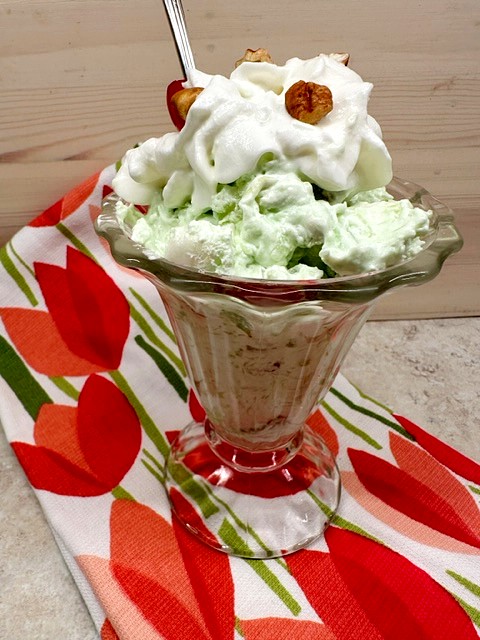 Unless you are of a certain age, it's quite possible you've never heard of pistachio fluff salad or that it became known as Watergate salad. It's not unusual for a recipe to have a descriptive name.
Hassleback potatoes got theirs from the Swedish restaurant where they were created; Parker House rolls, and Waldorf salad was named for the esteemed hotel dining rooms where they were first introduced.
But Watergate salad? No one can say with certainty who hung the name of a government scandal on a perfectly innocent dish. Still, the moniker stuck even to this day when the whole ugly episode in history has largely vanished from our memories.
What Was Pistachio Fluff Before It Was Watergate Salad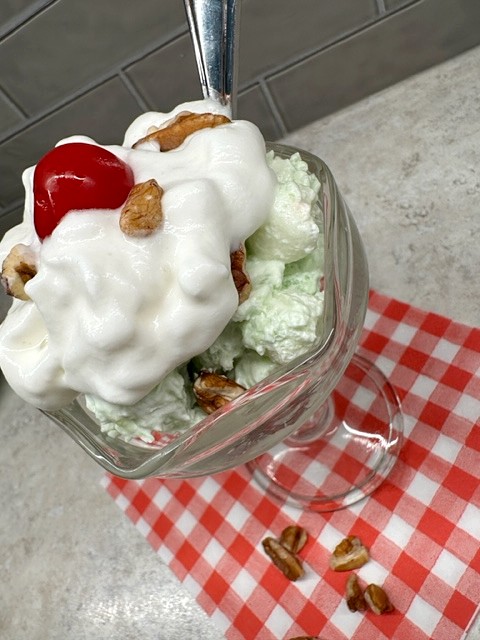 Kraft Foods introduced instant pistachio pudding in 1975, and in the same year, their recipe for Pistachio-Pineapple Delight was created. Over time, the concoction was called Pistachio Fluff, Green Goop, or Green Fluff. We seemed to be obsessed with pistachio-flavored anything in that odd decade.
The Watergate scandal gave rise to some strange humor and recipes. Watergate Salad and Watergate Cake with Coverup Frosting are two that we still remember.
About that time, many recipes began to be called "salads" despite the fact there was no shred of anything like greens or vegetables in them. Consider Snicker "Salad" or Strawberry Pretzel "Salad."
More dessert-like than a salad, I suspect they may have originated among Lutheran women in Midwestern locales like Iowa or Minnesota. It could have been some of my relatives! We do love our sweets.
At one time, this "salad" was also known as "Funeral Salad" and even "Shut The Gate Salad" because it is so fast and easy that mom could whip it up when dad pulled in from work and shut the gate. It's still a popular dish at potlucks.
We Love This Stuff And It Is So Easy To Make
If you remember to defrost the frozen whipped topping, you can knock out this recipe in about five minutes.
Empty a twenty-ounce can of crushed pineapple with the juice into a large mixing bowl and stir in one dry 3.4-ounce box of instant pistachio pudding mix. Stir until they are well combined.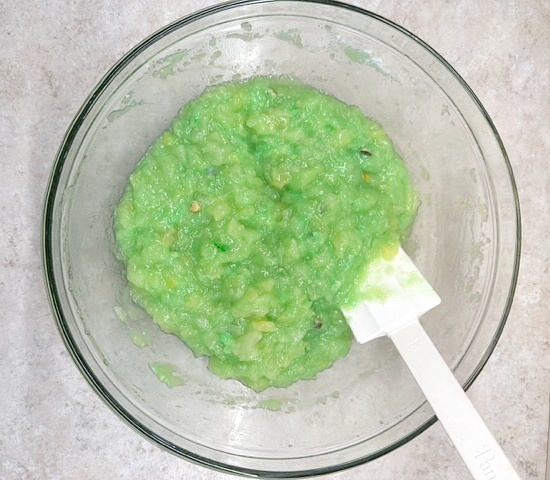 Next, fold in one eight-ounce carton of defrosted whipped topping like Cool Whip, one cup of miniature marshmallows, and one-half cup of chopped nuts. You can use pistachios or walnuts, but I used chopped pecans this time.
If you want to skinny up this salad, you can use sugar-free pistachio pudding and sugar-free Cool Whip, which will still be yummy!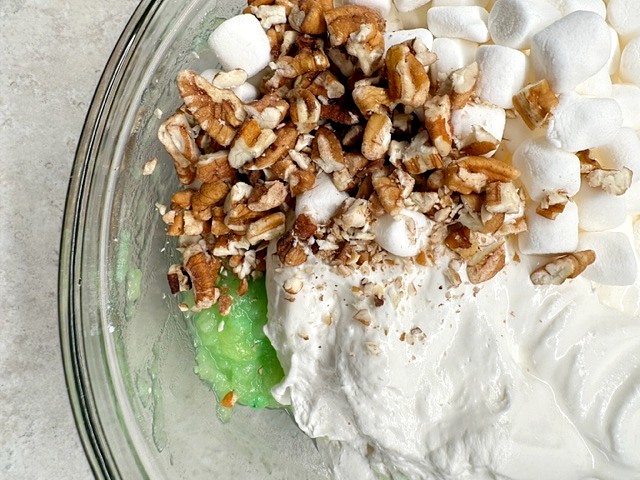 You can eat your pistachio fluff immediately, but the flavor improves if you chill it in the refrigerator for a couple of hours or overnight.
If you are feeling fancy, you can fold in some maraschino cherries, but if you do, rinse and dry them so they don't bleed and make your pretty salad turn brown. (Green plus red make brown, think back to watercolors.)
I garnished my bowl of pistachio fluff with whole cherries because it was Easter Sunday. I don't think our grandkids had ever seen this salad on the table; the oldest one there is 21. It's been a while! It tasted as good as we older adults remembered!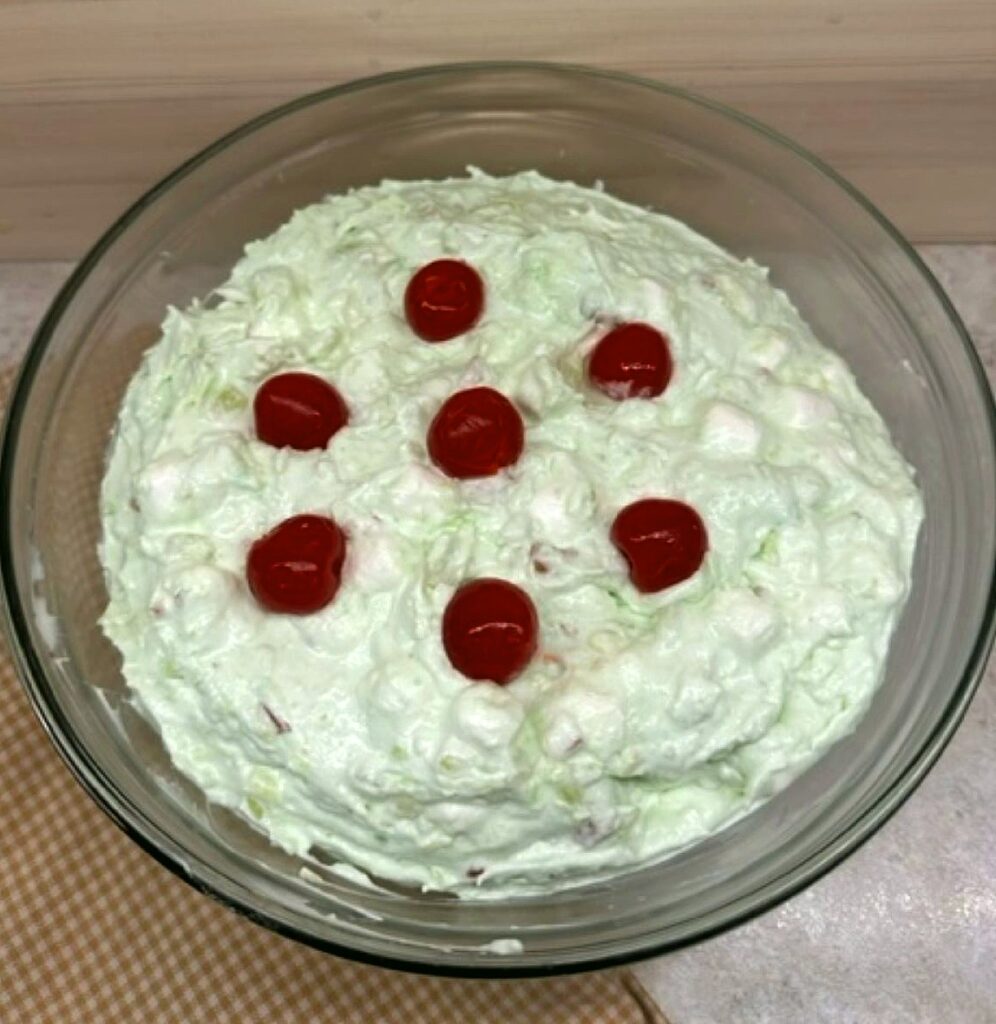 Salad or dessert? Another "salad" that could be a dessert is Snicker Salad, and it's always a hit! It all depends on the table where you put it at the next potluck, but like Pistachio Fluff, you will go home with an empty bowl every time.
Pistachio desserts are wonderful, especially in the spring. Here's another oldie but goodie, Light And Luscious Pistachio Dessert. My friend Kim's family, always requests this for birthdays instead of cake!
Yield: 10 servings
Pistachio Fluff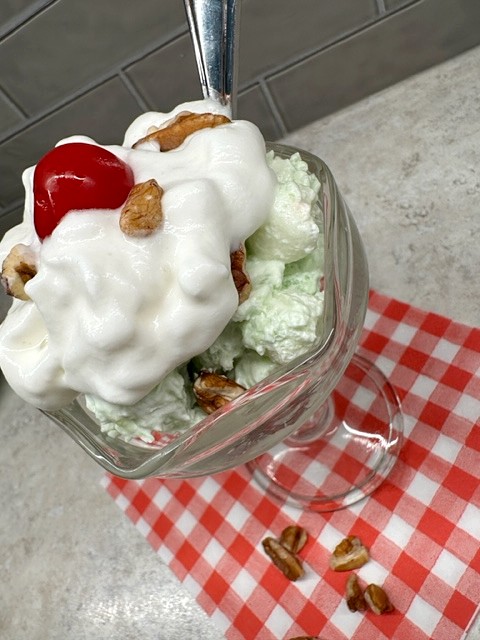 This fluff is also known as Watergate Salad. It's a quick and easy recipe with instant pistachio pudding, crushed pineapple, whipped topping, miniature marshmallows, and chopped nuts. Serve it as a salad or a dessert; the choice is yours!
Total Time
2 hours
5 minutes
Ingredients
One 20-ounce can of crushed pineapple with juice
One 3.4-ounce package of instant pistachio pudding, dry
One 8-ounce carton of whipped topping, defrosted
One cup miniature marshmallow, or more if desired
1/2 cup chopped nuts of your choice.
Maraschino sherries for garnish, optional. Rinse and dry them before adding.
Instructions
Pour crushed pineapple into a mixing bowl with the juice.
Stir in the dry instant pistachio pudding mix.
Fold in the defrosted whipped topping, nuts, and miniature marshmallows.
Chill for two hours or overnight for the best results.
Garnish with maraschino cherries if desired.
Notes
You can use sugar-free whipped topping and sugar-free instant pistachio pudding mix if desired.
Nutrition Information:
Yield:
10
Serving Size:
1
Amount Per Serving:
Calories:

167
Total Fat:

10g
Saturated Fat:

6g
Trans Fat:

0g
Unsaturated Fat:

3g
Cholesterol:

0mg
Sodium:

33mg
Carbohydrates:

20g
Fiber:

1g
Sugar:

17g
Protein:

2g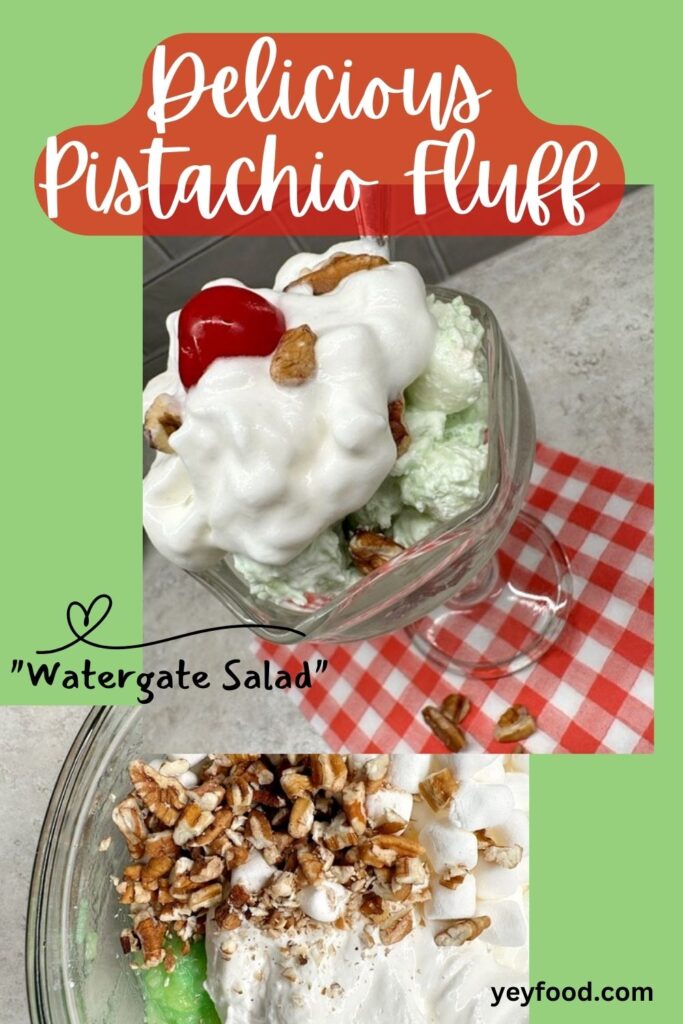 MORE OF OUR YUMMY RECIPES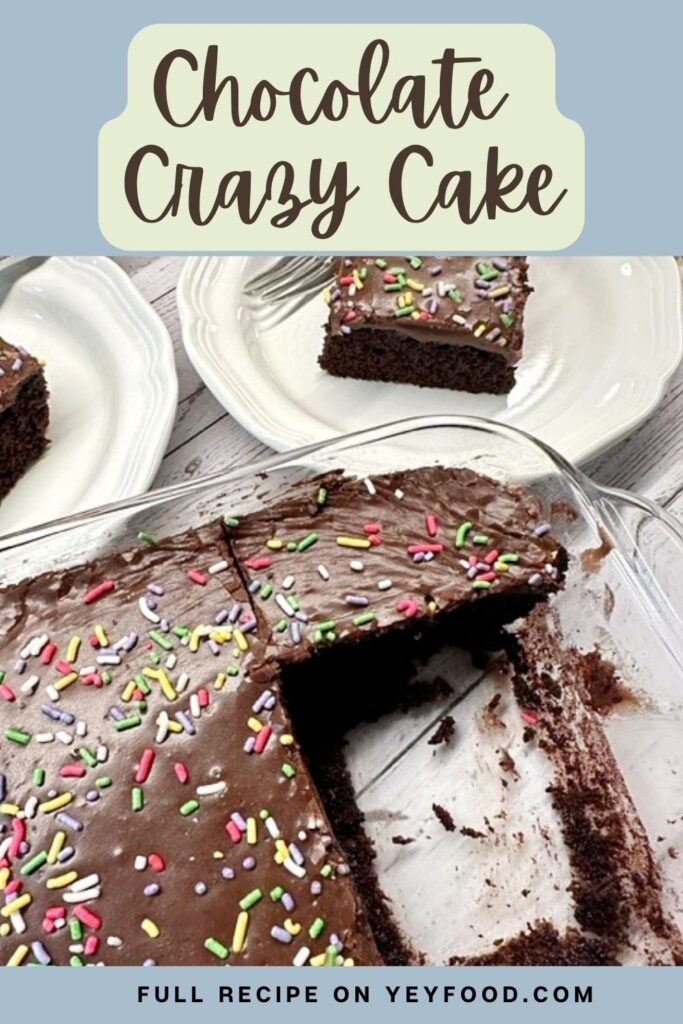 The Ultimate Bread and Butter Pickle Recipe
The Number 1 Practically Perfect Poppy Seed Bread
World's Best Stuffing No Turkey Required
If you like these recipes, you are our people! You can check some related articles below or search via categories on the right. But be warned; you will be on here for hours. Enjoy!
So, please share this recipe on your social media accounts like Facebook, Instagram, Twitter, and Pinterest. We would be honored and ever so grateful; thank you!