Surprising Sauerkraut Salad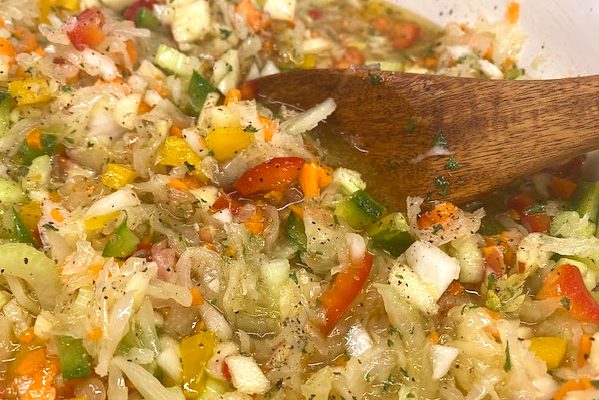 Sauerkraut salad may seem like an unlikely idea. Wait, isn't sauerkraut something that goes on bratwurst? The answer is yes! However, when you combine sauerkraut with crispy, colorful veggies and one surprise ingredient in a tangy marinade, something amazing and magic happens.
Sauerkraut is finely cut raw cabbage that has been fermented. It has a long shelf life and a distinctive sour flavor, resulting from the lactic acid formed when bacteria ferment the sugars in the cabbage leaves. It is one of the best-known national dishes in Germany.
Here's your language lesson for today! The word sauerkraut comes from the German words "sauer" and "kraut," meaning sour cabbage. The word "sauer" in German also means acidic, so the German term for "cabbage fermented by lactic acid" is perfectly descriptive.
This all may make you think sauerkraut originated in Germany. But in fact, it's another invention of the Chinese! Two thousand years ago, they fermented cabbage in rice wine!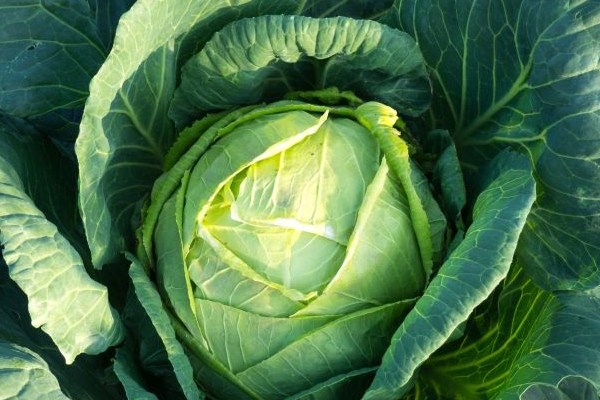 Sauerkraut is made from cabbage, the same vegetable that stars in coleslaw. But when cabbage is fermented to become sauerkraut, it becomes something more. It's versatile and tastes great, but sauerkraut is a well-known "superfood." In fact, it's one of the top-ranked foods recommended for a healthy diet.
Sauerkraut is low in calories and loaded with folate, vitamin B6, riboflavin, thiamin, and vitamins C and K. Read on for more amazing health benefits of eating sauerkraut!
If you want the highest nutrition and maximum benefits of probiotics, select fresh sauerkraut from the refrigerated section. Probiotics are destroyed when sauerkraut is heat-processed. In addition, choose sauerkraut made without vinegar. Cabbage and salt should be the only ingredients listed.
Chop Chop Make This Incredibly Colorful And Tasty Sauerkraut Salad
Everything in this salad is fresh, raw, colorful, and delicious! It's a thing of beauty to watch it come together. First, I dumped the bag of sauerkraut, undrained, in a large bowl.
I used red, green, and yellow peppers, plus chopped carrots to add punch. The surprise ingredient? A crisp apple, unpeeled and chopped, is the lone fruit in the mix, but it sure adds a bright touch of flavor!
To my eyes, this sauerkraut salad was becoming an artful composition! Celery added more crunch, and sweet onion helped marry all the flavors. Use red onion if you like for even more color!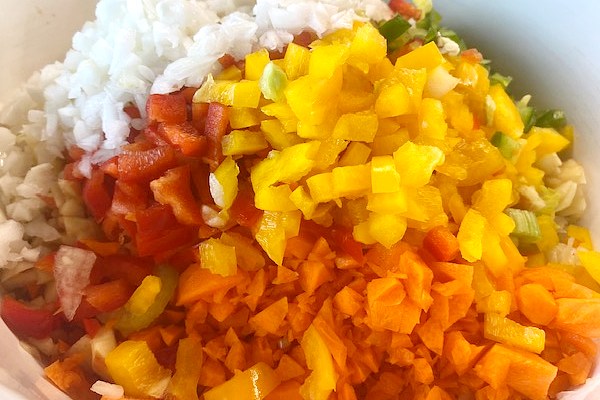 Now, make a simple dressing of sugar, vinegar, oil, salt, and pepper. I heated the vinegar and oil on the stove and stirred until the sugar was completely dissolved. Then I added the oil, salt, and pepper, cooled it, and poured the dressing over the veggies.
This sauerkraut salad improves as it marinates in the fridge. For maximum flavor, wait a day or two before you eat it. (I know, it's tempting!) But remember, it will stay crisp and fresh in the refrigerator for two weeks on more. It's a great side dish, perfect with brats or pulled pork. You might even use it as a topping for burgers, brats, or hot dogs!
I doubled the recipe this time because the kraut came in a 32-ounce bag. It's a holiday weekend, and I wanted to share it. If there are any leftovers, we'll still have lots of time to enjoy them at home!
Yield: 8 servings
Sauerkraut Salad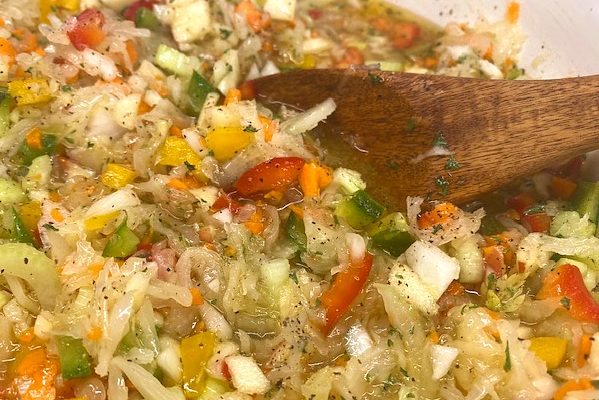 A crisp, tangy, colorful salad that's loaded with fresh veggies! So good and so good for you!! Just right for summer when fresh produce is abundant!
Total Time
1 day
20 minutes
Ingredients
16 ounces of refrigerated sauerkraut
1 cup celery, diced
1 cup bell peppers, chopped (I used red, yellow, green, and red peppers)
1/3 cup sweet onion, chopped
1/2 cup carrot, finely chopped
1 crisp apple, chopped. (I used a Fuji apple.)
Dressing Ingredients
1 cup white vinegar
1 cup sugar
1/4 cup vegetable oil
1/4 teaspoon salt
1/4 teaspoon black pepper
Instructions
Place the undrained sauerkraut into a large glass or plastic bowl.
Chop and add all the vegetables and the apple to the sauerkraut.
Combine vinegar and sugar in a saucepan and heat on the stove until sugar is all dissolved.
Add the oil, salt, and pepper.
Cool to room temperature and pour over the salad ingredients.
Stir to combine everything thoroughly.
Cover and refrigerate for at least 24 hours before serving.
This salad keeps two weeks or more in the refrigerator.
Nutrition Information:
Yield:
8
Serving Size:
1
Amount Per Serving:
Calories:

216
Total Fat:

8g
Saturated Fat:

1g
Trans Fat:

0g
Unsaturated Fat:

7g
Cholesterol:

0mg
Sodium:

477mg
Carbohydrates:

35g
Fiber:

3g
Sugar:

30g
Protein:

1g
Since it's a holiday weekend and many of us are extending it to three days, there could be a lot of partying going on! This article explains another benefit of sauerkraut and sauerkraut juice. It seems it's also an effective cure (and a possible preventative) for the common hangover!
Here is another popular recipe using sauerkraut! It is equally delightful! Sauerkraut is not only a superfood; it's just super! How do you like your sauerkraut?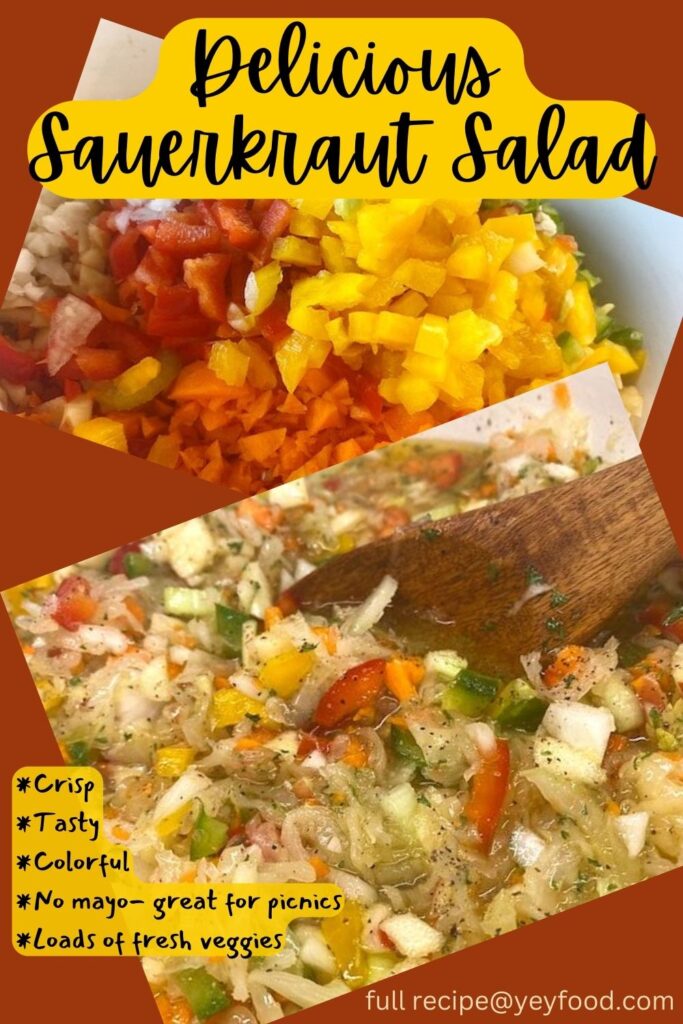 MORE OF OUR RECIPES
The Ultimate Bread and Butter Pickle Recipe
The Number 1 Practically Perfect Poppy Seed Bread
German Sauerkraut Casserole With Bacon And Brown Sugar
If you like these recipes, you are our people! You can check some related articles below or search via categories on the right. But be warned; you will be on here for hours. Enjoy!
So, please share this recipe on your social media accounts like Facebook, Instagram, Twitter, and Pinterest. We would be honored and ever so grateful; thank you!