Nothing This Easy Should Taste So Good But They Do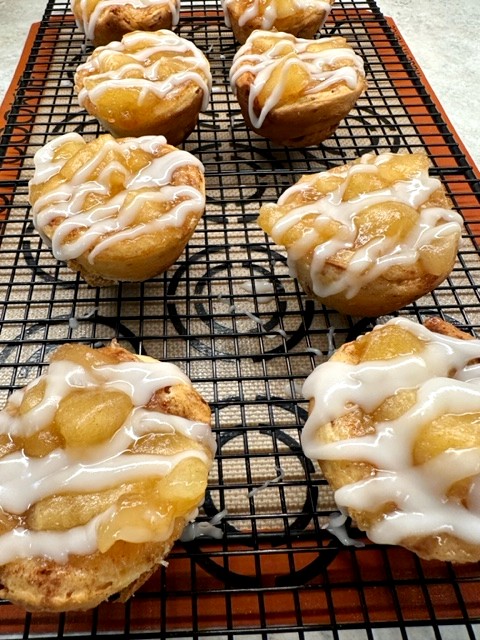 Everyone needs a rabbit to pull out of their hat sometimes. This unbelievably good little 2 ingredient dessert is one! I was skeptical when I saw this recipe, but one bite made a believer out of me, and they couldn't be easier to make!
When your kids bring home a friend for dinner or company stops in at mealtime unexpectedly, this is a wonderful trick to have up your sleeve! All you need are a tube of eight refrigerated cinnamon rolls with icing and a can of apple pie filling! No kidding!
Turn on your oven to 375 degrees because it won't take long to put this 2 ingredient dessert together!
Grab a couple of muffin pans and spray eight spots in them with non-stick cooking spray. My wonderful old Norpro muffin tins are old enough to vote, but they have developed a wonderful patina from years of use, and they bake beautifully! Today's Norpro muffin pans are even better than when I got mine back in the 1980s!
Here's How To Make A Wonderful 2 Ingredient Dessert
Separate the cinnamon rolls and set the icing aside. Put one cinnamon roll in each of the eight cups and use your fingers or the back of a spoon to press them into the cup and bring the sides up to form a little cinnamon roll dough bowl.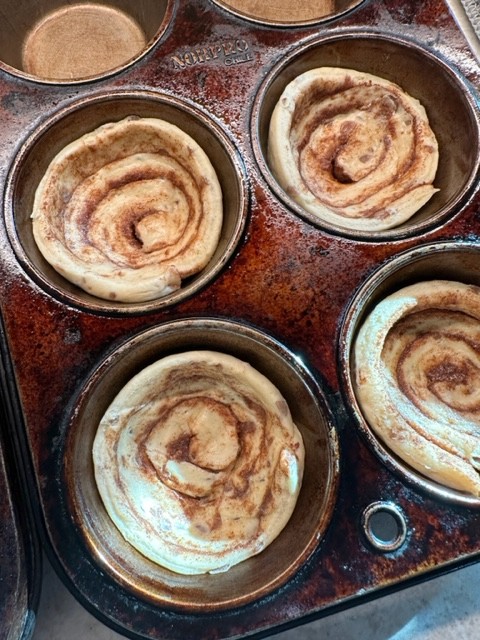 Now spoon the apple pie filling evenly into the eight spots in the pan. I suggest you cut the apple slices in the filling into smaller bite-size pieces, so they fit better. I did this with my kitchen scissors right in the can.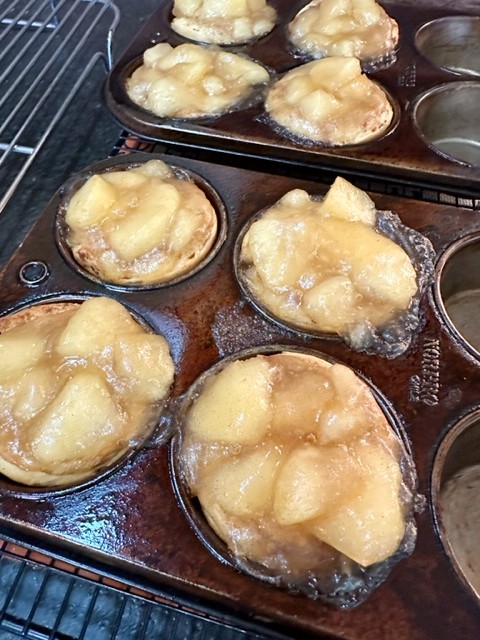 Now, pop those muffin tins into the oven and set the timer for 15 minutes. If the rolls don't seem quite done (I used a cake tester), leave them in for another three minutes or so then set the pans on a rack to cool. Use the tip of a knife to slide around the edge of each little apple pie and move them onto the rack to cool the rest of the way.
When the little apple pies are cool, drizzle the yummy vanilla icing that comes in the tube evenly over each little pie. Put a cookie sheet, cutting board, or mat under the rack for easy cleanup!
Aren't they just the cutest little 2 ingredient dessert? I think they'd also make a wonderful little breakfast pastry! They are so easy to make; the kids would love to help!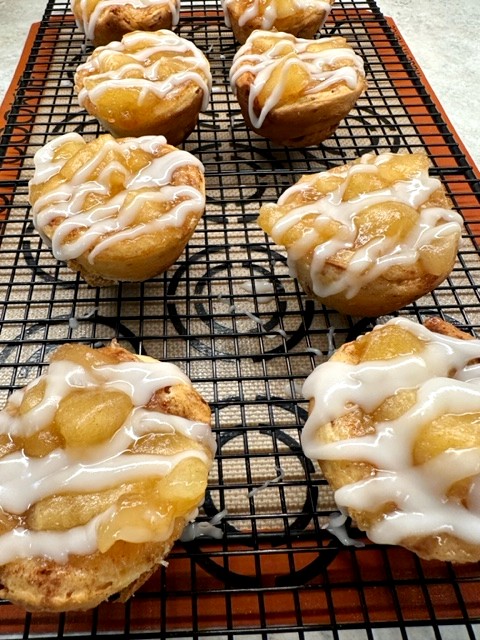 Pillsbury also makes refrigerated orange sweet rolls in a tube with cinnamon icing! That would be another fun one to try with peach or cherry pie filling!
Yield: 8 servings
2 Ingredient Mini Apple Pies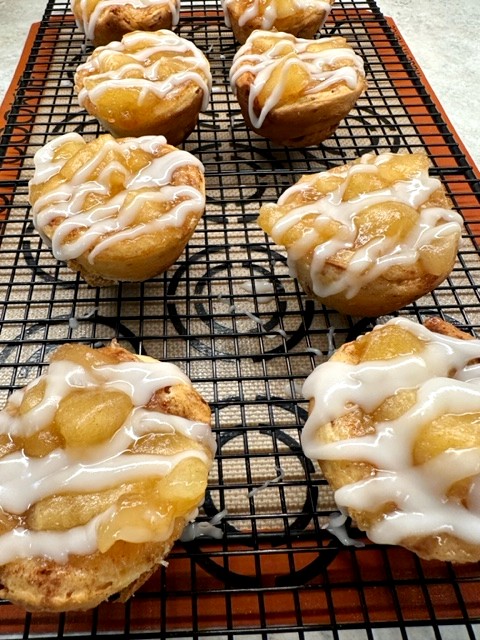 Here's a fast and easy 2 ingredient dessert! Tasty little mini apple pies!
Ingredients
One tube of eight refrigerated cinnamon rolls with icing
One 21-ounce can of apple pie filling
Instructions
Preheat oven to 375 degrees.
Spray eight muffin cups with non-stick spray
Separate the cinnamon rolls and press one roll into the eight muffin cups.
Use your fingers or the back of a spoon to bring up the sides of the dough to form a bowl.
Spoon apple pie filling evenly into the eight dough bowls, cutting the apples into smaller pieces f needed.
Bake for 15- 18 minutes or until the roll is baked.
Cool the muffin pan on a rack until you can use a knife to remove each pie from the cup.
Cool the pies completely on a wire rack.
Drizzle the icing from the cinnamon rolls over each little pie. It makes cleanup easier if you put a baking sheet, mat, or cutting board under the rack.
We love desserts but we also love getting in and out of the kitchen fast! Here are more 2 ingredient dessert recipes for you to try. Lemon Squares, Chocolate Coke Cake, Two Ingredient Blueberry Cake.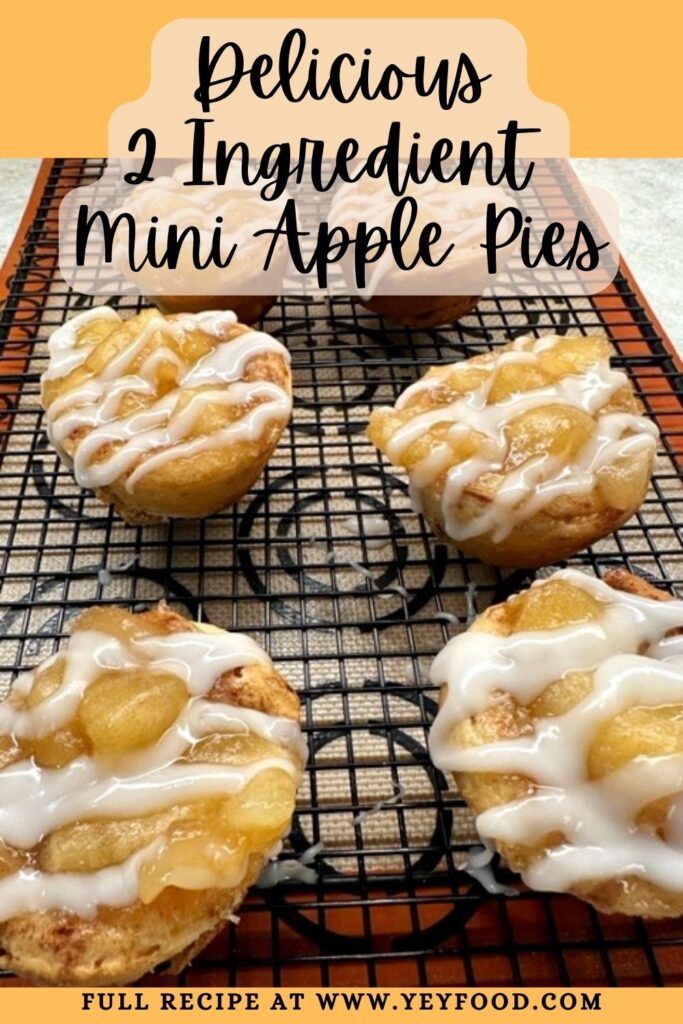 More recipes from us: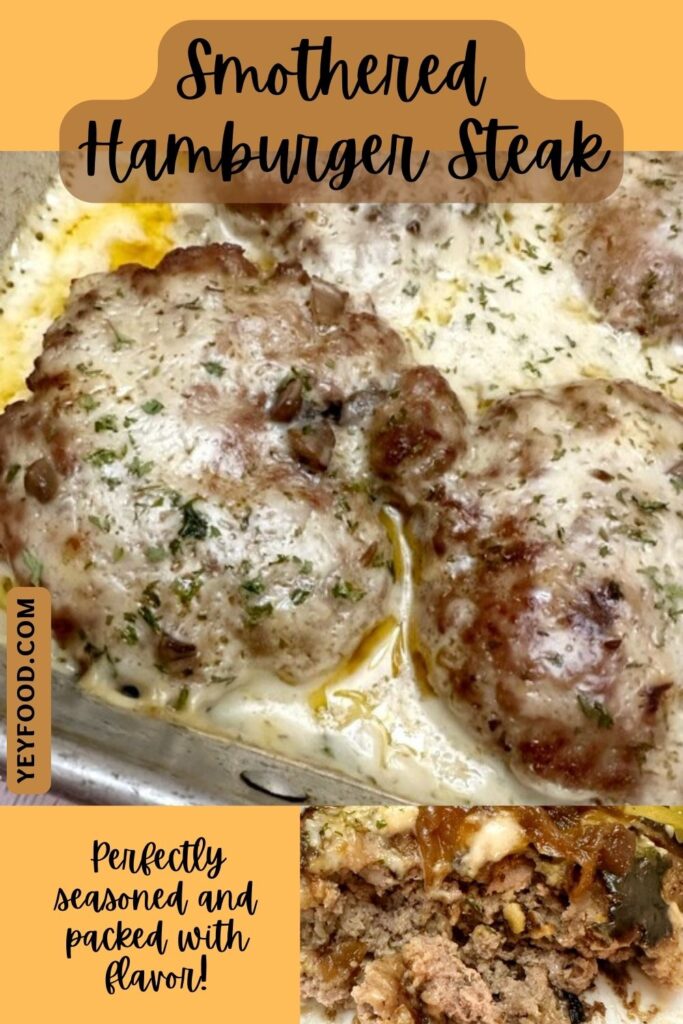 Butter Baked Cod (Poor Man's Lobster)
Easy 1 Pan Classic American Goulash
German Sauerkraut Casserole With Bacon And Brown Sugar
If you like these recipes, you are our people! You can check some related articles below or search via categories on the right. But be warned; you will be on here for hours. Enjoy!