Easiest Chocolate Coke Cake Recipe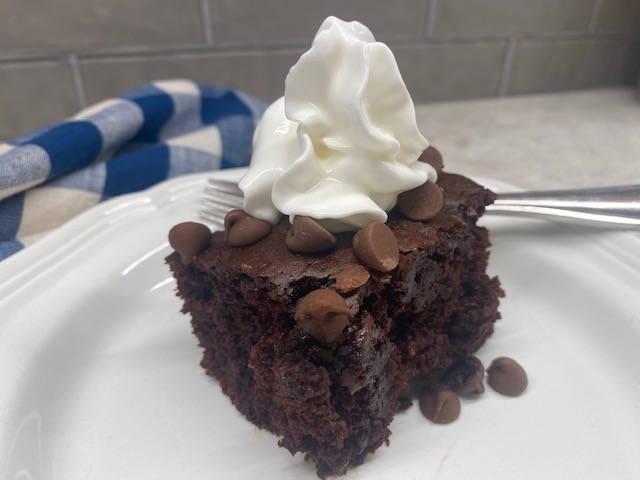 This super tasty chocolate Coke cake is so easy to make; it's ridiculous. You can use cherry cola, vanilla cola, diet cola, or even go rogue and use Dr. Pepper if you like. All you need are two things, a chocolate cake mix and a twelve-ounce can of cola beverage. This could be one of the world's shortest recipes.
Even at home, I am a garnish freak, and I thought the chocolate coke cake would look cute with chocolate chip polka dots. Look at that gorgeous texture! It's dense and moist, more brownie-like than cakey, but listen up, please. You do not need to put chocolate chips on top. Not at all. It's perfect without them!
I absolutely love something that offers such good results with minimal time and effort; who doesn't?
Marveling And Shaking My Head At All Those Ambitious Bakers
Oddly enough, both my husband and I genuinely enjoy watching The Great British Baking Show when it's time to relax before bedtime. Every week, twelve amateur bakers from all over the U.K. compete for a spot in a ten-week series where one-by-one bakers are eliminated, and a champion emerges victorious.
We find all the participants to be amusing and delightful. The baking challenges they undertake are unbelievable in their complexity, and it is fascinating to watch! We learn so many new things, get quite attached to the contestants, and are constantly amazed at their incredible talent.
However, I would never tackle the elaborate baked goods they create in a million years! Not ever. The extent of my "elaborate" baking is a layer cake or a meringue pie, and those are both rare occasions. However, on an everyday basis, I like baked goods to be extra tasty, simple, and quick! I like things to be simple, fast, AND delicious!
Keeping Pace With The Speed Of Life Requires Some Nifty Shortcuts
This chocolate coke cake is just one of many great-tasting baked goods created when someone comes up with a nifty shortcut! It's not just baking, either! I'm always looking for a simpler, faster way to cook and prepare meals with fewer dishes to wash! Who is with me?
Here are a couple more of my "quick and easy" favorites! Busy Day Lemon Bars and 2 Ingredient Pineapple Cake, Cake Mix Cookies, and Easy Lemon Squares.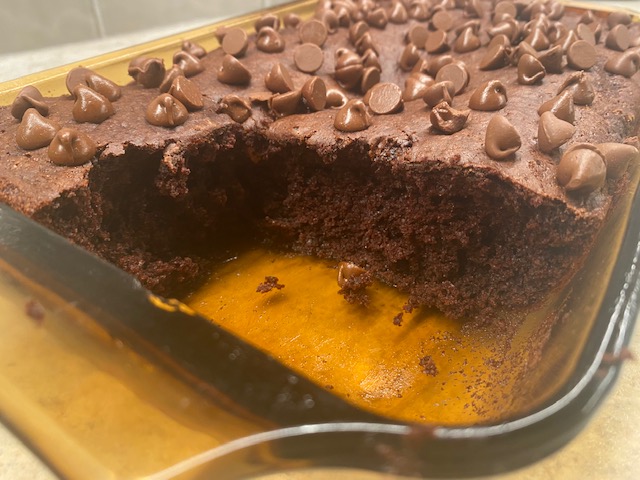 To make this chocolate coke cake, you need one standard 15.25-ounce or 16.5-ounce chocolate cake mix. German chocolate, Devil's Food, and traditional chocolate are all good choices. You'll need a 12-ounce can of any cola beverage. You can use regular or diet soda, vanilla, cherry cola, or even Dr. Pepper. If you have a two-liter bottle, measure out one and one-half cups.
In a medium bowl, combine the dry cake mix and the soda and stir them until they are thoroughly mixed. The batter is fizzy, funky, and fun to make. Look at the bubbles!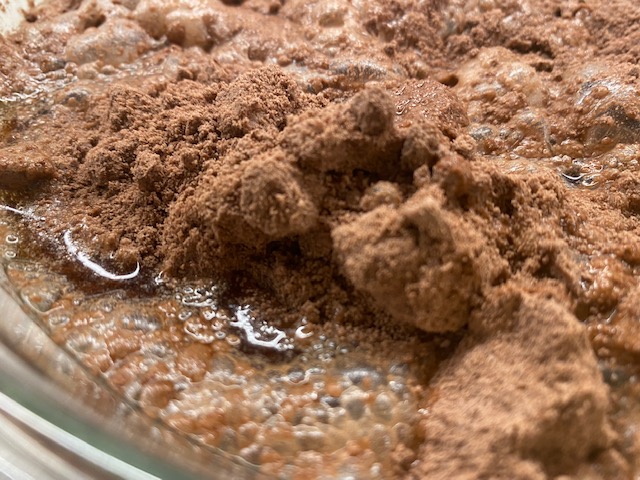 Pour the batter into the greased pan of your choice. You can use a 13″ by 9″ pan to make a fairly thin cake, a perfect size for making it into a sundae. Bring on the toppings!
I chose to make it in an 11′ x 7″ pan because it is one of my favorite sizes for bar cookies. You can also use a 9″ x 9″ square or a 9″ round pan.
All three smaller pan sizes will be thicker, so you must adjust the baking time accordingly. Use a toothpick or cake tester, and make sure it comes out clean when you poke the center of the pan!
That's the buttery cooking spray you see along the edge. Do you think maybe I was a bit generous with it? The batter is nice and thick, and the cake is dense and moist, so make sure you let the pan cool completely before cutting the cake into squares.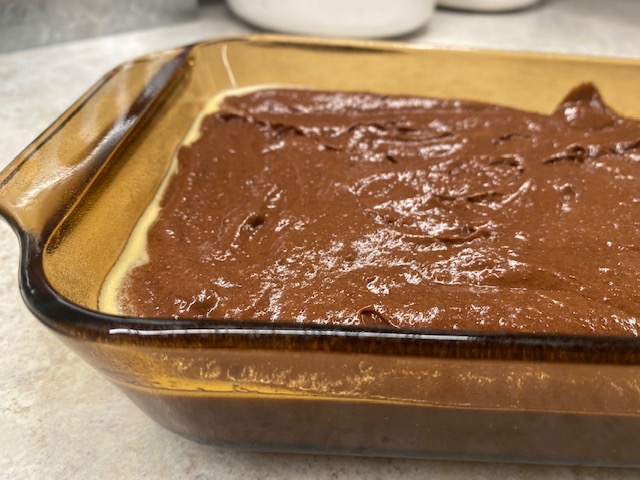 I squiggled on a bit of whipped cream from a can when Papa and I ate it, but I think a scoop of vanilla ice cream would have been even better. After the first night, I enjoyed eating an unadorned square of our chocolate coke cake with a cold glass of milk every bit as much!
Yield: 12 servings
Super Tasty Chocolate Coke Cake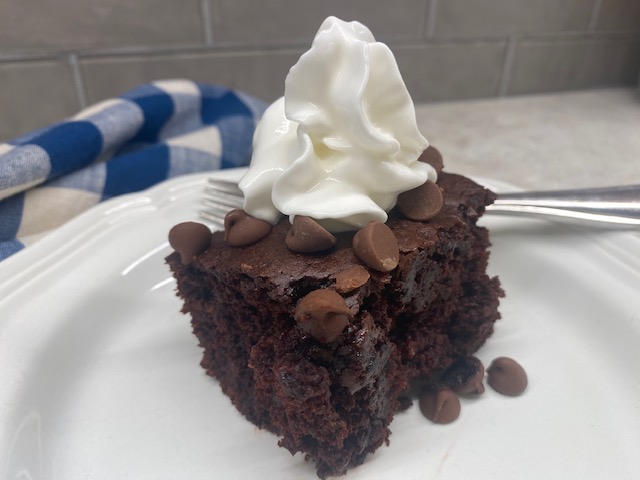 This dessert is a simple two-ingredient cake made from a cake mix and a can of soda.
Ingredients
One 15.25 or 16.5-ounce chocolate cake mix of your choice
One 12 ounce can of your favorite cola beverage (or 1.5 cups)
Instructions
Mix soda and dry cake mix until well blended.
Pour batter into a greased baking pan. (13"x 9", 11" x 7", 9" x 9" square, or 9" round)
Bake at 350 degrees for about 25-30 minutes.
Increase baking time for smaller pans because the cake will be thicker.
Make sure the toothpick or cake tester comes out clean when you poke it in the center.
Cool completely before cutting.

Do you have any slick tricks, hacks, or nifty shortcuts you use to make life in the kitchen easier and faster? Do you have a speedy soup, a fast casserole, or a two or three-ingredient dish your family loves? If you do, we'd love for you to share it with us!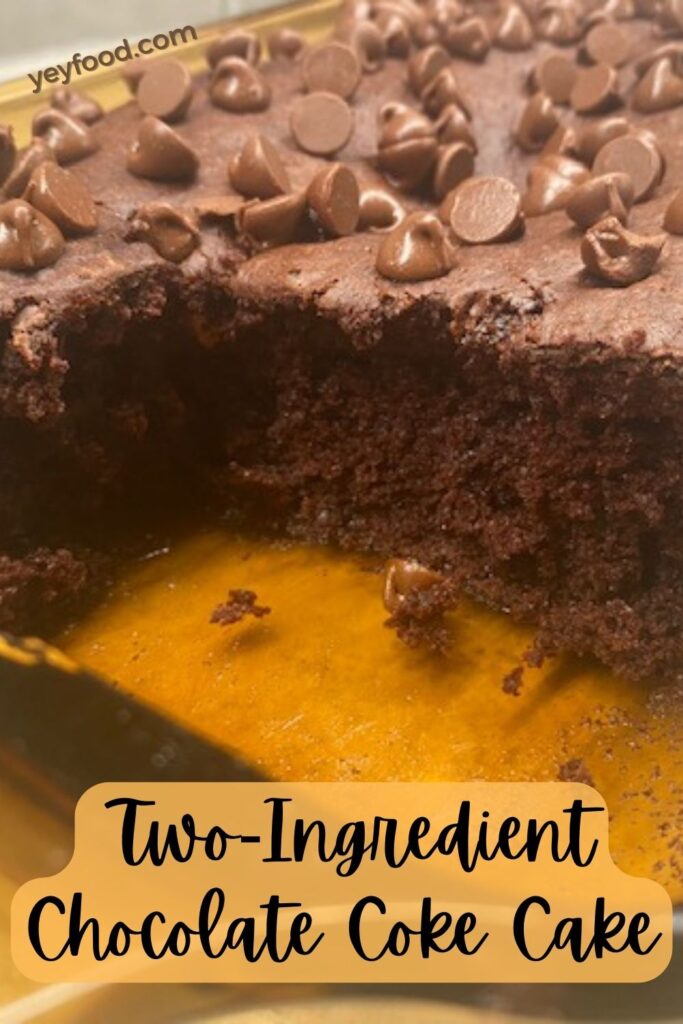 MORE OF OUR QUICK AND EASY FAMILY-STYLE RECIPES:
The Number 1 Practically Perfect Poppy Seed Bread
Oven-Baked Steak With Brown Gravy
If you like these recipes, you are our people! You can check some related articles below or search via categories on the right. But be warned; you will be on here for hours. Enjoy!