A Classic Muffin That's Perfect For Breakfast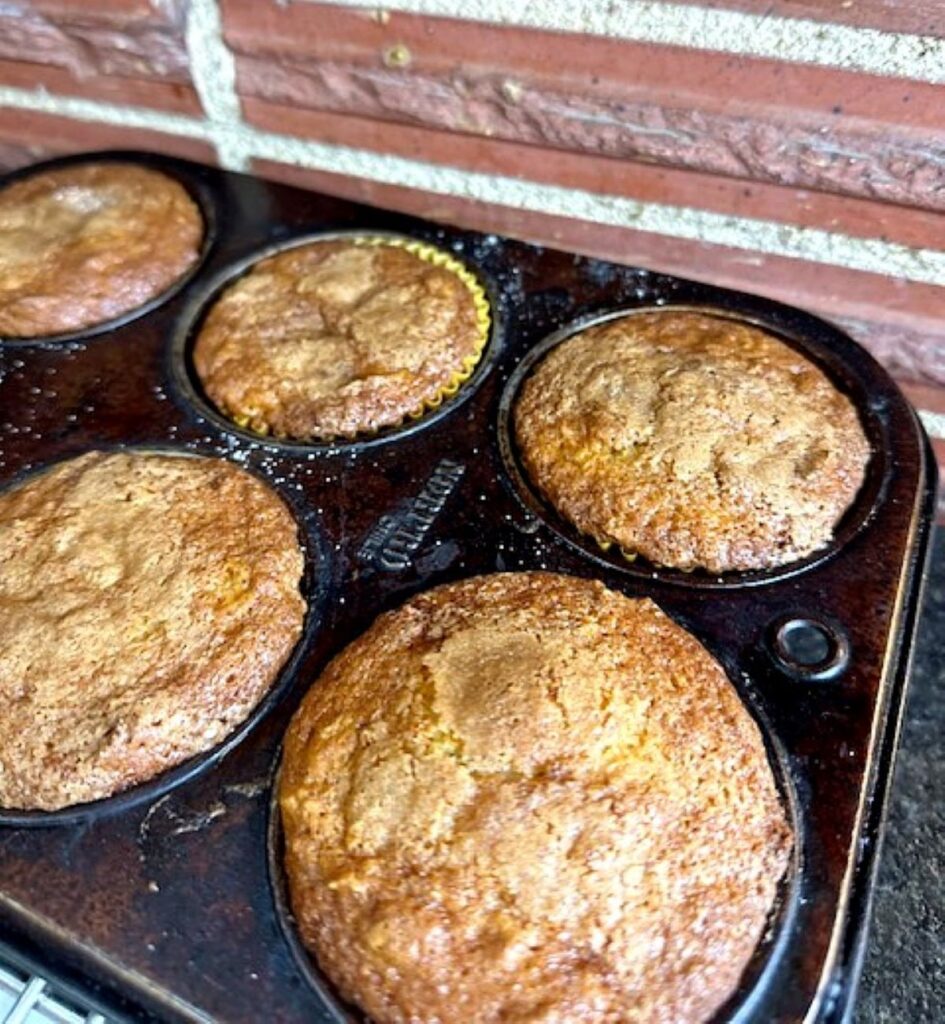 Raisin Bran muffins are a nostalgic, yummy blast from the past.
When you sink your teeth into a moist, chewy muffin made from raisin bran cereal, it's not just a delicious treat; it's a delightful journey through time and back to your childhood. This perfectly baked, tasty morning morsel is pure mid-century nostalgia.
Somehow, magically almost, those hard shriveled raisins in the cereal box become sweet, plump, juicy little pockets of deliciousness. The muffin is not overly sweet, and we enjoyed the light sprinkle of cinnamon sugar I added before baking. It enhanced the already wonderful chewiness.
The history of these muffins is as rich and comforting as the taste itself. They have been a beloved treat for generations, a reminder of simpler times when the kitchen was the heart of the home.
Raisin bran cereal muffins date back to the mid-20th century when home baking was a cherished tradition. The recipe has been passed down from generation to generation, each family adding its unique touch.
Why You Will Love These Raisin Bran Muffins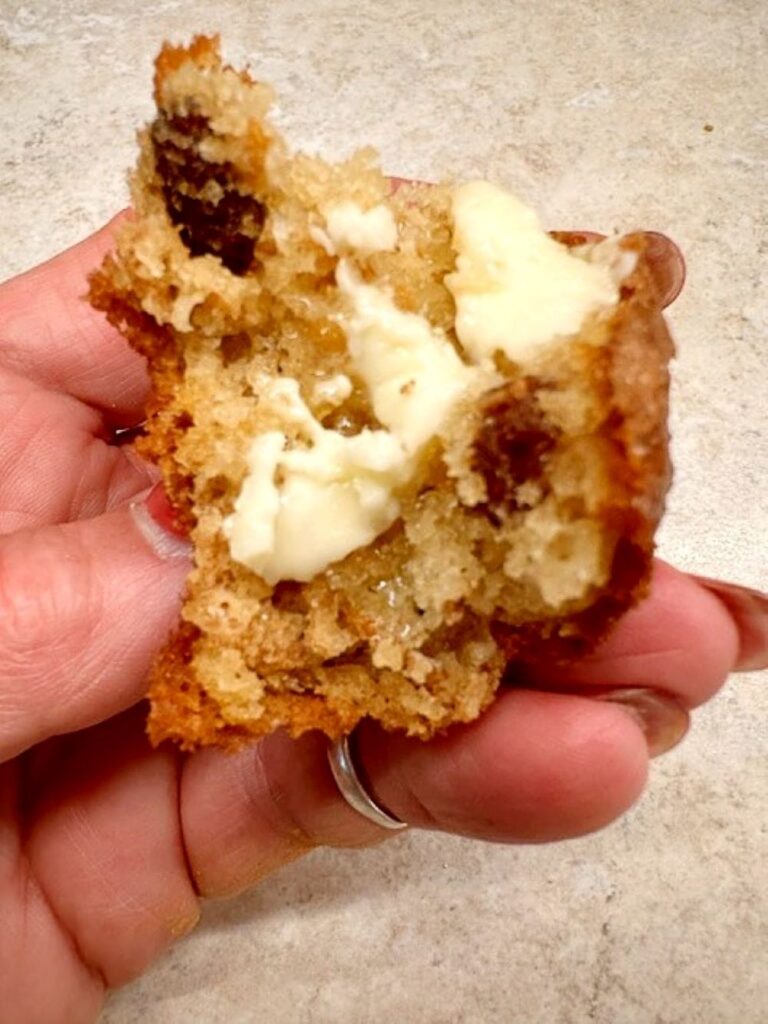 What makes these muffins truly special is their taste. The combination of raisin bran cereal and other simple ingredients creates a moist, slightly sweet muffin that's packed with the healthy goodness of whole grains.
The raisins add a natural sweetness and a delightful chewiness to each bite, while the bran provides a nutty undertone and a fiber boost. It's a comforting, old-fashioned taste that instantly transports you back in time.
The best part is that they are incredibly easy to make. Whether you're an experienced baker or a kitchen newbie, the raisin bran cereal muffin recipe is a breeze to follow. You can prepare a batch quickly and easily! You'll love the warm, inviting aroma that fills your home as the muffins bake.
Enjoy these muffins warm, straight out of the oven. Slather them with butter and drizzle them with honey for the ultimate experience! They're perfect to enjoy with your favorite hot beverage. Whether for breakfast, a snack, or a treat at any time of day, these muffins are a testament to the enduring charm of homebaked comfort food.
So, when you share these muffins with someone, not only are you treating their taste buds to something truly delectable, but you're also sharing a piece of culinary history and nostalgia. It's a reminder that some of the best recipes are those that stand the test of time, continuing to delight and satisfy for generations.
How To Make Raisin Bran Muffins
You don't need to get out a mixer to make these yummy raisin bran muffins! Measure two cups of raisin bran in a medium-sized bowl like my all-time favorite Pampered Chef mixing bowl. I had great success making this using my lazy one-bowl method.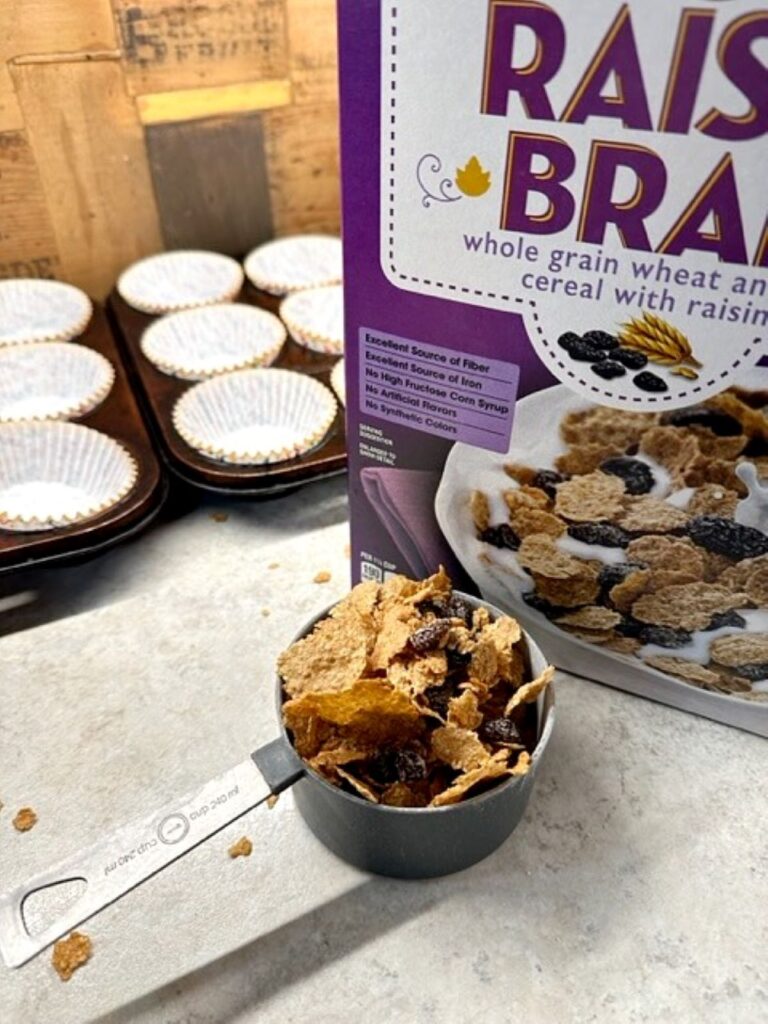 Next, add the oil, buttermilk, and eggs and blend thoroughly. Add the salt, sugar, and baking soda and stir well. Finally, stir in the flour until everything is evenly moistened.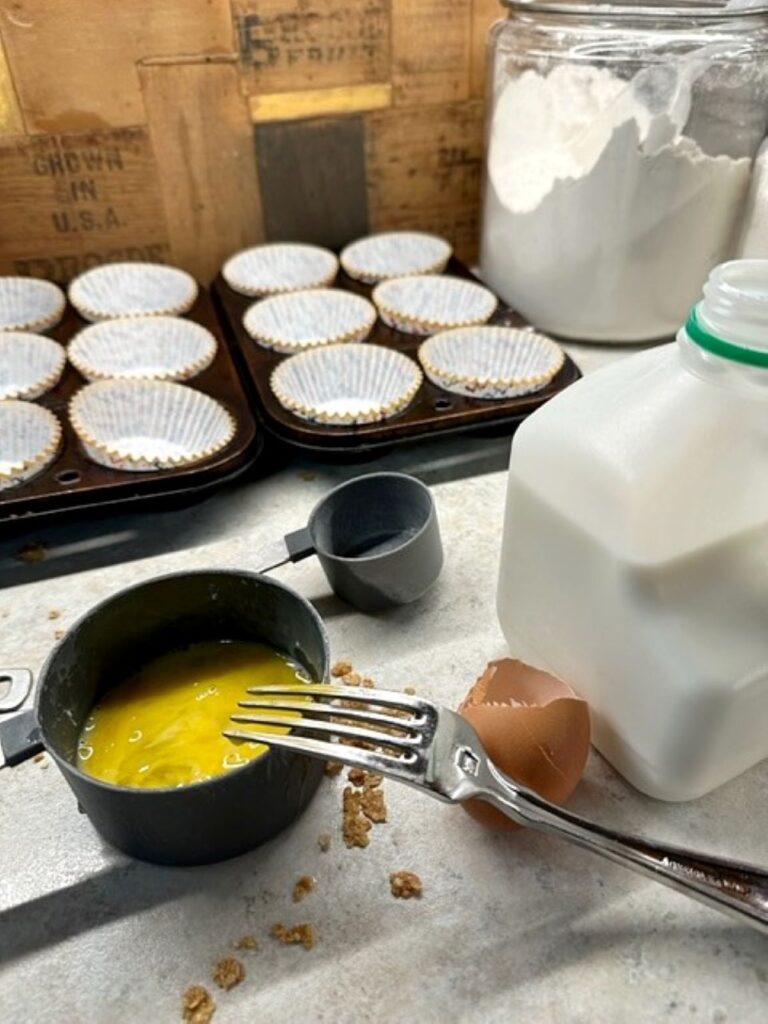 You are ready to scoop your yummy raisin bran muffins into muffin tins with cupcake liners! Use an ice cream scoop to fill the muffin cups! It's the easiest and tidiest way to get the job done.
Did you know ice cream scoops come in exact sizes? A number 12 ice cream scoop (which usually has a green handle) is perfect for filling twelve muffin cups! Each number 12 scoop holds about one-third cup of batter and fills a muffin cup to the ideal two-thirds full level for baking!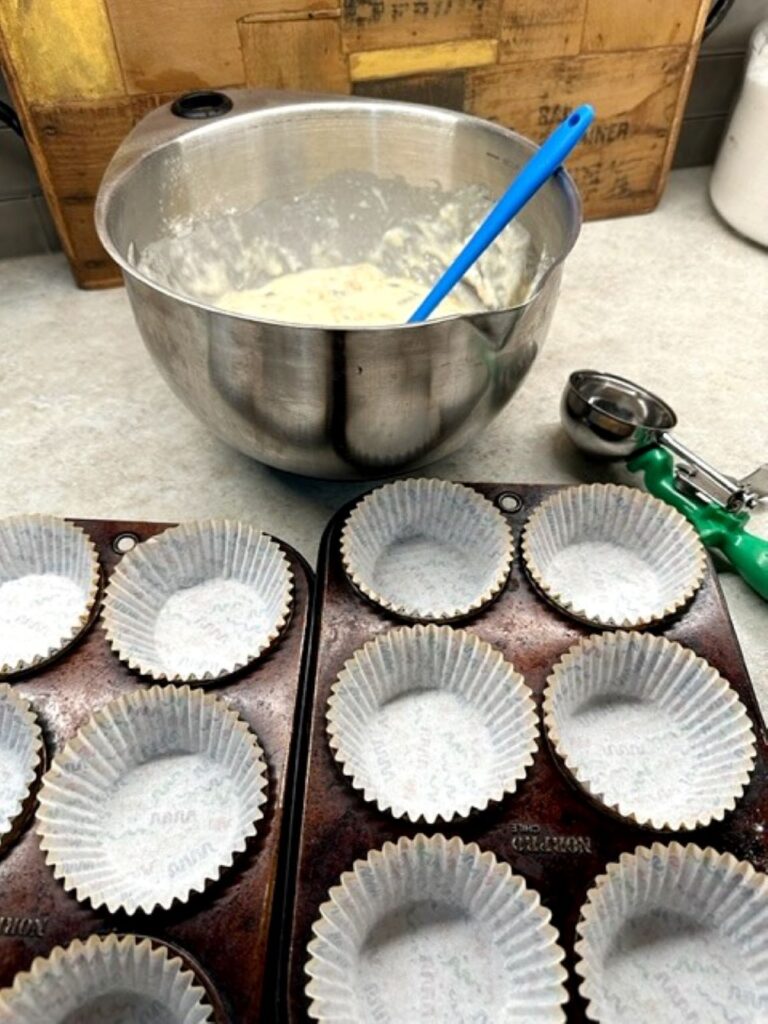 Add a light sprinkle of cinnamon sugar for a little extra crunch and chewiness, then pop them into a 400-degree oven for fifteen to twenty minutes.
Enjoy them warm with butter and honey for a delightful breakfast on the go or snack any time!
Yield: 12 muffins
Buttermilk Raisin Bran Muffins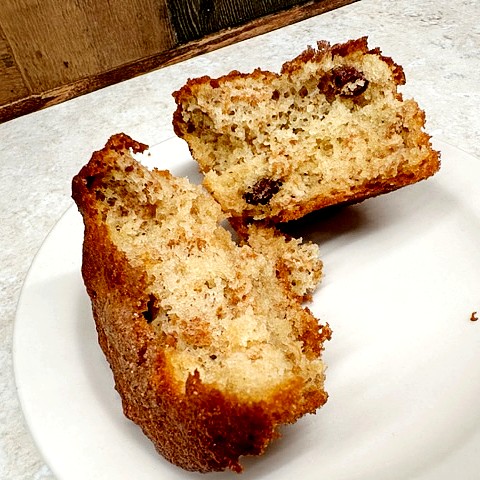 A recipe for raisin bran muffins that originated in the mid-century and is every bit as beloved today! A great breakfast on the go or snack any time!
Ingredients
1 1/4 cups all-purpose flour
3/4 cup sugar
1 1/4 tsp baking soda
1/2 tsp salt
2 cups raisin bran cereal
1 cup buttermilk
1/4 cup vegetable oil
1 large egg, lightly beaten
cinnamon sugar for topping, optional
Instructions
Preheat oven to 400 degrees
Line 12 muffin cups with cupcake liners
Put the raisin bran into a medium mixing bowl.
Add the buttermilk, egg, and oil and stir well.
Add the salt and baking soda and stir thoroughly.
Add the flour and mix until everything is evenly moistened.
Fill muffin cups 2/3 full. A number 12 ice cream scoop is the ideal tool for this job.
Bake for 15-20 minutes or until they are as brown as you like.
Notes
You can store this batter in the refrigerator for two or three weeks, tightly covered, and bake as you go!
These muffins freeze well after baking, tightly wrapped, for a month or more.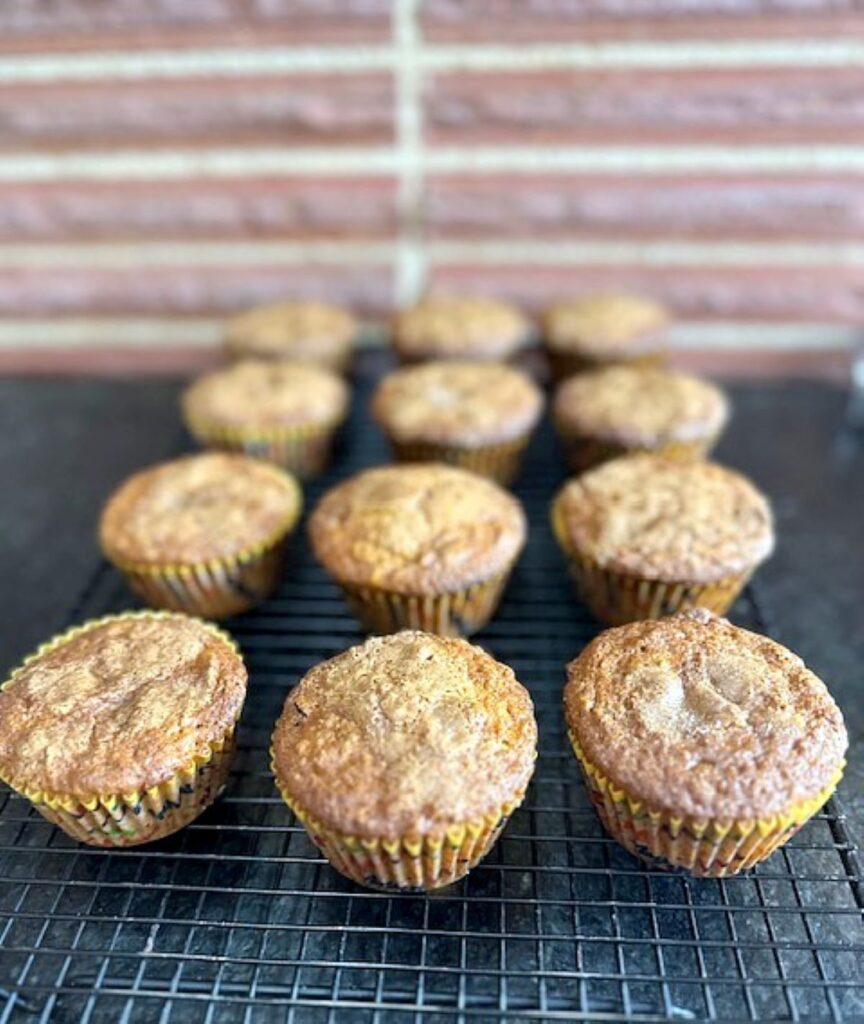 Raisin Bran Muffins make a great little gift and are always a hit at bake sales!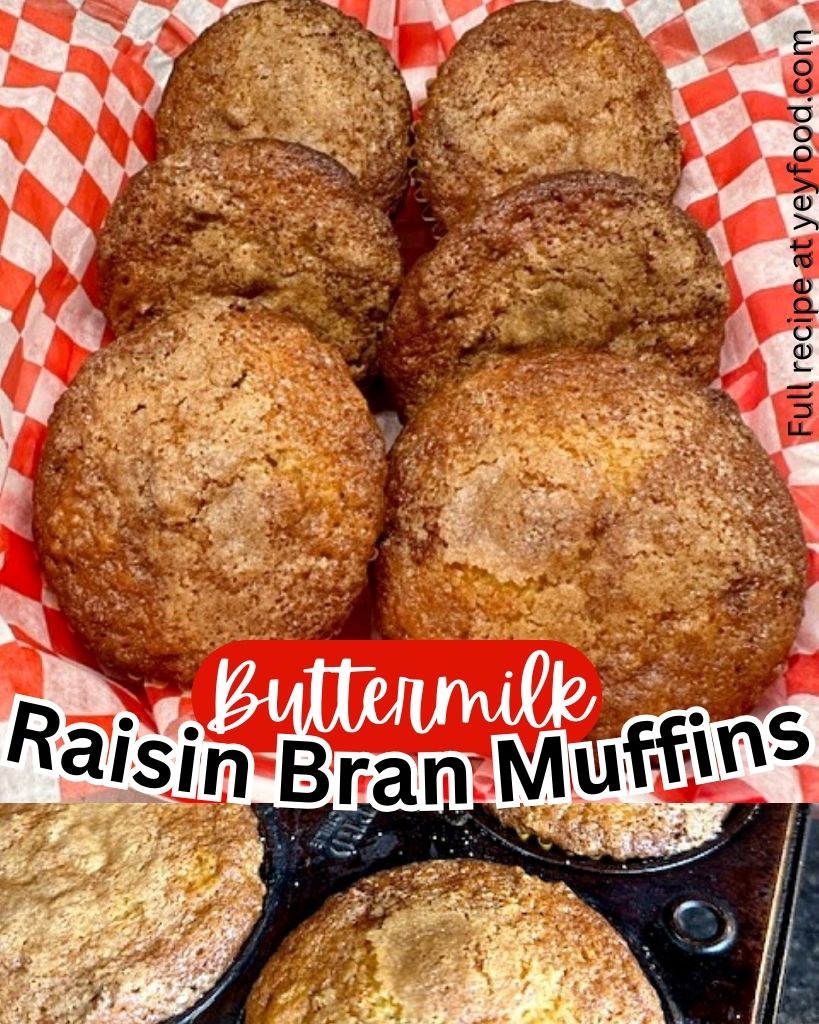 Here at yeyfood, we love muffins! Here are two of our most popular muffin recipes! Rhubarb Muffins With Streusel Top, Lemon and Blueberry Muffins. Many of our quickbread recipes make great muffins, too!
More tasty recipes from us: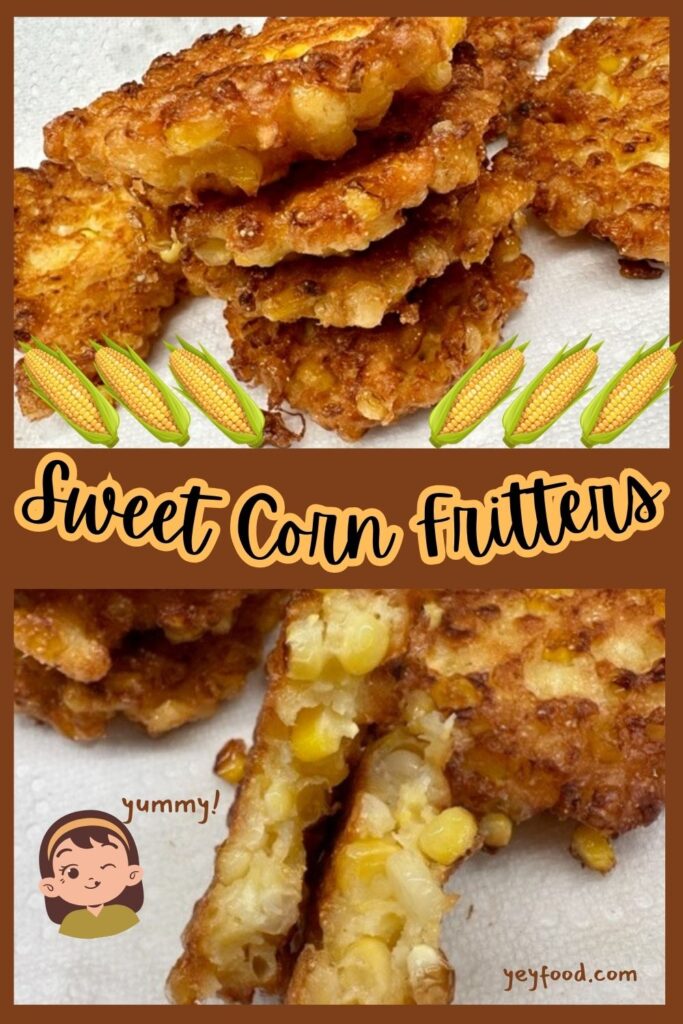 Easy 1 Pan Classic American Goulash