Make Them Even Easier With Canned Frosting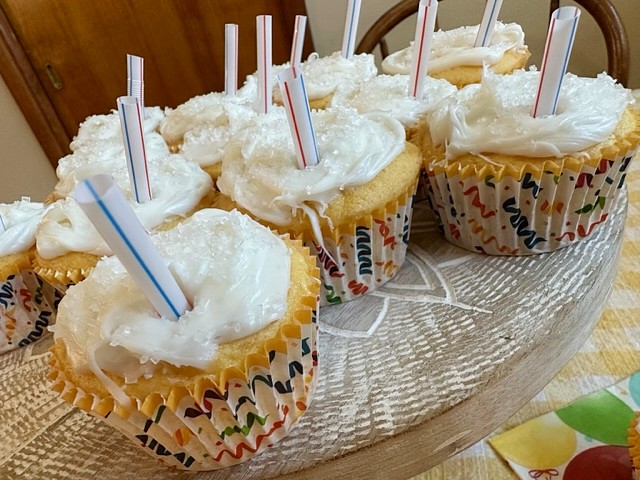 Now and then, we all need an easy button, and these tasty 7 Up cupcakes are a quick and simple way to knock out a treat without breaking a sweat. Cupcakes are always a great way to celebrate any festive occasion!
How To Make Yummy 7 Up Cupcakes
In a medium mixing bowl, empty a twelve-ounce can of soda into the dry cake mix. You'll notice immediately how the soda reacts with the dry mix, getting all bubbly and excited! It's so much fun to make! The batter will be thick and fluffy!
Line muffin pans with cupcake liners. There are so many awesome cupcake liner patterns available! I chose a happy confetti pattern for these 7 Up cupcakes because they look like a party is about to happen! Check at Walmart, Target, and Dollar Tree for lots of fun and inexpensive options for any season and every occasion!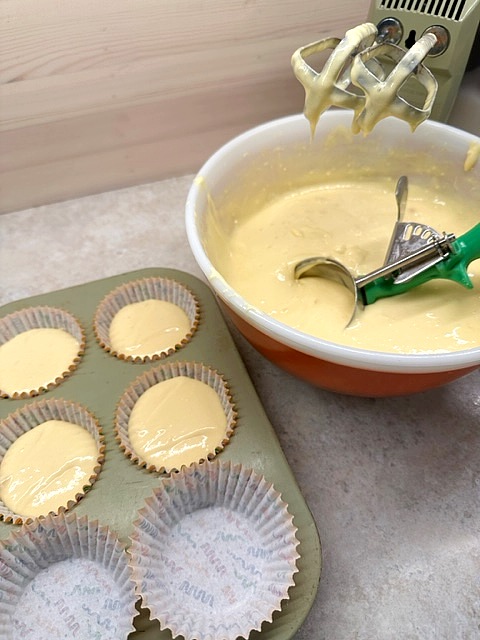 My ice cream scoop comes in handy when I bake muffins or cupcakes! I like how it makes it easier to fill the cupcake liners with less mess and divvies out the batter more evenly that when I used a spoon! If you fill the cupcakes a little over half full, you'll have eighteen perfectly domed cupcakes!
Bake the cupcakes at 350 degrees for about twenty minutes. A toothpick inserted near the center should come out clean.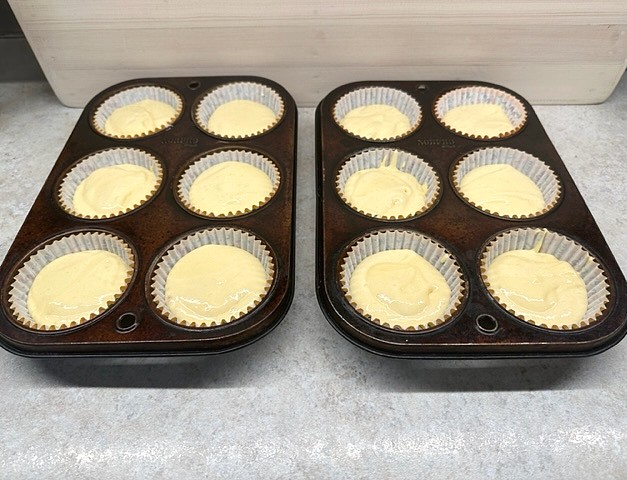 I used Betty Crocker canned fluffy white frosting to make things even easier. For garnish, I used sparkly white sanding sugar and cut soda straws into short pieces for a fun little touch on my 7 Up cupcakes!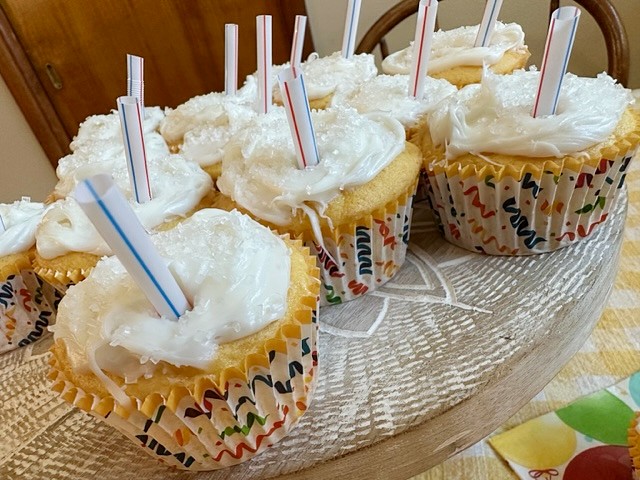 The canned frosting is a huge time saver, but there are several things you can do to make it taste extra good! Empty the frosting into a bowl and use a hand mixer to fluff it up and add volume.
You can also add a pinch of salt or extra flavorings like lemon or orange extract. You can add texture with lemon zest or whip sprinkles right into the frosting!
It's amazing how good these 7 Up cupcakes taste when they are so easy to make, but the flavor is awesome! You can make so many wonderful combinations with just a box of cake mix and a can of soda! I'm telling you, cake mixes were made to play with!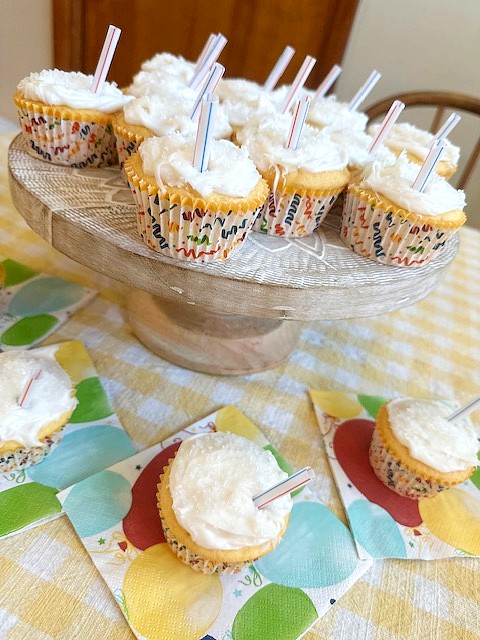 The Magic Of Baking Cupcakes With Soda Pop Instead Of Eggs And Oil
Soda pop isn't just a sweet drink; it's bubbling with chemistry. When you crack open a can or open a bottle, the fizzing sound you hear is a chemical process at work! According to the Betty Crocker website, here's how this "magic" works when you make these 7 Up cupcakes.
The fizz in soda pop results from carbonation which happens when carbon dioxide dissolves into water or a diluted solution under high pressure. This is done by increasing the pressure in a can or bottle so the water molecules can trap the carbon dioxide.
This explains why you don't need eggs, oil, or water! You just need a can or bottle of soda pop. The carbon dioxide bubbles in soda pop become the leavening agent that makes the cupcakes rise and makes them light and fluffy.
The possibilities are almost unlimited, but here are a few fun combinations of cake mixes and sodas you can create!
Root Beer Float cupcakes with yellow cake and root beer
Orange Creamsicle cupcakes with white cake and orange soda
Purple Cow cupcakes with vanilla cake and grape soda
Brown cow cupcakes with chocolate cake and rootbeer
Lemonade cupcakes with lemon cake and Sprite
For even more ideas, check out Jarrito's authentic Mexican sodas that come in a rainbow of colors and flavors that will let your imagination run wild with the possibilities!
Yield: 18 servings
Yummy 7 Up Cupcakes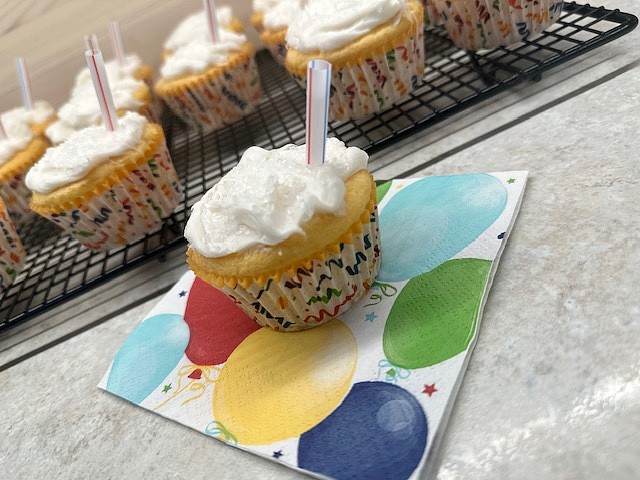 Yummy cupcakes made from a cake mix and a can of regular or diet 7 Up.
Ingredients
One 15.25 or 16.5-ounce yellow cake mix
One 12 ounce can of regular or diet 7 Up
Canned fluffy white frosting
Sprinkles for garnish as desired.
Instructions
Mix soda and dry cake mix until well blended.
Pour batter into muffin pans lined with cupcake liners.
Bake at 350 degrees for about 20 minutes.
Make sure the toothpick or cake tester comes out clean when you poke it in the center.
Cool completely before adding frosting.

Nutrition Information:
Serving Size:
1
Amount Per Serving:
Total Fat:

15g
Saturated Fat:

7g
Trans Fat:

1g
Unsaturated Fat:

4g
Cholesterol:

0mg
Sodium:

3079mg
Carbohydrates:

348g
Fiber:

5g
Sugar:

184g
Protein:

16g
We love easy recipes with as few ingredients as possible! Here are some of our favorites. Two-ingredient Mini Apple Pies, Homemade Magic Shell With Just Two Ingredients, Cool Whip Cookies With Three Ingredients, Three Ingredient Sloppy Joe Chicken.
Do you have any slick tricks, hacks, or nifty shortcuts you use to make life in the kitchen easier and faster? Do you have a speedy soup, a fast casserole, or a two or three-ingredient dish your family loves? If you do, we'd love for you to share it!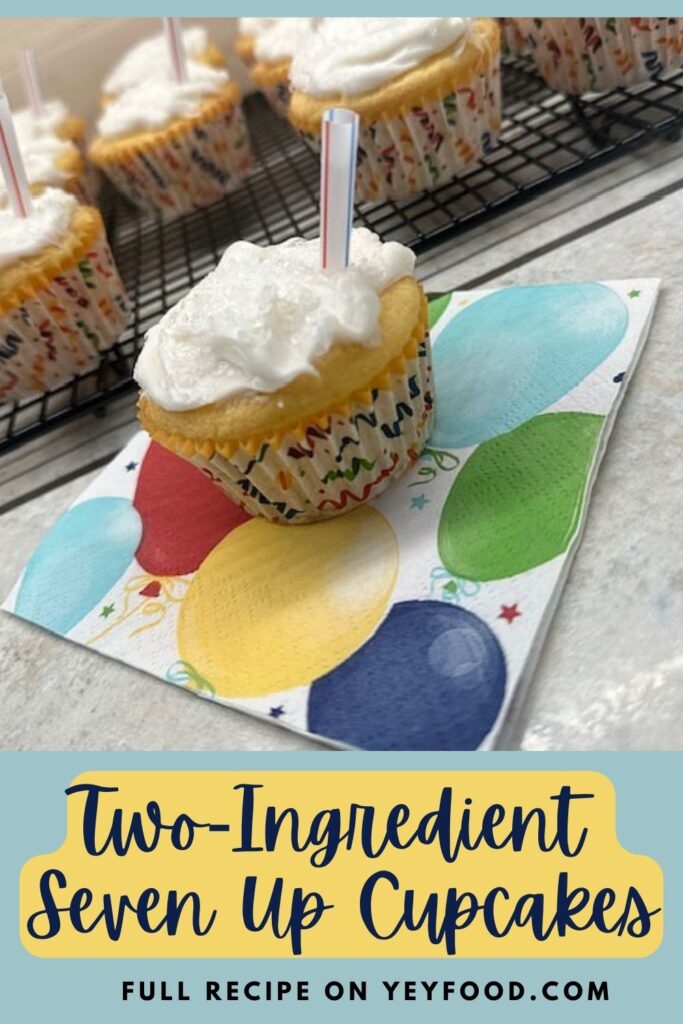 MORE OF OUR YUMMY RECIPES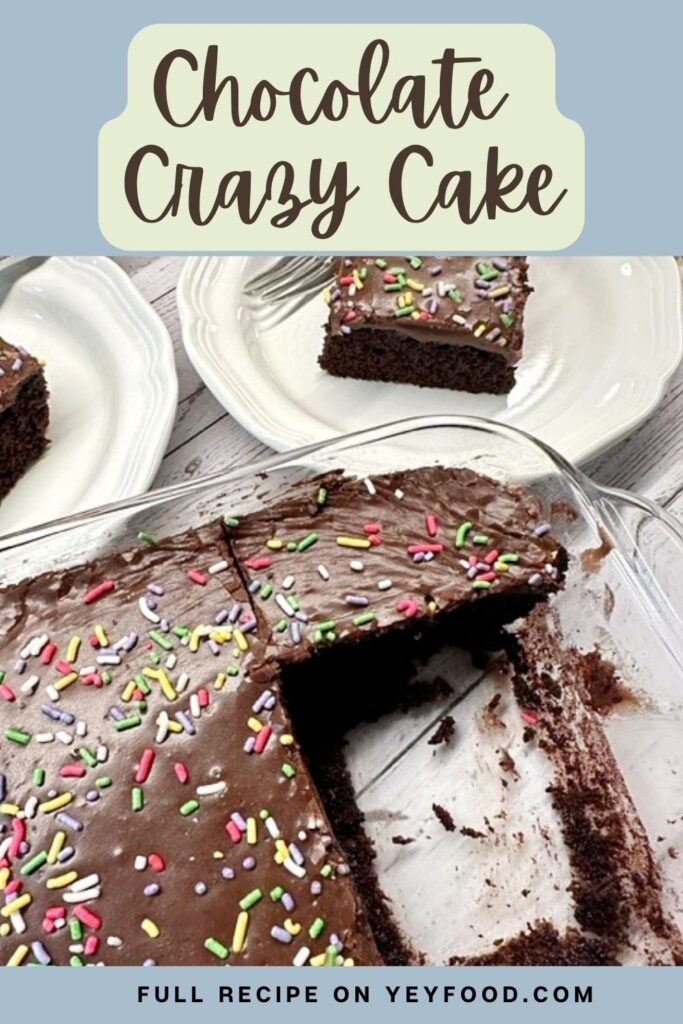 The Ultimate Bread and Butter Pickle Recipe
The Number 1 Practically Perfect Poppy Seed Bread
World's Best Stuffing No Turkey Required
If you like these recipes, you are our people! You can check some related articles below or search via categories on the right. But be warned; you will be on here for hours. Enjoy!
So, please share this recipe on your social media accounts like Facebook, Instagram, Twitter, and Pinterest. We would be honored and ever so grateful; thank you!