A Savory Skillet Meal in One Pan Topped With Cornbread Swirls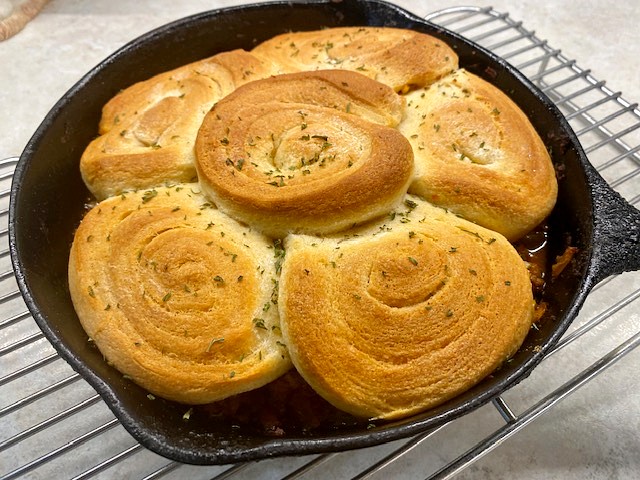 It's been a year since I made this tex mex casserole in my cast iron skillet for the first time! The first time I saw Pillsbury Cornbread Swirls in the refrigerated case, I knew I had to try them because, you know, cornbread! 🧡 I found them irresistible and knew I had to play with them.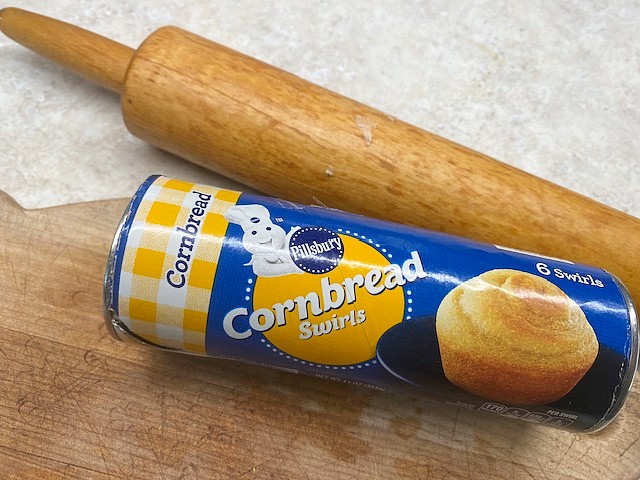 Benefits of Cooking In Cast Iron
I love making and serving anything in a cast iron skillet. Everything made in cast iron tastes better somehow, and the presentation is always fun. This works well in a ten-inch cast iron skillet.
Cast iron is amazing for so many reasons. It can last a lifetime (or two or three) with good care! Cast iron holds heat well, so food stays warm. It goes from stovetop to oven without a hitch, making it very versatile. Cook and serve in one easy-to-clean pan.
It comes in many shapes and sizes, so that you can use it for frying, cooking, and baking! It's easy to clean, and if you goof up, it can be reseasoned and become like new! You won't ever need to replace it, so it is very affordable over time!
Here's How You Make This Tasty Tex Mex Casserole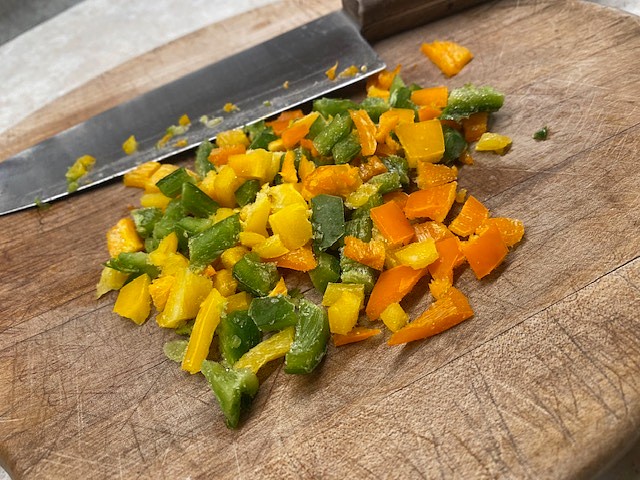 I admit I made this dish up as I went using things I had in my cupboard and freezer, but it turned out great, so I wrote everything down and took pictures as I went along.
Today, I served it when our granddaughter came out to lunch at our house. She requested something "Mexicanish" today, so I whipped this up. Her high school graduation is in a little over a month, and we're thrilled she comes out about once a week. I hate to see the school year come to an end.
Pour a little olive oil into the skillet and saute peppers and onions until soft, fragrant, and transparent. I was glad I had peppers stuck in the freezer from last summer!
When peppers are on sale, or your garden is overflowing, here's an easy way to freeze peppers for dishes like this one! They are so nice to have on hand until summer rolls around again!
Add the ground beef and brown it right in with the peppers and onions, and drain off any excess fat. Add one cup of salsa, a cup or more of frozen corn, and a packet of taco seasoning, then stir it well.
Luckily, I had sweet corn in the freezer. Here's how easy it is to freeze corn and keep the bright color and great flavor. It will last until sweet corn season rolls around again!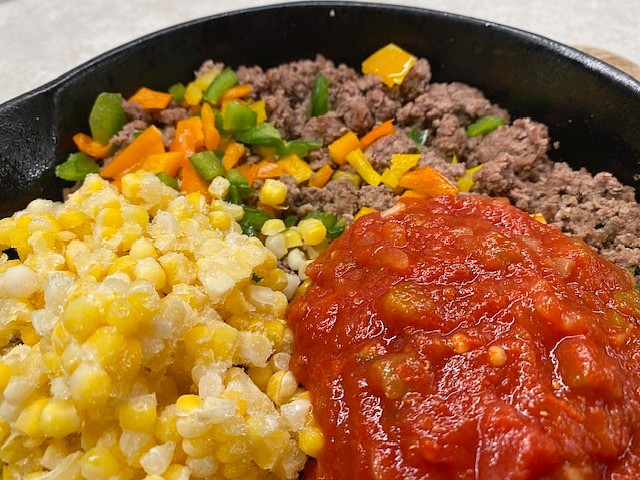 Finally, separate the cornbread swirls and use a rolling pin to flatten and stretch them. Lightly butter the swirls, layer them overlapping on top of the skillet, and bake this yummy tex mex casserole at 375 for about fifteen minutes or until the cornbread is golden brown.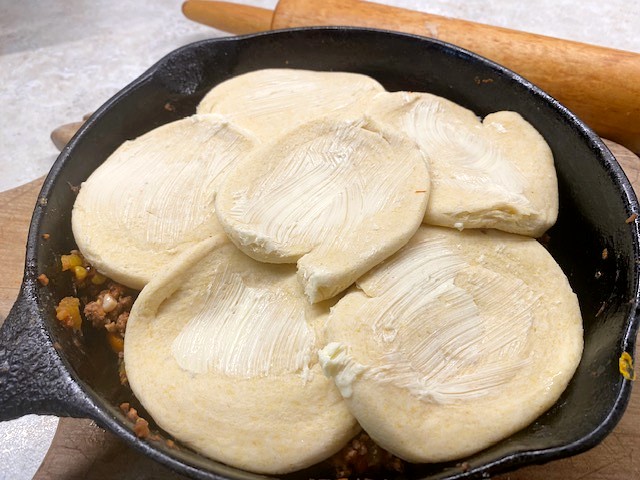 If you don't have a cast iron skillet, you can make this tex mex casserole in a pan, transfer everything to a casserole dish, and top it with the cornbread swirls, and bake it. I sprinkled a little parsley on top for color because I always do that! 😉
Yield: 6 servings
Tex Mex Casserole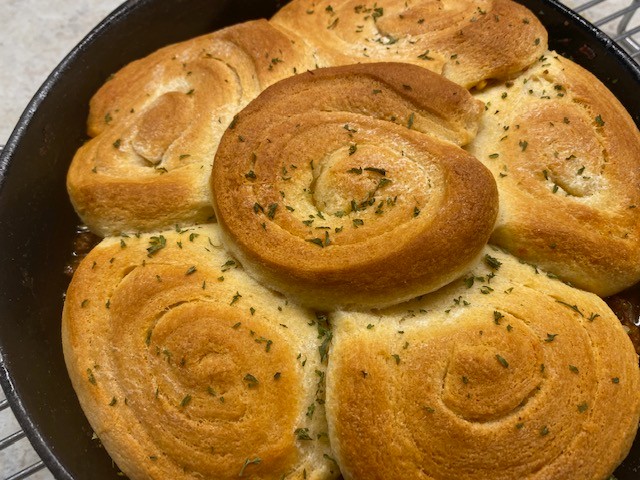 A meal in one casserole with a Mexican flair. You can make it and serve it in a cast iron skillet.
Ingredients
One pound of lean ground beef
1 cup chopped peppers of any color
1/2 medium onion, chopped
2 Tbsp olive oil
1 cup salsa
1 packet of taco seasoning
One cup of frozen corn
One package of Pillsbury cornbread swirls (six in one container)
Butter for top of cornbread swirls, optional
Parsley for garnish, optional
Instructions
Preheat the oven to 375 degrees.
Saute peppers and onion in olive oil until fragrant and transparent.
Add the ground beef, brown it, crumble it right in with the peppers and onions, and drain any excess fat.
Add taco seasoning, salsa, and corn, and stir well to combine.
Separate cornbread swirls and use a rolling pin to flatten and enlarge them.
Lay the flattened cornbread swirls in the meat and vegetable mixture, overlapping to cover the casserole.
Butter the tops of the cornbread if desired.
Bake for about fifteen minutes or until the cornbread is golden brown,
Sprinkle with parsley if desired.
Notes
You can make and serve this in a ten-inch cast iron skillet.
You can also make the meat-vegetable mixture in a pan and transfer it to a casserole dish. Top with cornbread swirls and bake as directed.
What To Serve With Tex-MexMex Casserole
This yummy dish is a meal on its own, but a crisp tossed salad or bright, colorful vegetables or fruit would always be a nice touch. I served shredded cheese and sour cream with ours today and fresh green beans!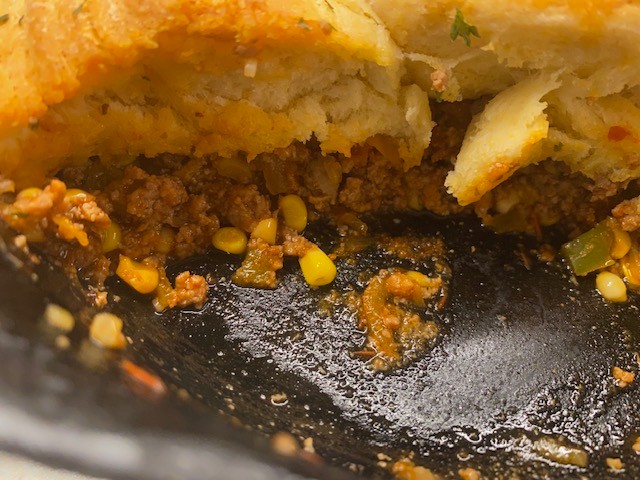 This Mexican chocolate cake would be the perfect themed dessert for a tex mex night! We could eat Mexican food five days a week at our house! It's always tasty, budget-friendly, and easy to make!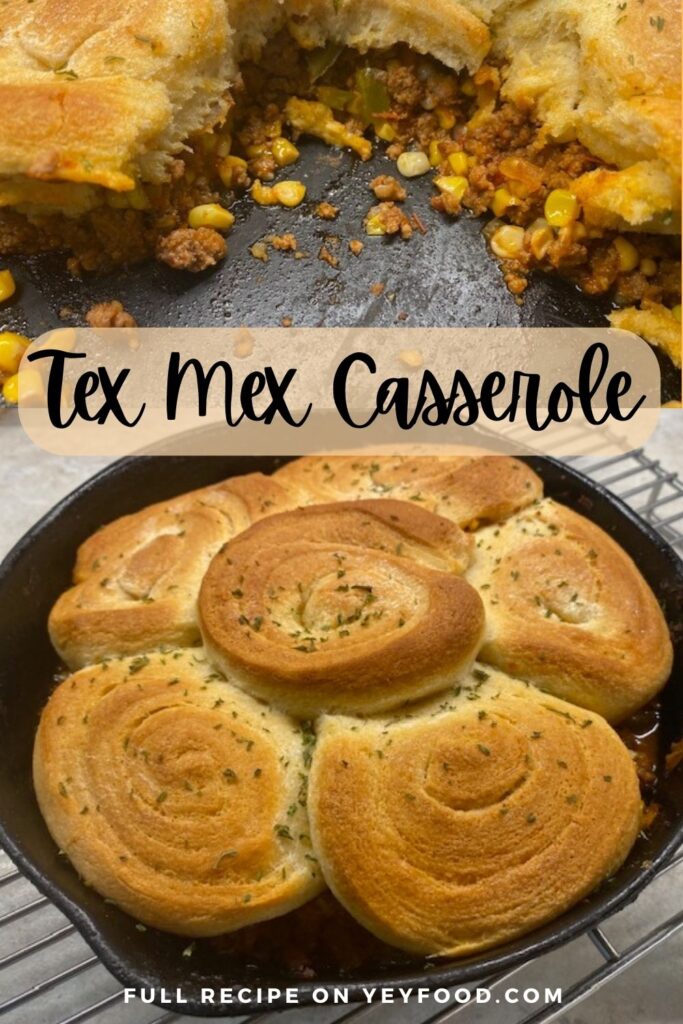 Here are some of our favorite Mexican recipes! Thirty-Minute Fajita-Style Mexican Rice With Ground Beef, Easy Mexican Corn Dip, Chicken Fajitas And Rice, Best Chicken Quesadillas.
MORE OF OUR YUMMY RECIPES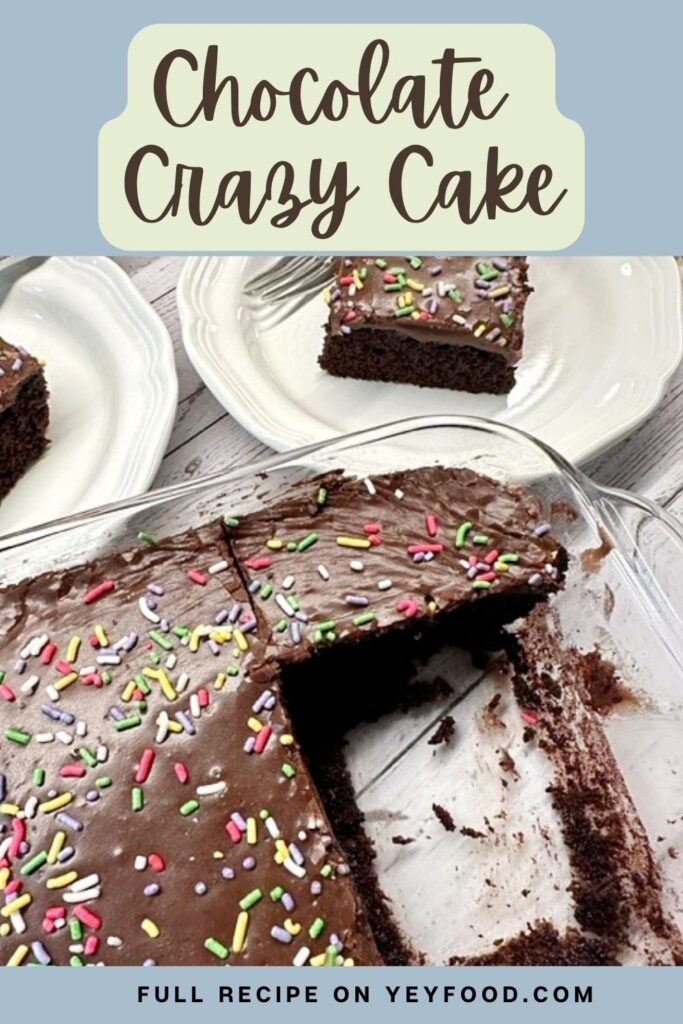 The Ultimate Bread and Butter Pickle Recipe
The Number 1 Practically Perfect Poppy Seed Bread
World's Best Stuffing No Turkey Required
If you like these recipes, you are our people! You can check some related articles below or search via categories on the right. But be warned; you will be on here for hours. Enjoy!
So, please share this recipe on your social media accounts like Facebook, Instagram, Twitter, and Pinterest. We would be honored and ever so grateful; thank you!