Fajita-Style Mexican Rice With Ground Beef And Peppers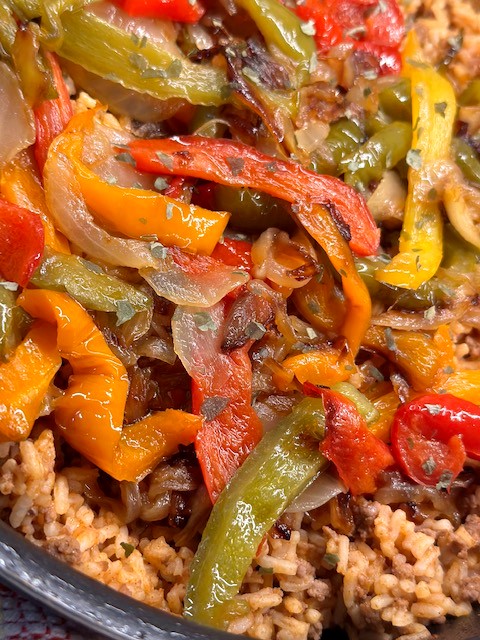 This fajita-style Mexican rice is what I call a "tip-the-refrigerator" concoction or just a happy accident. 😉 It is an absolute mashup of two different dishes, and it turned out great.
We are lucky that our youngest granddaughter, a senior in high school, can go off-campus for lunch and eats lunch with us at noon when her busy schedule allows. We love it!
Breck loves Mexican food and was coming for lunch in two hours! I did not want to run into town to buy groceries, so I was determined to find a way to use what I had on hand.
I did not have any chicken, and the steak in the freezer was rock-hard! But I always have ground beef in the deep freeze (it's easy to defrost in the microwave!), onions in the bin, and I almost always have some peppers in the freezer.
All summer long, or when colorful peppers are on sale, I freeze them. They work great for cooked dishes. You can also buy a bagged mix of peppers and onion in the frozen foods section. You can use fresh peppers, too, of course; the more color, the better!
Here's How To Make This Quick & Easy Mexican Rice Dish
Choose a medium non-stick skillet with a tight-fitting lid to make this dish. Begin by sauteeing onions and peppers in a small amount of oil until they get soft and slightly browned on the edges. This really brings out the sweetness in the vegetables. When they are done, set them aside in a separate bowl.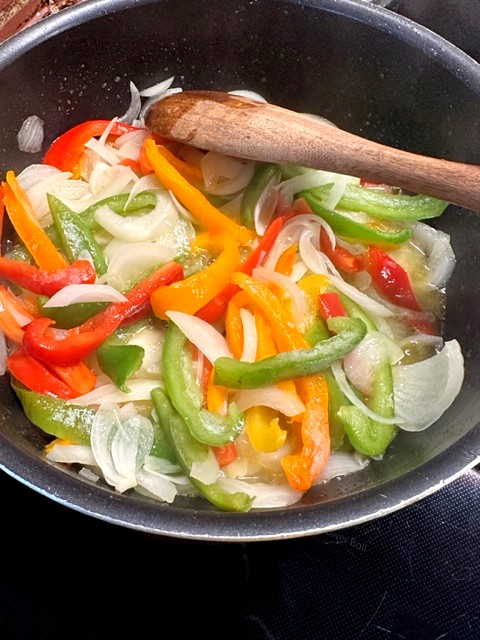 In the same skillet, brown the ground beef and add the instant rice, water, tomato sauce, and a packet of fajita seasoning. You can use taco seasoning or make your fajita or taco seasoning mix, but they are a different blend of spices.
Taco seasoning has more chili powder and oregano than fajita seasoning. Fajita seasoning has more cumin and is less spicy than taco seasoning. I wanted this Mexican rice to have more of a fajita-style flavor profile since I added sauteed peppers and onions.
Give the mixture a good stir and turn the heat down to the lowest setting for about ten minutes while the rice absorbs all the liquid and seasonings.
Top the rice and beef mixture with the sauteed peppers and onion, and get ready to dig in!
Yield: 4 servings
Fajita-Style Mexican Rice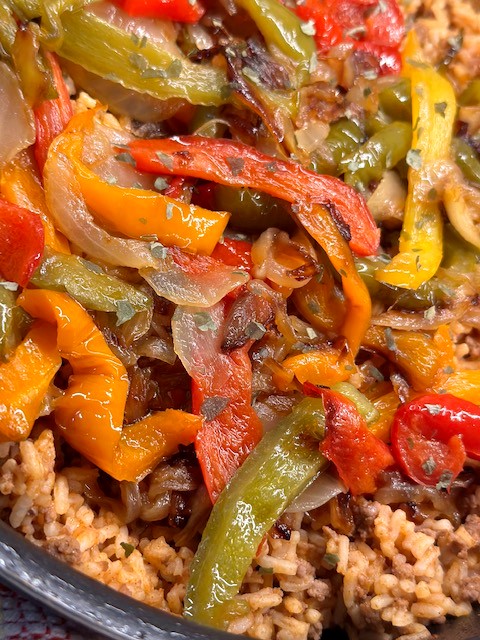 Here's a quick and easy dish, a mashup of Mexican rice and fajitas, and it's ready in minutes!
Ingredients
One medium onion, sliced
Two peppers or an amount equal to two peppers, cut into thin strips. The more colorful the better.
One Tbsp of vegetable oil
1/2 pound ground beef, but you can use a full pound
2 cups instant rice
2 cups water
1 cup of tomato sauce
One 1.12-ounce packet of fajita seasoning
Flour tortillas
Sour cream
Picanta sauce
Salsa Con Queso
Chopped cilantro for garnish, optional
Instructions
In a non-stick skillet with a tight-fitting lid, saute the peppers and onions in vegetable oil over medium-high heat until soft and slightly caramelized with golden brown edges. Set aside in a separate bowl.
In the same skillet, brown and crumble the ground beef, then add rice, water, tomato sauce, and fajita seasoning. Stir well.
Turn the burner to the lowest setting and cook for about ten minutes until all the water and flavors are absorbed into the rice.
Top the rice mixture with the onions and peppers.
Spoon filling into soft, warmed flour tortillas, add toppings as desired, and fold to eat.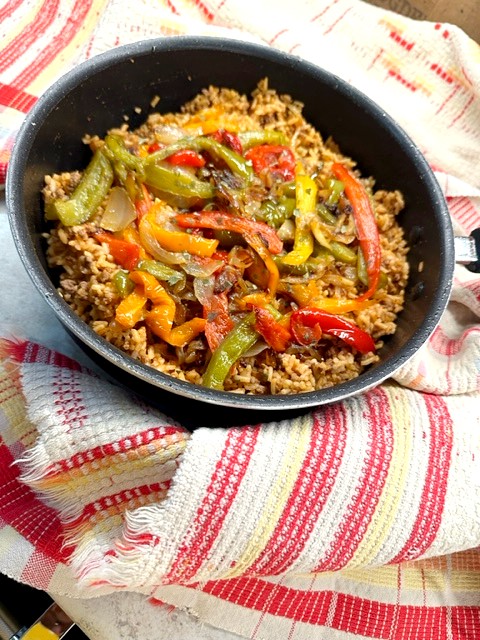 I served this yummy beef and rice mixture folded inside warm, soft flour tortillas and set out sour cream, shredded cheese, Picante sauce, and salsa con queso for topping.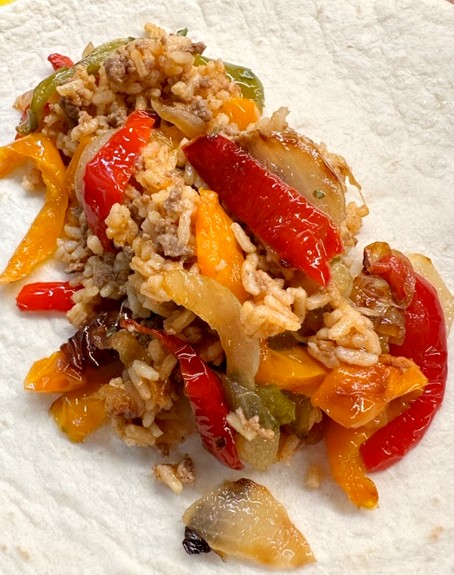 We folded our tortillas around the yummy Mexican rice burrito-style and enjoyed every bite of our new creation!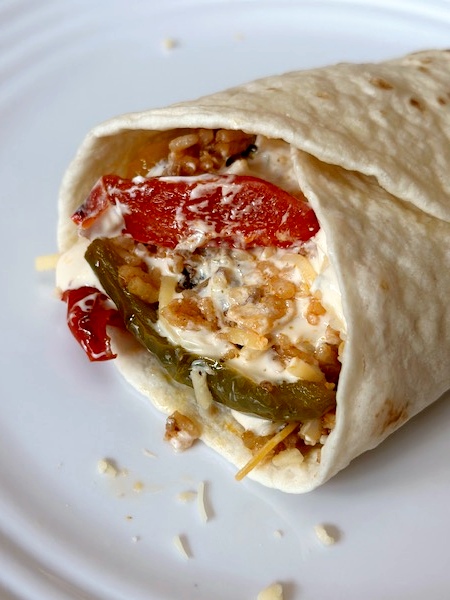 We are crazy about Mexican food and could eat it every night! Here are some of our most popular recipes with Mexican-style flavor! Mexican Corn Dip, Crockpot Beef Barbacoa, Fast Chicken Fajitas and Rice, Mexican Chocolate Cake. What are your favorite Mexican dishes?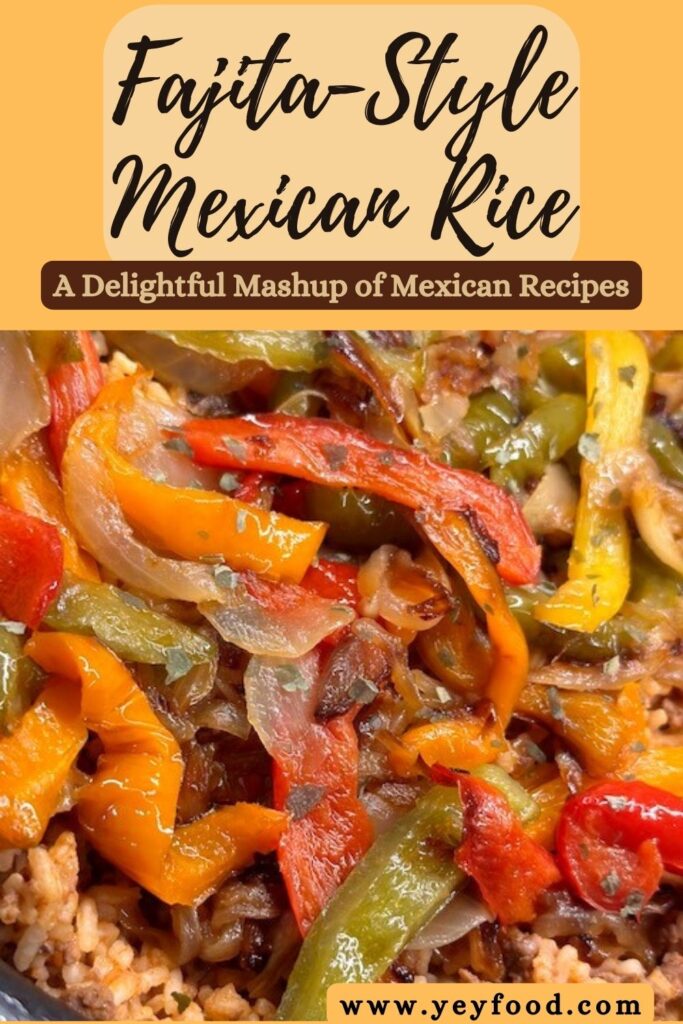 MORE OF OUR QUICK AND EASY FAMILY-STYLE RECIPES: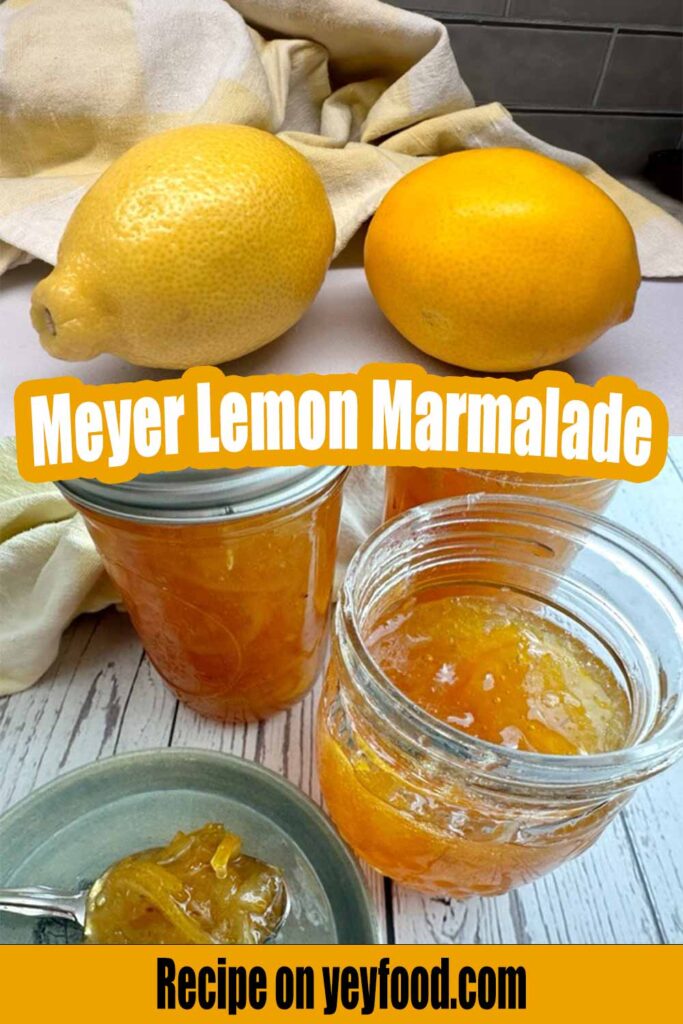 Oven-Baked Steak With Brown Gravy
If you like these recipes, you are our people! You can check some related articles below or search via categories on the right. But be warned; you will be on here for hours. Enjoy!