This Popular Appetizer Is A Fun Twist On Typical Nachos
The name Irish nachos has always intrigued me. I had to ask a friend what they were. Typically, nachos have a base of tortilla chips. Irish nachos, however, have a base of potatoes as a nod to the Emerald Isle's love for spuds. They sound delicious, but they also sound like a lot of work.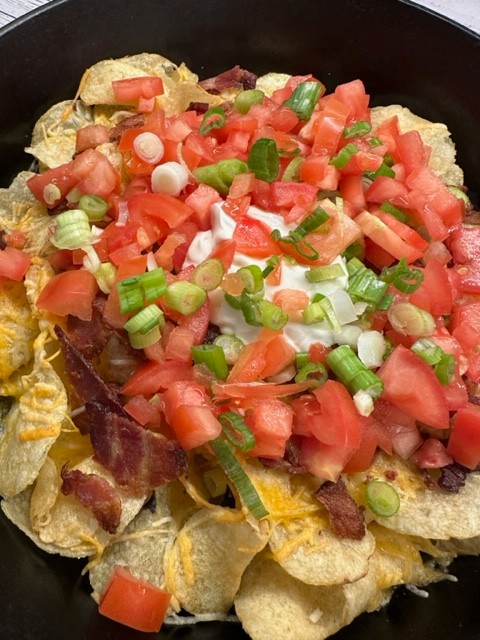 I've seen many versions of Irish nachos since my friend Candi enlightened me, and all of them involve slicing and roasting potatoes for a base or using frozen french fries or waffles fries to hold up the toppings. What if you want to whip up something fast without much effort and get straight to snacking?
Eureka! Here is the answer! Kettle-cooked POTATO chips are the base for all the savory toppings in this brilliant, quick, and easy recipe. Kettle-cooked chips are thicker and crunchier than regular potato chips, so they hold up to the melted cheese, tomatoes, green onions, and sour cream and make great, albeit messy, dippers.
This is a basic recipe; here is all you need to make a batch of nachos, and it will only take a few minutes to get them on the table! It is light and crisp; the chips stay nice and crunchy. The bacon adds a chewy bite, and the toppings are perfectly balanced.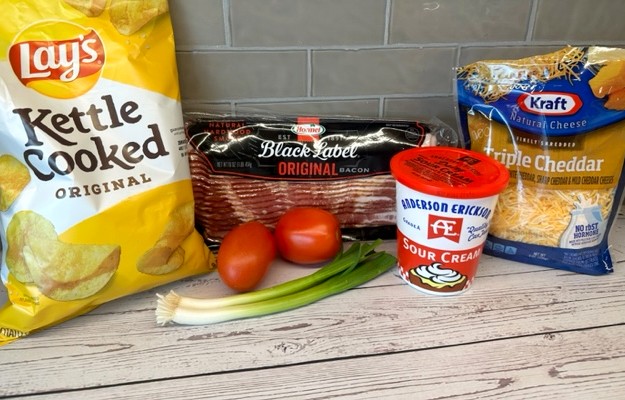 I could not wait to try this tasty-looking dish, and I wanted it to double as a meal this time. The recipe is for appetizer-size servings, so I made half a recipe and added a small amount of taco meat with ground beef and some Picante sauce. It was a delightful, different, and fun supper for Papa and me.
I made it in a cast-iron skillet because it was a perfect size, and I love how the black skillet sets off the gorgeous colors and makes everything pop and look extra appetizing!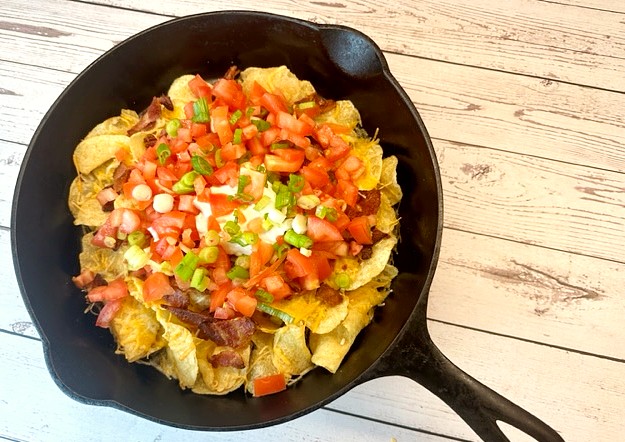 You can do many other things to jazz up this recipe. If potatoes aren't Irish enough, how about adding some sauerkraut and corned beef and serving it for Saint Patrick's Day? Cut leftover steak into thin ribbons and add them to this dish. Change up the cheese or add sliced jalapenos! The possibilities are endless!
It will be a perfect snack to serve at football parties and other get-togethers. What a clever person it was who made such creative use of kettle chips! Thank you!
Let's Make A Batch of Tasty Irish Nachos
Nothing could be easier! Make some crisp bacon and crumble it. Hint: Here's the easiest way to make perfect bacon in your oven. It comes out flat and evenly cooked without the need to turn it.
Using this method, you can cook the bacon ahead of time and refrigerate it, then reheat a slice or two when you need it! For this recipe, about four strips of bacon is a perfect amount. You can also use real bacon bits from the store.
Place a layer of kettle chips in a casserole, a sheet pan, or a cast-iron skillet.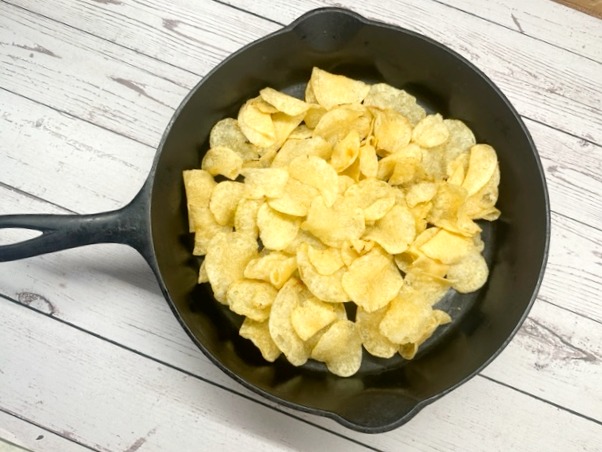 Now top it with shredded cheese. I almost always shred cheese from a block of cheese because I think it tastes better and melts better, but this time, I hit an irresistible cheese sale and bought shredded cheese in a bag. I must admit it's a huge time saver!
Next comes the bacon, then pop it in a 350-degree oven for about five minutes, or long enough for the cheese to melt and get all gooey and yummy.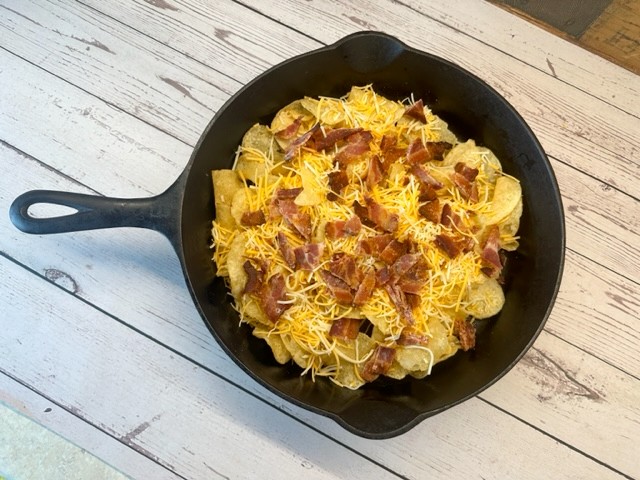 While that's in the oven, you have just enough time to chop some tomatoes and green onions. When it comes out of the oven, put a big dollop of sour cream in the center and top it with diced tomatoes and green onions. Serve your Irish nachos immediately while they are piping hot, and make sure you have plenty of napkins!!
Yield: 8 appetizer servings
Irish Nachos
Here's a quick and easy pub food-type appetizer you can put together in minutes. Colorful, delicious, and always popular.
Ingredients
4 cups kettle-style potato chips
2 cups shredded cheddar cheese, or your choice of cheese
1/2 cup cooked crumbled bacon, about four slices
1/4 cup finely chopped green onion
1/3 cup sour cream
1/2 cup diced tomato
Instructions
Preheat the oven to 350 degrees
Place the chips on a sheet pan, a pie plate, or in a cast iron skillet
Sprinkle the cheese evenly over the chips, then add the bacon on top of the cheese.
Bake for approximately 5 minutes or until cheese is melted,
Top with sour cream, chopped tomato, and chopped green onion.
Serve immediately. You can add Picante sauce or taco meat if you wish.


The Super Bowl is coming up, and so are the Academy Awards and college basketball playoffs. You will have lots of opportunities to invite friends to watch them with you, so you will need to serve some fun snacks! At our house, the term we use for fun food is "snackage!" 😉
We love appetizers and snacks, and sometimes we even serve them as a meal. Here are some of our most popular recipes for snackage. Honey Garlic Meatballs, Oven-Baked Buffalo Chicken Wings, Sheet Pan Nachos, Creamy Chipped Beef Dip in a Bread Bowl, Little Smokies Jalapeno Poppers. Hungry for more? Type "appetizers" in the search bar! Do you have a signature snackage recipe? We'd love to hear all about it!!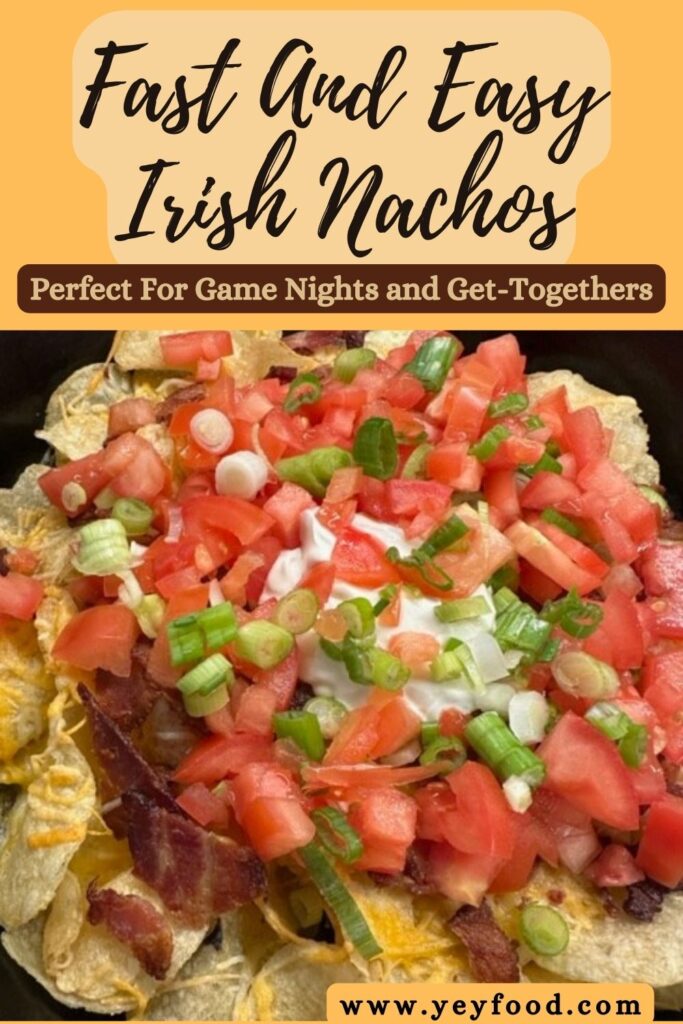 MORE OF OUR RECIPES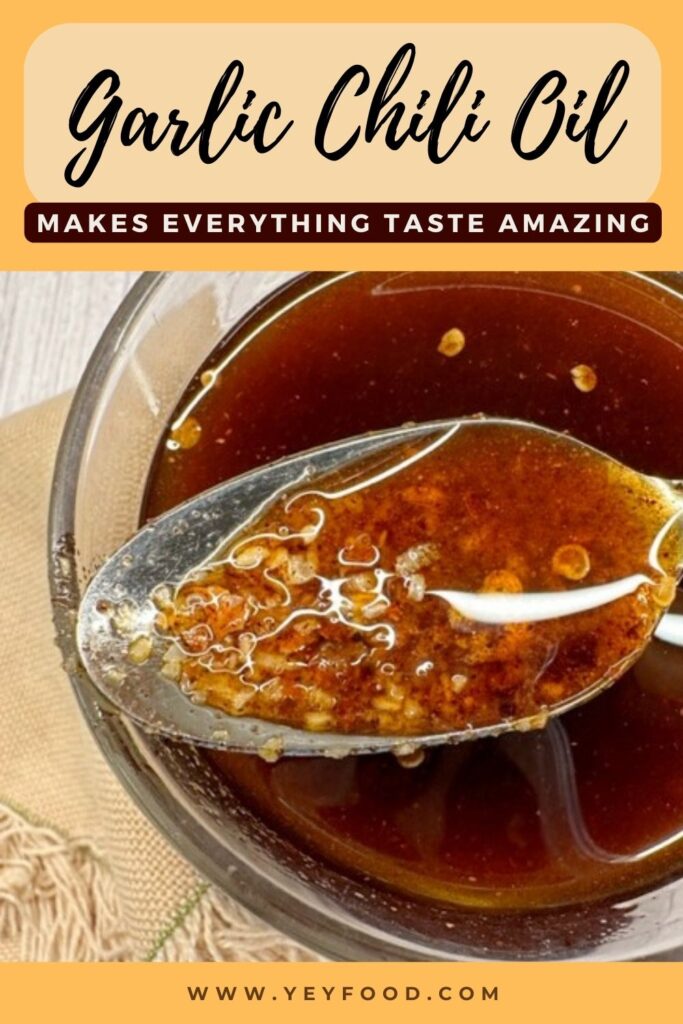 The Ultimate Bread and Butter Pickle Recipe
The Number 1 Practically Perfect Poppy Seed Bread
German Sauerkraut Casserole With Bacon And Brown Sugar
If you like these recipes, you are our people! You can check some related articles below or search via categories on the right. But be warned; you will be on here for hours. Enjoy!
So, please share this recipe on your social media accounts like Facebook, Instagram, Twitter, and Pinterest. We would be honored and ever so grateful; thank you!