The Best Recipe For Soft & Chewy Oatmeal Raisin Cookies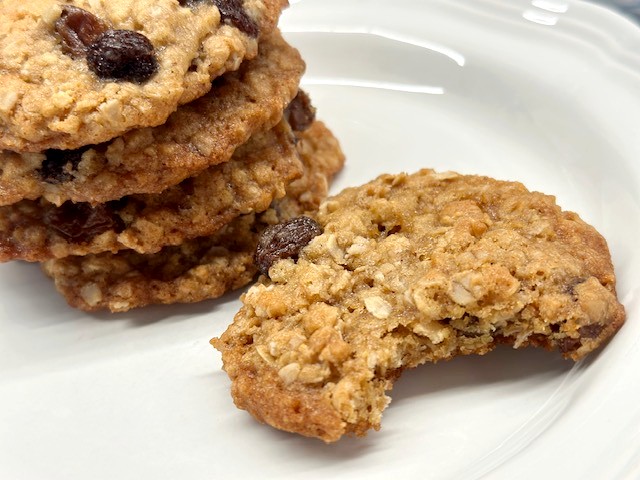 I have always loved oatmeal raisin cookies, but they must meet certain criteria to capture my heart truly. They must be soft but not cakey. They must be a little crisp but not too brittle and bend, not break, when I bite them. Most of all, they must have a chewy, buttery heart, and the raisins must be soft and plump.
When oatmeal raisin cookies meet all my expectations, there is one big problem. I can't stop eating them! I love them most with a cold glass of milk, but a cup of coffee is my second choice. Tomorrow I will have to give most of them away so I am not tempted, but it was a delightful couple of days eating them one after another.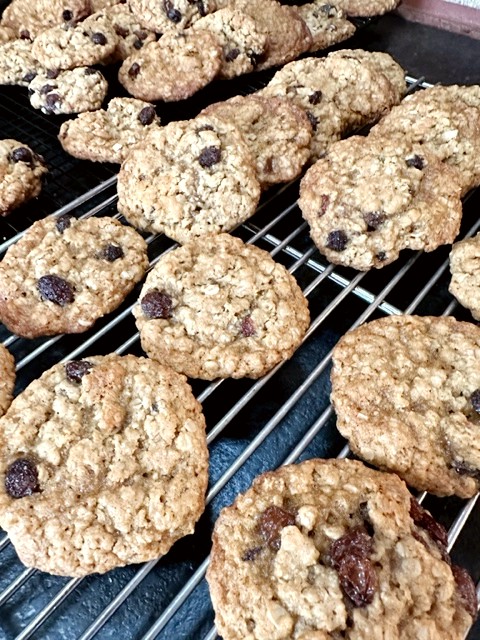 It all started when I found a half carton of raisins while I was reorganizing my kitchen cupboard; from inside the box, they called to me in a little dried-up voice and begged to be baked into an oatmeal cookie. How could I say no?
Since they were pretty shriveled up, I measured one cup of them into a glass measuring cup and poured boiling water over them to plump them up. When the water was cool, I drained them to use in the oatmeal cookies.
Things You Can Do That Make Cookies Chewier
Let me begin by saying the perfect cookie for you may be crisp or cake-like, which is always a personal preference!
Since I love them chewy, I set out to find exactly how to make a chewy cookie, and I was delighted to find some very helpful general information! The main thing that makes a cookie chewy is the higher moisture content in the dough. This can be accomplished by changing the brown sugar and white sugar ratio. Brown sugar has more moisture.
Egg yolks have more fat than egg whites, so in some recipes, the white is omitted from one of the eggs.
Baking powder is more acidic than baking soda and helps keep the cookies from spreading, getting thin, and baking too quickly. Use some of each, or go with all baking powder.
If you use shortening for all or part of the fat in the recipe, the cookies will be moister and stay chewier. That's because butter is about sixteen percent water; cookies dry out faster when made with all butter.
Chilling the dough before baking will help the cookie spread less as it bakes, which helps to make a chewier cookie. Finally, parchment paper or a silicone baking mat helps the cookies "hang on" and spread less, making them plumper and less thin and crispy.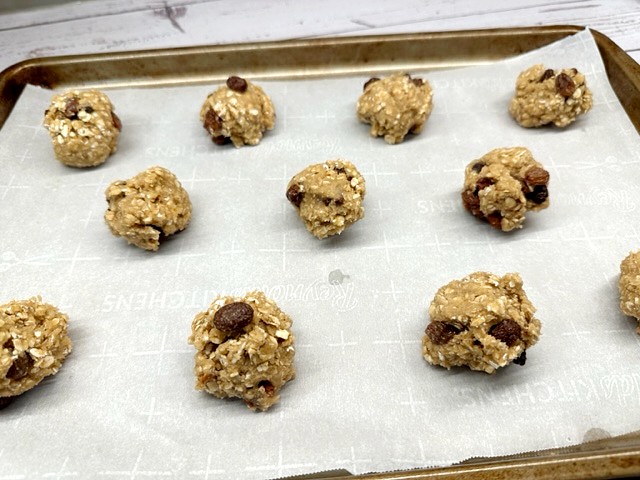 If you want cookies to stay chewy, keep a slice of bread with them in a tightly sealed container. The difference will amaze you!
Let's Make These Wonderful Chewy Oatmeal Raisin Cookies
This recipe doesn't cover everything I found when digging for how to make chewy oatmeal raisin cookies, but I think it is perfect. I like that there is no cinnamon or nuts, but add them if you want! Heck, you can add butterscotch chips or chocolate chips, or anything else you like!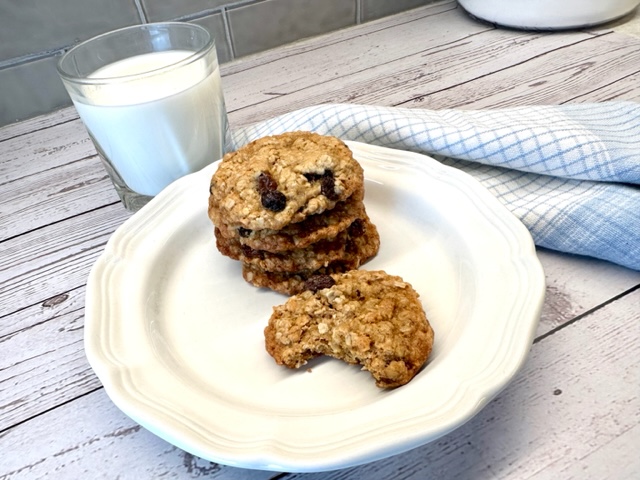 This oatmeal raisin cookies recipe is quite basic, and as you see, I used all butter because butter tastes the best, in my opinion. They will get eaten so fast that they will not have time to dry out anyway! Here is everything you need. As you might notice, I only had salted butter, so I left out the salt.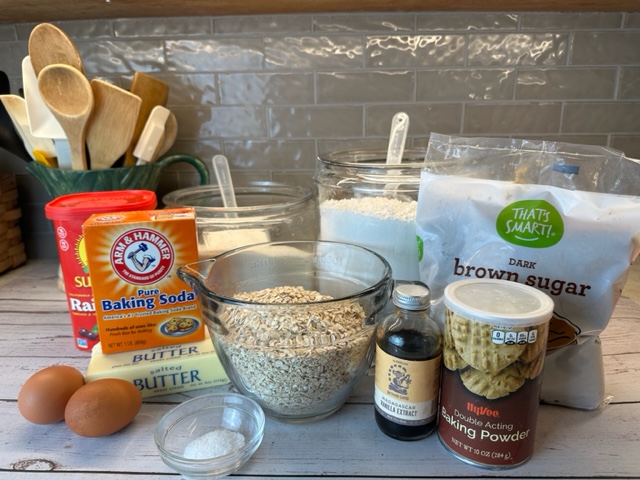 Begin by creaming the butter and sugars until they are nice and fluffy, then beat in the eggs and vanilla. At this point, I beat in the leavening instead of whisking them with the flour in a separate bowl. I have always thought this saved a bowl to wash and the leavening gets well distributed. Call me a rebel.
Now gradually add the flour and beat until there are no visible streaks of flour. Finally, fold in the raisins and stir in the oatmeal. I found I had to do this with a sturdy wooden spoon.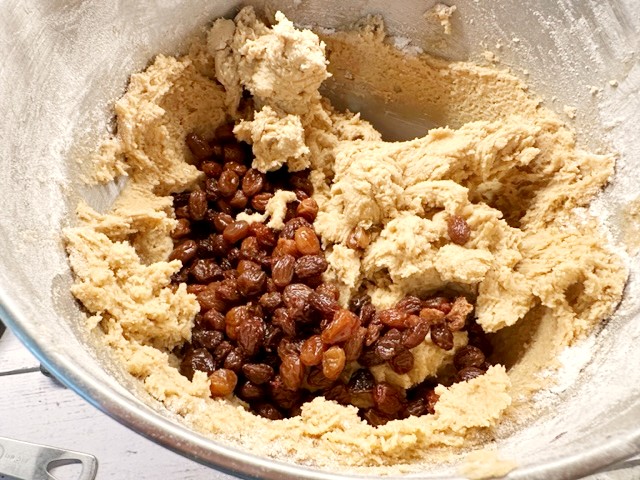 I hope I get a cookie scoop for my birthday. I asked Santa for one, and he didn't deliver. The original recipe says each cookie should be two tablespoons of dough, and after a failed first sheet, I found walnut-sized balls of dough placed two inches apart worked very well. They stayed round and didn't kiss each other.
Bake them on the center rack at 350 degrees for about eleven or twelve minutes. Watch closely at the end because the brown fast in the last few minutes. It's good to bustle around the kitchen while they bake!
I like to keep these oatmeal raisin cookies in rectangular resealable plastic containers, with each layer separated by wax paper. However, I found myself without a container like that until some of them find their way back to me from cookie recipients in the past. 😉
Remember the little trick about keeping a slice of bread in with the cookies? It really does help keep them soft and chewy.
Yield: 40 cookies
Chewy Oatmeal Raisin Cookies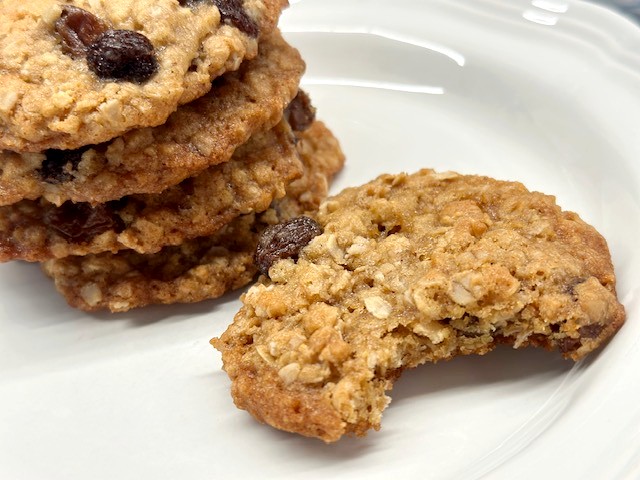 Wonderfully soft and chewy oatmeal cookies are easy to make with this recipe.
Ingredients
1 cup unsalted butter softened
1/2 cup granulated sugar
1 1/2 cup dark brown sugar, firmly packed
2 large eggs
2 teaspoons vanilla
2 cups all-purpose flour
1 teaspoon baking soda
1 teaspoon baking powder
1 teaspoon salt
1 cup raisins
3 cups quick oats
Instructions
Preheat oven to 350 degrees.
Cover baking sheets with parchment paper or silicone mats.
Beat together the butter and sugars until light and fluffy.
Beat in the eggs and vanilla.
Beat in the baking soda, baking powder, and salt until well incorporated
Gradually beat in the flour until no streaks of flour show.
Fold in the raisins.
Stir in the oatmeal.
Form dough into walnut-size balls and place on covered baking sheets two inches apart.
Bake on the center rack in the oven for 11 to 13 minutes. Watch closely at the end; the edges should be golden brown.
Let the cookies cool on the sheet for a few minutes to firm before moving them to the cooling rack to cool completely.
We are crazy about cookies and bars of all kinds! Here are some of our most popular cookie recipes, and if you want more, type "cookies" in the search bar on the homepage! Peanut Butter Cookies, Valentine Sugar Cookies, Gluten-Free Coconut Macaroons, Brown Butter Chocolate Chip Cookies.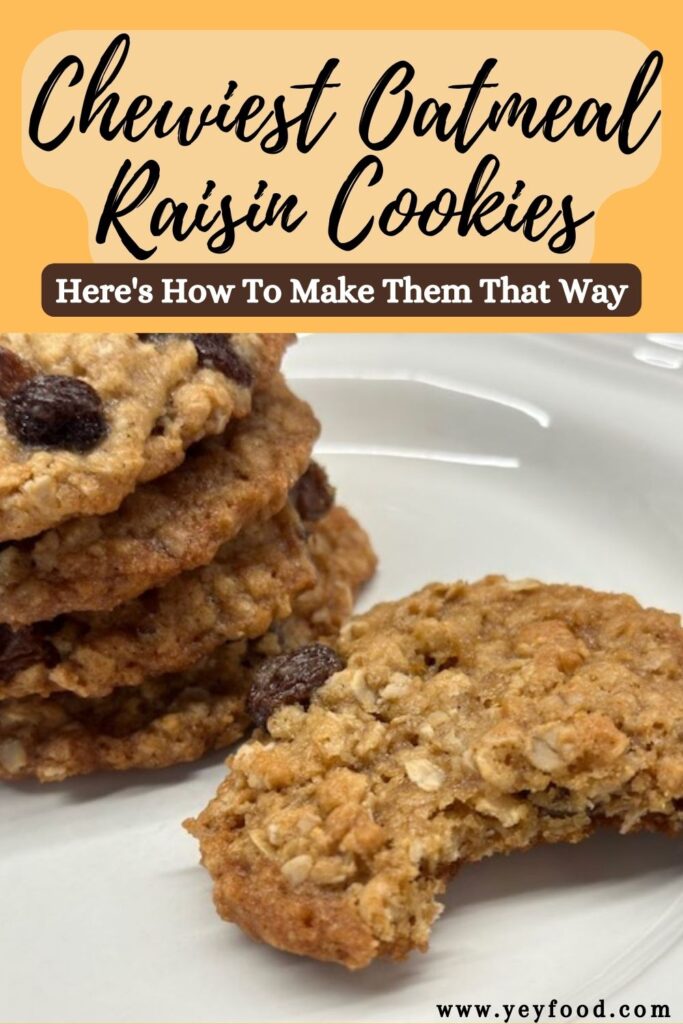 MORE OF OUR QUICK AND EASY FAMILY-STYLE RECIPES: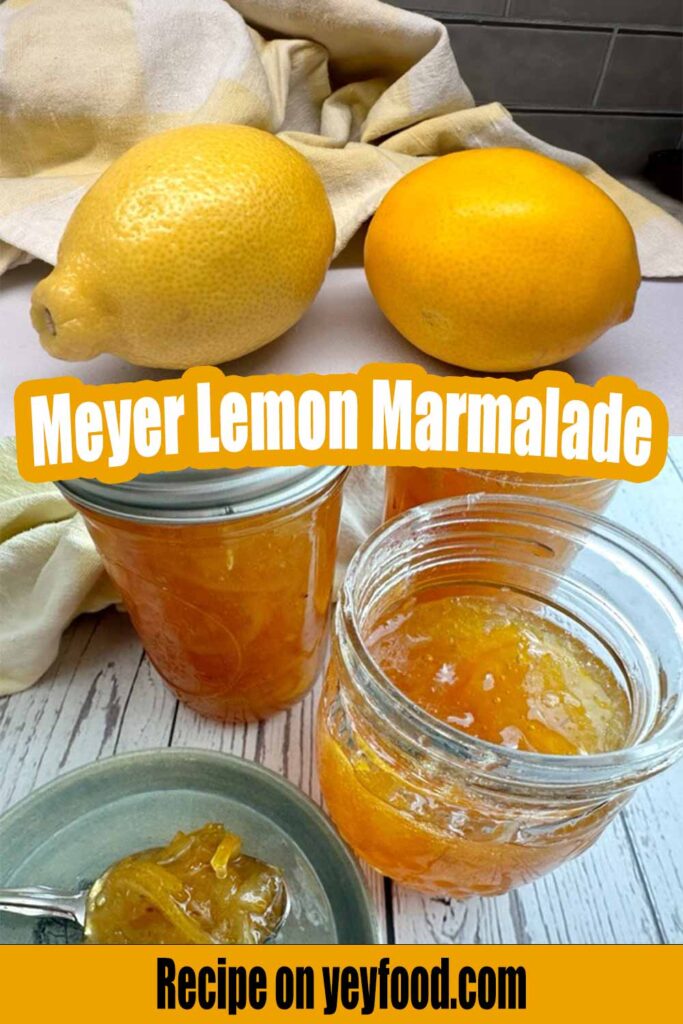 Oven-Baked Steak With Brown Gravy
If you like these recipes, you are our people! You can check some related articles below or search via categories on the right. But be warned; you will be on here for hours. Enjoy!