Perfect Served With Veggies Crackers Or Chunks of Bread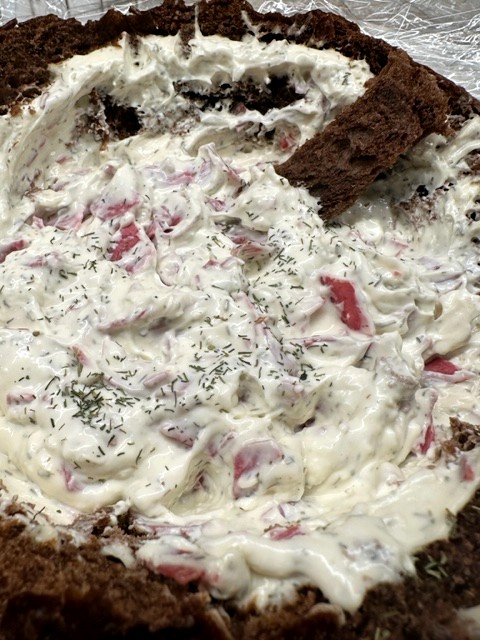 Chipped Beef Dip is always a hit! It has an unbeatable flavor combination of chipped beef, real mayonnaise, sour cream, Beau Monde, and dill. You don't have to serve it in a bread bowl, but it makes a wonderful presentation. It's always a sure-fire crowd-pleaser!
I got this recipe from a caterer many years ago, and over time, I've found that a round unsliced loaf of dark pumpernickel bread sets it off beautifully because of the sharp contrast of colors.
Pumpernickel rye bread's slightly sweet and earthy flavor pairs perfectly with chipped beef dip. Pumpernickle bread has a very tender crust and the chunks removed from the center of the loaf make perfect dippers.
This dip is an absolute "must" when I host a gathering. I've served it for over 30 years, and it's a winner every time! It's a super popular appetizer, and my husband and I always keep our fingers crossed that it doesn't all get eaten because it's a favorite, and we love having leftovers.
It's So Easy To Make This Super Yummy Chipped Beef Dip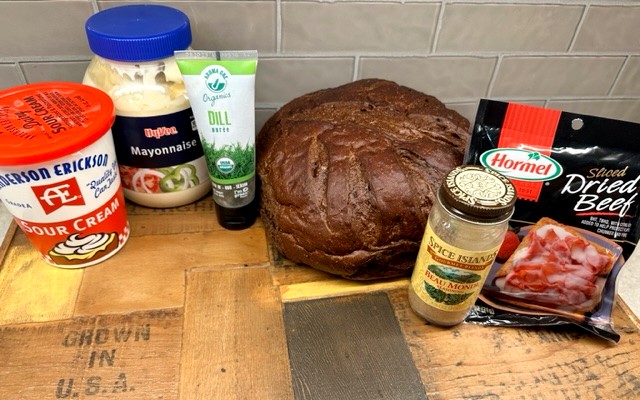 Chipped beef, sometimes called dried beef, is a form of beef jerky. Lean beef is salted, pressed, dried, and sliced almost paper thin, so it is super tender. Depending on the brand, grocery stores sell chipped beef in plastic pouches or small glass jars. You can also find it in the deli section but expect to pay more!
Chipped beef is probably best known when served creamed and on toast. It seems to be one of those love-or-hate dishes, but it's wonderful comfort food, too!
Begin by chopping the dried beef into narrow ribbons or dice. The thin, salty, chewy slices are almost irresistible. I usually snitch at least one piece to nibble!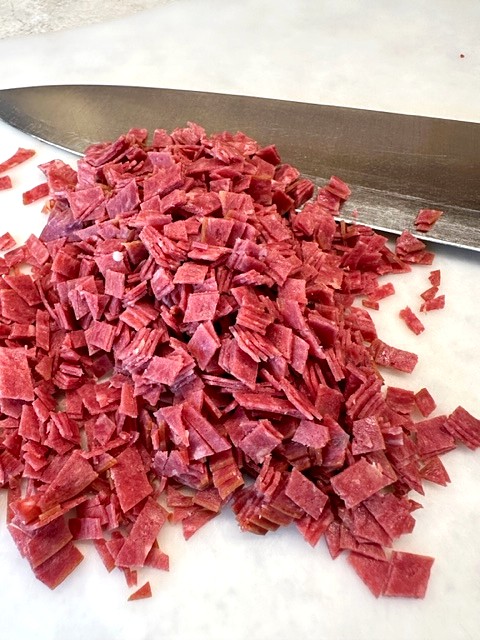 The base for this dip is perfect! Sour cream is tangy and slightly tart; it adds a pop to whatever you put it in. Real mayonnaise is smooth and creamy and "rounds out" a dish like butter does in other foods. Together, they provide the perfect combination to carry the flavors of salty, dried beef and aromatic dill.
Beau Monde means "wonderful life" in French. It's a classic mixture of many spices. It combines celery, onion, and salt with just a touch of sweetness. You will discover that its unique flavors enhance a variety of dishes.
Spice Island was the first company to package and sell Beau Monde seasoning. It's my favorite brand and wonderful in many recipes, like potato or pasta salad. If you can't find it, you can make a substitute by combining equal quantities of onion powder and celery salt.
When you add the intriguing flavor of dill, you create "dip nirvana." It's almost impossible to stop eating this savory chipped beef dip! (Late note: Gourmet Garden is no longer manufacturing the dill paste in my ingredients photo, although they sell many other delightful herbs in tubes.)
Fresh dill is always better than dried, but one teaspoon of dried dill weed equals one tablespoon of fresh dill. I almost always use dill weed when I make this.
Yield: 24 servings
Chipped Beef Dip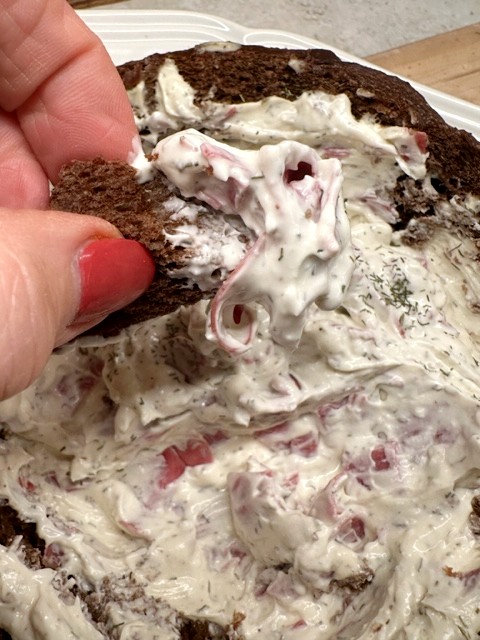 This a favorite old recipe for a creamy, savory dip with sour cream, mayonnaise, chipped beef, dill, and Beau Monde seasoning. Serve it in a dark pumpernickel bread bowl for a beautiful presentation.
Total Time
3 hours
15 seconds
Ingredients
1 round, unsliced loaf of dark pumpernickel bread
2 cups real mayonnaise
2 cups sour cream
One small jar or packet of chipped (dried) beef, approximately 2.5 ounces, cut into thin ribbons or fine dice
1 1/2 tsp Beau Monde seasoning
1 Tbsp dried dill weed or three tablespoons of fresh dill, finely snipped
Fresh parsley or fresh dill for garnish
Instructions
Chop dried beef into thin ribbons or small dice.
.Combine the mayonnaise, sour cream, Beau Monde, and dill in a medium bowl until well blended.
Fold in the chipped beef, mix well and refrigerate the mixture for at least two to three hours to let the flavors marry.
Hollow out the pumpernickel loaf by removing the center from the loaf of bread and cutting it into chunks for dipping.
Spoon the dip mixture into the bread bowl and arrange the chunks of bread around it on a serving plate.
This savory dip is simple to make! Stir the sour cream, mayonnaise, fresh dill or dill weed, and Beau Monde seasoning in a medium bowl until it's all well blended. Fold in the chipped beef, cover, and let the mixture chill for at least two or three hours for the flavors to marry.
Cut the center out of a round loaf leaving a hollow center, and cut or tear the removed bread into chunks. Arrange them on a plate around the loaf to use for dip dippers. Spoon the dip mixture into the bread bowl and garnish as desired with parsley, dill, or celery tops.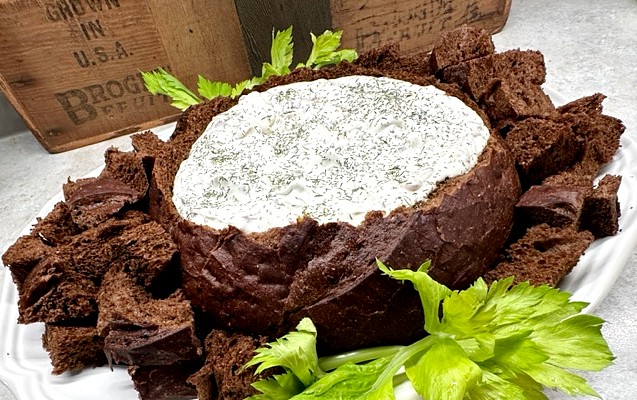 When all the bread chunks have been eaten, use a serrated knife to cut the bread bowl into pieces to eat. One of the best things is how the remaining bread gets soaked with the chipped beef dip. It's our favorite part! So be sure to put a serrated knife near the platter to cut up the delicious, chewy shell.
If you prefer not to serve this in a bread bowl, put it in a serving dish of your choice instead! It is great for dipping veggies, crackers, or crostini!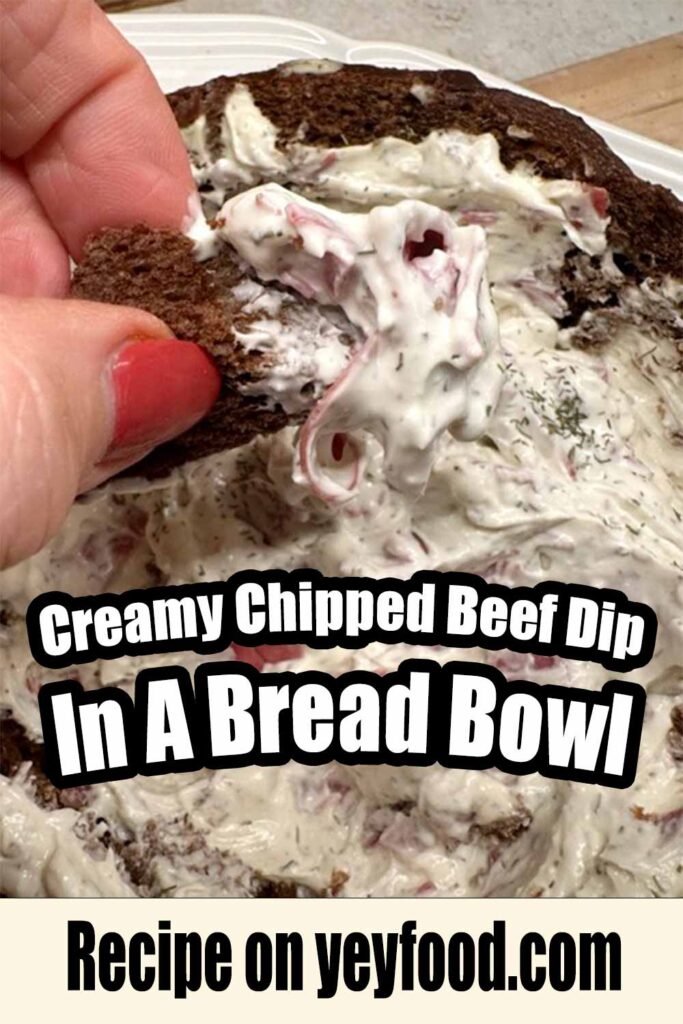 Whenever people gather, dips and appetizers are one of the best parts of the day! Here are some of our most popular dips. Beer Cheese Dip, Mexican Corn Dip, Hot Bacon and Swiss Dip, and Million Dollar Dip. There will be lots of parties in the weeks ahead; what are some of your favorite dips and appetizers?
MORE OF OUR QUICK AND EASY FAMILY-STYLE RECIPES: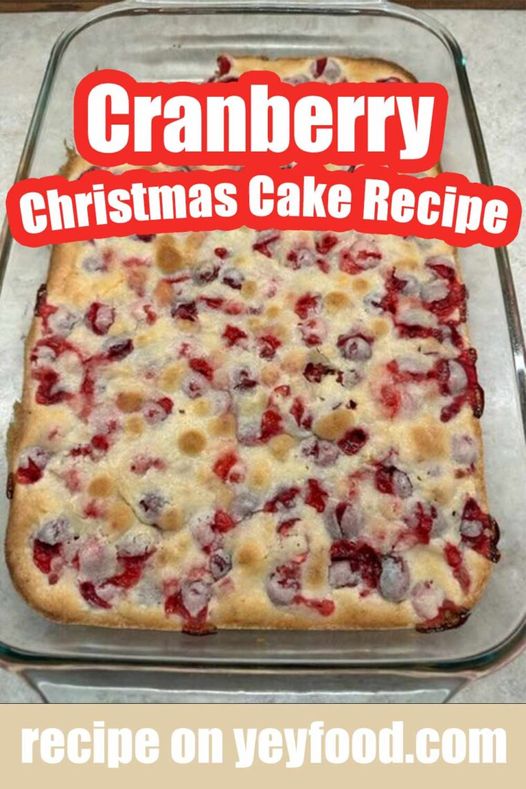 Broccoli and Cauliflower Salad
If you like these recipes, you are our people! You can check some related articles below or search via categories on the right. But be warned; you will be on here for hours. Enjoy!