Your Guests Will Beg For This Delicious Appetizer Recipe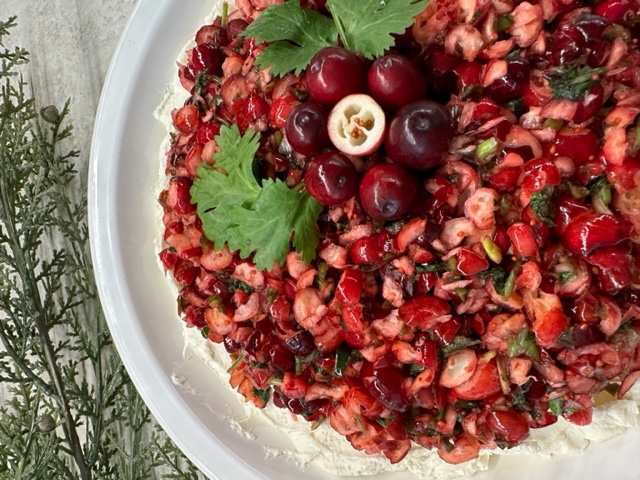 I made this beautiful cranberry jalapeno dip as part of my current obsession with cranberries, America's second favorite berry. It is absolutely divine—sweet, spicy, savory, a little hot, in a word, perfect.
I'm not sure what triggered my infatuation with the shiny red berries this year, but it's real. When I began to see the mountains of bagged cranberries in the produce department, finding as many ways to prepare them as I could before the season ended became a challenge.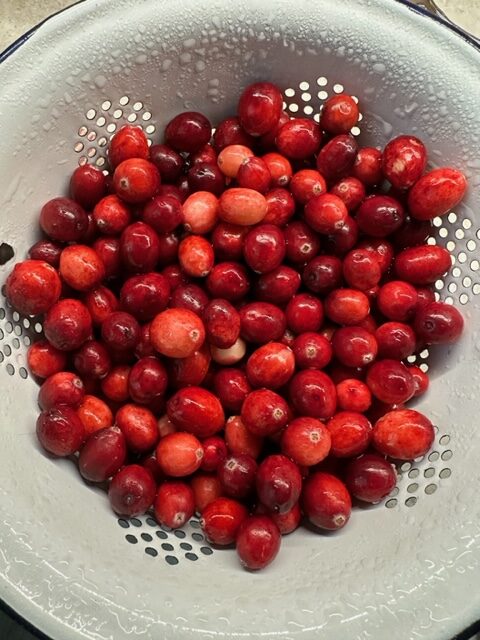 But I didn't need to worry about running out of cranberries! I've learned that cranberries freeze beautifully without blanching! You can toss the bags right in the freezer, although I put mine inside a freezer bag first.
You can use frozen cranberries in baking or make relish any day of the year if you stash some away for later! Here's a helpful article on how to use frozen cranberries from the cranberry growers themselves.
Along the way, I've also discovered I enjoy a touch of jalapeno when combined with something sweet, for example, in my cranberry pepper jam. I never thought I'd tolerate jalapenos in any form, but I was wrong! I can't get enough of this cranberry jalapeno dip that combines cranberries, green onion, jalapenos, and cilantro!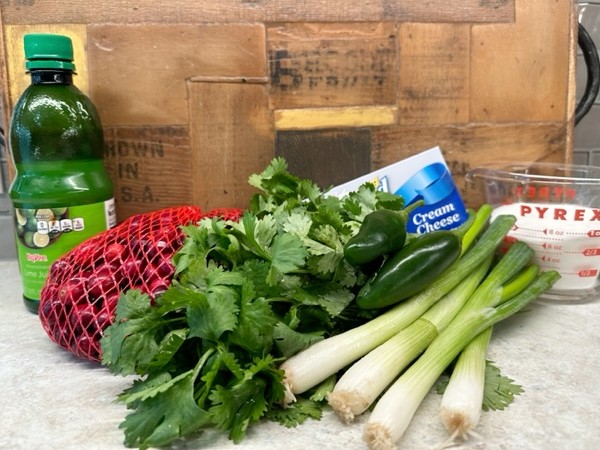 Make This Cranberry Jalapeno Dip The Day Before So The Flavors Mingle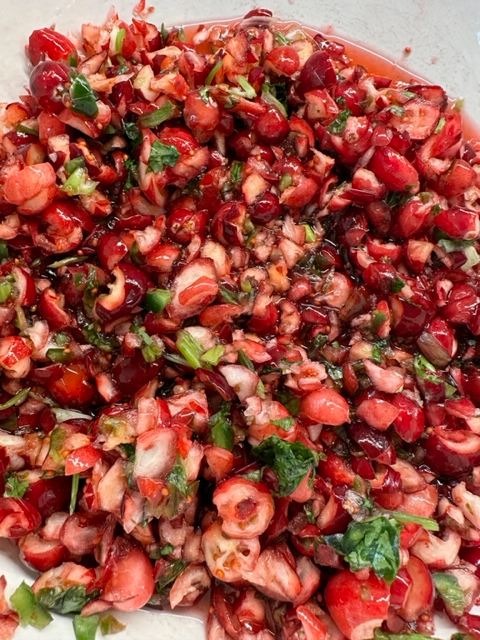 Use a food chopper to chop the cranberries, green onion, jalapeno, and cilantro. I do not recommend using a food processor for this dip because it can make cranberries liquify quickly, and you want to retain the texture. I like to chop the jalapenos very fine, so there are no hot surprises in my mouth because "I was born to be MILD!"
Combine the vegetables with lime juice, sugar, and salt in a mixing bowl and stir it well. Then cover the bowl with plastic film and let it rest overnight in the fridge. During the time in the refrigerator, the flavors mingle and marry, and a lot of liquid is released.
When you are ready to assemble the dip on the whipped cream cheese paste, drain off that liquid in a fine strainer, so you don't lose any of the vegetables, just the juice.
My strainers either have holes that are too large or they are too small for this much volume, so I "MacGuyvered" a strainer using a basket from a coffee maker and my batter bowl! It worked great. I hope at least some of you remember the TV series so you understand my quirky problem-solving mind.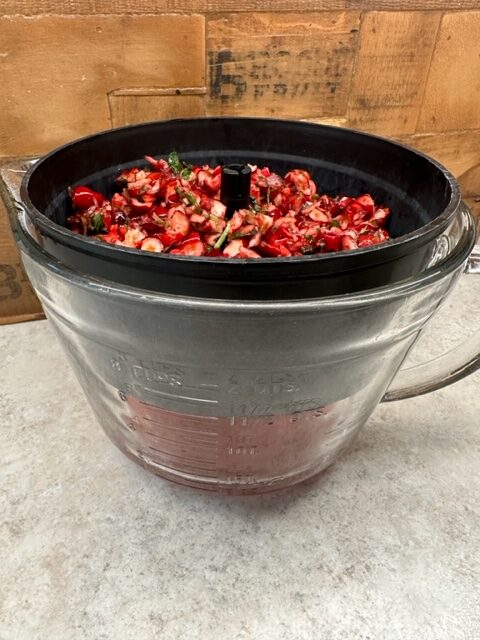 Without draining, this mixture would be too wet to spread over the yummy whipped cream cheese base. The bowl of cranberries and stuff released nearly a cup of sweet/hot liquid which I saved to use in another recipe. I don't know what I will do with it, but it's too good to throw out!
Whip up two blocks of cream cheese until it's fluffy and spreadable. Spread it in a square baking pan or a pie plate.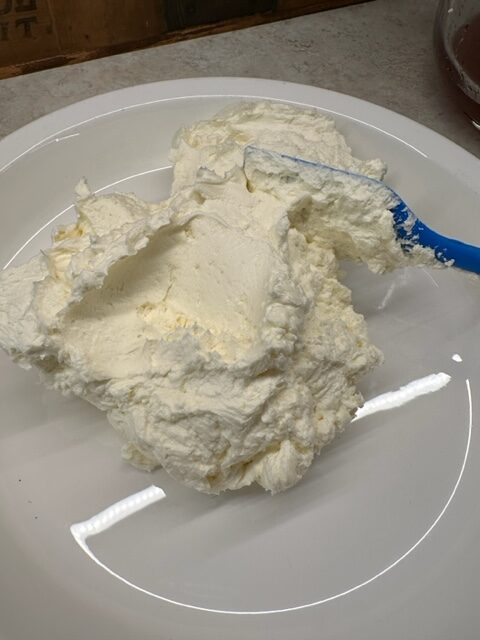 Spoon the cranberry mixture on top of the cream cheese and garnish to your heart's content. This dip is so delicious that the pretty garnish won't last long! Everyone will be swarming around it to get a chipful and another and another! But that's a good thing, right? PS Everyone will beg for the recipe!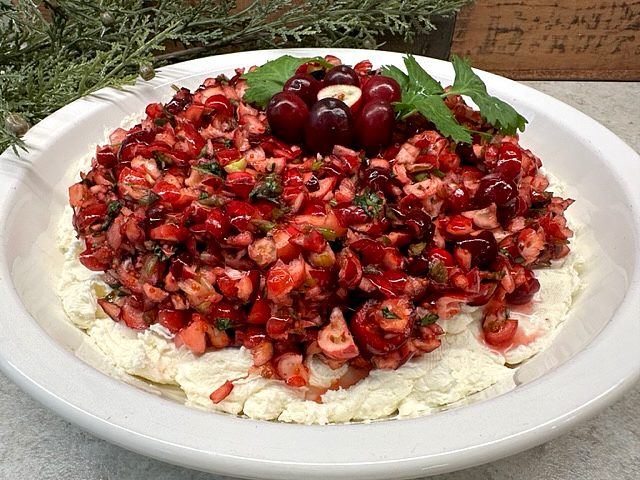 Scoop your chip down through the delicious cranberry layer and dredge up a good amount of cream cheese to go with it. The added smooth, creamy tang of the cream cheese layer takes this fabulous cranberry jalapeno dip into orbit! It's a celebration of amazing flavors!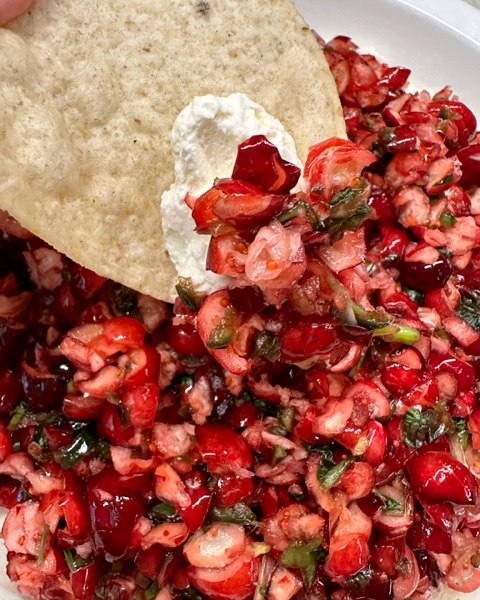 This time of year, there's no end to the occasions for a good dip or appetizer, and you'll find lots to choose right here on yeyfood. Just type appetizer in the search bar at the top of the home page!
And it's cranberry time, folks! So grab them while they're here, and be sure to stash some away in the freezer when you're overcome with craving something cranberry! Never enough cranberries, I say! Here are some more of our popular cranberry recipes: Fresh Cranberry and Orange Sauce, No Bake Cranberry Cream Pie, and Keto Cranberry Chocolate Chip Cookies. Cranberry Christmas Cake. What is your favorite way to serve cranberries for the holidays?
Printable Recipe:
Yield: 16 servings
Cranberry Jalapeno Dip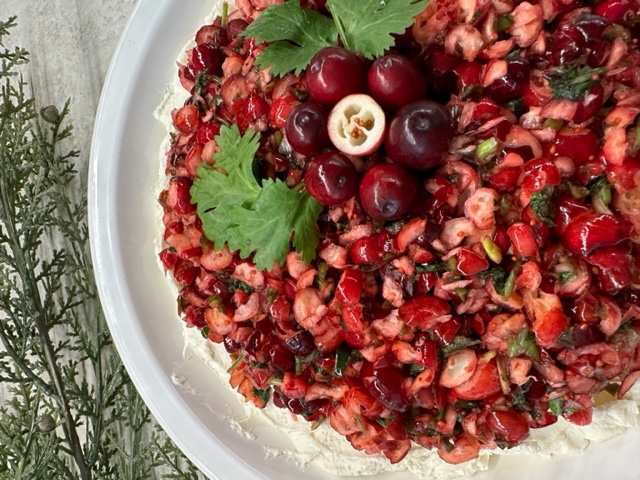 A dip that has it all! Tart cranberries blended with sugar, salt, lime juice, jalapenos, green onions, and cilantro. Pour it over a cloud of fluffy whipped cream cheese and serve with tortilla chips!
Total Time
12 hours
20 minutes
Ingredients
One 12-ounce bag of fresh cranberries, chopped fine, but don't use a food processor
1/4 cup chopped green onions, include part of the top
1-2 small fresh jalapenos, chopped fine
2 tbsp chopped cilantro, or more to taste
1 cup granulated sugar or to taste
1 Tbsp lime juice
1/8 tsp salt
2 8-ounce blocks of cream cheese, whipped.
Instructions
Combine all the chopped vegetables in a mixing bowl.
Add sugar, lime juice, and salt.
Stir well, cover the bowl with plastic film, and refrigerate overnight.
Drain the liquid off the cranberry mixture using a fine strainer so you keep all the berries and veggies.
Whip cream cheese until fluffy and spreadable.
Spread cream cheese in a square pan or pie plate.
Spoon the cranberry mixture over the whipped cream cheese.
Garnish as desired.
Serve with tortilla chips or crackers.
If you enjoyed this recipe, please share it on your social media! I would love for more people to try this delicious and easy-to-make dessert. If you have any questions or feedback, please feel free to leave a comment below. I would love to hear from you! Shhh… Join our secret foodie group on Facebook.
MORE OF OUR TASTY FAMILY-FRIENDLY RECIPES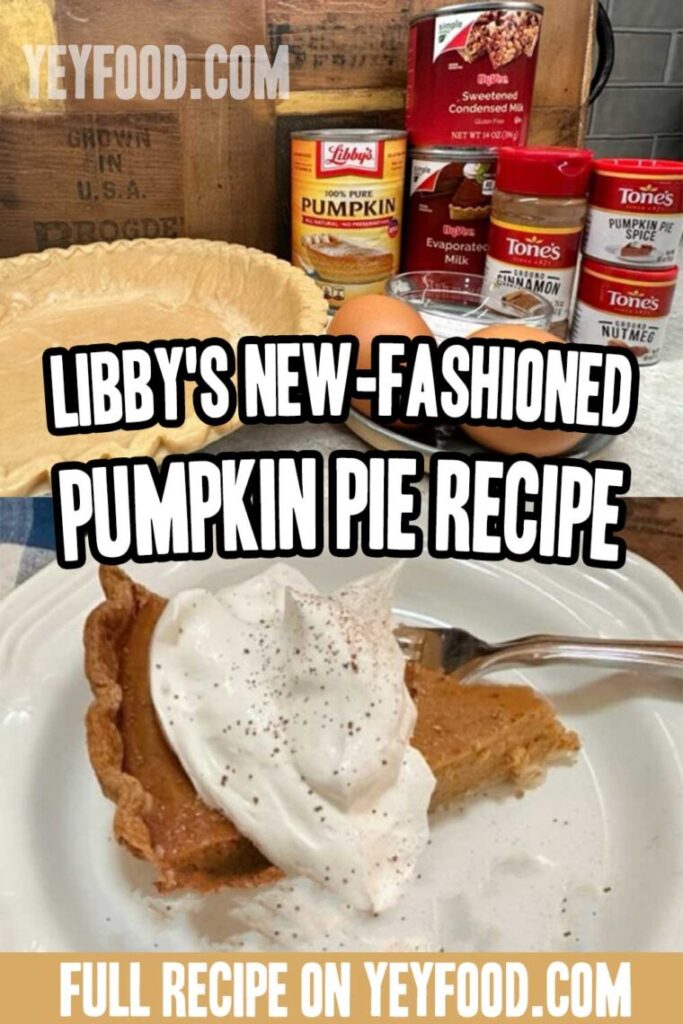 If you like these recipes, you are our people! You can check some related articles below or search via categories on the right. But be warned; you will be on here for hours. Enjoy!