You Need This Recipe For Cranberry Orange Quickbread
The minute I saw a recipe for cranberry orange bread, I knew it would be amazing because cranberries and oranges make beautiful music when you pair them! It tastes even better than I imagined, and it is a thing of beauty, too!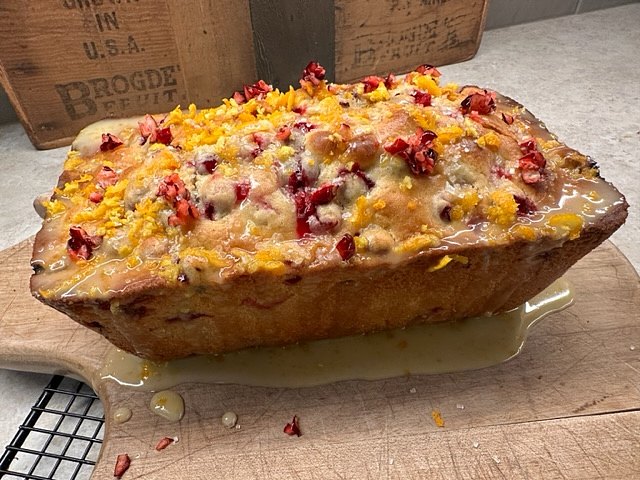 This delightful bread has it all! It is moist and tender, packed with a punch of sweet orange, and punctuated with tart, juicy cranberries that burst open as they bake! Once the loaf cools, drizzle a sweet orangy vanilla glaze on top and garnish to your heart's content.
You can use either fresh or frozen cranberries with equally amazing results. I've simplified the instructions, Betty-in-a -hurry-style, so you only need one bowl.
I've even got a helpful link here so you know how to zest an orange, no matter if you own a zester. Please don't leave out the zest; the flavor it adds sends this lovely thing right over the top!!
Let the glaze harden before you slice it; I know it's hard to wait for the yummy cranberry orange bread to cool.
Here's How To Make Beautiful Cranberry Orange Bread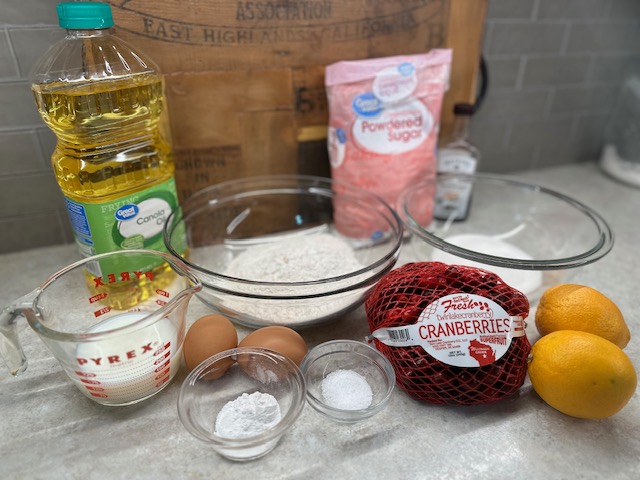 The ingredients are all simple and basic. The only slightly tricky thing is gathering the orange zest, so if you have any concerns about how to do that, refer to the helpful link I shared!
Begin by spraying or greasing a standard loaf pan. I found this pretty glass loaf pan at a thrift shop, and I love how it looks, but in the future, I will probably use a standard loaf pan for straighter end slices.
You can use fresh or frozen cranberries interchangeably but toss them in flour to coat them. Shake off any excess flour. This helps keep them suspended in the batter, so you have pretty, evenly polka-dotted slices. If you use fresh cranberries, rinse and shake off excess moisture before tossing them in the flour.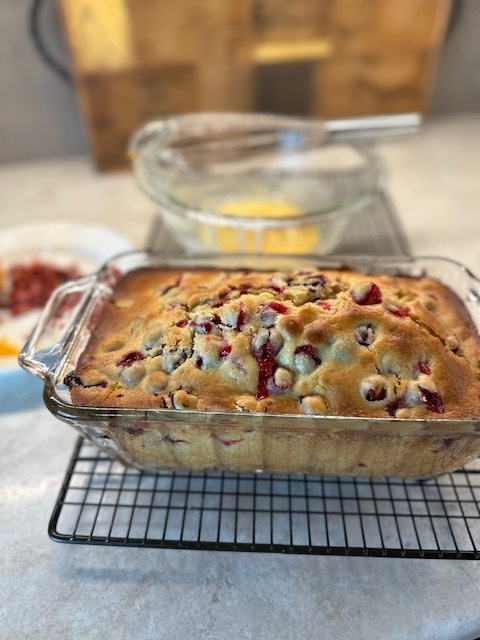 Mix powdered sugar, vanilla, orange juice, and orange zest to stir up the glaze. It does harden, so you may need to stir it up before you drizzle it over the loaf. Set it aside while the bread bakes.
Beat the sugar, eggs, oil, orange juice, orange zest, and vanilla together. Then add the baking powder and salt and beat well to ensure they are well distributed.
Stir in the flour gradually, and mix until there are no streaks of flour showing. Finally, gently fold in the cranberries.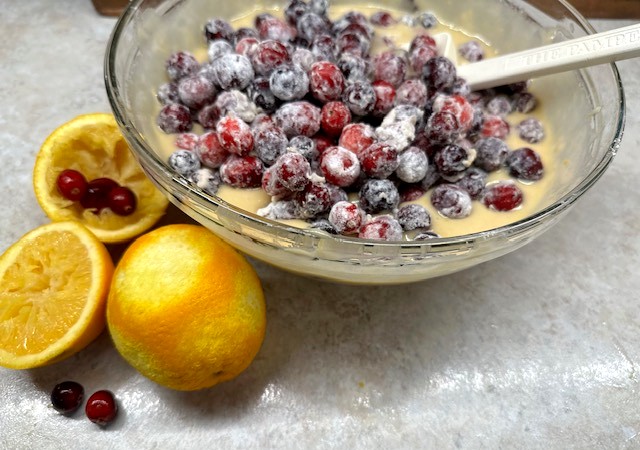 Finally, pour the batter into the well-greased loaf pan and bake at 350 degrees for about 55 minutes or until it is a lovely golden brown and a toothpick or cake tester comes out clean when you poke it in the center.
Let the loaf cool in the pan for at least ten minutes before removing it, then let it cool completely on a rack before adding the glaze.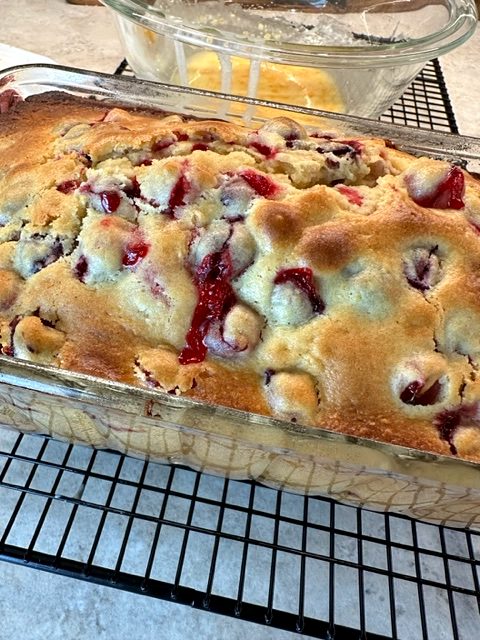 After pouring the glaze over the loaf, add additional zest and finely chopped cranberries, if desired, for a pretty garnish. The glaze will set up and harden, so patience is required to allow it time before you slice it!
Yield: 10 slice
Cranberry Orange Bread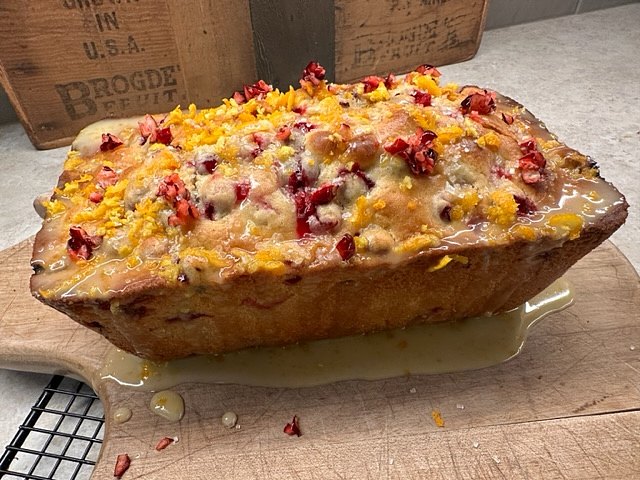 Cranberry orange bread has the perfect balance you always get when you combine these two delicious elements. Sweet and tangy, tender and moist, this bread has it all.
Total Time
1 hour
10 minutes
Ingredients
BREAD
3/4 cup granulated sugar
1/3 cup milk
2 Tbsp orange juice, fresh squeezed is best
Zest from one orange
1/2 cup vegetable oil
2 large eggs
1 tsp vanilla
2 cups all-purpose flour
2 tsp baking powder
1/4 tsp salt
2 cups fresh or frozen cranberries
1 Tbsp flour for coating cranberries
GLAZE
1 cup powdered sugar
2 Tbsp orange juice, fresh squeezed is best
Zest from one orange
1/2 tsp vanilla
2 Tbsp finely chopped cranberries for garnish, optional
Instructions
Preheat oven to 350 degrees
Grease a 9" by 5" loaf pan well
Mix powdered sugar, orange juice, and vanilla in a small pitcher or bowl until well-blended, then stir in the zest and set aside while the bread bakes.
Toss the cranberries with flour, shake off excess flour and set aside. If using fresh, rinse the berries, shake off excess water and toss in flour. This step helps keep them suspended in the batter.
Beat the sugar, milk, oil, eggs, vanilla, orange juice, and zest together.
Beat the salt and baking powder into the wet mixture to be sure they are well incorporated.
Gradually add flour and stir until just combined and no streaks of flour show.
Gently fold the cranberries into the batter.
Pour the batter into the loaf pan and bake at 350 for about 55 minutes or until golden brown. A cake tester or toothpick inserted near the center should come out clean.
Allow the loaf to cool for at least ten minutes, then remove it from the pan and allow it to cool completely before adding the glaze.
Allow the glaze to harden completely before slicing the bread.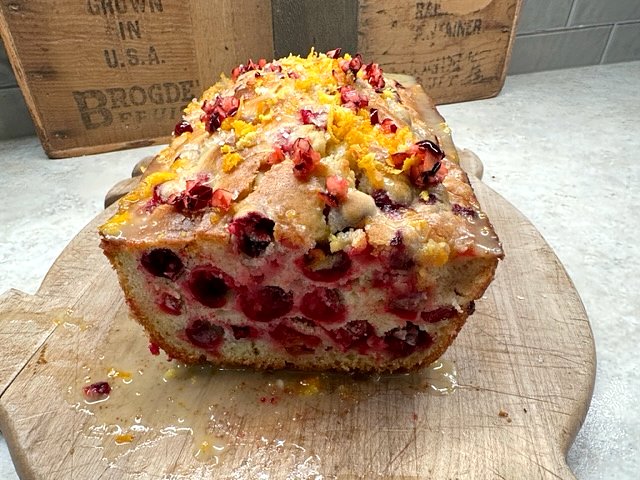 Look at that beautiful cranberry orange bread and those cute polka-dotted slices! Slice the loaf into ten thick slices. I wrapped each piece individually and froze them so we could take them out one at a time to enjoy! I always call dibs on the ends!
I think quickbreads are perfect for the holidays and make such wonderful and welcome gifts! If you cruise around Pinterest, you'll find a zillion ways to package up a loaf and make it super cute and gifty!
We love making quickbreads any time of the year! Here are a few of our most popular recipes! Practically Perfect Poppyseed Bread, Rustic Rhubarb Bread, Jamaican Style Banana Bread, Easy Cinnamon Bread, and One Bowl Zucchini Bread! Want more recipes? Just type bread in the search bar!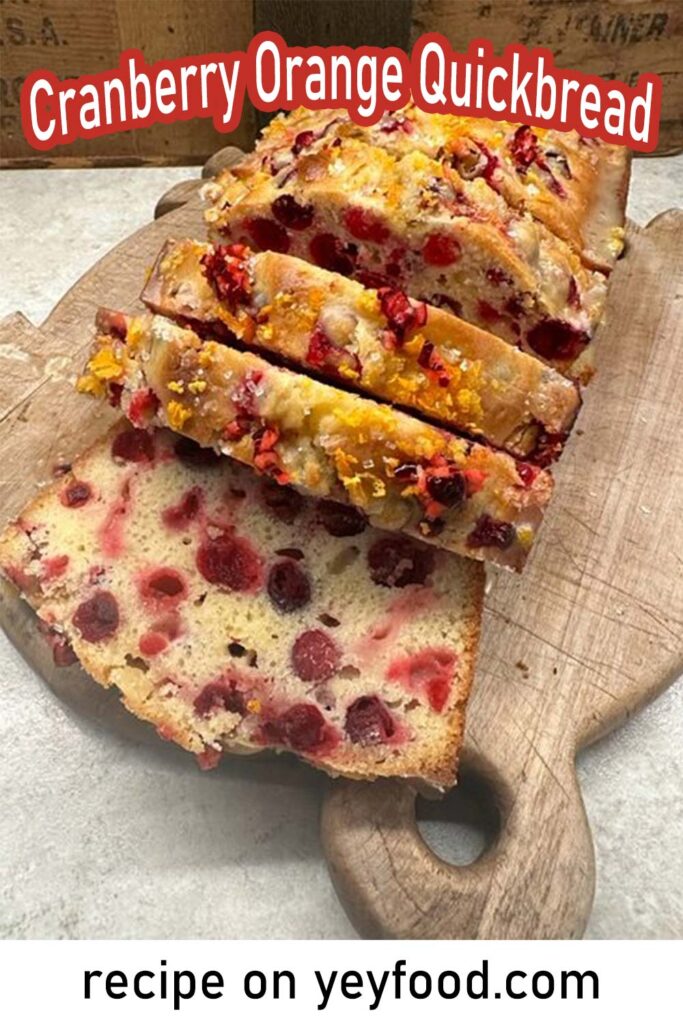 More recipes from us:
Easy 1 Pan Classic American Goulash
German Sauerkraut Casserole With Bacon And Brown Sugar
If you like these recipes, you are our people! You can check some related articles below or search via categories on the right. But be warned; you will be on here for hours. Enjoy!
So, please share this recipe on your social media accounts like Facebook, Instagram, Twitter, and Pinterest. We would be honored and ever so grateful; thank you!