Here's A Quick And Easy Snack That Everyone Will Love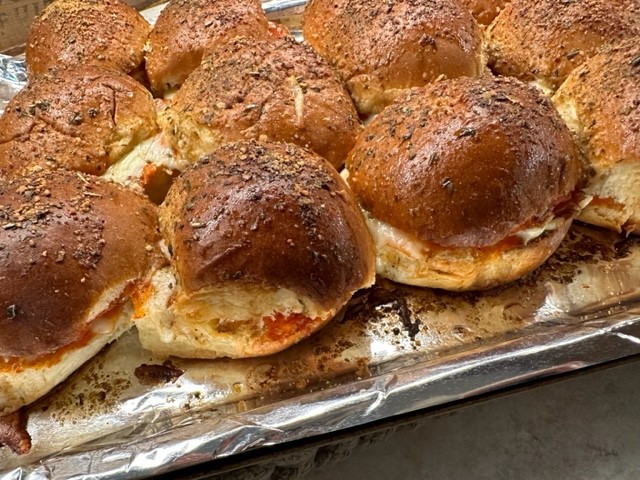 I'm on a slider kick. It's such an easy way to make a great appetizer or snack! These tasty pepperoni pizza sliders roll two favorites into one for the win!
Sliders have become increasingly popular over the years as mealtime often means families eating in shifts. These small, portable three or four-bite mini sandwiches are easy for today's busy households to grab and go.
Sliders offer great versatility. They can be served as a main course, a party snack, or even as an appetizer. They're customizable, allowing people to create unique flavor combinations.
I recently shared a recipe for baked ham and cheese sliders, and that ignited my imagination with ideas. A friend sent me a recipe for cheeseburger sliders. I will try them soon, but when I started looking in my cupboard and fridge, I thought, "Why not pizza sliders?"
Pizza researchers have the best job, don't they? According to a recent survey, 98 percent of Americans eat pizza, and over half say we "love pizza." Over thirty million Americans say if they had to choose their last meal on earth, it would be pizza.
Several studies have shown that America's most popular pizza topping is pepperoni. Pepperoni is a type of salami made from cured pork and beef. It is often seasoned with paprika or chili pepper and packaged in thin slices, like the Hormel sliced pepperoni I used.
How To Make A Dozen Pizza Sliders Fast
King's Hawaiin Rolls make fantastic sliders. They have that "just right" taste and texture, making them a delicious choice for burgers and other small sandwiches. Our local HyVee grocery store bakes a sweet Hawaiin roll in-house, and I decided to give them a try.
The Hawaiin rolls I bought there were packaged separately, but it was easy to line them up on my foil-covered baking sheet and cut the tops off each one. First, I brushed a little pizza sauce on each one and put two pepperoni slices on top of each roll.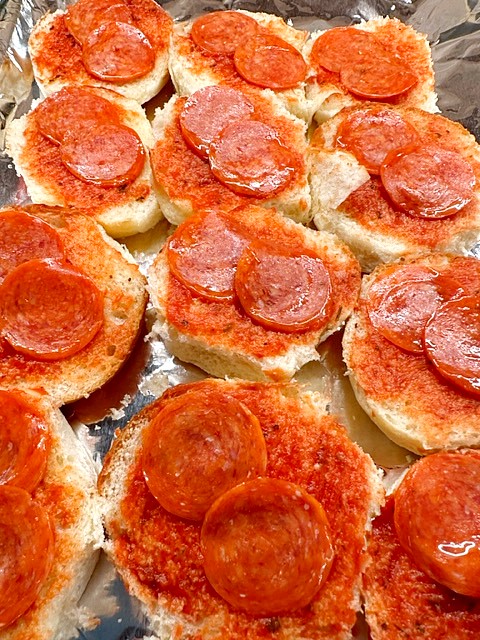 Next, I put two tablespoons of shredded mozzarella cheese on the pepperoni. If you want more cheese, you could add some sliced provolone. Then, I added two more slices of pepperoni to each roll.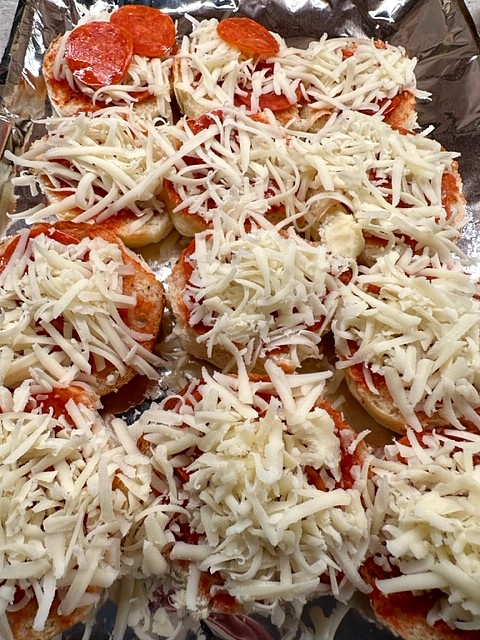 .
I brushed pizza sauce on the cut side of the tops and put them back on the bottom roll.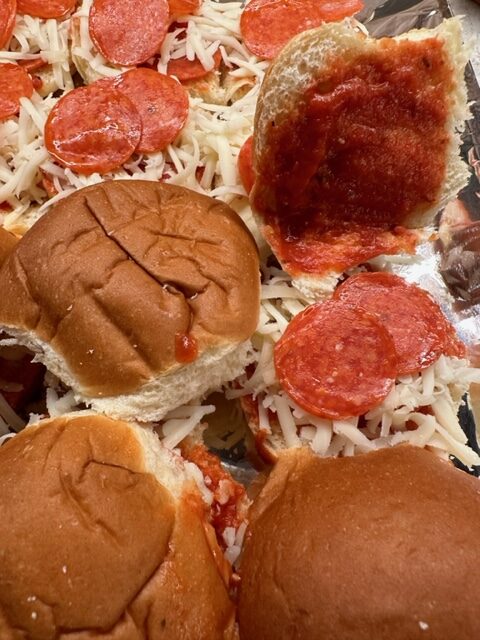 I melted six tablespoons of butter in a small bowl, then added two tablespoons of Worcestershire sauce, one teaspoon of Italian seasoning, and about a teaspoon of Alessi spices for dipping bread. I used a brush to generously slather the butter mixture on top of the rolls and down the sides.
The next step is important. STOP. Let the butter soak into the rolls for five minutes or so, then sprinkle them with grated Parmesan cheese, cover them with foil, and bake them at 350 degrees for about eighteen minutes.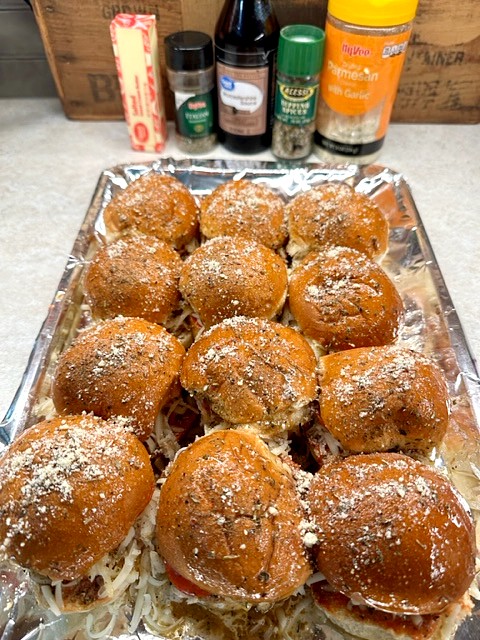 Now remove the foil and bake the sliders uncovered for five or six minutes so they brown. Serve hot or at room temperature. I warmed the pizza sauce that was left and used it to dip the sandwiches. So yummy!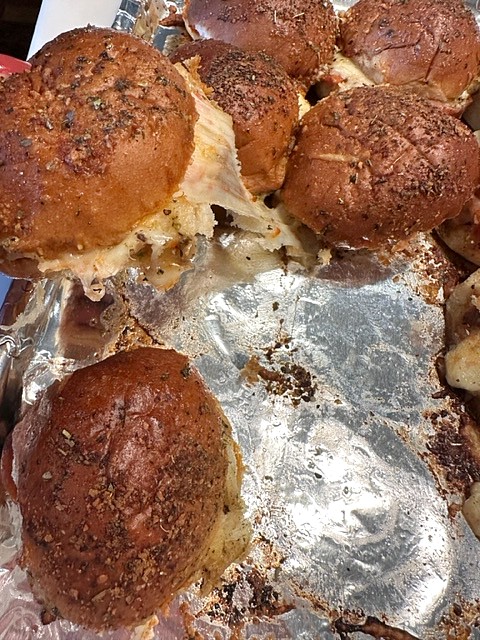 We love it when lazy summer days roll around, and we can enjoy the outdoors and parties! Here are some great ideas to serve with your yummy pizza sliders. Best Pasta Salad With Coleslaw, Sweet Corn Salad, and Italian Pasta Salad. If you're hungry for more, type salads or side dishes in the search bar!
Yield: 12 sliders
Pepperoni Pizza Sliders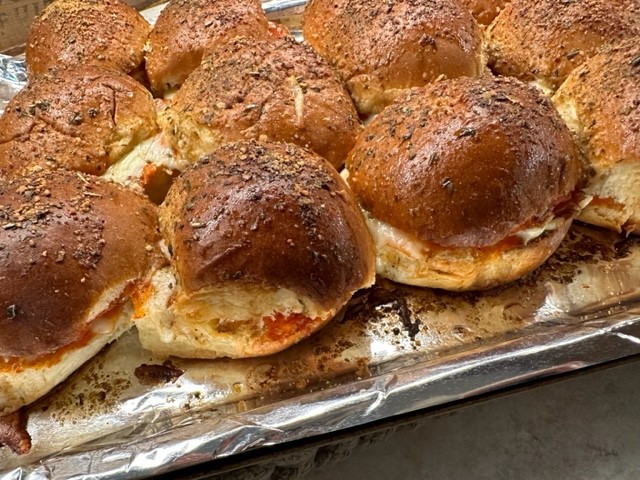 A quick and easy way to make twelve yummy sliders on sweet Hawaiian rolls with pizza sauce, pepperoni, and mozzarella
Ingredients
12 sweet Hawaiin rolls
One 6-ounce packege sliced pepperoni (you need about 50 slices)
2 cups shredded mozzarella cheese
One 14-ounce jar of pizza sauce
6 Tbsp melted butter
2 Tbsp Worcestershire sauce
1 tsp Italian or Pizza seasonng
1 tsp Alessi spices for dipping oil (or your favoriite)
Grated parmesan cheese for dusting.
Instructions
Cover a rimmed baking sheet with foil.
Preheat the oven to 350 degrees.
Use a long serrated knife to split the rolls horizontally but leave the rolls attached.
Set the top part of the rolls aside.
Brush the cut surface of the roll with pizza sauce
Layer half the pepperoni on the rolls.
Layer the shredded mozzarella chees on the pepperoni.
Lay the remaining pepperoni on top of the cheese layer.
Brush the cut surface of the rolls with pizza sauce and put the tops back onto the rolls.
Combine the melted butter, Worcestershire sauce, and seasonings in a small bowl and blend thoroughly.
Br of the butter mixture on the rolls, down the sides, and in all the nooks and crannies. If some of it spills over onto the baking pan, use the brush to pick it up and apply as much as you can to the rolls.
STOP. Let the butter soak into the rolls for five minutes before you put them in the oven.
Cover the rolls with another sheet of foil and bake at 350 degrees for about eighteen minutes.
Uncover and bake for another six minutes to allow the tops to brown.
Use a serrated knife to cut the sandwiches apart.
Serve warm or at room temperature.
Notes
Use the remaining pizza sauce as a dip for the sliders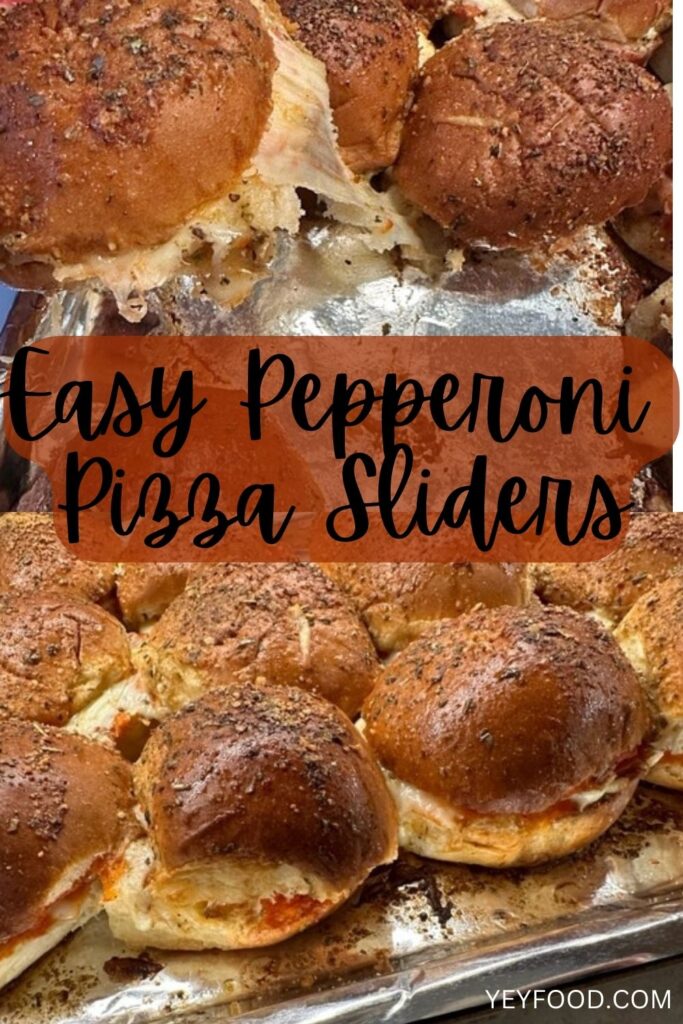 MORE OF OUR TASTY FAMILY-FRIENDLY RECIPES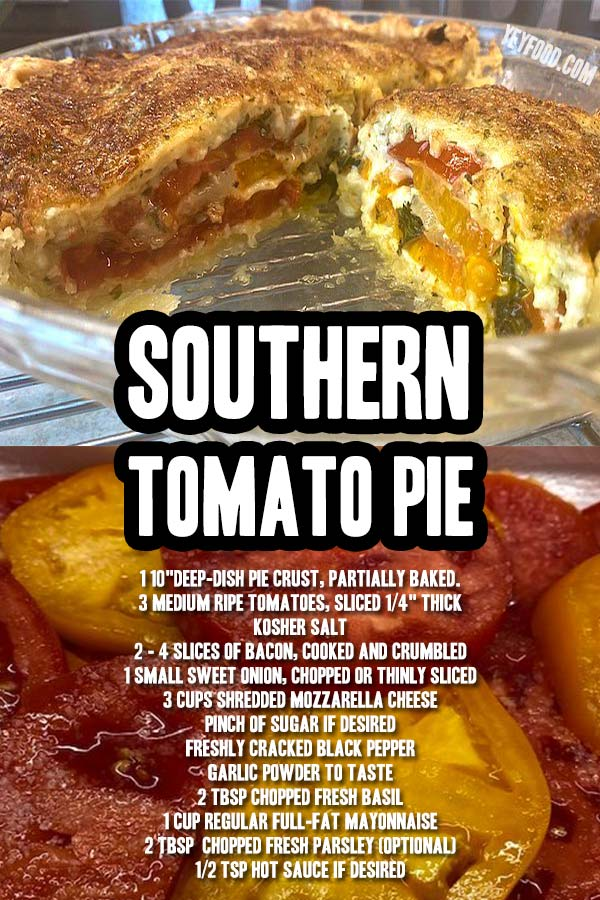 4 Reasons You Should Freeze Some Sweet Corn This Summer
How To Make The White BBQ Sauce That's Fascinated Us Since 1925
German Sauerkraut Casserole With Bacon And Brown Sugar
If you like these recipes, you are our people! You can check some related articles below or search via categories on the right. But be warned; you will be on here for hours. Enjoy!