Make The Most Of Your Rhubarb Crop Here's a Good One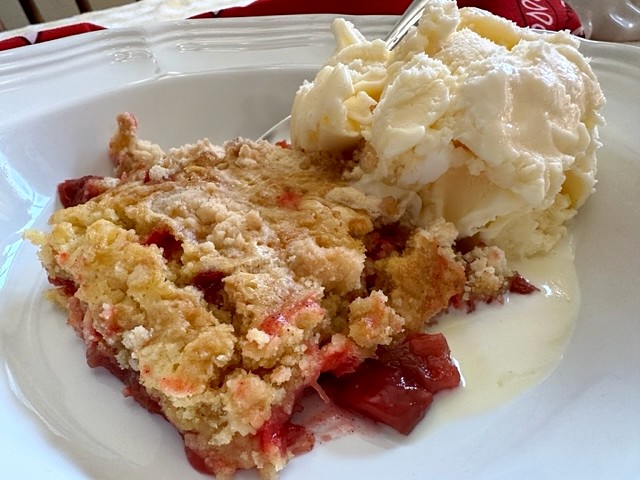 I have never quite embraced the term "dump cake," but I sure can get excited about this easy rhubarb dump cake recipe! Dump cakes go together fast because the ingredients for the cake are "dumped" into a baking dish without much preparation or mixing.
Dump cakes became popular when cake mixes started showing up in stores. Women really got excited about how fast they could whip up a dessert. Cooks are endlessly creative, and over the years, cake mixes turned into dump cakes, cookies, quickbreads, and bars.
In this recipe, only the dry mix is used! Dump cakes have been around since poodle skirts, but they are as popular now as ever because of our go-go-go endlessly busy lives.
Look How Easy It Is To Make This Rhubarb Dump Cake
We live in the country, and our electric supplier, Dawson Public Power, and the Nebraska Rural Electric Association send us a great little publication called Nebraska Magazine every month. It always has interesting articles about businesses and events in our great state.
In each issue, there's a page with recipes submitted by readers. And almost every month, I find the magazine opened to that page on my kitchen island courtesy of Papa. This one is from Meribeth Kelsey from North Platte, Nebraska. Thank you, Meribeth!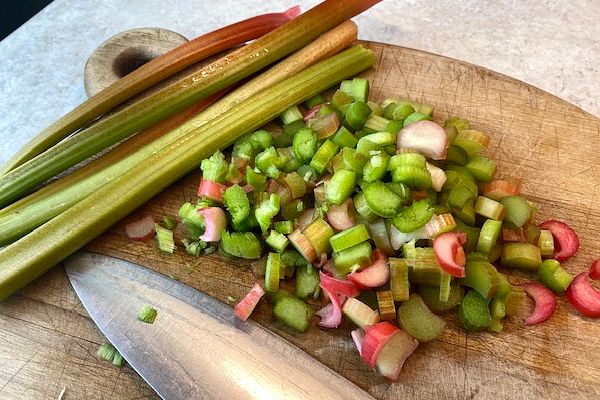 Rhubarb can range in color from green to pink to red. The color is no indication of ripeness or sweetness like it is with other fruits. Our rhubarb is a green stem variety, not as red as others. It's not as pretty, but every bit as tasty! Begin by chopping four cups of rhubarb.
Put the rhubarb in the bottom of a sprayed or greased 13″ by 9″ baking pan. I love this David Burke Gourmet Pro pan I picked up at Marshalls. I want a whole cupboard full of his bakeware! It's so heavy, and nothing sticks! The rose gold color is perfect for this pretty rhubarb dump cake!
Now mix the sugar and cinnamon and sprinkle it over the chopped rhubarb. The sugar will help draw moisture out of the rhubarb as it bakes.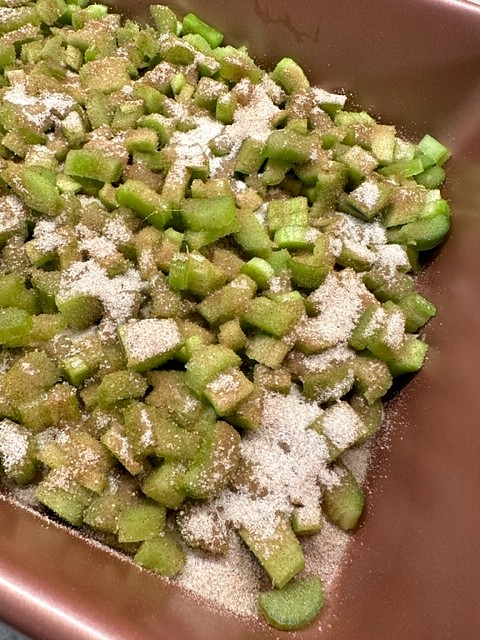 Now sprinkle a box of dry strawberry jello over the rhubarb. In my case, this red gelatin really "pretties up" my green rhubarb! If you prefer, you could use raspberry or cherry jello.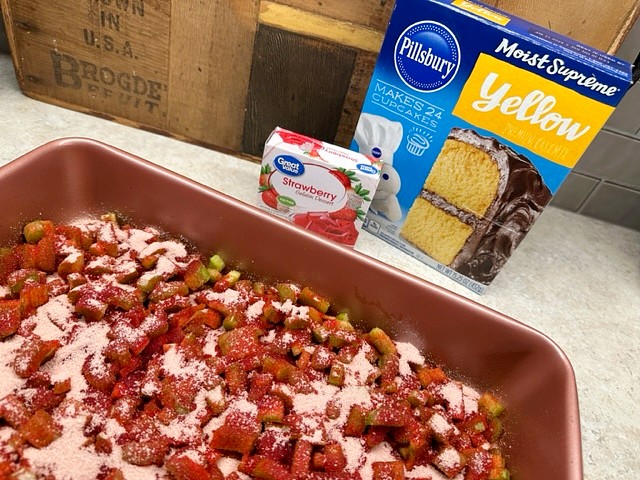 Next, sprinkle a 15.25- ounce box of yellow cake mix, dry, over the rhubarb layer, distributing it as evenly as possible. Don't stress over imperfection; rusticity is part of the charm of a dump cake!
Pour one cup of cold water over everything. Then pour five tablespoons of melted butter over the dry mix as evenly as possible. I usually melt my butter in a glass measuring cup with a lip and then use it to drizzle on the butter as evenly as I can. (I am not known for my precision.)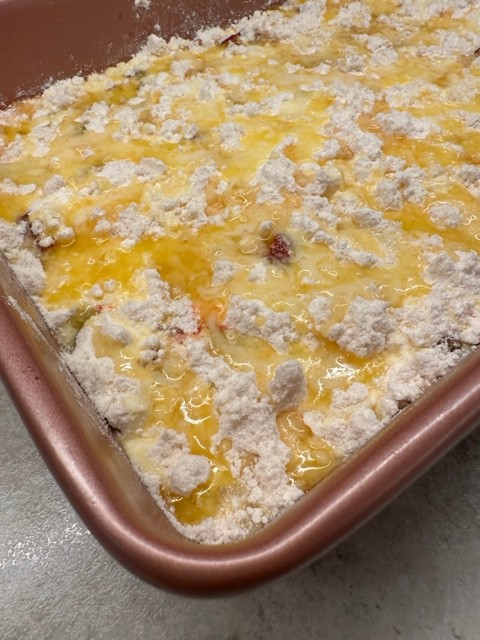 Resist the urge to stir or mix the ingredients. Don't! Now you see the pretty red color peeking out in the pan! Pop the pan into a 350-degree oven and bake for 35 to 40 minutes until the top gets golden brown and the rhubarb is hot and bubbly.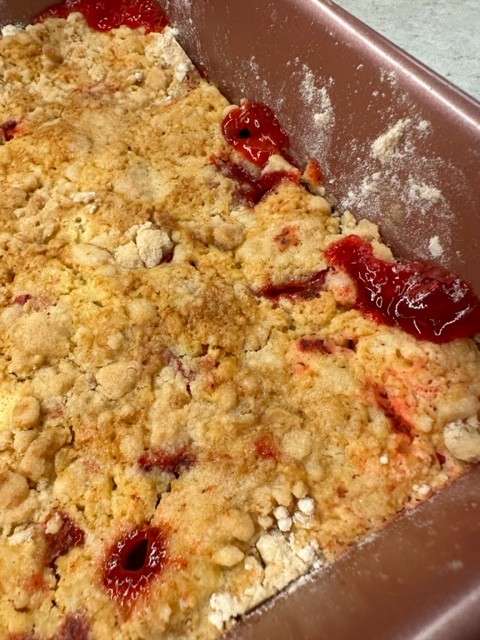 This rhubarb dump cake begs to be served warm with a scoop of the best vanilla ice cream you can find!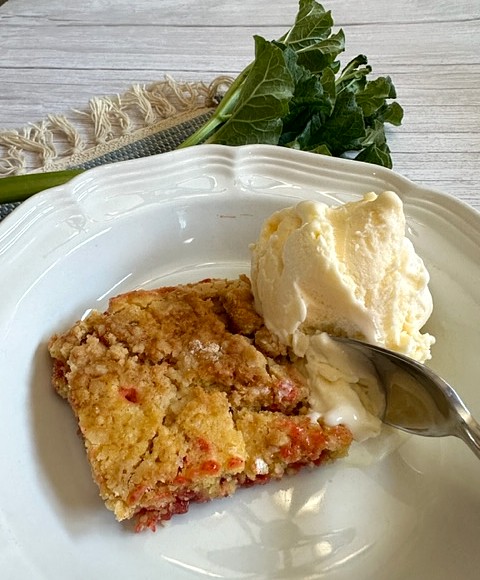 Enjoy this yummy cake and enjoy spring with all of the rhubarbian delights we can bake! Be sure to freeze any extra rhubarb to make this cake for a holiday or a blustery winter day when you need a smile!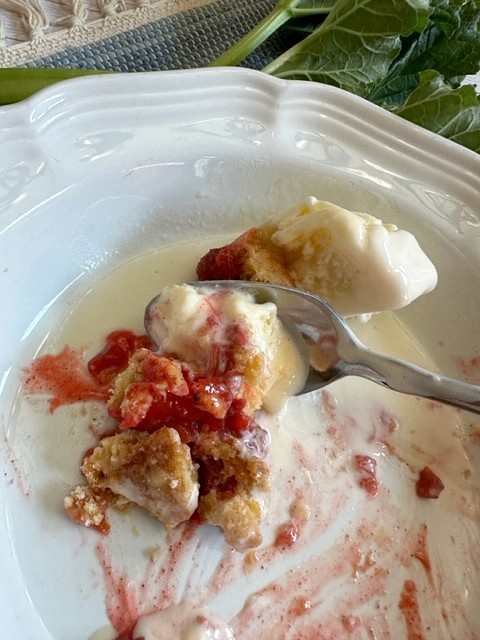 This dessert is definitely good to the last bite. In fact, if no one is looking, you may even want to lick the bowl!
Yield: 12 servings
Rhubarb Dump Cake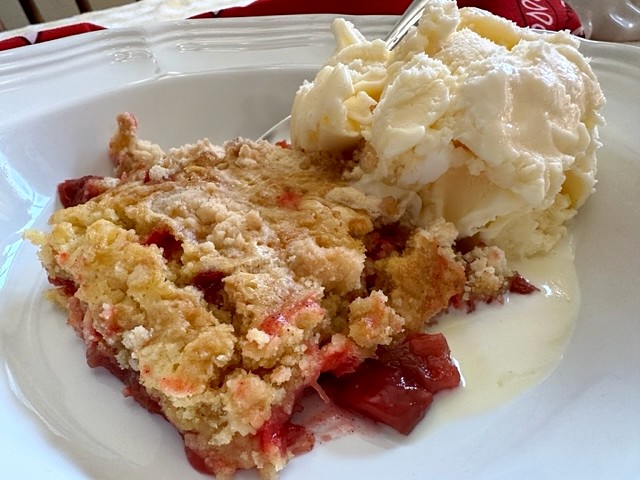 Here's an easy dump cake using fresh rhubarb, a yellow cake mix, and a box of strawberry jello. You can throw this together in minutes and be out of the kitchen in less than an hour!
Ingredients
4 cups chopped rhubarb
1/2 cup sugar
1 tsp cinnamon
One 3-ounce package of strawberry jello
One 15.25 ounce box of yellow cake mix
1 cup cold water
5 Tbsp melted butter
Instructions
Preheat oven to 350 degrees.
Spray a 13" by 9" cake pan.
Chop rhubarb and spread it in the cake pan.
Mix cinnamon and sugar, then sprinkle it over the rhubarb.
Sprinkle dry jello over the top.
Add the dry cake mix sprinkled evenly over the rhubarb layer.
Gently pour water over the dry cake mix.
Drizzle melted butter evenly over the cake mix.
Bake for 35-40 minutes until the top is golden brown.
Notes
You could switch to raspberry or cherry jello if you prefer. This is great served warm with vanilla ice cream.
Nutrition Information:
Yield:
12
Serving Size:
1
Amount Per Serving:
Calories:

233
Total Fat:

6g
Saturated Fat:

4g
Trans Fat:

0g
Unsaturated Fat:

2g
Cholesterol:

13mg
Sodium:

326mg
Carbohydrates:

43g
Fiber:

1g
Sugar:

27g
Protein:

2g
Hooray for rhubarb season and all things rhubarbian! Here at Yeyfood, we are crazy about rhubarb! Here are some of our very most popular rhubarb recipes so far! Rustic Rhubarb Bread, Magic Rhubarb Pudding Cake, Rhubarb Custard Pie, and the latest Rhubarb Cookies!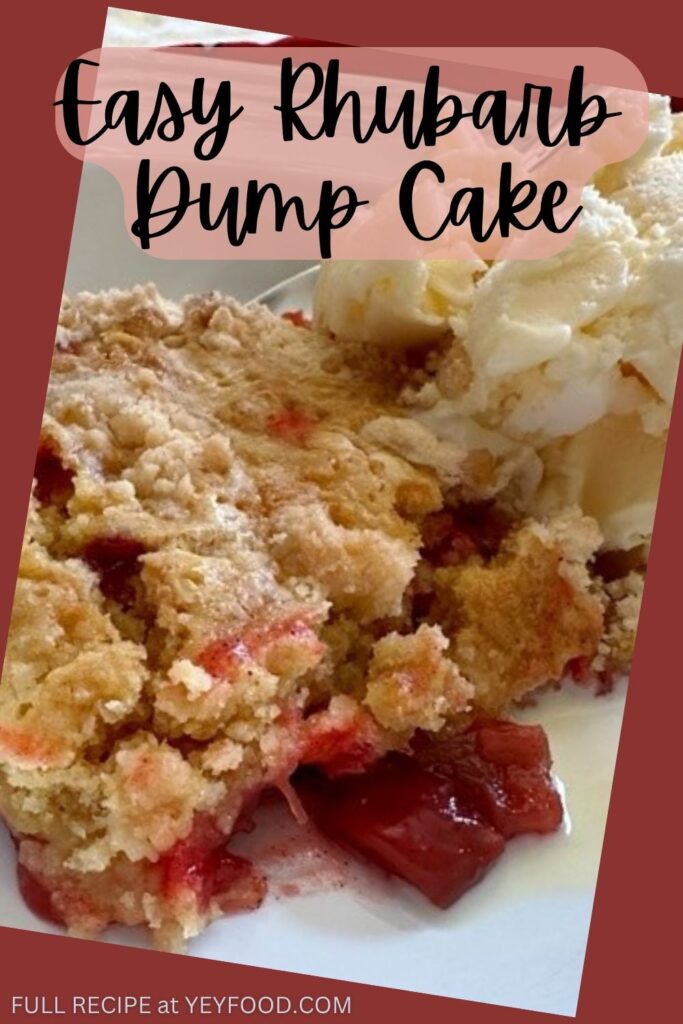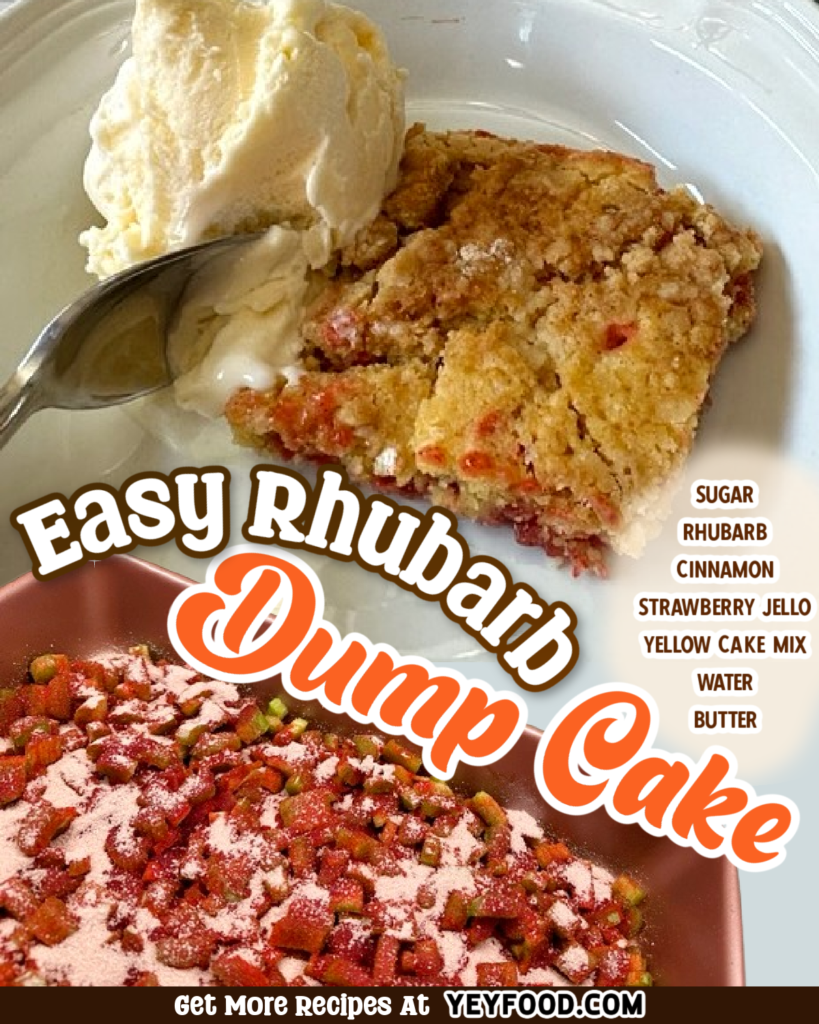 MORE OF OUR TASTY AND FAMILY-FRIENDLY RECIPES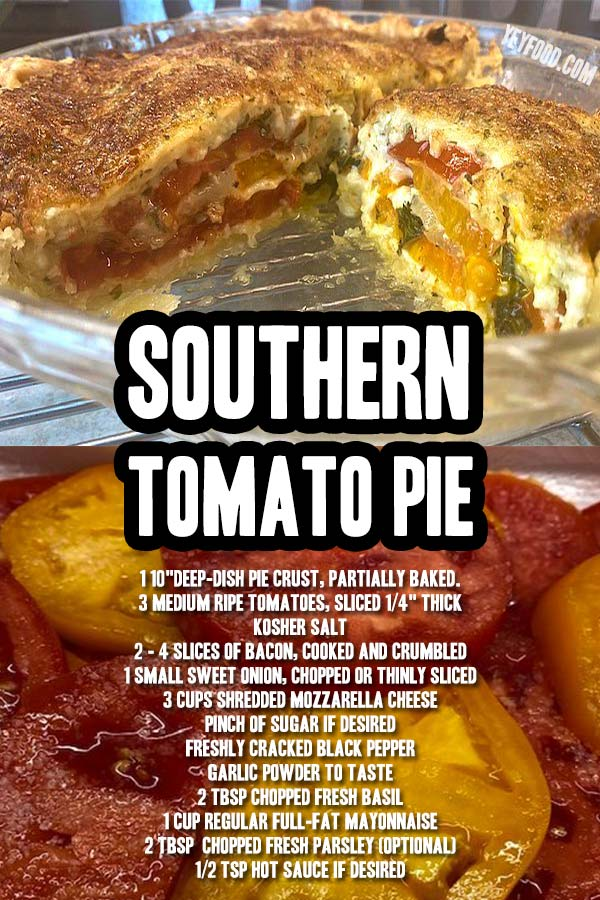 4 Reasons You Should Freeze Some Sweet Corn This Summer
How To Make The White BBQ Sauce That's Fascinated Us Since 1925
German Sauerkraut Casserole With Bacon And Brown Sugar
If you like these recipes, you are our people! You can check some related articles below or search via categories on the right. But be warned; you will be on here for hours. Enjoy!