Use Caution You Can't Stop Eating Rhubarb Cookies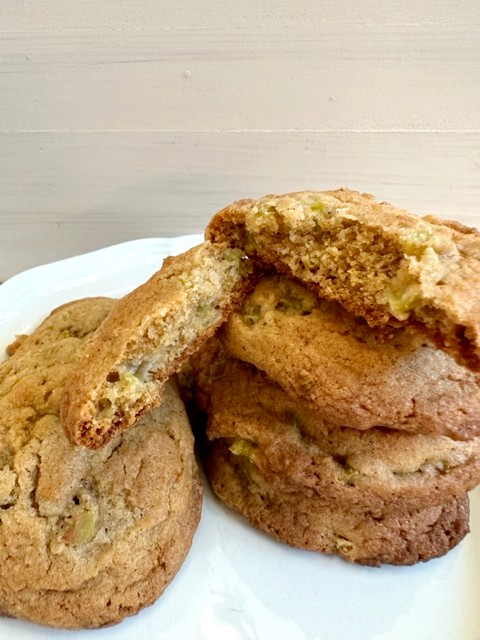 We have a prolific rhubarb patch, and I have made many rhubarb recipes over the years. All of them have been excellent, but these rhubarb cookies? Oh my goodness, they turned out fantastic.
Rhubarb is an all-or-nothing crop. It is one of the first things to push up from the ground in the spring. For a while, it grows like mad, and it seems there will be no end in sight! During this stage, it is important to remove any seed heads promptly so the plant will direct its energy to produce new stalks and leaves.
Rhubarb recipes pop up all over every spring, and the tall stalks are used for everything from martinis to ice cream to crisps, cobblers, and puddings. Rhubarb can range in color from green to pink to red.
While many people prefer red rhubarb, the color is no indication of ripeness or sweetness like it is with other fruits. The stalks are the only edible part of the plant; in fact, the leaves are extremely poisonous due to high levels of oxalic acid. Never eat them.
What Makes These Rhubarb Cookies So Addictive
A cookie that starts with butter, brown sugar, eggs, and vanilla is bound to be good; that is how these cookies begin. This recipe starts with creaming a full cup of real creamery butter! Nothing else will do.
Please notice my awesome avocado green vintage mixer. It's been with me for years; they don't make 'em like they used to! Beat that butter until it's nice and creamy.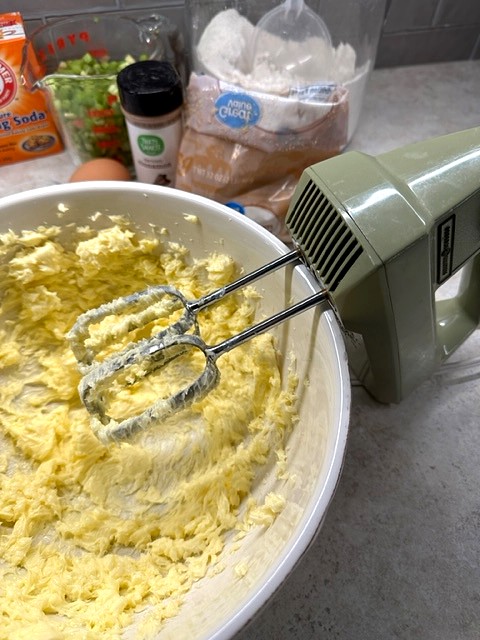 Now add two tightly packed cups of brown sugar. You can use light or dark brown sugar, depending on your preference. I preferred light brown sugar this time because that's what I had. 😉
You don't have to run to the store if you are out of brown sugar. Here's how you can make brown sugar at home, and it tastes great!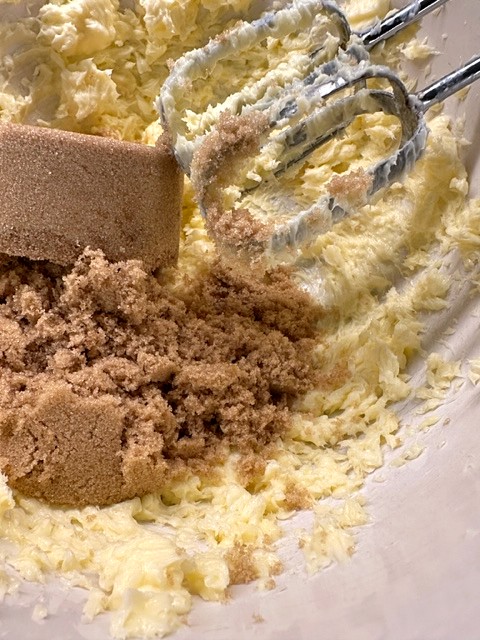 Beat those together until they are light and fluffy, then add two large eggs, the baking powder, salt, cinnamon, and baking soda. Even though it was not in the original recipe, I could not resist adding vanilla because, in my mind, it's a must. Beat that thoroughly until everything is well blended.
Now add the flour and the finely diced rhubarb. The rhubarb must be chopped finely to distribute evenly in the dough. Here's a visual for just how fine. Think of chocolate chip size pieces of rhubarb. This is a good place to use those tender young skinny stalks, but you can use any size stalk.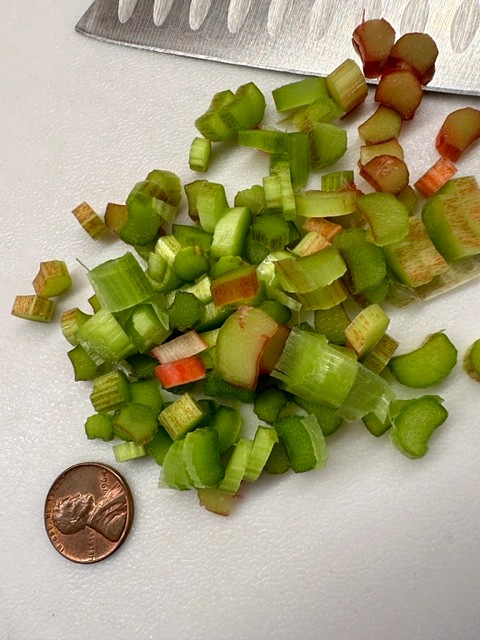 The dough gets heavy once you add the rhubarb and flour. I have found my Danish Whisk indispensable for jobs like this! Don't freak out about how thick the dough is. As the rhubarb cookies bake, the rhubarb releases moisture, and the cookie turns out perfect! The dough is very similar in consistency to our very popular Rustic Rhubarb Bread recipe. You need to try it, too!
Now that the cookie dough is made use a medium cookie scoop to form uniformly sized cookies. A medium cookie scoop holds about two tablespoons of dough.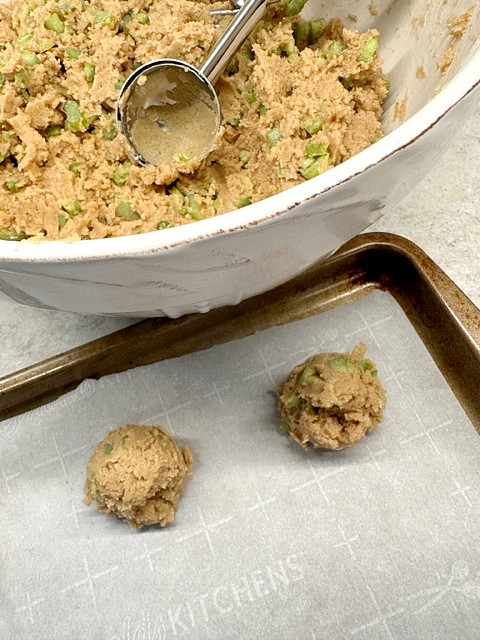 I recommend using Reynolds Parchment Paper on your cookie sheets. The gridlines help you place them so they don't kiss each other as they bake. Some of mine did, anyway. Precision has never been my gift. The baked cookie will be about two-and-one-half inches across.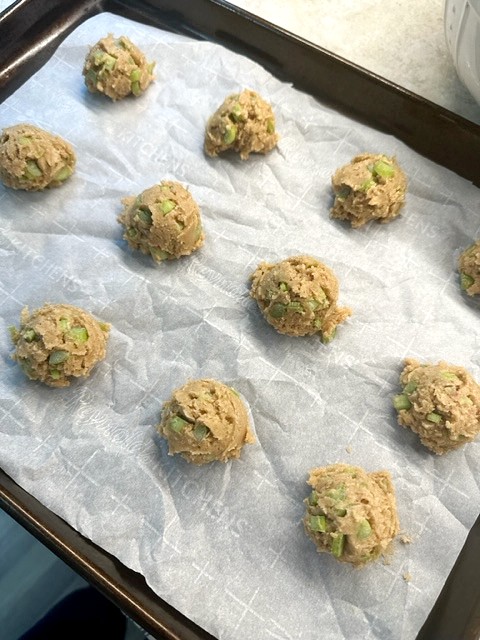 Bake the cookies at 375 degrees for about twelve minutes. Please watch carefully towards the end of the baking time. You want the cookies to be baked all the way through but not overbaked. Every oven is different! When you remove them from the oven, the rhubarb cookies will continue to bake a little.
Let them cool on the baking sheet for five minutes before moving them to a rack to finish cooling. You can use the parchment paper repeatedly until you have baked all the cookies!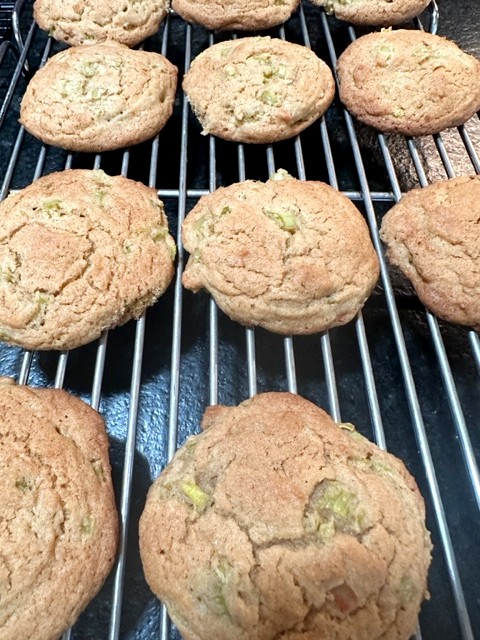 Now To Have A Little Fun With Your Rhubarb Cookies
We've included a recipe for optional cream cheese frosting. Believe me, the rhubarb cookies are amazing just as they come out of the oven, but who can resist cream cheese icing?
Cream the butter and cream cheese, then add the powdered sugar, vanilla, and milk a little bit at a time until you get the desired consistency. I couldn't resist playing with the icing and I had fun adding sprinkles and drizzling the icing. I think these amazing rhubarb cookies would be so perfect for a spring event of any kind! ❤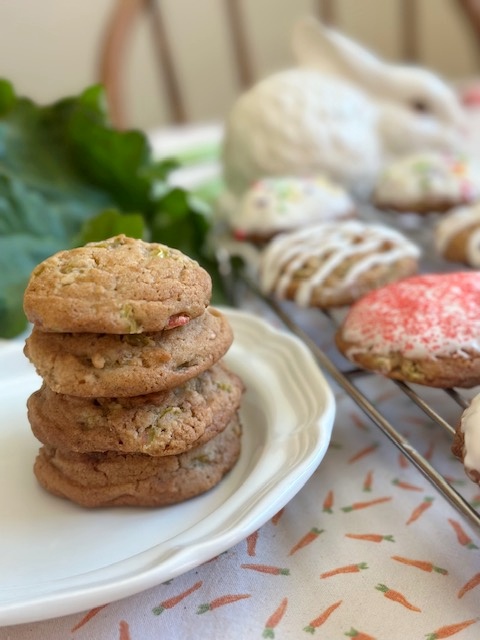 I gave half the batch to a sweet young family because Papa and I cannot eat everything I bake. I think the dad had about half of the cookies eaten by the time he got home! How I envy his metabolism and perpetually lean physique! These cookies were a fun bake, and I will definitely make them again!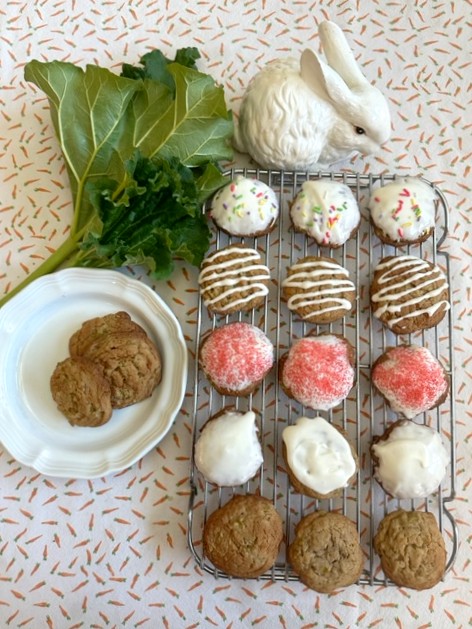 A Little Bit About Rhubarb
Rhubarb is an extremely hardy perennial plant that can live for 50 years or more. When plants get too old, and the roots get crowded, they must be divided and replanted to maintain good production. One of my rhubarb plants is from a clump that grew over one hundred years ago on a farm in South Central Nebraska; I will divide the clumps and enlarge my rhubarb patch next spring!
Rhubarb is a cool-season perennial plant that thrives in regions with a cold climate and well-drained soil. In the United States, the best areas for growing rhubarb are in the cooler parts of the northern states, such as the Pacific Northwest, the Northeast, and the Midwest.
Whenever we post rhubarb recipes, we hear sad comments from people who live in places too warm for rhubarb to grow. The good news is you can buy frozen rhubarb at many grocery stores, including Walmart, Target, Whole Foods, Safeway, and Kroger.
You can also check with specialty food stores in your area or online retailers such as Amazon, Instacart, and FreshDirect to find frozen rhubarb. When purchasing frozen rhubarb, check the ingredients list to ensure it does not contain additives or preservatives.
When you use frozen rhubarb, all you need to do is defrost and drain any excess liquid. You will have great results.
Yield: 42 cookies
Rhubarb Cookies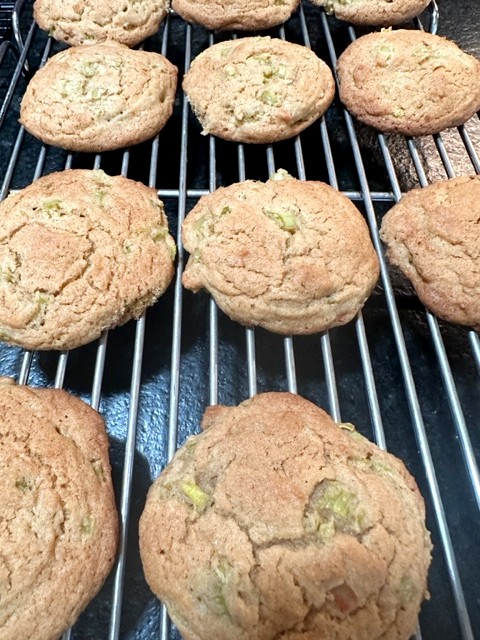 Wonderful sweet and chewy cookies with bits of tangy rhubarb. Eat them plain or with the optional cream cheese frosting!
Ingredients
COOKIE INGREDIENTS
1 cup butter
2 cups brown sugar
2 large eggs
2 tsp cinnamon
2 tsp vanilla
1 tsp salt
1 tsp baking powder
1 tsp baking soda
3 1/2 cups all-purpose flour
2 cups finely diced rhubarb
Cream Cheese Frosting
8-ounce block of cream cheese at room temperature
1/2 cup of butter, softened
4 cups powdered sugar
2 tsp vanilla
Milk as needed to make desired spreading consistency.
Sprinkles, if desired, optional.
Instructions
Preheat oven to 375 degrees.
Cover baking sheets with parchment paper.
Dice rhubarb fine, about the size of chocolate chips, and set aside
Cream butter, then add brown sugar and beat well until fluffy.
Add eggs, vanilla, salt, baking powder, baking soda, and cinnamon. Beat until light, and all ingredients are well incorporated.
Add flour and diced rhubarb and stir until all flour is incorporated and rhubarb is evenly distributed. The dough will be heavy; this is normal. A Danish whisk works exceptionally well for this step.
Use a medium cookie scoop to form cookies and space them about three inches apart. Baked cookies will be approximately 2 1/2" across.
Bake for about 12 minutes. Watch the cookies toward the end of baking; They should be golden brown.
When you remove them from the oven, the cookies will continue to bake for a bit. Allow them to cool on the cookie sheet for about five minutes before moving them to a cooling rack. Cool completely before adding frosting.
To make cream cheese frosting, beat the cream cheese and butter until light, then add vanilla and powdered sugar. Add milk a little bit at a time as needed to achieve the desired spreading consistency.
Frost the cookies and add sprinkles if desired.
Notes
The cream cheese frosting recipe makes enough to frost ALL the cookies
Here at Yeyfood, we are positively CRAZY about rhubarb!! Here are some of our all-time favorite recipes! Please enjoy them! Rhubarb Custard Pie, Magic Rhubarb Pudding Cake, Rhubarb Pretzel Dessert. Hungry for more? Just type rhubarb in the search bar for loads more, and we'll keep new recipes coming your way!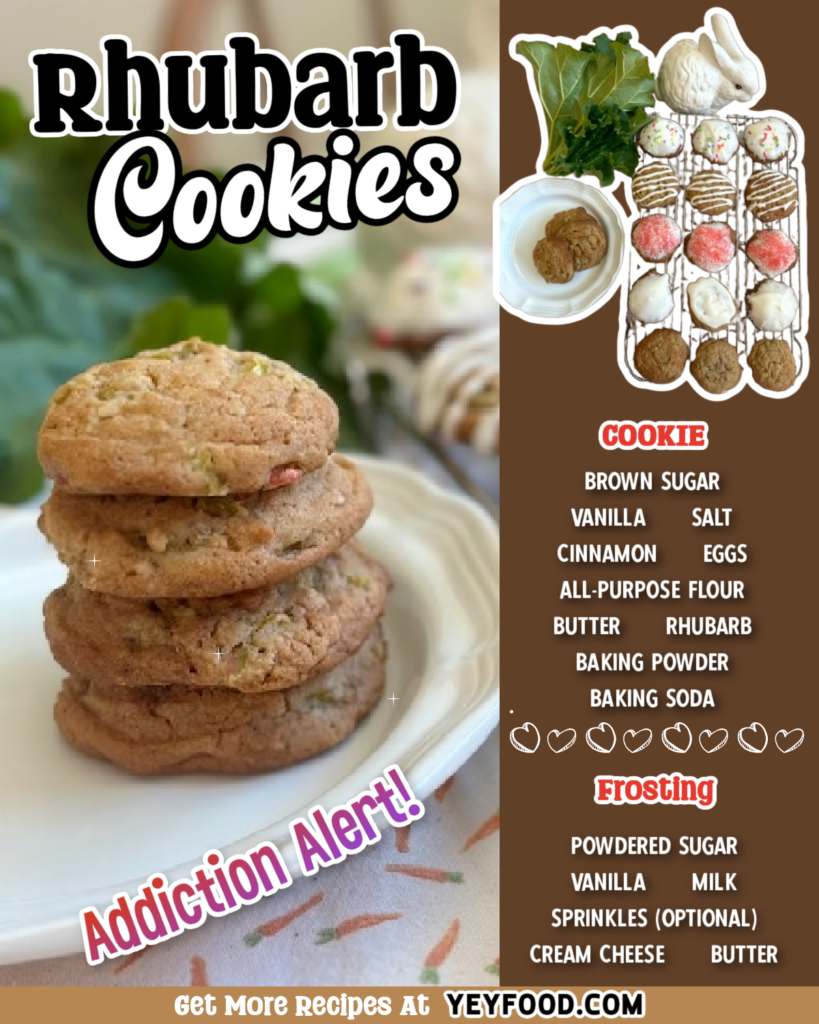 MORE OF OUR AMAZINGLY TASTY RECIPES: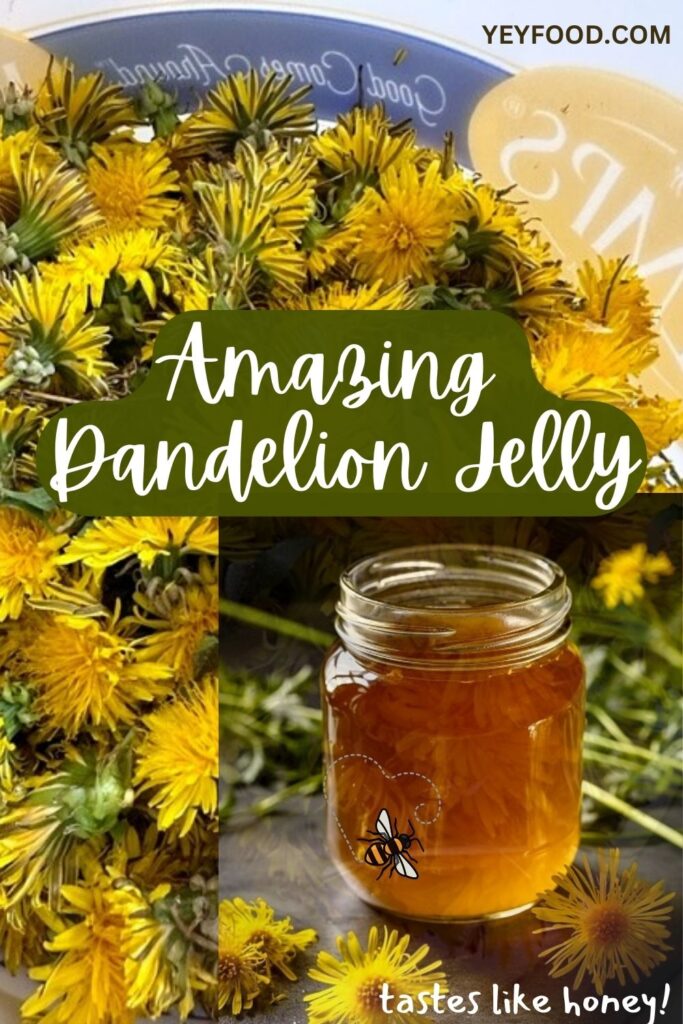 4 Reasons You Should Freeze Some Sweet Corn This Summer
How To Make The White BBQ Sauce That's Fascinated Us Since 1925
German Sauerkraut Casserole With Bacon And Brown Sugar
If you like these recipes, you are our people! You can check some related articles below or search via categories on the right. But, be warned; you will be on here for hours. Enjoy!