Make A From-Scratch Peanut Butter Cream Pie Today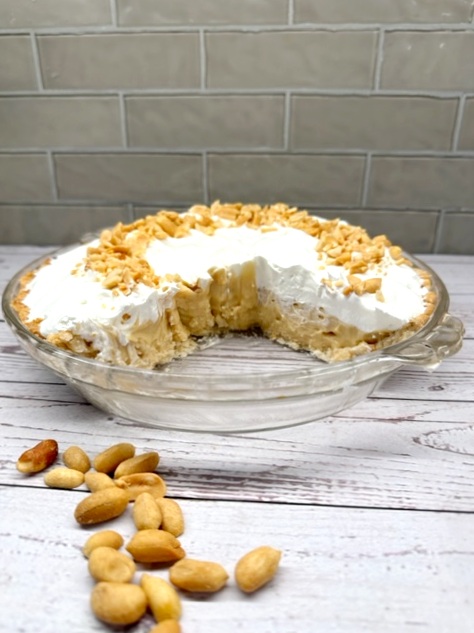 They have fabulous homemade pies at The Farmer's Daughter Cafe in Hastings, Nebraska. Once in a while, Papa takes me there for some excellent comfort food someone else cooks. 😉
The last time we were there, peanut butter cream pie was on the menu. There were too many to choose from, and I went with another kind, but I vowed to make one at home soon.
The peanut butter cream pie filling in this recipe is 100% from scratch, made the old-fashioned way from a custard base cooked on the stove and lovingly stirred by you to velvety perfection. This pie is not made with instant pudding; it is made from simple ingredients you probably have in your cupboard and fridge.
Peanut butter pie is a cream pie starring peanut butter as the key ingredient. It is most likely another delightful recipe with Southern roots because, in the South, both pies and peanuts are abundant!
Some peanut butter pies are made with cream cheese, milk, and sugar whipped together to form a rich and heavy no-bake filling. It is often served in a graham cracker crust. I really like how the filling in this recipe is not overly sweet and how light and creamy it is.
How To Make This Silky Smooth Peanut Butter Cream Pie
The peanut butter cream pie filling begins with a simple custard made on the stove. Make this pie on a day when you are feeling mellow and unhurried because you will need to attentively and lovingly cook it, and you will need to be tuned in to it for almost ten whole minutes!
I know. That's forever for some of us with what I call a jackrabbit brain! Don't make this and start a dozen other things like I almost always do! Patience will reward you with the silkiest custard you ever ate!
Begin by whisking together the cornstarch, sugar, and salt in a bowl so it's thoroughly blended. Separate the eggs and set the egg whites aside. (You can certainly use the egg whites to make meringue to top the pie; I have attached the recipe. We'll get back to that in a minute.)
Put the egg yolks and milk in a heavy saucepan, and before you turn on the heat, whisk them together thoroughly. On low heat, gradually add the sugar mixture and increase the heat to medium, then cook this mixture while you daydream and keep whisking it until it begins to bubble. Keep going until it thickens to a pudding consistency.
Put the mixture in a bowl and immediately press wax paper or plastic film directly on the surface of the pudding. This will prevent the pesky "skin" from forming on the surface. Refrigerate the pudding until it is completely cooled.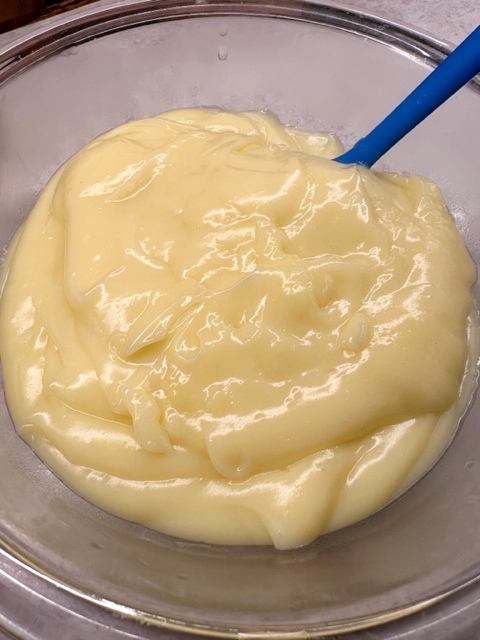 While the pudding is chilling, make the pie crust. I included my Pattycake Pie Crust recipe because it is so easy to make and forgiving. If you'd rather use a frozen store-bought crust or pre-made pastry, do it, but be sure to bake it first! The filling is the star of this pie show.
Yield: 10 servings
Patty Cake Pie Crust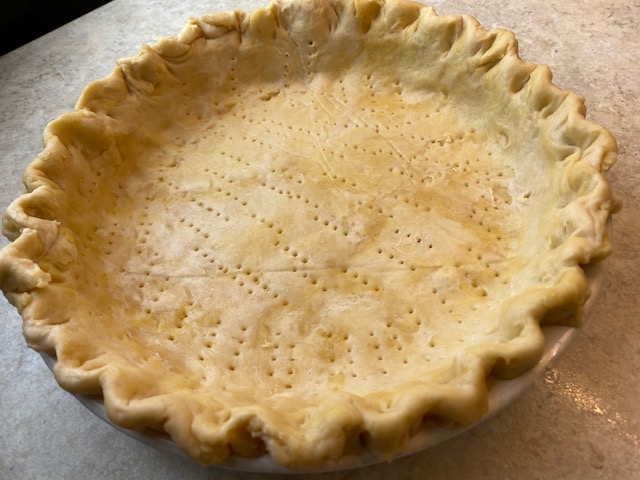 A quick and easy fool-proof pie crust recipe
Ingredients
1 3/4 cup all-purpose flour
1/2 tsp salt
1/2 cup vegetable oil
2 Tbsp water
1 Tbsp powdered sugar
2 drops yellow food coloring optional
Instructions
Combine all ingredients in a bowl and stir with a fork until all the flour is incorporated and the dough forms a ball.
Put the dough in the center of a 9" pie plate and using your hands, pat the dough gently into place.
You can flute the edges with your fingers.
If baking the crust without a filling, prick holes all over the bottom of the crust with a fork before baking.
Bake at 375 degrees until golden brown, about 12-15 minutes. Cool before filling.
If you plan to make meringue, I suggest you use a pastry crust, but if you want to top the pie with whipped topping or whipped cream, as I did his time, a homemade or purchased graham cracker crust would also be a good choice. You might even want to try a chocolate graham cracker crust for a peanut butter cup experience! Yum!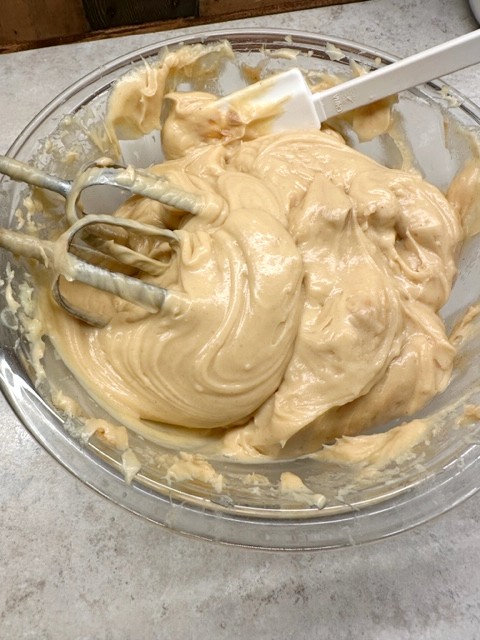 Once the custard is completely cool, use a hand mixer to beat it until it's creamy, then add the peanut butter and vanilla and hit it again until everything is beautifully blended.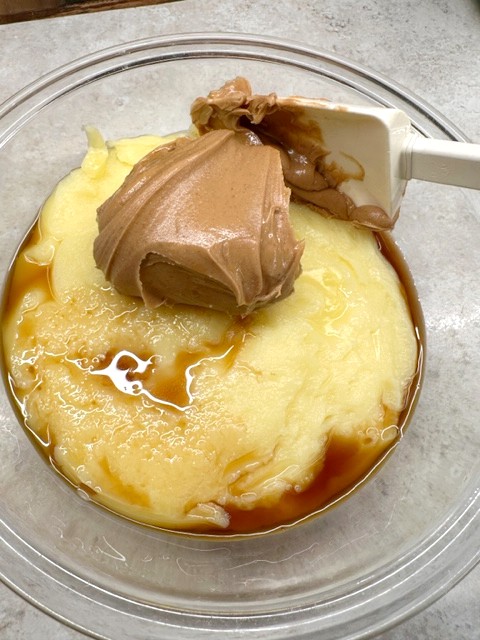 Now pour the creamy filling into the prepared pie crust. If you plan to top the pie with Cool Whip, spread a whole eight-ounce defrosted container of topping over the pie. Garnish it with chopped peanuts if you like!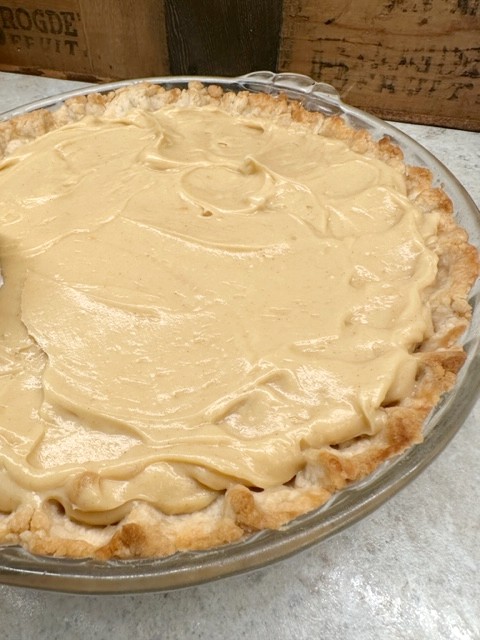 Yield: 8 servings
Peanut Butter Cream Pie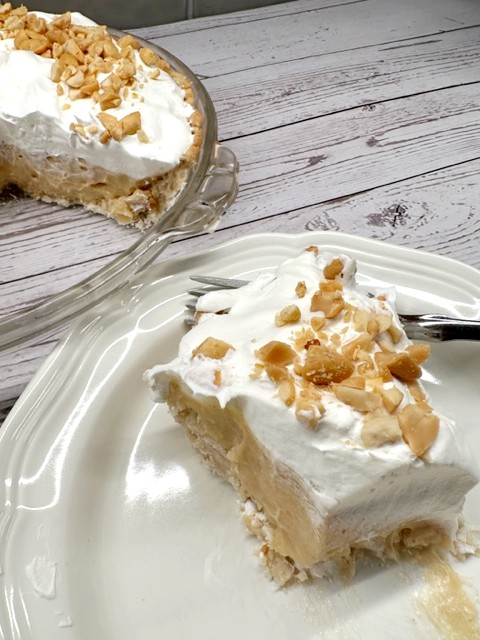 This is a recipe for an old-fashioned, from-scratch peanut butter pie with a silky smooth custard filling.
Total Time
4 hours
30 minutes
Ingredients
One pre-baked deep dish pie crust
3 cups milk
3 egg yolks
1 cup sugar
1/2 cup cornstarch
1/4 teaspoon salt
1/2 cup peanut butter, creamy
2 teaspoons vanilla extract
Whipped Cream or Cool Whip, optional
Crushed peanuts for garnish, optional.
Hot fudge sauce or chocolate syrup for garnish if desired.
Instructions
Whisk together the sugar, cornstarch, and salt in a small bowl and set aside.
Put the milk and the egg yolks in a medium saucepan, and whisk until smooth.
Turn on the heat to low.
Slowly add the sugar mixture to the milk mixture.
Increase the heat to medium, and whisk constantly until the mixture comes to a boil and thickens to a pudding consistency.
Remove the pan from heat, and pour the mixture into a bowl.
Press waxed paper or plastic film onto the surface of the pudding immediately.
Cover the pudding and refrigerate until the pudding is completely cool.
Use a hand mixer to whip the chilled pudding until it is creamy, then add the peanut butter and the vanilla,
Continue to beat the mixture until evenly blended and creamy.
Pour the filling into a cool pre-baked pie crust.
If desired, top with whipped topping or homemade whipped cream.
Garnish with crushed peanuts if you like.
Drizzle with hot fudge sauce or chocolate syrup if desired.
Nutrition Information:
Yield:
8
Serving Size:
1
Amount Per Serving:
Calories:

459
Total Fat:

20g
Saturated Fat:

6g
Trans Fat:

0g
Unsaturated Fat:

12g
Cholesterol:

77mg
Sodium:

310mg
Carbohydrates:

61g
Fiber:

2g
Sugar:

35g
Protein:

10g
Doesn't that chopped peanut garnish look great? And it adds a wonderful salty crunch that contrasts beautifully with the velvety filling! This pie must be completely chilled if you want nice clean pieces that stand up.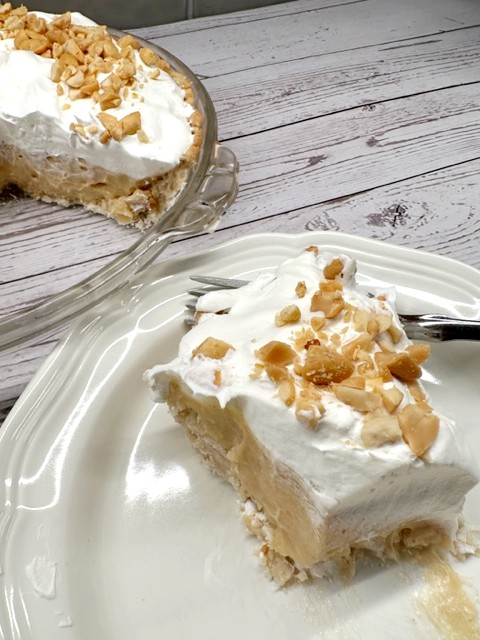 One of my friends, a frequent pie baker, told me she drizzles hot fudge over her peanut butter cream pie before she serves it! That sounds amazing, but all I had was chocolate syrup. Wow! That amped up the flavor, and it tasted fantastic!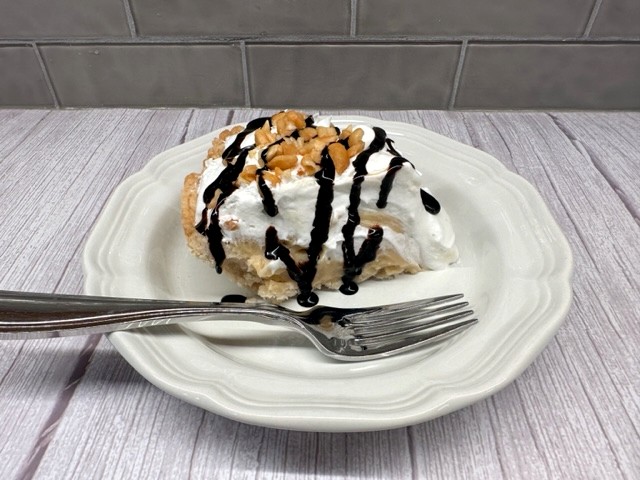 Let's get back to the meringue! Are you still wondering what to do with the three leftover egg whites? Here's my meringue recipe you can make with those egg whites instead of topping the pie with Cool Whip! Everything you need to know about how to do it is right on the recipe card!
If you follow the directions closely, you will have a gorgeous cloud of meringue that melts when it hits your tongue. It's another great way to serve this yummy pie. Remember to keep it refrigerated and serve it cold!
Yield: Enough meringue for a 9" pie.
Mile High Meringue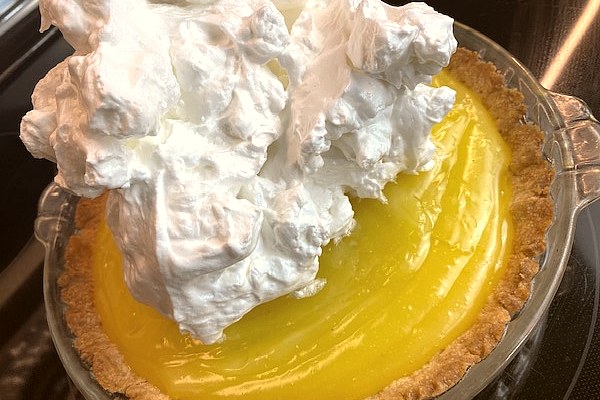 Beautiful meringue topping that doesn't weep or shrink when the instructions are followed!
Ingredients
3 egg whites at room temperature
1/4 tsp cream of tartar
1/2 tsp vanilla
6 Tbsp sugar
Instructions
Use a scrupulously clean steel or glass bowl. Do not use a plastic bowl.
Begin beating the egg whites with a whip attachment, then add the cream of tartar and the vanilla.
Continue beating until soft peaks begin to form.
Add the sugar one tablespoon at a time, beating about a minute with each spoonful.
Stop and scrape down the sides of the bowl a few times to make sure there is no sugar clinging to the sides of the bowl.
Taste the meringue or rub it between your fingers. Do not under beat. It should feel smooth, not gritty.
Put meringue on top of the filling and smooth it evenly over the surface using the back of a spoon.
Leave the meringue in the center of the pie taller and leave lots of peaks.
Make sure the meringue touches and sticks to the crust's edges, so it does not shrink.
Bake 8-12 minutes in a 425-degree oven until the meringue is a delicate brown and the peaks are slightly darker.
Remove the pie from the oven and set it in a draft-free spot to cool.
Let the pie cool completely before cutting. This could take up to 2 hours.
Cover and refrigerate leftover pie.

Oh boy, do we love pie! Keep watching because we're in the mood for pie, so look for new recipes! Here are some of our favorites. Coconut Cream Pie, Lemon Meringue Pie, Sour Cream Raisin Pie. Hungry for more? Type "pie" in the search bar for many more yummy recipes! What's your favorite pie?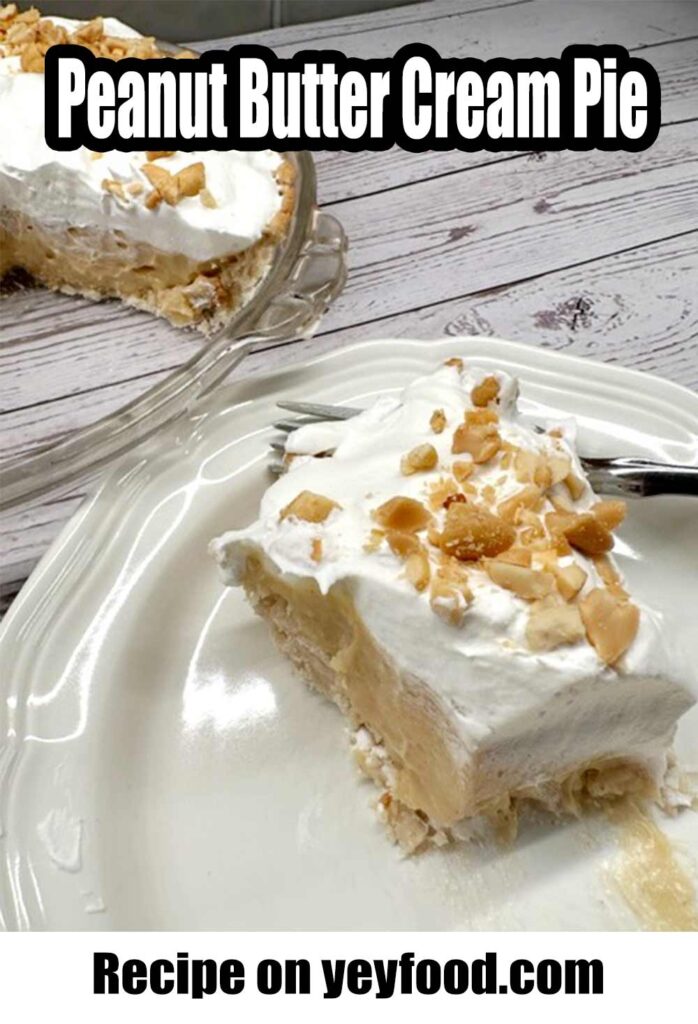 More recipes:
Super Delicious German Dessert Recipes
Amazing Frosted Brownie Cookies