Delicious Ham Salad Is Great Piled On Crackers Too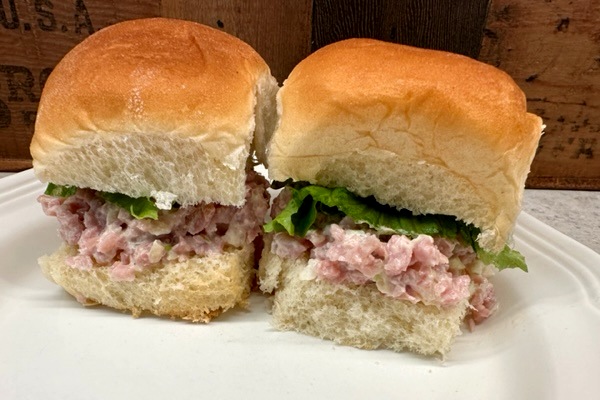 Ham Salad is a bonus from leftover holiday ham, but it's so good you'll buy ham just for these sandwiches! It's very simple to reinvent ham into a tasty sandwich filling or cracker spread in minutes! Your food processor makes it a snap!
Ham salad is not as common as chicken salad, and that's a shame because it's delicious no matter how you serve it. When the holidays are over, we get tired of ham sandwiches and ham and bean soup. This is a great way to make that leftover ham into something more interesting.
Back in the day, I would use an old-fashioned hand-cranked meat grinder I inherited from Aunt Dora to make sandwich fillings out of leftover roast beef or ham, and it worked pretty well! The challenge was always finding a spot to clamp it in place and keep it from slipping around while I turned the crank. It was a chore to disassemble the darn thing and a bit messy. 😜
You can still buy meat grinders like that, and if you ever wanted to make ham salad when the power went out or make some when you were camping, it would be just the thing for the job! I still have mine if the occasion ever arises! I'm too sentimental to get rid of it!
Thankfully, we have food processors that make this a ten-minute job or less, and everything can pop right in the dishwasher for a quick and easy clean-up! When you're done, you have enough filling for eight sandwiches, lots of sliders, or a bowlful to pile on hearty crackers!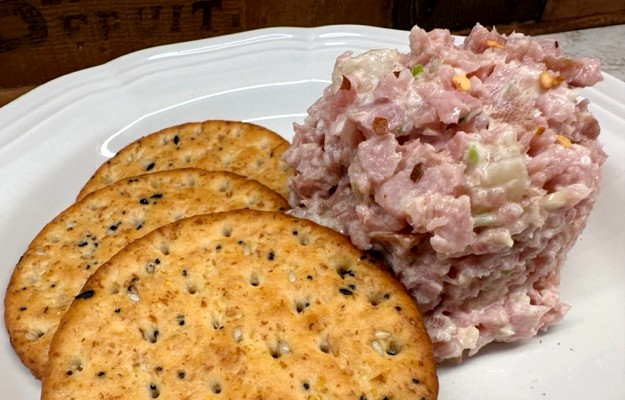 Here's How You Whip Up A Batch Of Yummy Ham Salad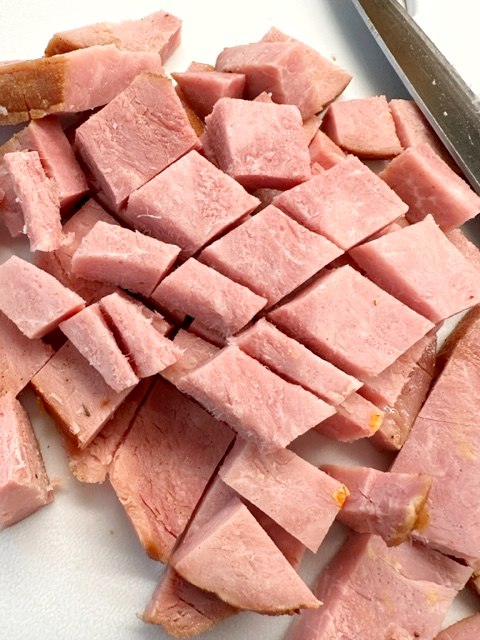 Begin by cutting the ham into dice and pop it in a food processor with the blade attachment. Pulse just until it's coarsely chopped. Now add the other ingredients. I used chopped onion, chopped celery, mayonnaise, yellow mustard, dill pickle slices (because that's what was in the fridge), and some black pepper.
When you've added those things, pulse it some more but only enough to blend all the ingredients. You want the ham salad to retain some pleasing texture. Too much pulsing will make the mixture more pasty and not as tasty. If it seems a little dry, you can stir in some mayonnaise or even some pickle juice!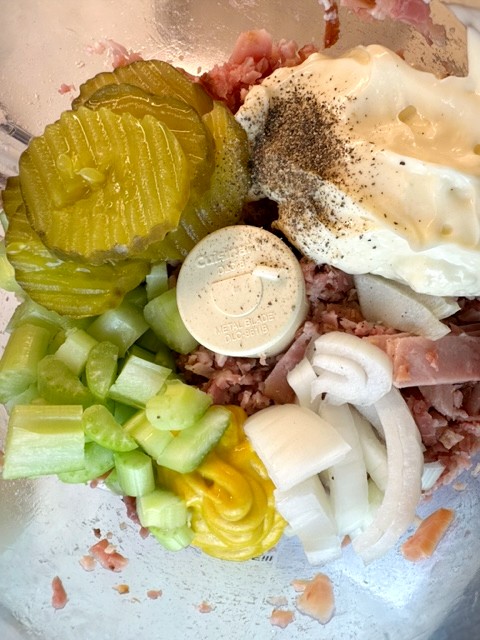 Make this ham salad any way you want! You can use green onion, red onion, or no onion! You can use dill pickles, sweet pickles, bread and butter pickles, pickle relish, or no pickles!
Customize this ham salad to your liking, and you'll be praying for leftover ham! You can use yellow, brown, dijon, or no mustard. Some folks like to add hard-boiled egg or cheese! Throw in some olives or capers if you want.
I hope I'm making you hungry! Now, how do we want to eat this yummy ham salad? On slider buns with thinly sliced Swiss cheese and lettuce, between two slices of dark pumpernickel with some cheddar cheese, or piled on a crisp cracker like our favorite Milton's Multigrain Gourmet Crackers.
Yield: 10 servings
Ham Salad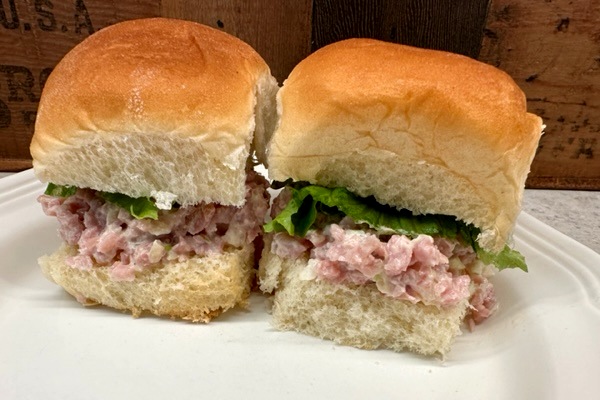 This is a classic ham salad you can make quickly and easily in your food processor. You can vary the ingredients to taste.
Ingredients
About one to one and one-half pounds of ham, cubed or diced. Leftover ham or ham you purchase especially for this salad
Onion or green onion, to taste. I used about 1/8 of a medium onion cut into pieces
8-10 dill pickle slices
2 Tbsp mustard
3/4 cup mayonnaise
1 stalk of celery, sliced
Black pepper to taste
Sandwich bread, slider buns, or hearty crackers to serve ham salad as you choose. (We love dark pumpernickel bread for this ham salad.)
Instructions
Place the diced ham in a food processor with a blade attachment and pulse just until it is coarsely chopped.
Place the remaining ingredients in the food processor and pulse, scraping the sides down a time or two until the desired consistency is obtained. Do not overdo it. You want a salad that is somewhat chunky, not pasty.
If the mixture seems dry, you can add mayonnaise or even a small amount of pickle juice.
Notes
You can change dill pickles to sweet pickles or bread and butter pickles and you can use pickle relish or diced whole pickles depending on what you have in the fridge and what you like.
You can use either green onions or any onion or leave it out if you don't like onions.
You can add a hard-boiled egg cut in quarters.
You can add a dash of hot sauce or a few flakes of red pepper if you want to turn up the heat.
Ham is one of the most versatile meats, and we love to eat it in many different ways! Here are some of our most popular recipes with ham. Half-Fast Ham and Bean Soup, Skillet Scalloped Potatoes and Ham, Split Pea Soup With Ham. What is your favorite way to eat ham?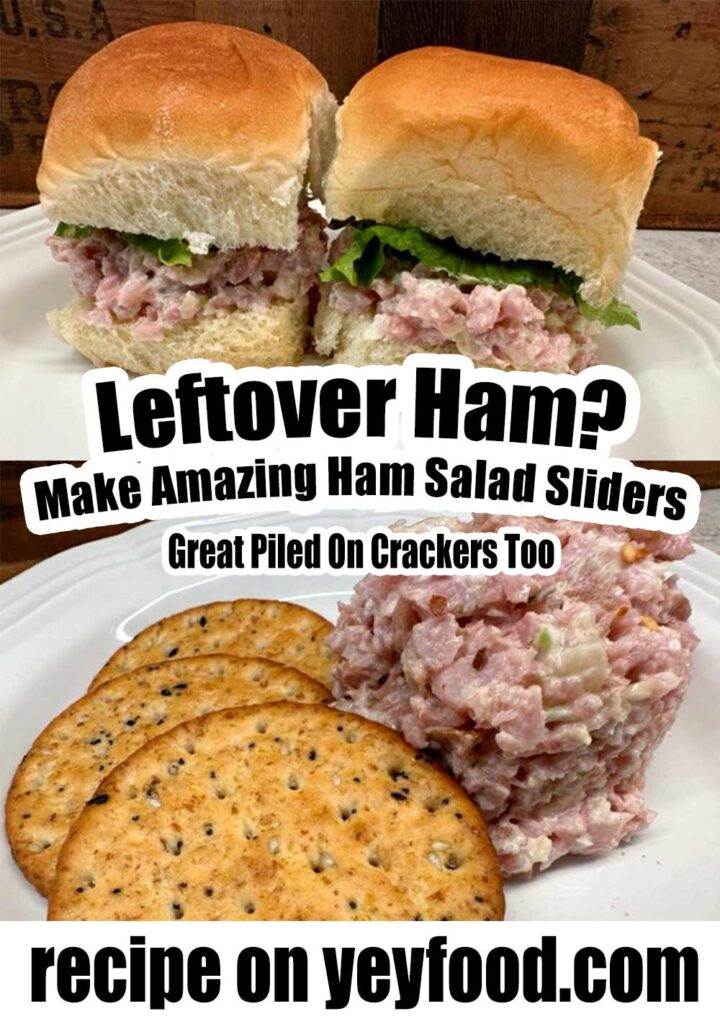 MORE OF OUR QUICK AND EASY FAMILY-STYLE RECIPES: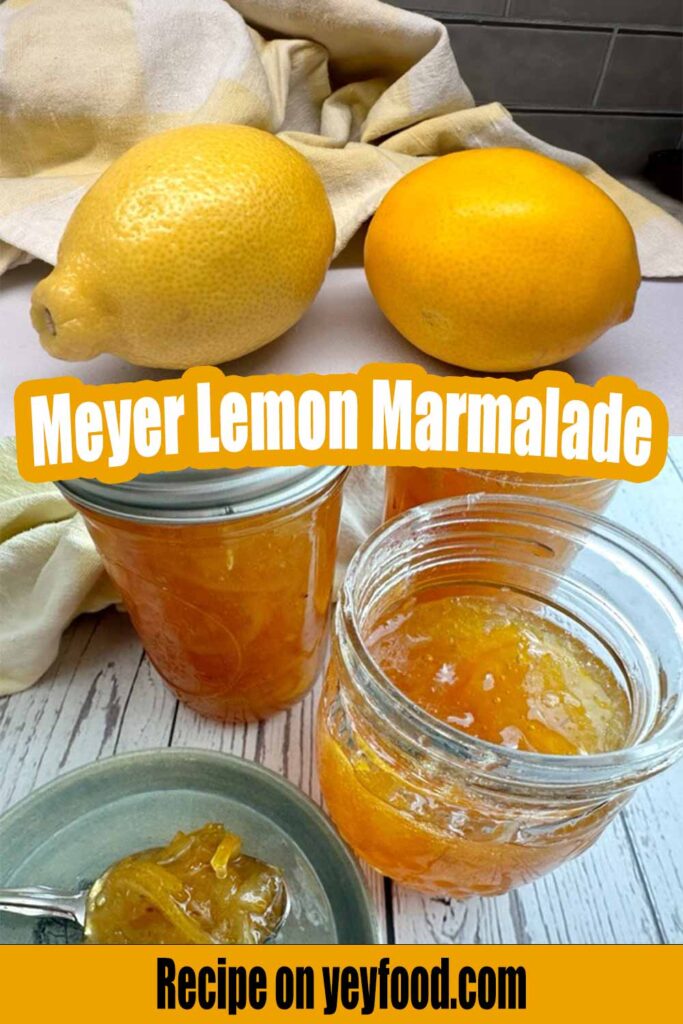 Oven-Baked Steak With Brown Gravy
If you like these recipes, you are our people! You can check some related articles below or search via categories on the right. But be warned; you will be on here for hours. Enjoy!