Make Them In Your Microwave So Simple With Just 5 Ingredients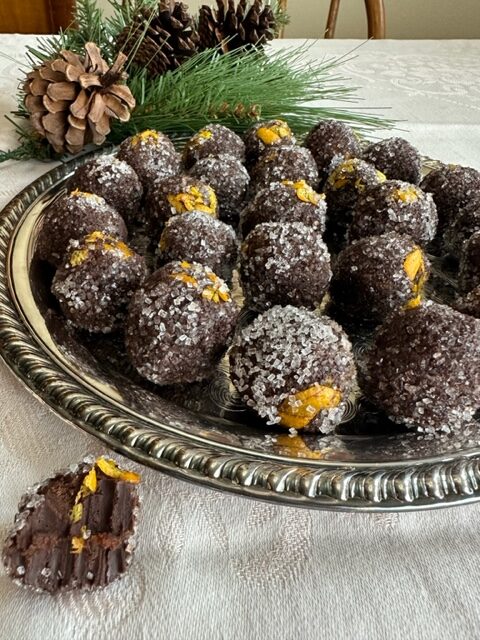 I was delighted to find this simple recipe for chocolate orange truffles! It's a favorite! Every year I can count on a chocolate orange in my Christmas stocking, the kind that you smack to break into sections. I would be so disappointed if Santa ever forgot.
When chocolate and orange flavors get together, it makes a delightful combination. The richness of dark chocolate pairs perfectly with the sweet, zesty taste of an orange. Perfection! It's a match made in heaven.
The great thing about these indulgent truffles is that they only take a few ingredients. The other great thing is you don't need to know a thing about making candy, and you do not need any special equipment. All it takes is a microwave oven, a microwave-safe bowl, and a spoon.
Last Christmas, our grandson Nick was on a chocolate ganache kick, and everyone was dipping strawberries and devouring them as fast as they could make them. Shortly before the holidays, I had discovered how simple it is to make ganache with heavy cream and chocolate chips.
This chocolate orange truffles recipe kicks it up a notch with a more sophisticated flavor combination and a texture that lends itself to creating delightful bite-size treats with grownup flair.
Stir Up These Delightful Chocolate Orange Truffles In Minutes
I'll begin by giving you a quick tip on zesting an orange without purchasing a zester. The "zest' of an orange is the very outer part of the orange peel. It packs a punch of flavor.
Right beneath the zest is the spongy white part of the skin that is called the pith. It is harmless, but it tastes bitter, and you don't want any of it in your truffles!
You can use an ordinary vegetable peeler to easily remove the thin outer layer of the orange. Before you begin, wash the orange under running and use a vegetable brush to remove any dirt or gunk on the skin. Dry the orange with a soft cloth.
Use the vegetable peeler to remove the thinnest possible layer of zest. If there is more than a little pitch remaining, you can use a knife to scrape it off.
Now use your knife to chop the zest as coarse or fine as you want it to be. One orange provides all the zest needed for the truffles and the garnish, and it smells heavenly while working in it!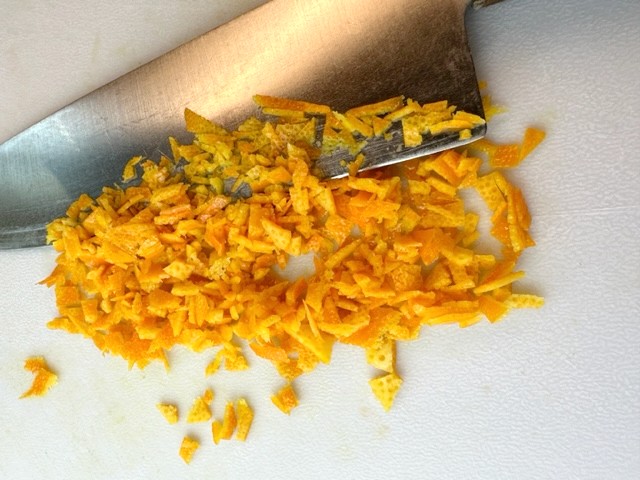 Don't you love recipes with a short list of ingredients? Here is everything you need to make chocolate orange truffles: heavy cream, dark chocolate chips, orange extract, and orange zest.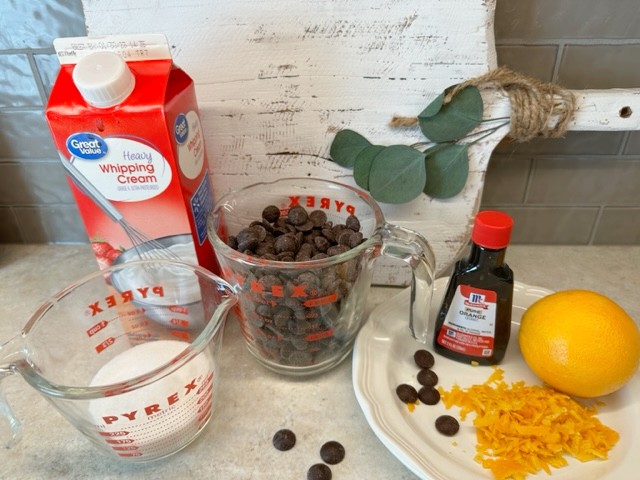 Begin by pouring the cream into a microwave-safe bowl or cup. Heat the cream in the microwave for one minute, then whisk in the orange zest and extract. I love my Pampered Chef batter bowls for jobs like this because they have a handle I can grab while I give everything a good stir.
Add the dark chocolate chips to the cream and stir until the chocolate is completely melted. Stir vigorously until it is a beautifully shiny, smooth texture. You can return the bowl to the microwave and heat it in fifteen-second bursts if needed. You may need to do this a couple of times but be careful to heat it just enough to melt and not burn the chocolate.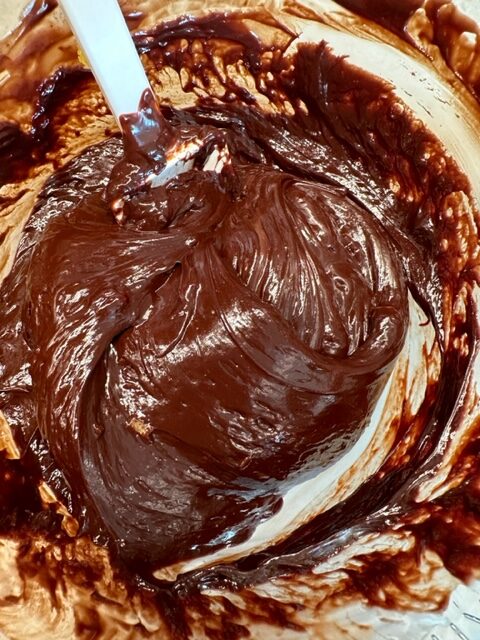 Now let it cool for at least thirty to thirty-five minutes in the refrigerator or until you can scoop up a spoonful and roll it into a ball. I had to chill mine a little longer than that.
This recipe made twenty-four one-inch balls of yum. I do not own a one-tablespoon cookie scoop, so I used a teaspoon from the silverware drawer and got along okay, but I hope Santa puts a scoop that size in my stocking along with the chocolate orange. Hint, hint. 😉
Yield: 24 truffles
Chocolate Orange Truffles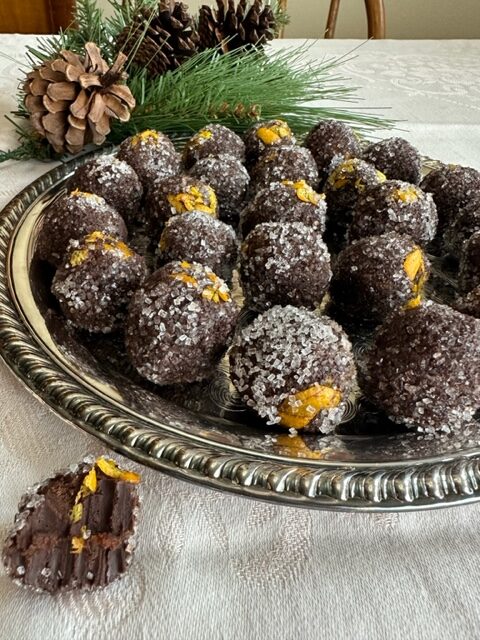 Here's an easy microwave recipe for indulgent chocolate orange truffles using just five ingredients!
Ingredients
2/3 cup plus 2 tbsp heavy cream
1 Tbsp orange zest, plus more for garnish
1 1/2 tsp pure orange extract
2 cups, one 12-ounce bag dark chocolate chips. I used Ghiradelli bittersweet chips
Sugar for rolling the truffles
Instructions
Prepare the orange zest. One orange will yield enough for truffles and garnish.
Heat the cream in the microwave for one minute in a microwave-safe bowl.
Add orange zest and orange extract and whisk.
Add chocolate chips and stir until chips are smoothly melted.
You may need to put the bowl back in the microwave and cook in 15-second bursts until you can stir the melted chips into a smooth, creamy mixture.
Chill for 30-40 minutes until you can handle the chocolate and roll it into balls.
Roll into one-inch balls, roll in sugar, and zest for garnish if desired.
Keep refrigerated until you serve them.
I set up a little assembly line when I shaped the truffles. I used a small plate for zest and one for sugar. As I rolled each truffle, I dipped it into the zest for a little garnish, then in sugar for the finish.
I am obsessed with the sparkle and crunch of sanding sugar, so that is what I used. As I finished each little chocolate orange truffle nugget, I lined them up soldier-like on a parchment-covered baking sheet and set them in the refrigerator to cool.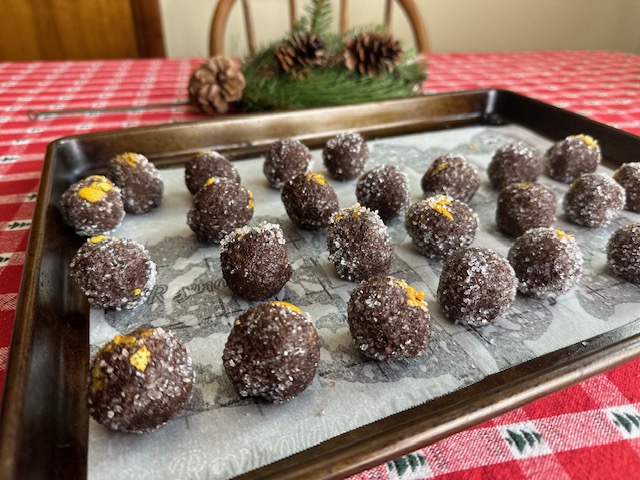 I got out a pretty little vintage silver serving tray and arranged my chocolate orange truffles until I serve them at my annual cookie exchange that's coming up. It will be very hard to stay out of these until my party, so I covered them extra tightly with two layers of plastic film until I unveil them.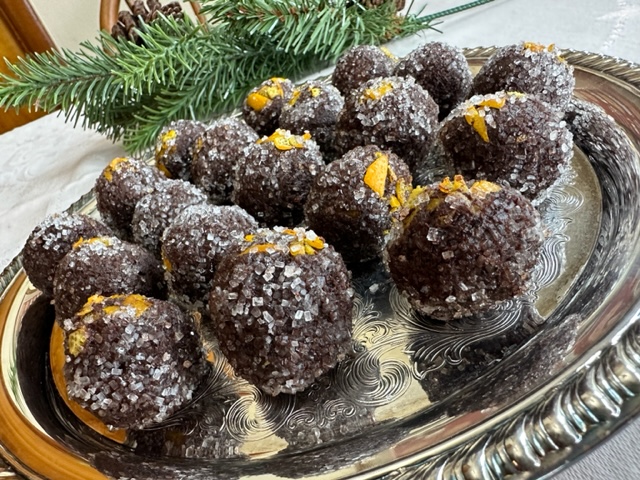 Candy makes such good gifts for those "hard-to-buy-for" people on your list! It isn't hard to make candy when you have easy recipes like this chocolate orange truffles recipe! Here are some of our most popular candy recipes; Chocolate Peanut Butter Balls, Chocolate Coconut Balls, Peanut Brittle, and Fantasy Fudge.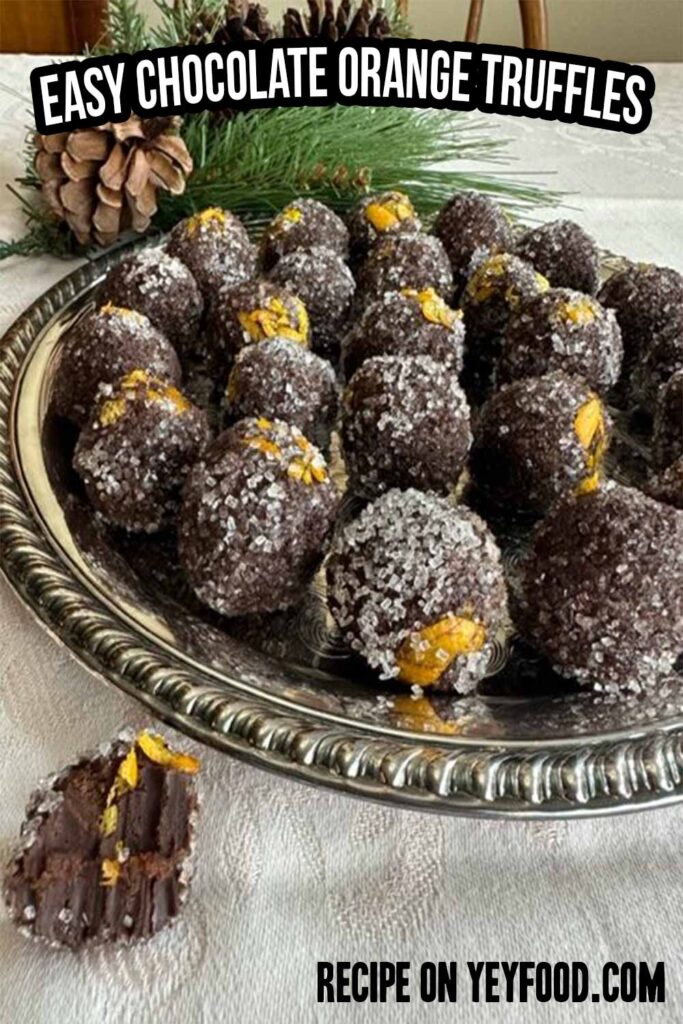 MORE OF OUR QUICK AND EASY FAMILY-STYLE RECIPES: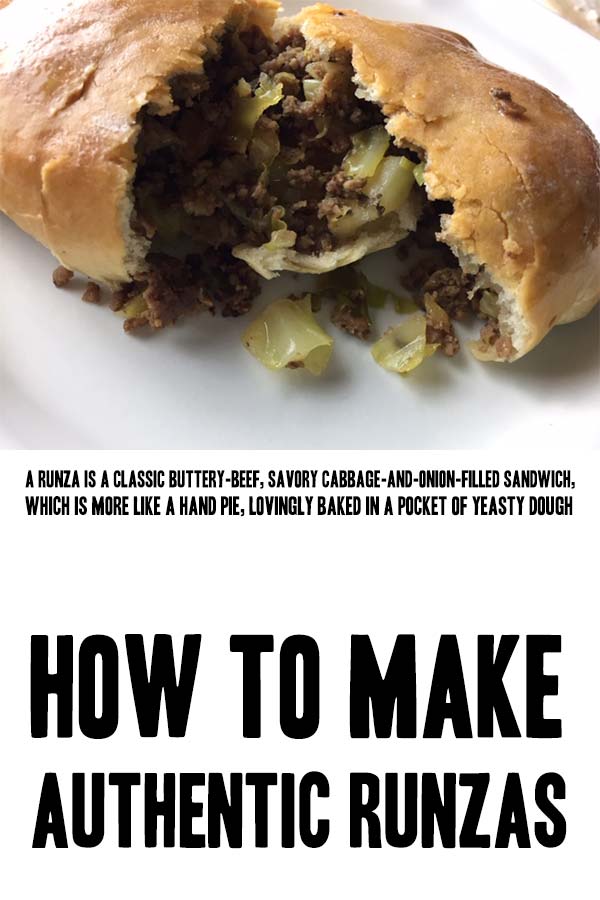 The Ultimate Bread and Butter Pickle Recipe
The Number 1 Practically Perfect Poppy Seed Bread
How To Make Authentic Runzas Right In Your Very Own Kitchen
If you like these recipes, you are our people! You can check some related articles below or search via categories on the right. But, be warned; you will be on here for hours. Enjoy!