A Peanut Brittle Recipe That Delivers Buttery Perfection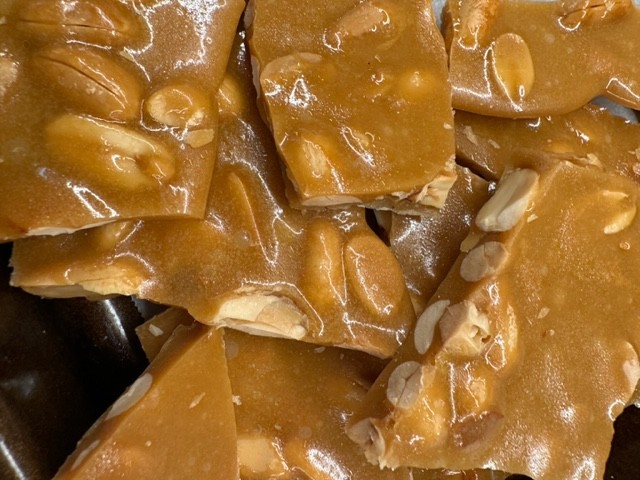 Peanut brittle is adored by people of all ages. The buttery, sweet-salty peanutty crunch is simply irresistible. America's beloved candy has quite an intriguing history. The legend is that peanut brittle was born in the South like so many good things to eat, but it resulted from a happy accident in a kitchen long ago!
There are many stories about how peanut brittle came to be, but one is more believable than the others. Supposedly a Southern belle set out to make a batch of taffy and grabbed baking soda instead of cream of tartar by mistake.
Instead of a stretchy, chewy batch of taffy, she produced a hard but brittle blob of candy. She discovered it was quite tasty, but how she added peanuts to the hard lump leaves us guessing. It makes a good story, though!
Baking soda is the ingredient that gives peanut brittle its light, airy texture and allows it to break easily into serving pieces. Please don't skip it! When baking soda is added to the hot syrup, it releases zillions of tiny air bubbles that get trapped in the candy.
All It Takes To Make This Candy Are 6 Simple Ingredients And Patience
No one has ever accused me of being patient about getting things done. But I love peanut brittle so much that I was willing to make it the old-fashioned way on the stovetop, and I am happy that I did.
Peanut brittle is a simple old-fashioned candy that Americans have enjoyed for over a century. It is a classic holiday candy, but it tastes great any time of the year! It is gluten-free and relatively inexpensive to make! All you need to make a batch of peanut brittle are sugar, corn syrup, butter, vanilla, baking soda, a pinch of salt, and peanuts!
What saved me from stripping my gears when I realized how long it would take to make peanut brittle is that you only need to stir the mixture occasionally. This relative freedom allowed me to keep an eye on it while I bustled around the kitchen, tidying up.
I even stepped into the laundry room and folded three overdue loads of sheets and towels from the dryer while the brittle merrily cooked between stirrings.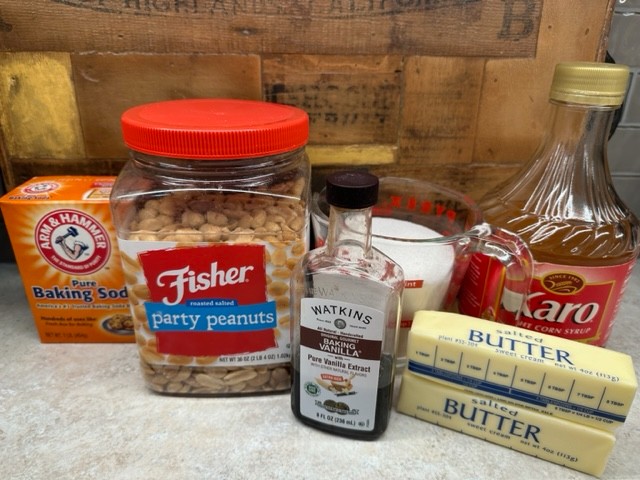 The peanut brittle was fun to make, and I enjoyed watching it change as it cooked. It went from a yellowish-white milky mixture to a golden amber liquid that smelled absolutely amazing, especially after I added the peanuts!
I am so glad I got a candy thermometer instead of relying on a timer or the old-fashioned cold water method of determining the syrup's progress. I'm pleased with the Taylor candy and deep fry thermometer I purchased. It is easy to read and clips right on the side of my saucepan, a great value for just $10.
I could keep a close eye on the temperature easily, and the first batch of peanut brittle I ever made turned out great! Now I need to find someone to "lead me not into temptation" and take it off my hands because it is my favorite Christmas treat!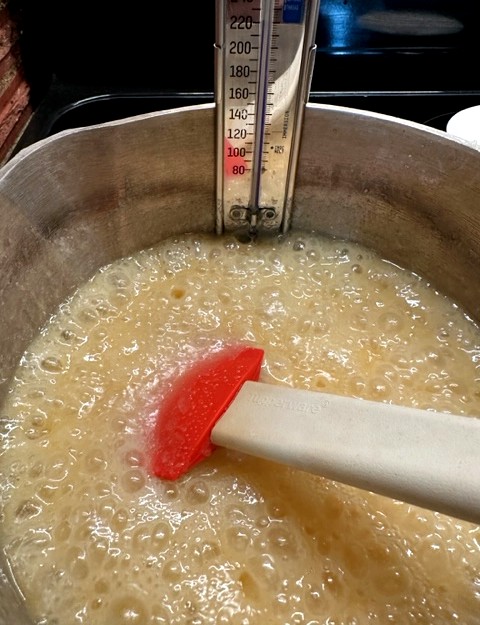 As soon as I stirred in the baking soda, salt, and vanilla, I poured the brittle onto parchment-covered baking sheets. The mixture sets up and hardens quickly, so I had to work fast to spread it to the suggested one-quarter-inch thickness.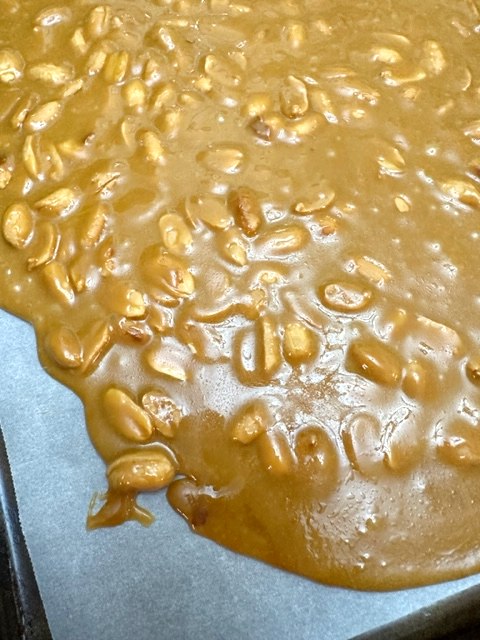 Yield: 16 servings
Homemade Peanut Brittle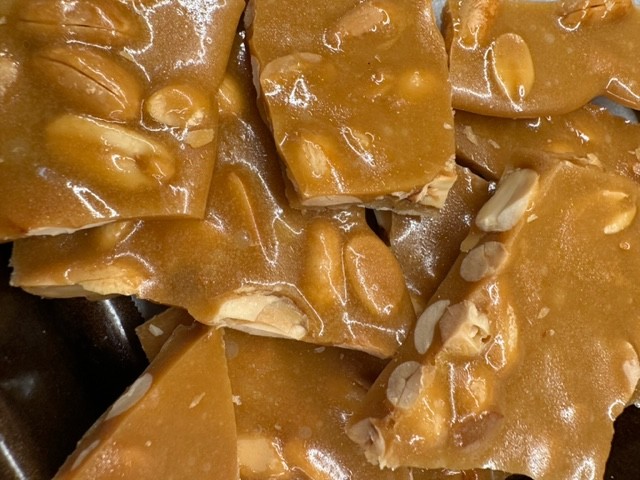 If you like peanut brittle, you will be delighted with how well this recipe turns out! It is buttery, sweet-salty perfection with the perfect light and crisp bite.
Ingredients
2 cups granulated sugar
1 cup white corn syrup
1/2 cup water
1 cup butter
2 cups of salted roasted peanuts
1 tsp baking soda
1 tsp vanilla
pinch of salt
Instructions
Line baking sheets with parchment paper.
Combine sugar, water, and corn syrup in a heavy saucepan.
Cook over medium heat until the mixture boils. Stir occasionally. This can take ten to twelve minutes.
Add the butter and continue cooking. Stir occasionally until the mixture reaches the soft crack stage. This is a temperature between 270 and 290 degrees on a candy thermometer. This step can take fifteen to twenty-five minutes.
Add the peanuts and continue cooking until the mixture reaches the hard crack stage or between 300 and 310 degrees. It can take ten to twelve minutes to reach this temperature.
Remove the pan from the heat and stir in the vanilla, salt, and baking soda.
Pour onto parchment-covered sheets and immediately spread to 1/4" thickness. The mixture cools and hardens very quickly!
Allow the candy to cool completely, then break it into pieces.
Store at room temperature in an air-tight container after the candy is completely cool.
Notes
I highly recommend using a candy thermometer to monitor the temperature of the candy as it cooks. Depending on whether you have a gas stove or an electric one, there could be a difference in how long each step takes to cook. Your saucepan can make a difference, too.
We love candy! All kinds of candy! Here are some of our favorite easy-to-make candy recipes! Homemade Chocolate Peanut Butter Balls, Pumpkin Cheesecake Bites, Chocolate Coconut Balls. Do you make candy at Christmas time? What's your favorite?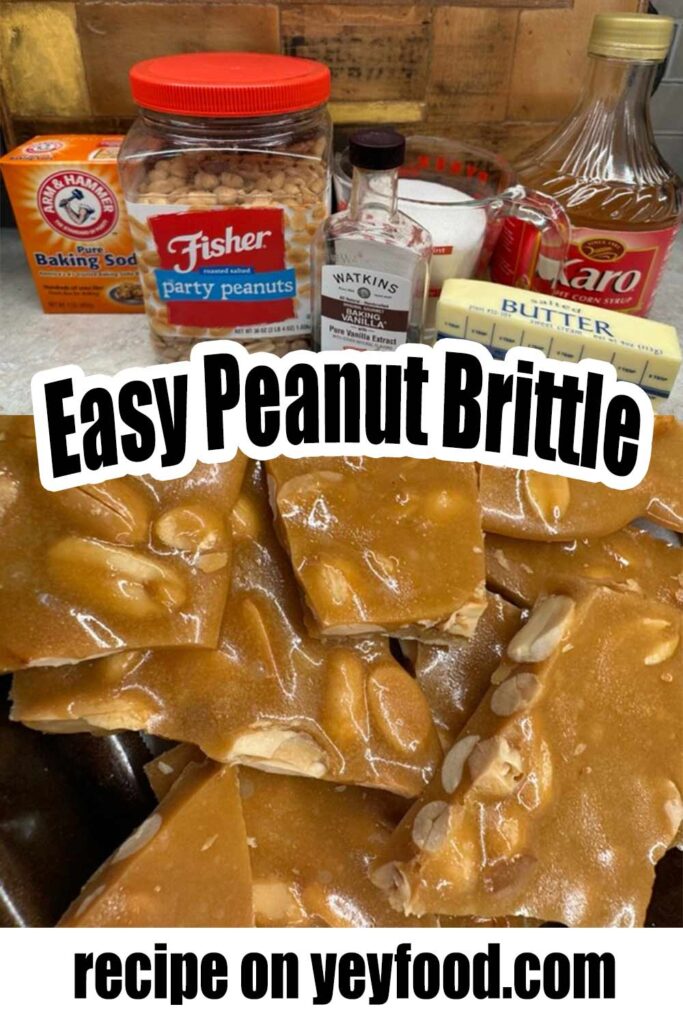 MORE OF OUR QUICK AND EASY FAMILY-STYLE RECIPES: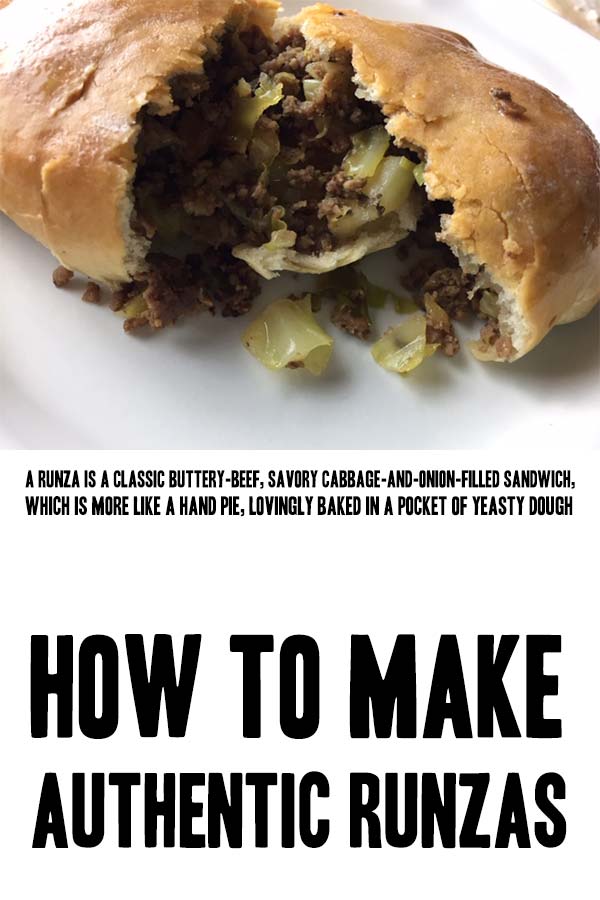 The Number 1 Practically Perfect Poppy Seed Bread
If you like these recipes, you are our people! You can check some related articles below or search via categories on the right. But be warned; you will be on here for hours. Enjoy!