A Simply Beautiful And Beautifully Simple Classic Jelly Roll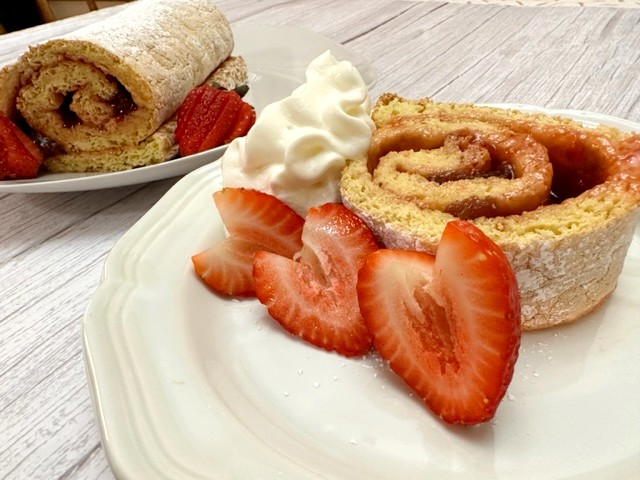 I started baking when I was a little kid. My dad loved a good jelly roll, and my mom was always a really good sport about letting me in the kitchen. Once in a while, we'd bake a jelly roll for dad, and I was so proud when he bragged about how wonderful it tasted.
A jelly roll begins with a tender, airy sponge cake. This is a pretty light dessert compared to many, but it is just delightful! In this recipe, the sponge cake has no added butter or oil, and there is not a lot of sugar in the cake itself.
I made two batches of strawberry-rhubarb jam Saturday morning. Our college-age granddaughter was hungry for jam, so of course, I hustled up to make some for her!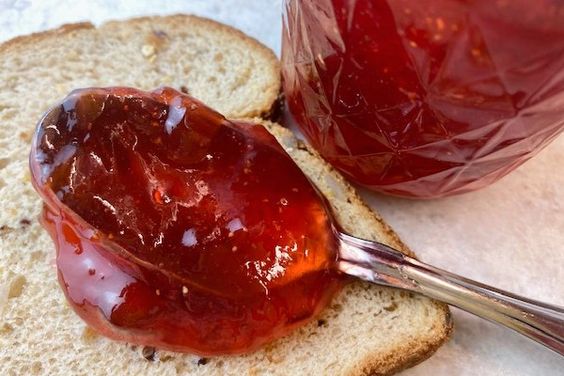 Jam made me think of my mom (she taught me how to make it,) which made me think of my dad and how we'd put the jam inside the jelly roll we were making for him!
In fact, jam is so much better inside a "jelly roll" than jelly because of the yummy bits of fruit in it. Jelly can almost disappear into the cake, while jam does not!
How To Make A Beautiful Jelly Roll Cake
I found a recipe very similar to what I remember Mom and I made. I began going through each step just the way she taught me—the recipe started by separating the eggs and whipping the whites until they formed stiff peaks.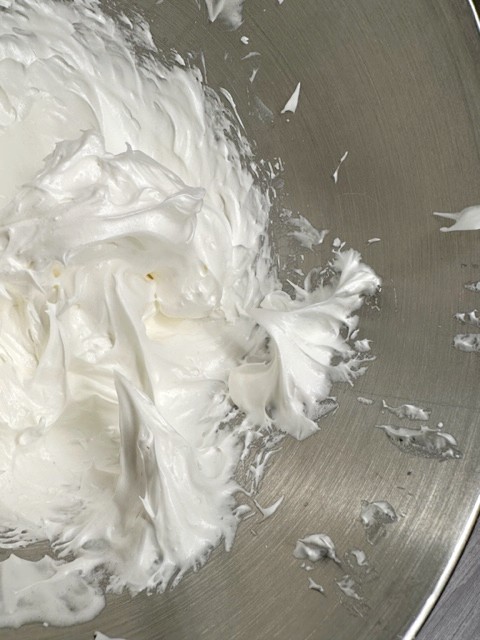 In a separate bowl, I beat the egg yolks until they were thick and lemon-colored and gradually added the sugar and vanilla. Then I carefully folded the egg yolk and sugar mixture into the egg whites.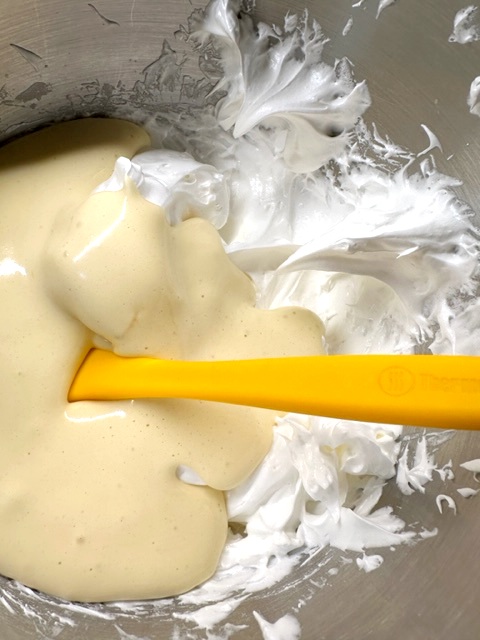 Next, I sifted together the flour, baking powder, and salt.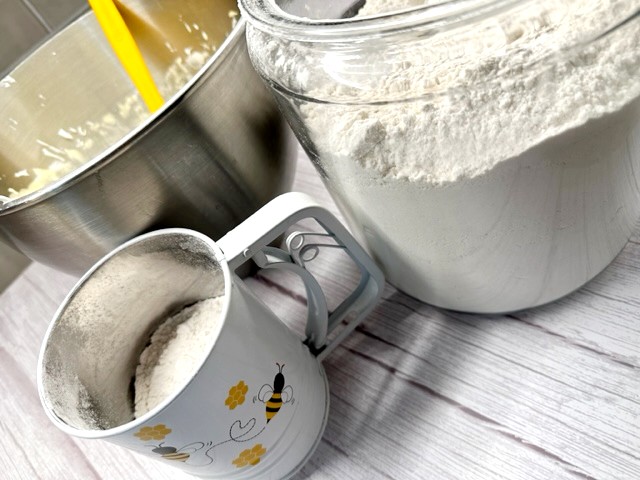 I sifted the flour mixture on top of the egg mixture and gently folded it all together.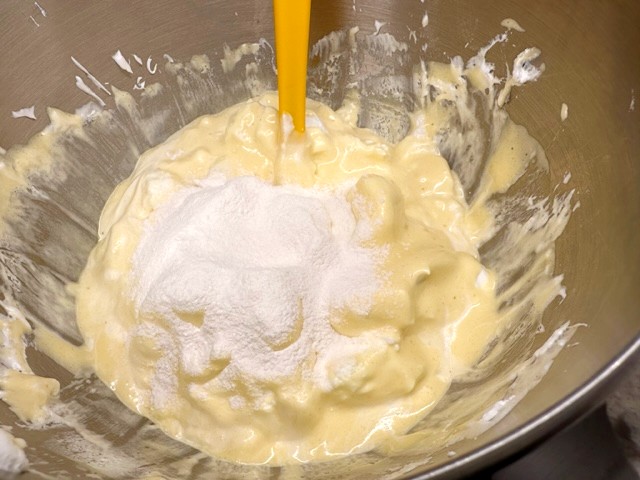 Finally, I poured the batter into a jelly roll pan I had sprayed and lined with wax paper, just the way mom taught me. (You can certainly use parchment paper here!) I spread the batter to the edges of the pan as evenly as possible and popped it into a 400-degree oven.
While it was baking, I spread a clean dishtowel on the counter and sifted powdered sugar generously all over it. After about twelve minutes, the cake was golden brown and springy to the touch. Be careful not to overbake; the cake may crack when you roll it up.
While it was still hot from the oven, I flipped the cake onto the towel and lifted the pan off. I peeled off the wax paper and rolled the warm cake inside the towel, starting at the short end.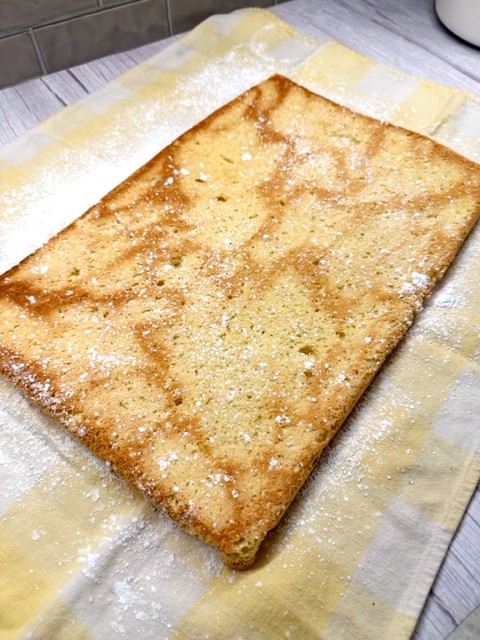 Then, I let the cake cool while it was snugly wrapped in the dishtowel. You can even slip the cake, dishtowel, and all into a plastic bag to retain moisture.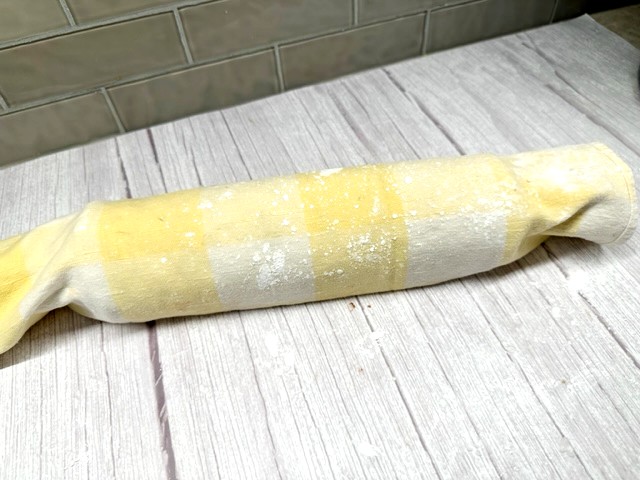 When the cake was cool, I unrolled it and spread it with an eight-ounce jar of homemade jam. You can use grocery store jam, of course. We usually used strawberry preserves when we made them for my dad. It takes about a cup of jam. You can also use lemon curd if you like. Yum!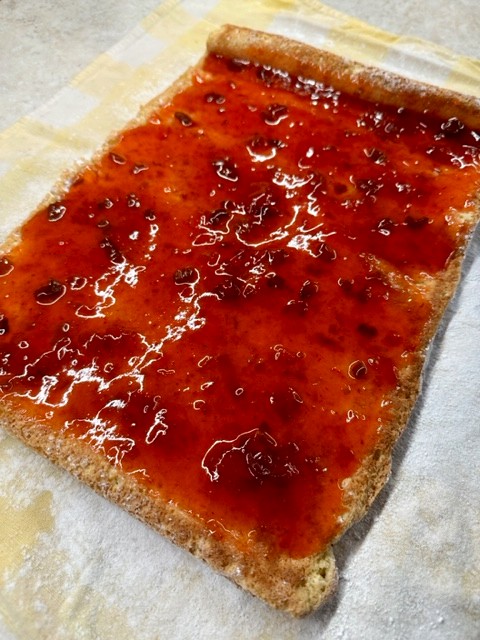 I rolled the cake back up, set it on a serving plate with the seam side down, and dusted it with more powdered sugar.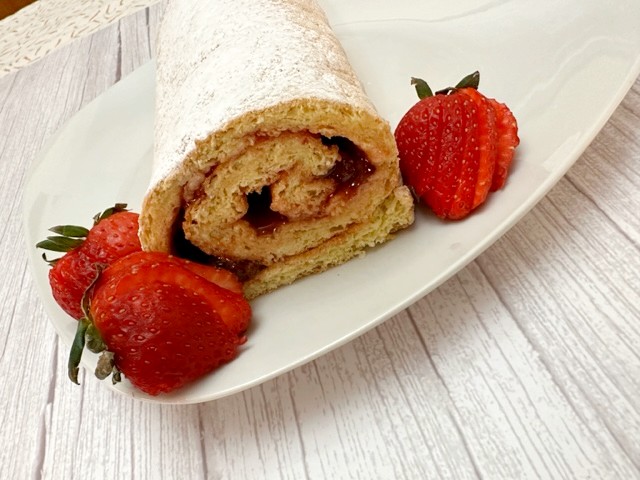 When it was time to serve it, I used a serrated knife to cut slices about one inch thick. I added a nice dollop of whipped cream from a can and garnished it with strawberries. If you think the heart-shaped strawberries are fun, here's the post where I share how to do it!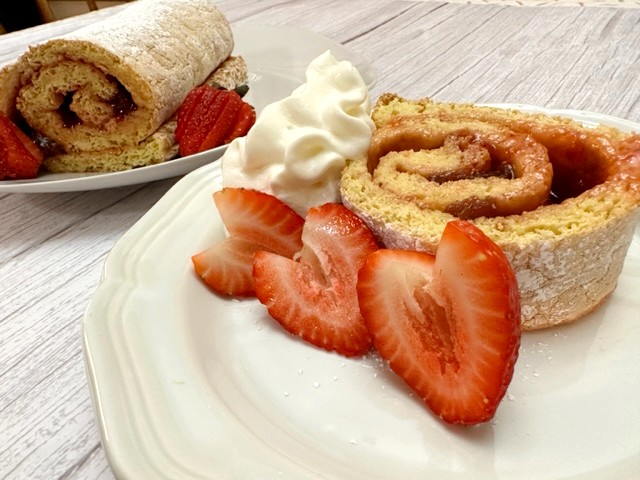 It was every bit as good as I remembered! Cover the leftover jelly roll with plastic film and store it on the counter. This dessert tastes even better the next day when the jam and the cake get to know each other, and the cake gets even more tender!
Yield: 10 slices
Jelly Roll Cake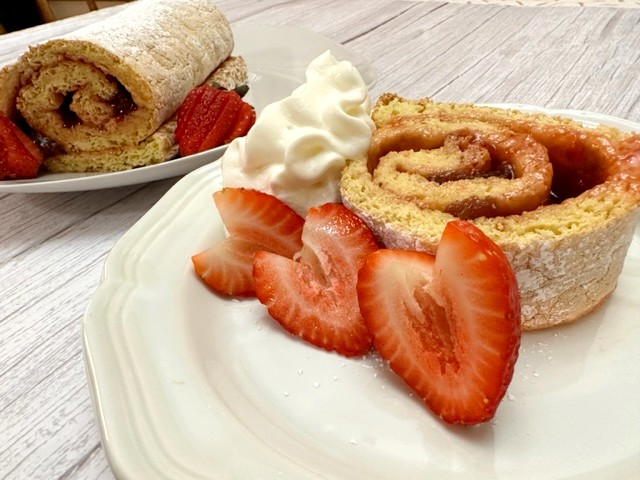 A lovely sponge cake with jam or curd inside, dusted with powdered sugar. This is a classic dessert that has been enjoyed for over two hundred years.
Ingredients
3/4 cup all-purpose flour
3/4 teaspoon baking powder
1/4 teaspoon salt
4 large eggs, at room temperature, separated
3/4 cup granulated sugar
1 teaspoon vanilla
One cup of jam, preserves, or curd
Instructions
Preheat the oven to 400°F and line the bottom of a 10" x 15" jelly roll pan with parchment or wax paper.
Beat the egg whites until stiff peaks form and set aside.
Beat egg yolks and the vanilla until thick and lemon-colored.
Gradually add sugar to the egg yolks and beat until well combined.
Fold beaten egg yolks into the egg whites.
Combine salt, flour, and baking powder in a sifter, sift into the egg/sugar mixture and fold in gently.
Put the batter into the prepared jelly roll pan and spread it gently to the edges of the pan as evenly as possible.
Bake the cake for about twelve minutes or until light golden brown. Don't overbake.
While the cake bakes, sift powdered sugar generously over a clean dishtowel.
Remove the cake from the oven and invert the pan over the dishtowel, allowing the cake to lie face down on the towel.
Peel off the wax paper or parchment paper.
Beginning at the short end, roll the cake up in the towel. Set aside the wrapped cake roll to cool.
Unroll the cake and spread with about a cup of jam, preserves, or curd, and roll it up again.
Place cake seam side down on a serving platter and dust with more powdered sugar.
Let the finished cake rest for about thirty minutes to an hour before serving.
Cut into one-inch slices to serve.
Store the well-wrapped cake at room temperature. This cake is even better the next day.
A jelly roll always gets me in the mood for spring and fresh strawberries, but it would make a perfect dessert for Valentine's Day, too! Here are some other special desserts that would be fun to make for Valentine's Day! Tiramisu, Frozen Peanut Buster Dessert, Cool Creamy Rhubarb Swirl, Crazy Good Cream Puff Dessert.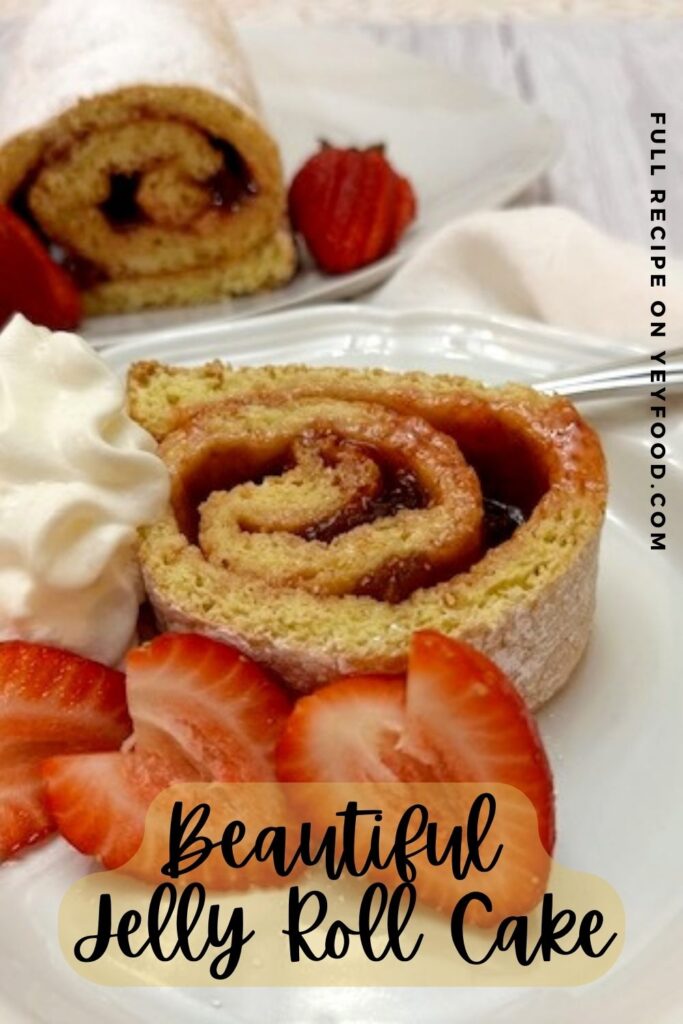 More delicious family-friendly recipes from us: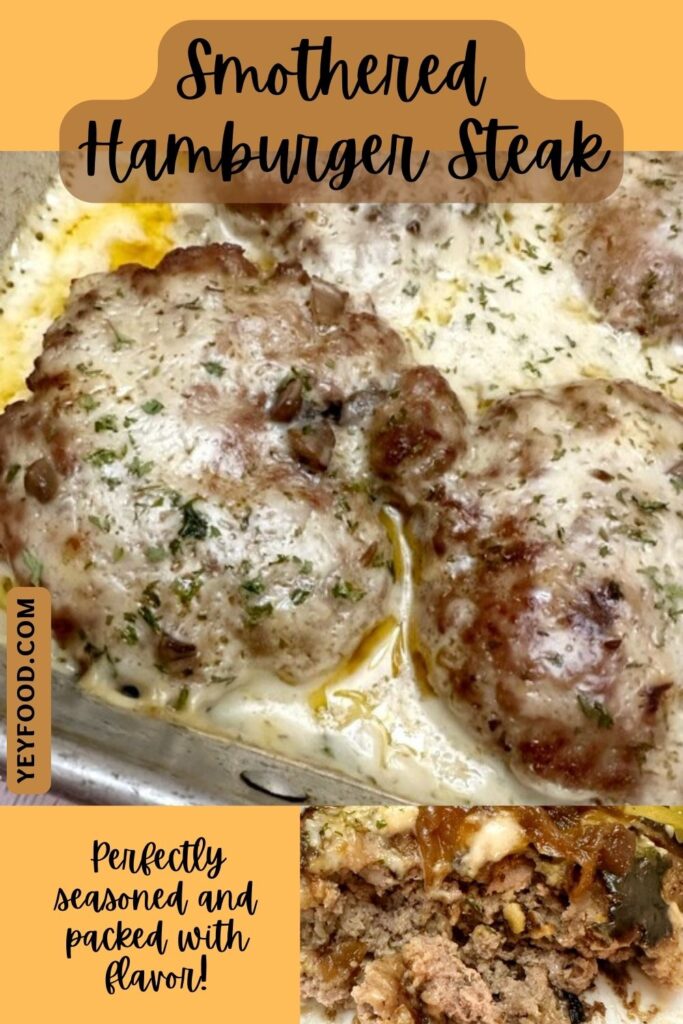 Easy 1 Pan Classic American Goulash
German Sauerkraut Casserole With Bacon And Brown Sugar
If you like these recipes, you are our people! You can check some related articles below or search via categories on the right. But be warned; you will be on here for hours. Enjoy!