A Fun New Twist Combines Two Old Favorites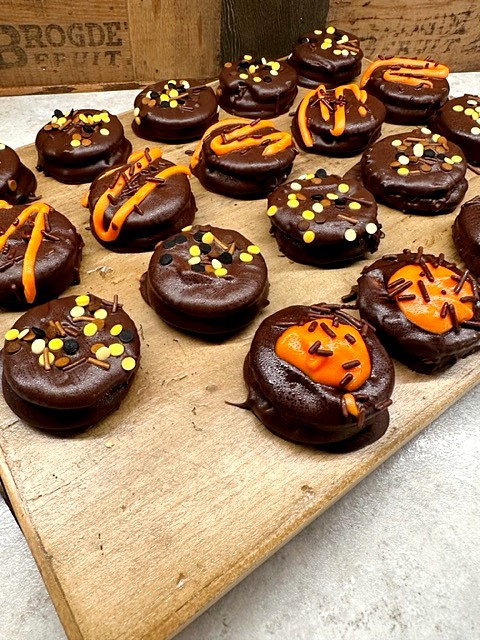 At our house, if everyone could choose just one cookie for Christmas, it would be a huge plate of chocolate covered Ritz peanut butter crackers. This easy no-bake tidbit covers it all; sweet, salty, crunchy, and chocolatey. For us, peanut butter and chocolate are the holy grail of Christmas deliciousness.
I did not want to wait another four months to enjoy this amazing treat. So I began to develop a plot twist.
Peanut butter and chocolate are one of the most well-loved flavor combinations of them all. A cookie or treat containing chocolate and peanut butter is at the top of the favorites list for almost everyone. It's a fantastic combination; who can deny it? Do you ever wonder why?
Our busy little tastebuds love it when we eat foods with contrasting flavors and textures. These yummy chocolate covered Ritz cookies make our tastebuds sing and dance with that classic sweet/salty, crisp, and crunchy combination and the added creaminess of the thick coating of chocolate!
What The Heck Is Fluffernutter
I've always been curious about fluffernutter, so I thought I'd try it! What if these fantastic chocolate dipped Ritz cookies got a new twist and look?
In a (pea)nutshell, fluffernutter happens when peanut butter is combined with marshmallow cream, and fluffernutter goes back a long time. I can't resist giving you a short history lesson about the origin of fluffernutter.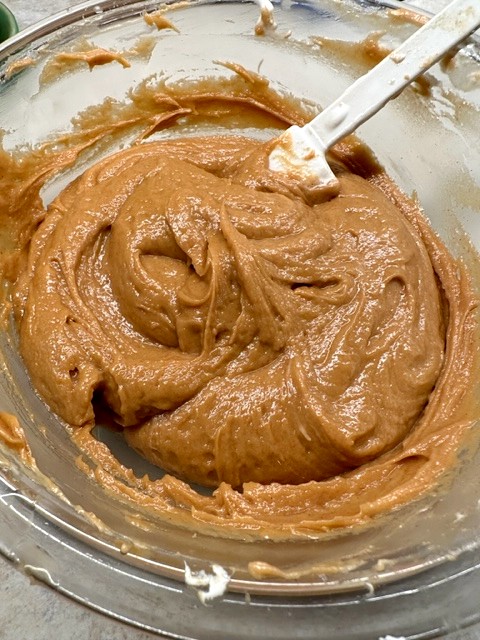 We have to start with peanut butter. Peanut butter was invented by a man named John Harvey Kellogg in 1895. It was developed for older people who needed protein but couldn't chew meat.
Somehow I'm glad I didn't know that the first 10,000 times I ate peanut butter. Peanut butter made its very first appearance publicly sold in 1904 at the St. Louis World Fair.
The first commercial marshmallow spread arrived on the scene much later. It was called Snowflake Marshmallow Creme and was created by siblings Amory and Emma Curtis, the great-great-great-grandchildren of American revolutionary Paul Revere, around 1913.
But when entrepreneur Archibald Query created his unique brand, Marshmallow Fluff, and sold it door-to-door in about 1917, the sweet sticky product began taking the world by storm.
So when did the two get together? The earliest example of the fluffernutter sandwich was created by Emma Curtis in 1918 during World War I. She is the genius who thought of spreading one slice of bread with marshmallow fluff and another with peanut butter. Voila! The fluffernutter sandwich was born!
And Now Fluffernutter Filled Chocolate Covered Ritz Cookies Are Born
I wanted the fluffernutter filling to be close to the consistency of peanut butter, not too soft to stand up on the cracker. I looked through countless recipes and felt a lot like Goldilocks. Too soft, too sweet, until I came up with my own combination, and I think it's "just right."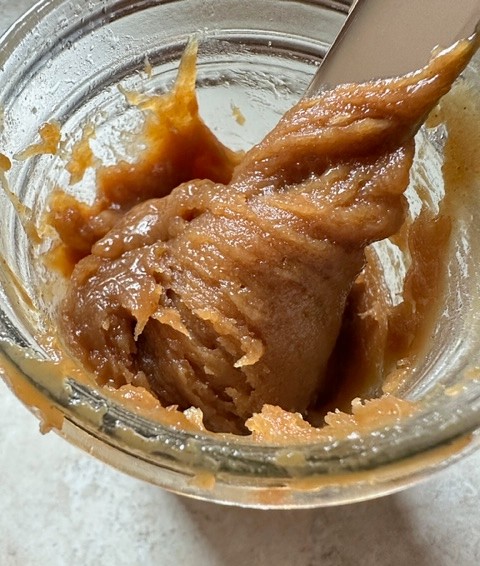 I used a ratio of approximately two to one peanut butter to marshmallow cream with maple syrup and a small amount of maple flavoring. Add peanut butter or marshmallow cream if the consistency doesn't suit you. You may want it softer if you use it for a dip.
It's not too maple-y, just a hint. I made enough to spread on the chocolate covered Ritz and still have a jar for my toast! Not a maple fan? Try using some vanilla!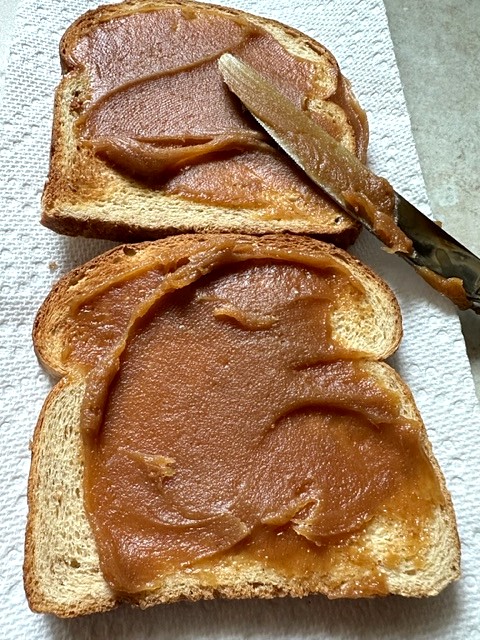 Then began the assembly line! I bought a "party pack" of Ritz crackers. There are eight sleeves inside and about 30 crackers in each stack. I used two sleeves of crackers for this batch. Make as many as you have time to make!
Begin by covering a large, rimmed baking sheet with waxed or parchment paper. If you have trouble laying the paper flat, spritz a little non-stick spray on the baking pan and pat the paper in place. Lay out Ritz crackers with the flat side up in rows.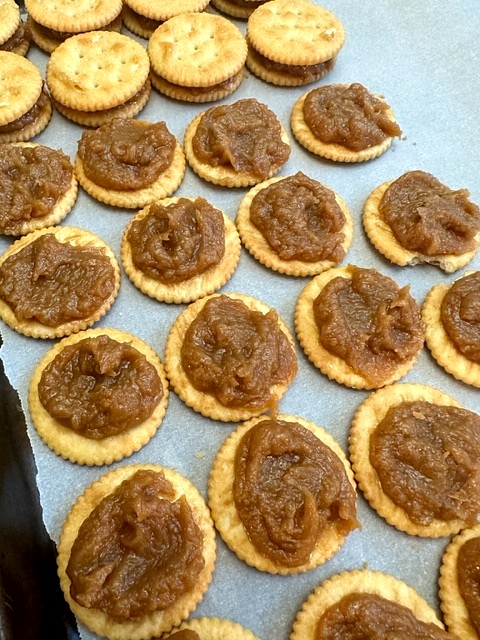 Spread some fluffernutter on each one, but try to keep it from going off the edges as I did on some of them. Put another cracker on top until you have made as many as you want.
For dipping, you can use chocolate chips, candy melts, or almond bark. I found a handy product at Walmart that included a disposable microwavable tray for melting the chocolate almond bark. It worked well, and I just tossed it in the trash when I was done.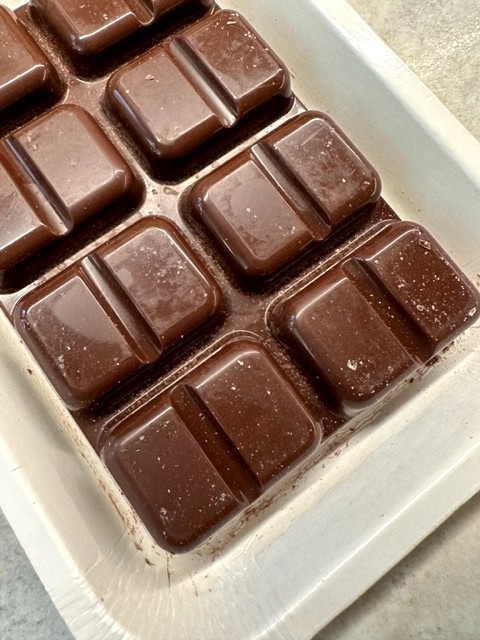 You can also use a double boiler to melt the chocolate and keep it warm while dipping. I do not have a double boiler, so another time, I put an oven-proof glass bowl on top of a saucepan with some water in it. It must be an oven-proof bowl, and the water shouldn't boil but simmer.
There does not need to be enough water in the pot to touch the bottom of the bowl. As the water simmers, it generates enough gentle heat to melt the chocolate. A little shortening will help the chips achieve a perfectly melty consistency if you use chocolate chips.
I used a fork to plop each cookie into the melted chocolate, give it a roll, and set it on my parchment-covered cookie sheet to harden. I'm sure wax paper would work well on your pan, too. As you can clearly see, I am not a pro! 😉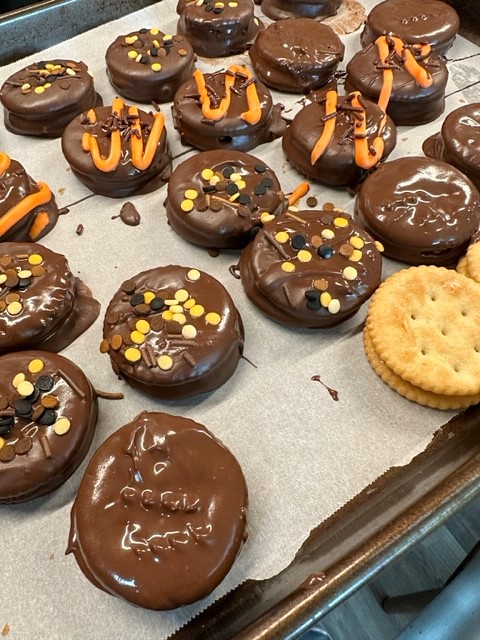 Before the chocolate hardened, I added some autumn sprinkles for a festive touch. You might try sprinkling flaky salt on the cookies to enhance the sweet/salty flavor. I tried to use white almond bark and tint it orange for a little detail.
It just didn't drizzle right. After it didn't work too well, THEN I read the directions. Have you ever done that? White almond bark tints beautifully if you use oil-based food coloring. Don't be Betty! Read directions BEFORE you start. 😏
After I chilled the cookies in the freezer for a couple of hours, my chocolate covered ritz popped right off the parchment, and I packaged them up for my grandaughter's friends directly after I took some fun pictures. It will be 103 degrees here tomorrow, but fall IS coming!!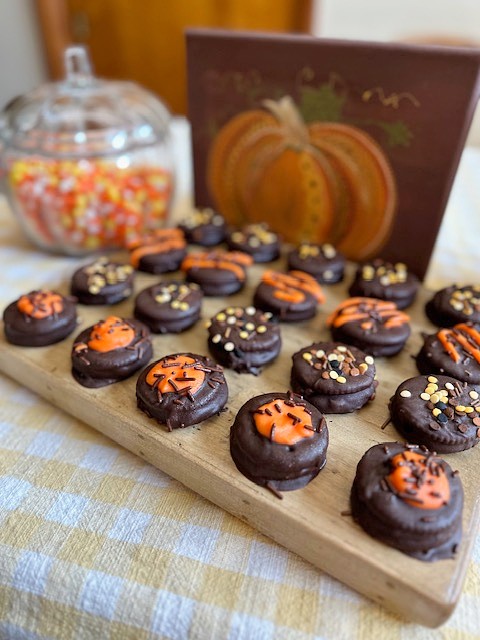 They are so festive and pretty! Chocolate covered Ritz cookies are wonderful for every season, and you can vary them to match any holiday theme, like this Valentine's Day version!
They are so fun, and I love the fluffernutter filling, too! I hope you try making some fluffernutter! It's great on waffles, biscuits, apple wedges, or on a spoon right out of the jar!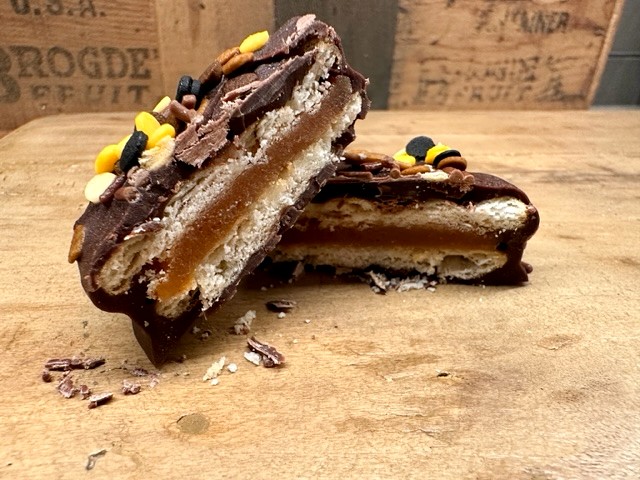 Yield: 40 servings
Flutternutter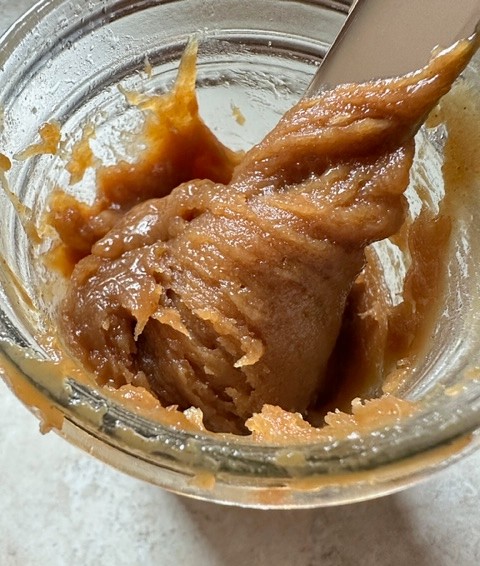 A wonderful creamy spread made of peanut butter and marshmallow cream. Great on apple wedges, toast, biscuits, waffles, or on a spoon right from the jar!
Ingredients
3 cups of creamy peanut butter
1 1/2 cups of marshmallow cream
3 Tbsp maple syrup
1/2 tsp maple flavoring
Instructions
Whisk all the ingredients together until well blended and store in a sealed container. If it is too thick, you can thin it with a small amount of hot water at a time.
Fluffernutter Filled Chocolate Covered Ritz Crackers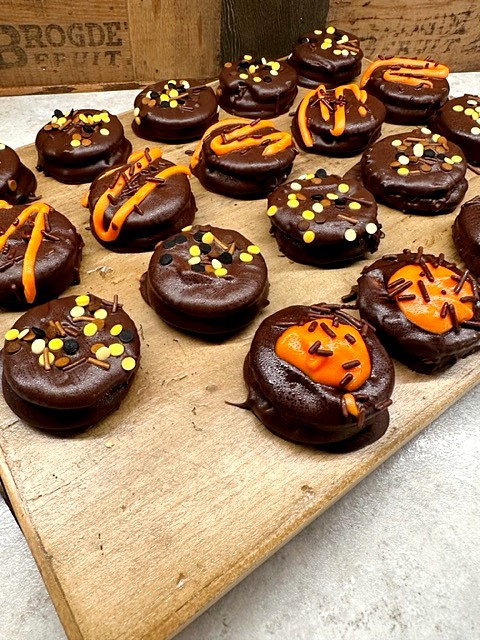 Here is a twist on the classic, ever-popular no-bake treat made with fluffernutter instead of peanut butter inside Ritz crackers, then dipped in chocolate almond bark with optional holiday sprinkles.
Ingredients
72 full size Ritz crackers
About 1 1/2 to 2 cups of fluffernutter *
One pound chocolate almond bark
Holiday sprinkles, optional
Instructions
Use parchment or wax paper to cover a large baking pan with a rim.
Lay 36 Ritz Crackers on the baking sheet with the flat side up.
Spread peanut butter on each cracker with a table knife.
Place another Ritz cracker on top of the peanut butter with the flat side down.
Melt almond bark and use a fork.to dip each cookie in the chocolate to coat. If there are spots not covered, drizzle on a little melted chocolate.
If desired, add holiday sprinkles before the chocolate hardens.
Keep refrigerated or in a cool place. These freeze very well.
Notes
*The fluffernutter recipe is on a separate card.
Nutrition Information:
Yield:
36
Serving Size:
1
Amount Per Serving:
Calories:

178
Total Fat:

11g
Saturated Fat:

3g
Trans Fat:

0g
Unsaturated Fat:

7g
Cholesterol:

0mg
Sodium:

140mg
Carbohydrates:

17g
Fiber:

3g
Sugar:

4g
Protein:

5g
We love peanut butter and chocolate anything! Here are some of our most popular recipes with those two ingredients! No-Bake Chocolate Peanut Butter Bars, Gluten-Free Peanut Butter Blossoms, and No-Bake Frito Bars. Look for more peanut butter recipes in the search bar!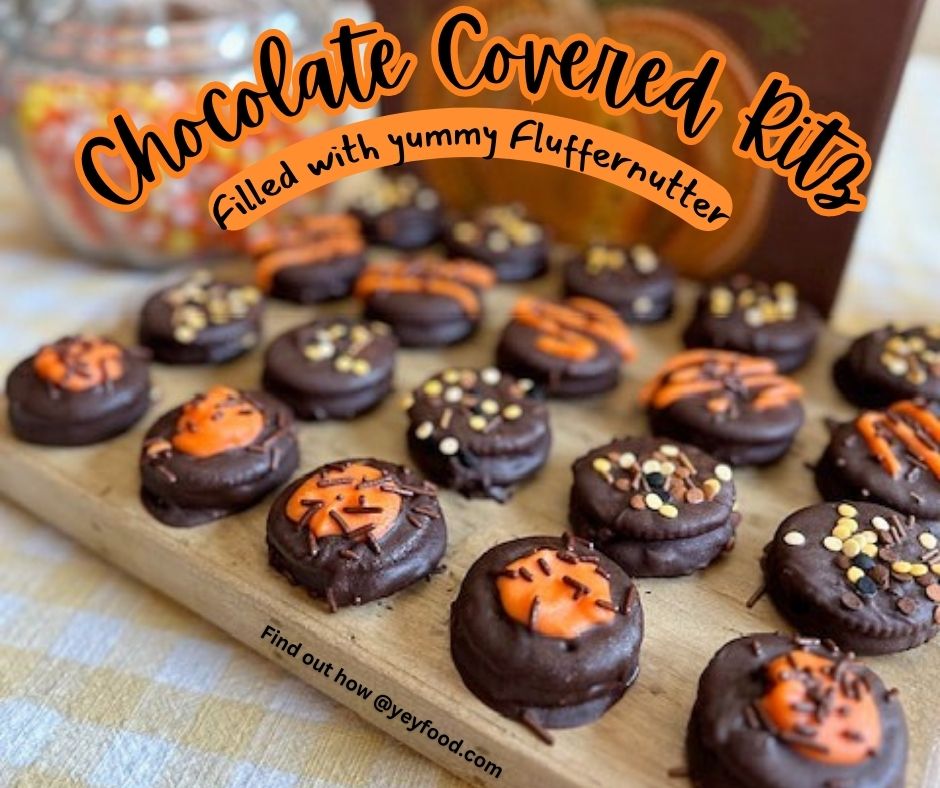 More tasty recipes from us: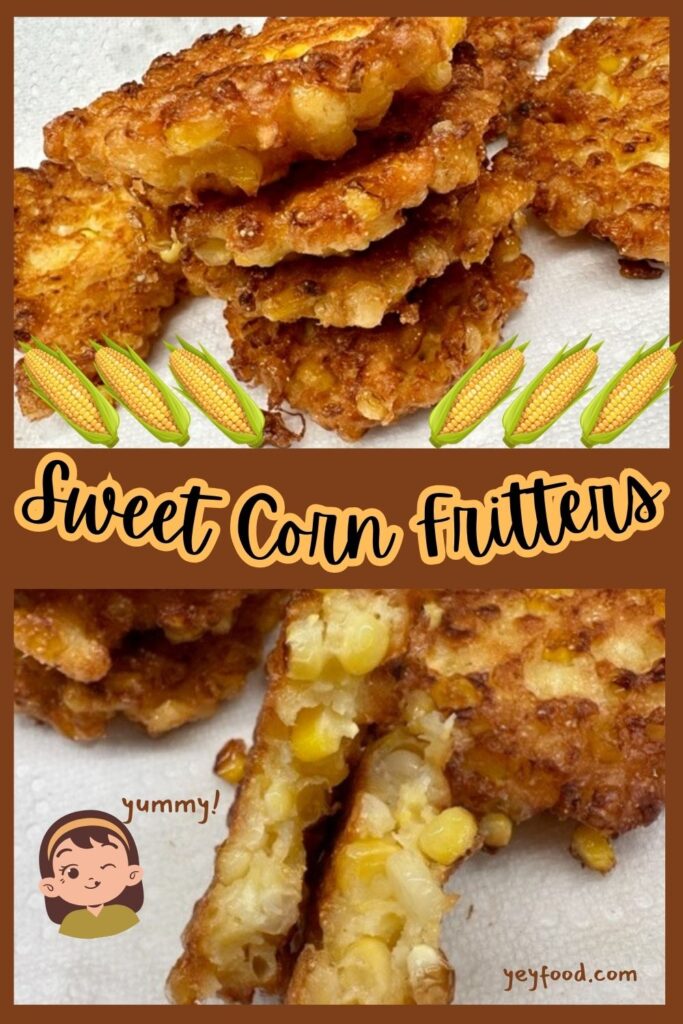 Easy 1 Pan Classic American Goulash
If you like these recipes, you are our people! You can check some related articles below or search via categories on the right. But be warned; you will be on here for hours. Enjoy!