This Recipe Evokes All The Delicious Flavor Of Elote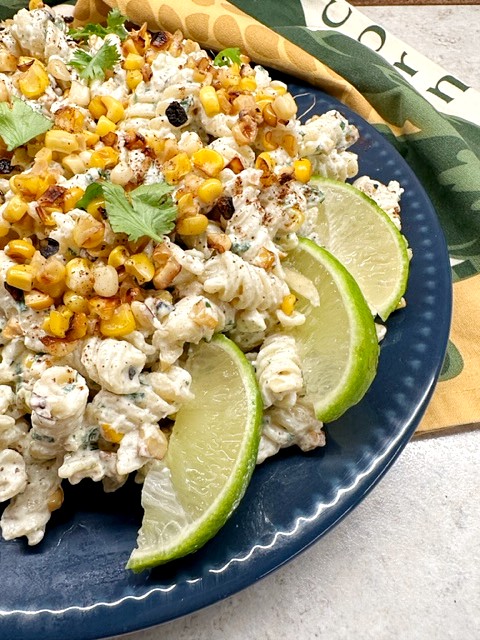 In my experience, my grandkids' response to a new recipe is the best barometer for how well it will go over. This Mexican pasta salad was a massive hit; one even said it was "fire." High praise!!
In Gen Z speak, that means something "really good, amazing, and crazy (in a good way)." I was pretty stoked!
What Exactly Is Elote
Elote (pronounced ay-low-tay) is an irresistibly delicious Mexican street food classic that has overtaken the food world. This amazing spin on corn on the cob captures the essence of summer, a delightful blend of flavors that makes corn a whole new experience.
Sweet corn is at its peak of perfection where we live, and we eat as much of it as we can these days because when it's gone, it's gone until next summer!
Elote is corn on the cob, but not just ordinary corn on the cob. It's corn that's transformed to a new level. Fresh, juicy, succulent corn is charred to a slight smoky crispiness over an open flame or grill, enhancing its natural sweetness and adding a touch of contrasting char.
If that is not enough, the corn is slathered in a luscious mayonnaisey sauce and sprinkled lavishly with crumbled cotija (say it koh-tee-hah) cheese, adding a sharp and salty punch that perfectly complements the corn's sweetness.
But that's not all! A squeeze of zesty fresh lime juice and chili powder adds some zip and gentle heat without overpowering the delicate balance of flavors. It is like a fiesta on your tongue. Messy, but so delicious!
Capture All Elote's Yumminess In This Mexican Pasta Salad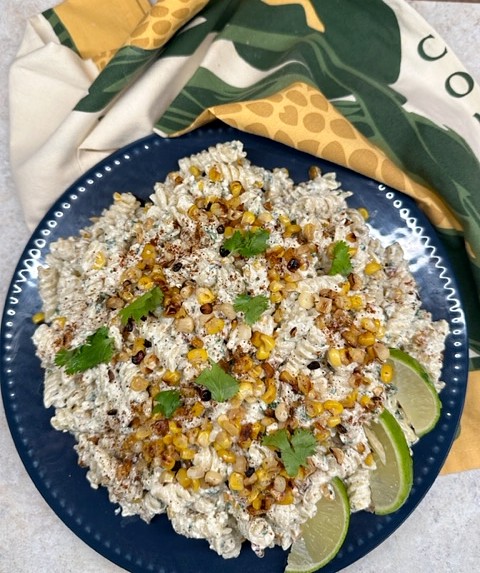 Now, imagine all these enticing flavors artfully woven into a Mexican pasta salad. This recipe is an ode to elote, capturing the essence of this beloved street food and translating it into a mouthwatering pasta masterpiece.
Each bite contains all the elements of smoky, charred corn, the creaminess of the mayonnaise, the zing of lime juice, the gentle heat of chili powder, a dash of cayenne pepper, and the salty tang of the cotija cheese.
The amazing addition of garlic and cilantro brings it all together in this clever Mexican pasta salad recipe. The enticing flavors capture the joyful spirit of outdoor gatherings, fairs, and celebrations. It's a celebration of colorful summertime delight!
The flavors in this delicious Mexican pasta salad transcend borders and bring people together in a celebration of culinary happiness. So, as you prepare your elote-inspired pasta salad, remember that you're not just serving a salad; you're offering an invitation to a flavor-filled adventure!
Here's How You Make Mexican Pasta Salad
Remove the husks and silks from four or five ears of fresh sweet corn. You should have at least two cups; even more is okay. Put the corn in a dry skillet over medium-low heat. Let it cook without stirring until you hear popping sounds and smell the corn. Stir only when the kernels are getting a little char on them.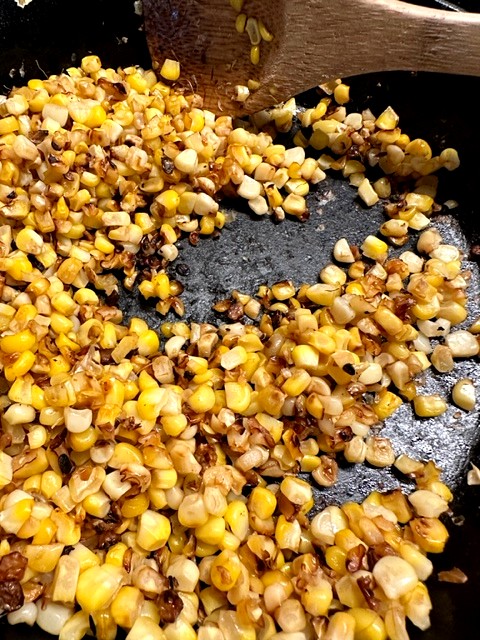 Set the corn aside to cool. This step brings out the sweetness in the corn and adds a little bit of smoky flavor.
Cook a pound of rotini pasta in salted water according to the package directions to al dente. Don't overcook the pasta. Drain it thoroughly and rinse it well with cold water to wash off the excess starch from the pasta; drizzle it with a small amount of olive oil to keep it separated, then set it aside to cool.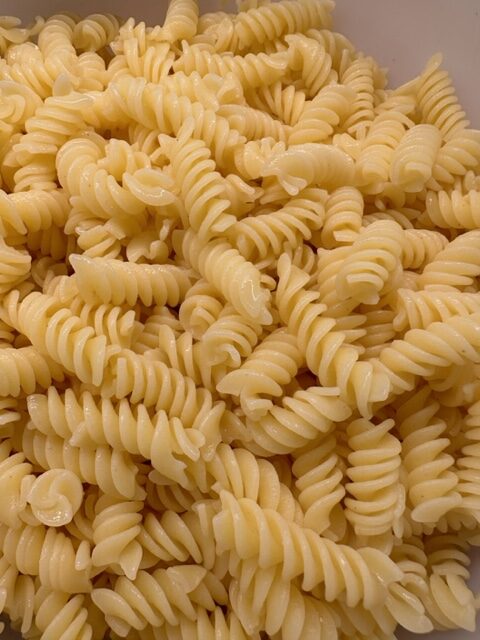 I tried this salad with gluten-free pasta, and it looked fine when served immediately. A day later, however, the GF pasta had broken down and started falling apart. It did not affect the flavor, but the texture and appearance were less attractive. I was much happier with the salad when I used regular pasta.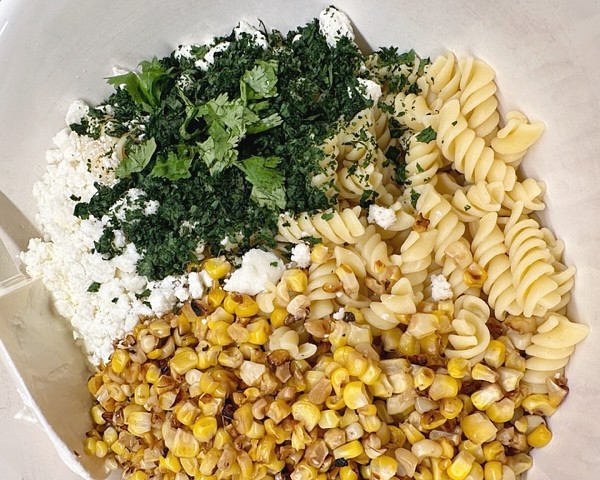 Put the pasta, cilantro, corn, and crumbled cheese in a large bowl. Reserve a little of the corn and cilantro for garnish if you like! I had never used cotija cheese before and loved the flavor! When I made the second batch of Mexican pasta salad, I didn't have enough, so I added crumbled queso fresco cheese to make a full cup.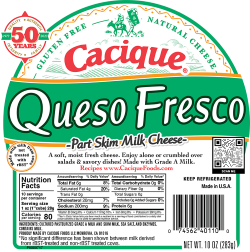 I love it, too! It is moister and softer, but the flavor profile is similar. Queso fresco is not aged like cotija, but it still crumbles easily. I'm hooked on both cheeses and will add them to my cheese inventory!
I did not have quite enough fresh cilantro for the second batch, so I used a product I love, Gourmet Garden Lightly Dried Cilantro. It's a big bunch of lightly dried cilantro packed in a little plastic tub and ready to use. It stays fresh in the fridge for four weeks! Use one tablespoon of Lightly Dried Cilantro to replace two tablespoons of fresh cilantro.
Now mix up the simple dressing ingredients in a small bowl. Use fresh lime juice if you can; if you do, add two teaspoons of lime zest. The other ingredients, sour cream, mayonnaise, olive oil, chili powder, garlic powder, kosher salt and pepper to taste, and a dash of cayenne pepper, are all you need.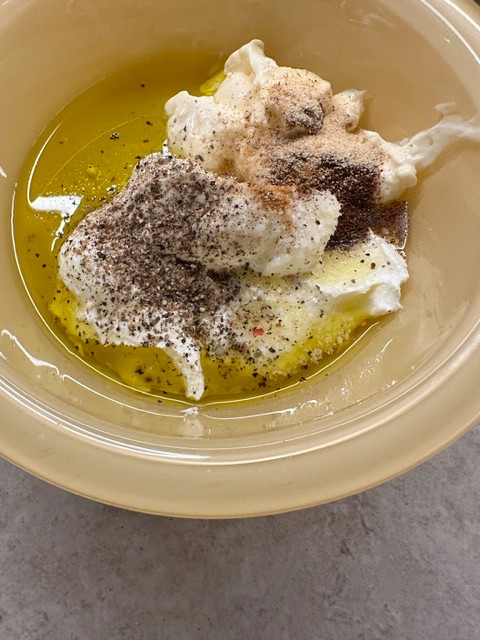 Whisk it all together, pour it over the pasta, corn, cilantro, and cheese, and toss it until all the ingredients are well-coated. Pour it onto a serving platter and garnish with lime wedges, cilantro, corn, and a few cheese crumbles. Or, scoop it right out of the bowl onto the plates of eager family and guests!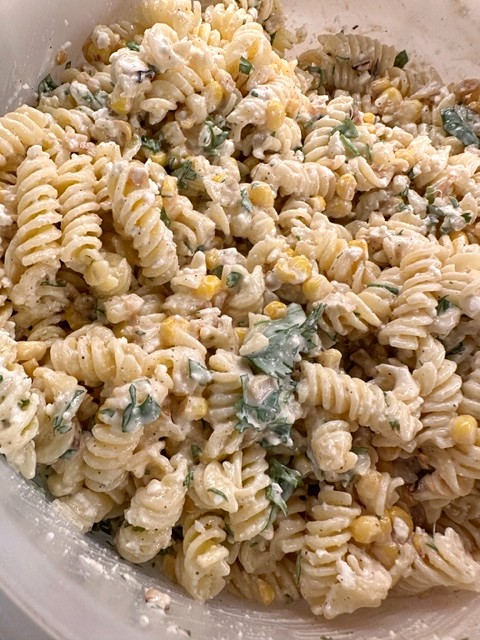 We love Mexican food so much we could eat it every day! Here are some of our most popular recipes for Mexican food! Thirty-Minute Fajita Style Rice With Ground Beef, Easy Mexican Corn Dip, Sheet Pan Nachos, and Best Grilled Chicken Quesadillas. What is your family's favorite Mexican food?
Yield: 8 servings
Mexican Pasta Salad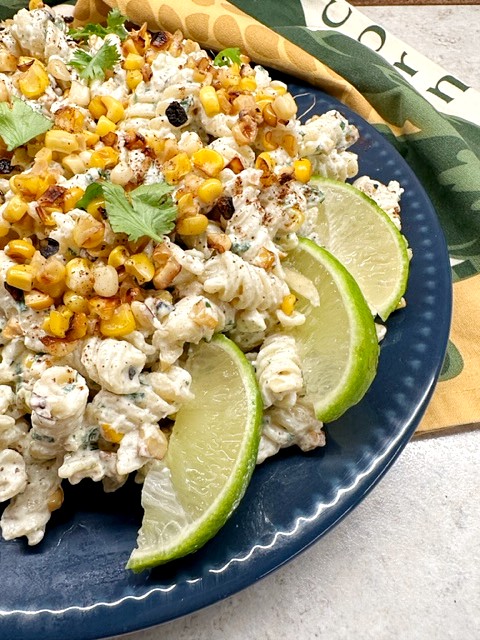 A wonderful and simple pasta salad that captures all the flavors of elote, Mexican street corn.
Ingredients
One pound box or rotini pasta, cooked to al dente according to directions on the package.
Four or five ears of fresh sweet corn with husks and silks removed* About 2 cups of corn or more.
1 cup cotjita cheese or queso fresco, crumbled. reserve some for garnish if desired.
1/3 cup fresh cilantro, chopped, plus extra for garnish
1 cup sour cream
1/2 cup mayonnaise
2 Tbsp olive oil plus a little etra to toss with the cooked pasta
1 tsp chili powder
1/2 tsp garlic powder
Dash of cayenne pepper or to taste
3 Tbsp lime juice, fresh if possible
2 tsp lime zest if using fresh limes
Kosher salt to taste
Fresh ground pepper to taste
Instructions
Boil pasta in salted water to al dente using the directions on the package.
Drain and rinse the pasta with cool water, then toss with a little olive oil to keep it separated, and set aside to cool.
While the pasta is cooking, cut the corn off the cobs, put it in a single layer in a dry skillet over medium heat, and cook without stirring until you hear popping sounds and smell it roasting.
Stir the corn and cook until the degree of char you like it achieved. Set aside to cool. Reserve some for garnish if desired.
Combine the corn, cilantro, cheese, and pasta in a large bowl.
Whisk the sour cream, mayonnaise, spices, olive oil, lime juice, salt, and pepper in a small bowl and pour over the pasta.
Toss until everything is well coated.
Garnish with lime wedges, extra cilantro, reserved corn, and additional cheese if you like.
Refrigerate leftovers.
Notes
*if fresh sweet corn is unavailable, use frozen fire-roasted corn, or put defrosted, uncooked frozen corn in a skillet and char like fresh.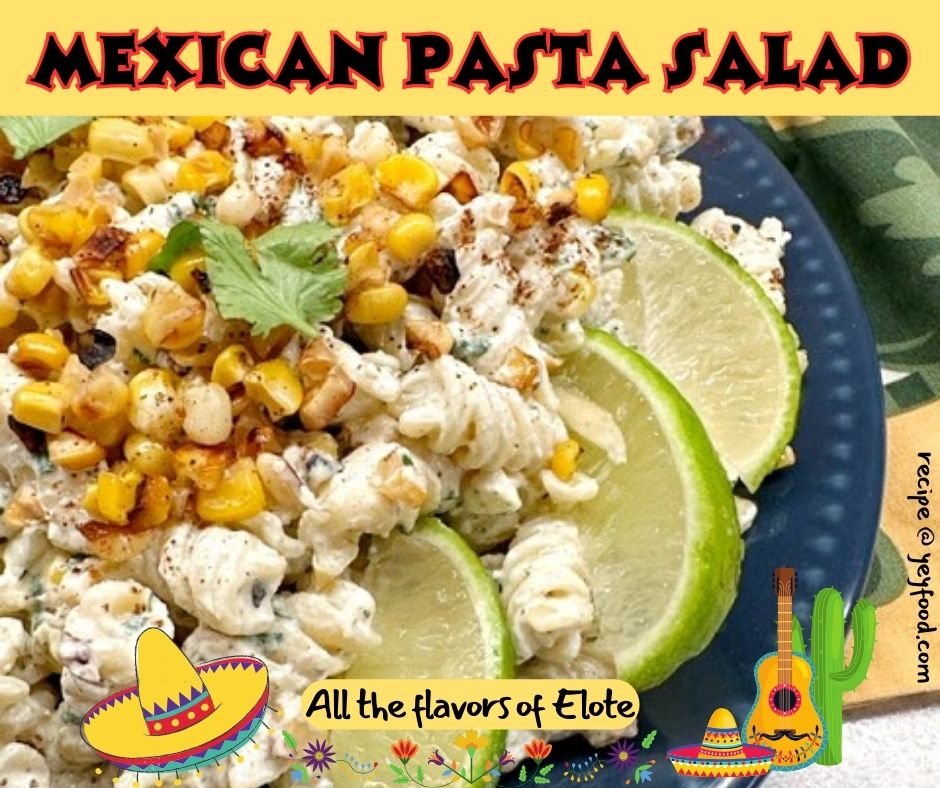 More tasty recipes from us: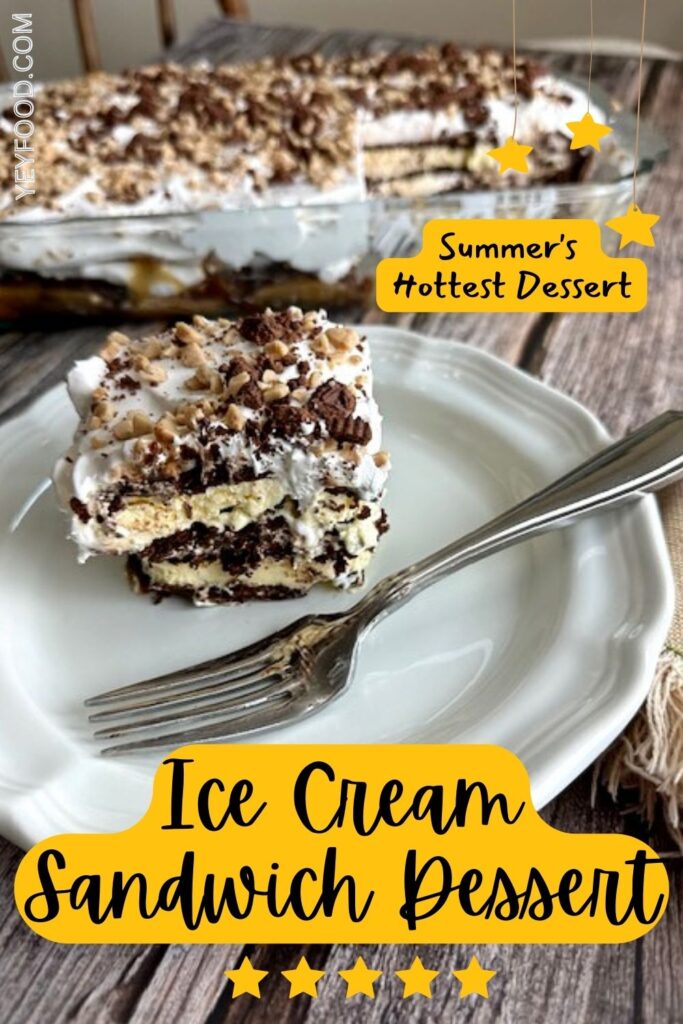 Easy 1 Pan Classic American Goulash
If you like these recipes, you are our people! You can check some related articles below or search via categories on the right. But be warned; you will be on here for hours. Enjoy!