Crispy Crunchy Tender And Oh So Good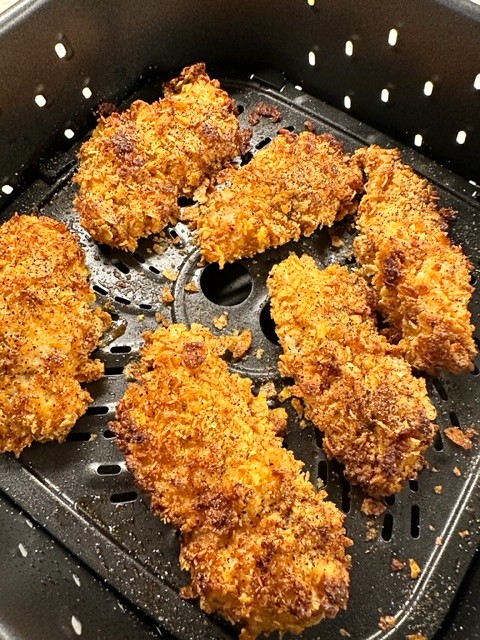 I made cornflake chicken last night. I did! Have I mentioned Papa doesn't really like chicken? He'll eat it, but he says he's just not a chicken guy. I made it anyway. Imagine my surprise when he said, "Wow, this chicken is really good!" I almost fell over my chair.
But seriously, how could anyone not like cornflake chicken? The crispy, crunchy, slightly sweet coating of cornflake crumbs is pretty darn irresistible.
You can make it in an air fryer in about twenty-five minutes – faster if you use some shortcuts! (I'll get to that in a minute!) No heating up the oven. No added fat. How sweet is that?
How To Make Air Fryer Cornflake Chicken
The ingredients are simple as can be! I'm always on the lookout for good buys in the meat department, and when I found boneless, skinless chicken breasts on sale for $2.00 a pound, I loaded up!
I bought a small vacuum sealer on Amazon a while back. It's quite compact and easily fits in the drawer where I keep my food wrap. I felt pretty foxy when I divided the bargain chicken into meal-size portions and tucked them away in the deep freeze. It's sure nice to have on hand!
Now I use my vacuum sealer to freeze vegetables and fruit, too. It helps cut down on waste. You may want to consider buying one to take advantage of sales! The food stays much better in the freezer when securely sealed in heavy plastic bags.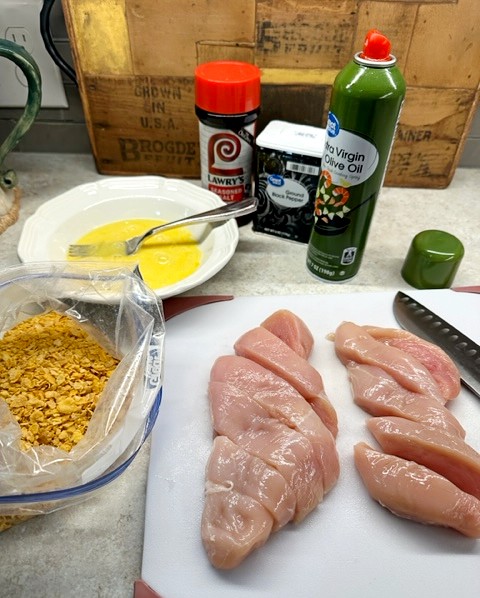 Trim boneless skinless chicken breast and pat dry, then cut it into strips. Kids might enjoy nuggets even more. (Speedy time-saving tip: use chicken breast tenderloins or trimmed ready-cut chicken breast strips.)
Beat an egg in a shallow bowl. Crush cornflakes in a food processor or a zipper bag. Crush them as fine as you want. I left ours pretty shaggy. (Speedy time-saving tip: Buy a box of Kellogg's Cornflake Crumbs! I may never be without them again! Great recipes and a box of crumbs is much less bulky!)
Dip each chicken strip in the beaten egg to coat all surfaces, then into cornflake crumbs. I did this right in the bag of crumbs! Pat the crumbs into place and cover every surface of the chicken generously.
Season with salt and pepper to taste. You can certainly add onion powder or garlic powder if you like. You might enjoy adding some grated Parmesan cheese to the cornflake crumbs! I used black pepper and Lawry's seasoned salt for cooking because we love the flavor!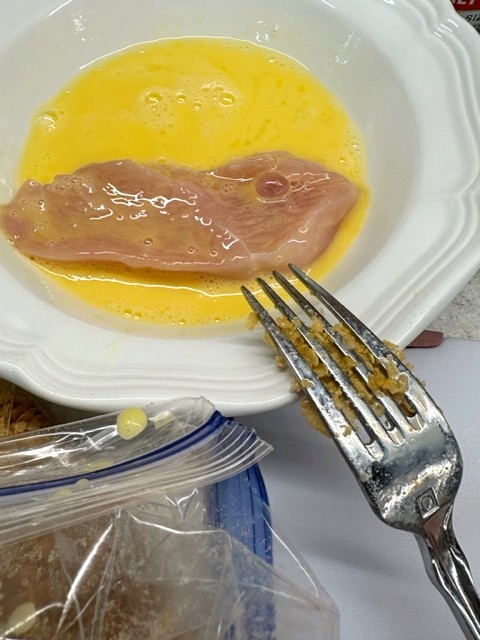 Spray the basket of the air fryer with your favorite non-stick cooking spray. I like olive oil spray for this recipe. Place the cornflake chicken strips in a single layer in the air fryer.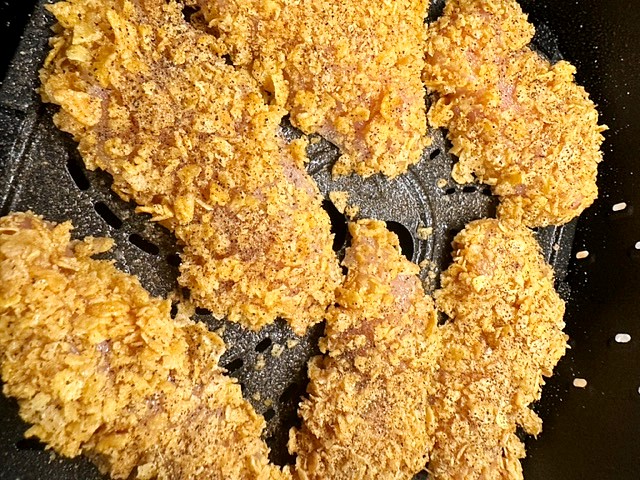 Then spray the chicken strips with olive oil spray and cook them for about 15-18 minutes at 400 degrees. You don't even need to turn them! Watch toward the end of the cooking time to ensure they are not getting too brown. I turned my air fryer to 385 degrees for the last three or four minutes.
If you have an instant-read thermometer, the internal temperature of the chicken should be 165 degrees. Please be sure the chicken is cooked through and the coating is nicely crisp and brown.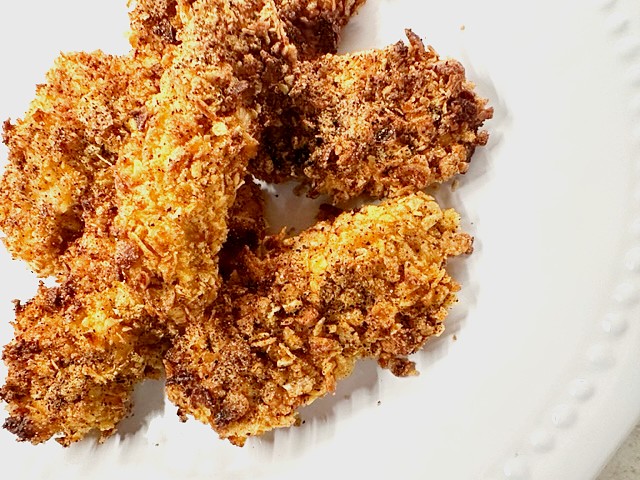 We ate our cornflake chicken strips like kids, dipped in Ranch dressing with buttered, boiled new potatoes and fresh green beans on the side. I'll definitely make it again! (Yay!) I sure hope you try it!
Yield: 3 servings
Air Fryer Cornflake Chicken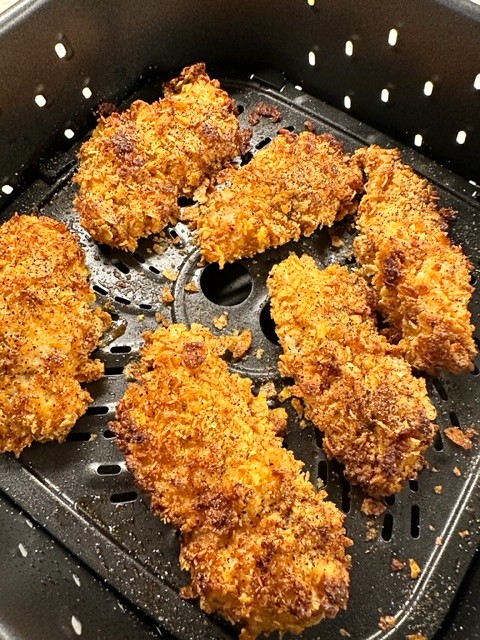 A quick and easy way to make crisp, crunchy chicken strips or nuggets with a tasty coating of cornflake crumbs.
Ingredients
1 1/2 pounds boneless, skinless chicken breast
1 egg, beaten
1 cup of crushed cornflakes
salt and pepper to taste
Olive oil spray
Instructions
Preheat the air fryer to 400 degrees.
Trim chicken and pat dry.
Cut into strips or nuggets as desired.
Beat the egg in a shallow bowl.
Dip chicken into the egg and coat all surfaces thoroughly.
Dip chicken into cornflake crumbs and press crumbs into the chicken.
Season to taste.
Spray the air fryer basket with olive oil spray and place the chicken in a single layer.
Spray chicken with olive oil spray.
Cook for about 18 minutes or until the chicken is crispy brown and cooked throughout. Watch closely toward the end of cooking time to ensure the chicken doesn't get too brown.
If you have an instant-read thermometer, the internal temperature of the chicken should be 165 degrees.
Remove the chicken from the air fryer and serve as desired with the sauce of your choice.
Nutrition Information:
Yield:
3
Serving Size:
1
Amount Per Serving:
Calories:

471
Total Fat:

14g
Saturated Fat:

3g
Trans Fat:

0g
Unsaturated Fat:

9g
Cholesterol:

255mg
Sodium:

358mg
Carbohydrates:

8g
Fiber:

0g
Sugar:

1g
Protein:

73g
Chicken is such a lean, healthy source of protein! Here are some of the ways we at yeyfood love to fix it! Chicken Salad, Peanut Butter Chicken, Chicken Broccoli Lasagna, Grilled Chicken Quesadillas, and Cranberry Chicken. If you're still hungry for more, type "chicken" in the search bar for many more chicken recipes!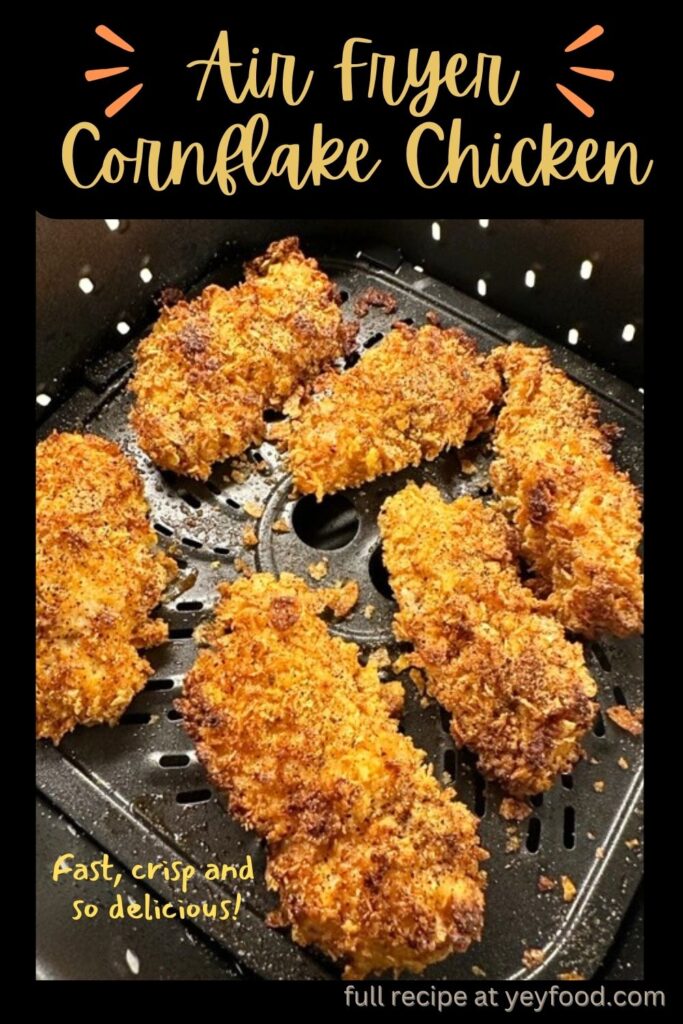 More tasty recipes from us: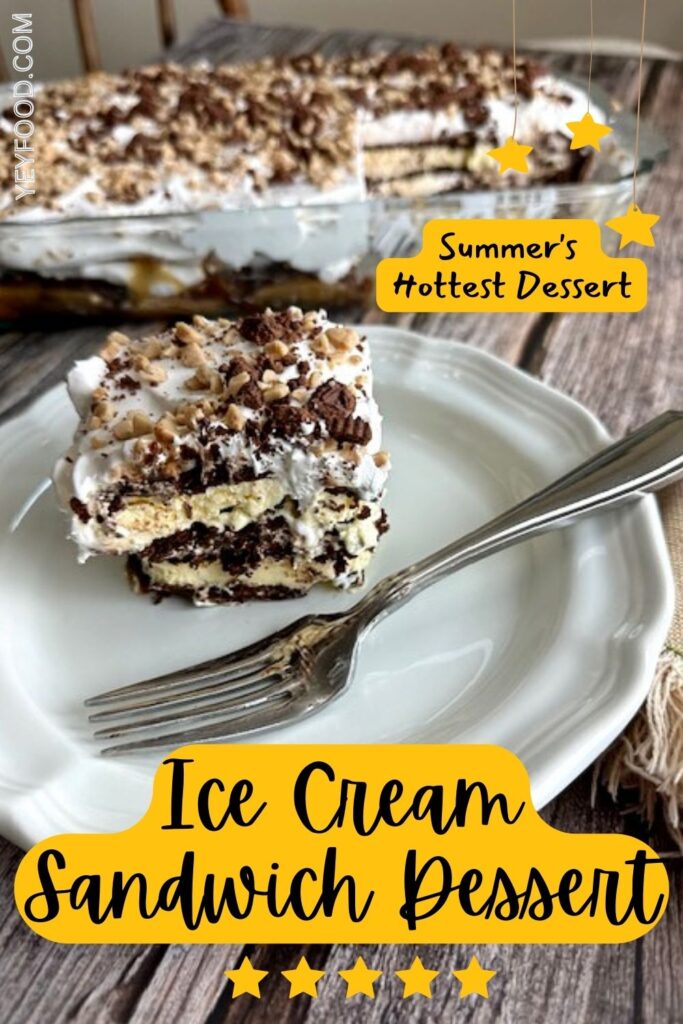 Easy 1 Pan Classic American Goulash
German Sauerkraut Casserole With Bacon And Brown Sugar
If you like these recipes, you are our people! You can check some related articles below or search via categories on the right. But be warned; you will be on here for hours. Enjoy!