A Wonderful Side Dish With Any Meal
My husband's mom made English pea salad quite often. I think she liked making it because it was quick, easy, and filling. She never attempted to hide her dislike of cooking, but she did a good job of getting meals on the table for her farmer husband and two boys.
When I married her oldest son, she told me it was a great relief to be able to quit cooking for him because he had such an enormous appetite. He still does, but I love to cook. Well, almost all the time.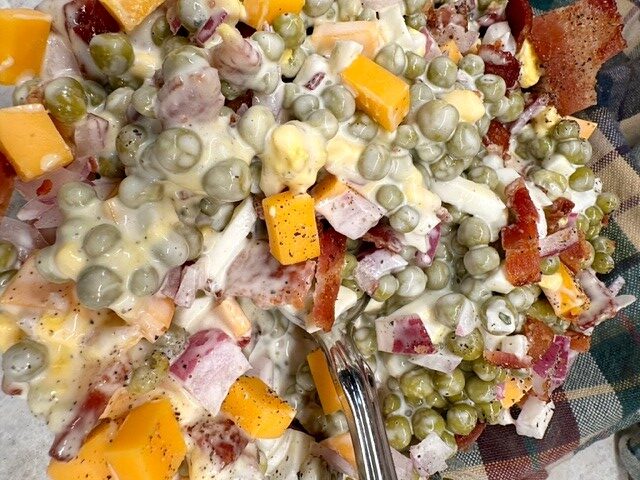 I'm not sure why it's been so long since I made pea salad, but I got hungry for it recently. It's such a yummy combination of colors and flavors, with peas, hard-cooked eggs, sharp cheddar cheese, crisp red onion, and, best of all, bacon. The dressing is simple and tangy, with a hint of sweetness.
Papa prefers LeSeuer, very young small canned sweet peas, to frozen peas, so I used them. You may prefer to use frozen peas because they are brighter in color and sweeter. If you use frozen peas, defrost them; no need to cook them. Either one works just fine; I think his mom always used canned peas.
If you're wondering why these peas are called English peas, it's to differentiate them from peas with edible pods like snow peas and sugar snap peas. English peas, also known as garden peas, green peas, and shell peas, grow on vines. Although considered a vegetable, they are actually a fruit since they contain seeds developed from a flower.
How To Cook Bacon In An Air Fryer
When I decided to make pea salad, I dragged my feet just a little because I didn't want to mess with bacon. It's blistering hot here in Nebraska this week (100 degrees plus!), and I usually do bacon in the oven, but today I didn't want to turn it on.
I've been using my air fryer a lot this summer and decided to try it to make the bacon. What a Eureka moment- it turned out beautifully! I will still do bacon in the oven when I need a lot of bacon for a family gathering, but this method worked great today.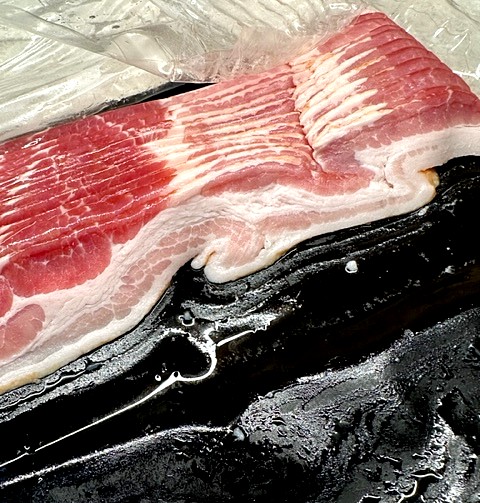 Never skimp on bacon quality! My sister-in-law introduced me to Hormel Black Label Bacon, and I will never go back! It's meaty, delicious, and turns out perfect every time, so I always watch for sales and stock up! It freezes beautifully.
Put bacon in a single layer in the air fryer basket and cook it at 350 degrees for about fifteen minutes. The 350-degree temperature is below the point where the bacon will smoke, and it cooks beautifully. It turns out crispy and perfectly flat without turning!
It's ok for the pieces to touch because they shrink as they cook, but do cook the bacon in a single layer. Since every air fryer is different and other brands of bacon may cook differently, keep an eye on it toward the end of the cooking time to ensure the bacon is not overcooked.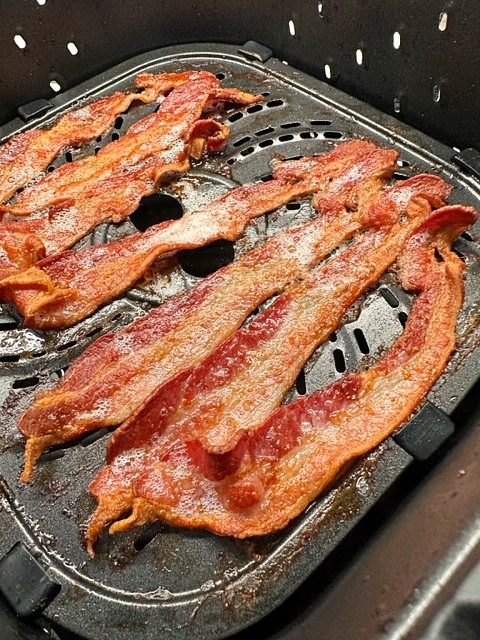 How To Assemble The Pea Salad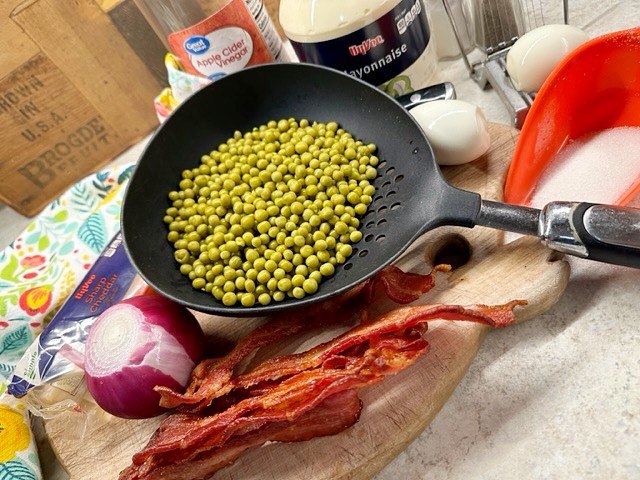 Whisk together the mayonnaise, apple cider vinegar, sugar, salt, and pepper until the ingredients are combined and smooth. Cut the cheese into tiny cubes or shred if you prefer, then add it to the dressing along with the peas, chopped hard-cooked eggs, diced red onion, and crumbled bacon.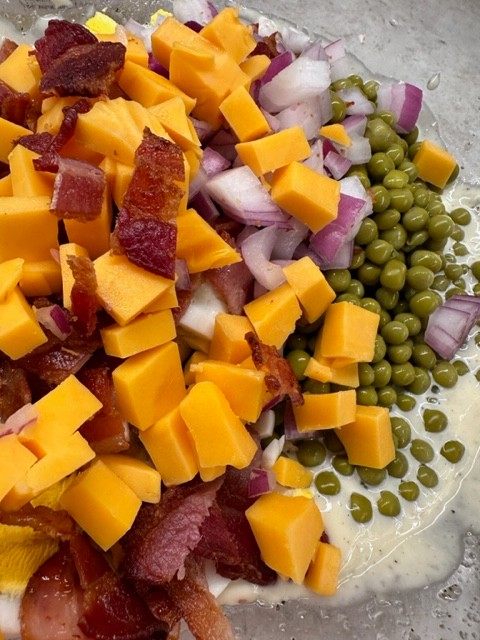 Fold the ingredients together and chill for at least an hour or two to let the ingredients get to know each other and the flavors mingle. Serve this pea salad cold and refrigerate any leftovers.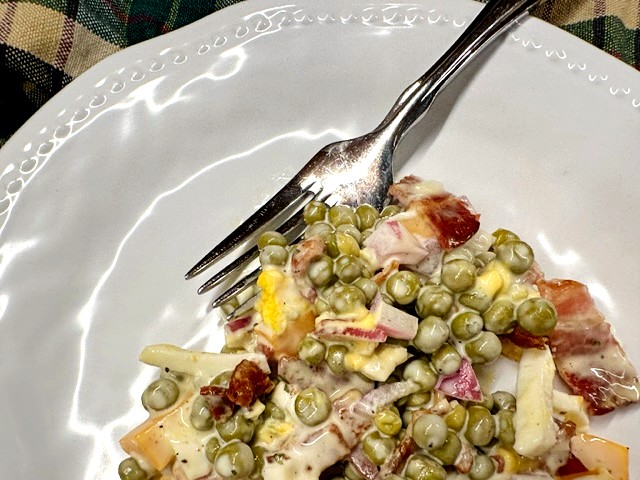 Pea salad is always welcome at potlucks and picnics. Here are some more of our most popular salad recipes. Tomato and Cucumber Salad, Sweet Corn Salad, Colorful Pasta Salad. If you're hungry for more great salad recipes, type "salad" in the search bar for many more good ideas!
Yield: 6 servings
English Pea Salad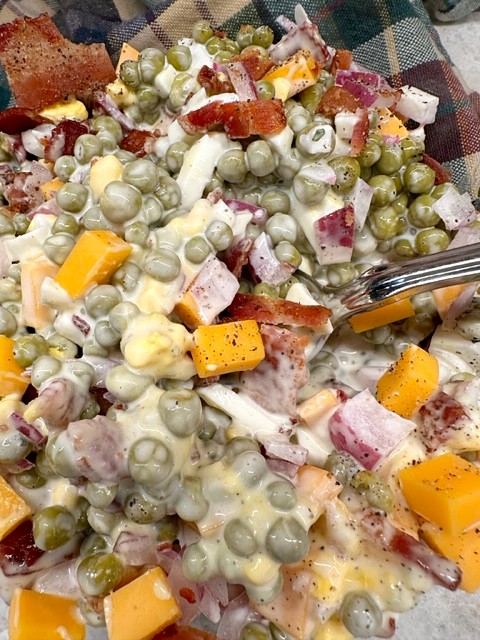 A delightful old recipe that combines peas, red onion, sharp cheddar cheese, hard-cooked eggs, and bacon in a tangy, slightly sweet dressing.
Total Time
1 hour
10 minutes
Ingredients
One 15 ounce can of tiny peas, drained, or two cups of frozen peas, defrosted
2 hard-cooked eggs, chopped
1/3 cup chopped red onion
1/2 cup cubed or shredded sharp cheddar cheese
6 strips of crisp bacon, crumbled or cut into small pieces
3/4 cup mayonnaise
1 Tbsp apple cider vinegar
1 tbsp granulated sugar
Salt and pepper to taste
Instructions
Whisk together mayonnaise, sugar, vinegar, and salt and pepper in a bowl.
Add the rest of the ingredients and fold together.
Chill for at least one hour.
Serve chilled, and refrigerate leftovers.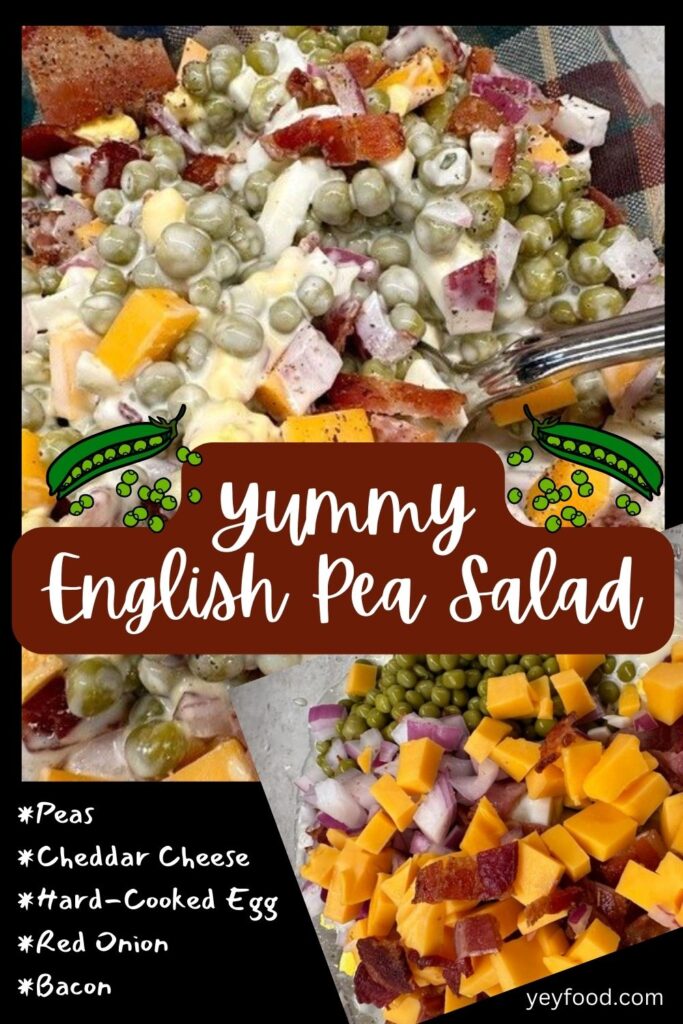 MORE OF OUR TASTY FAMILY-FRIENDLY RECIPES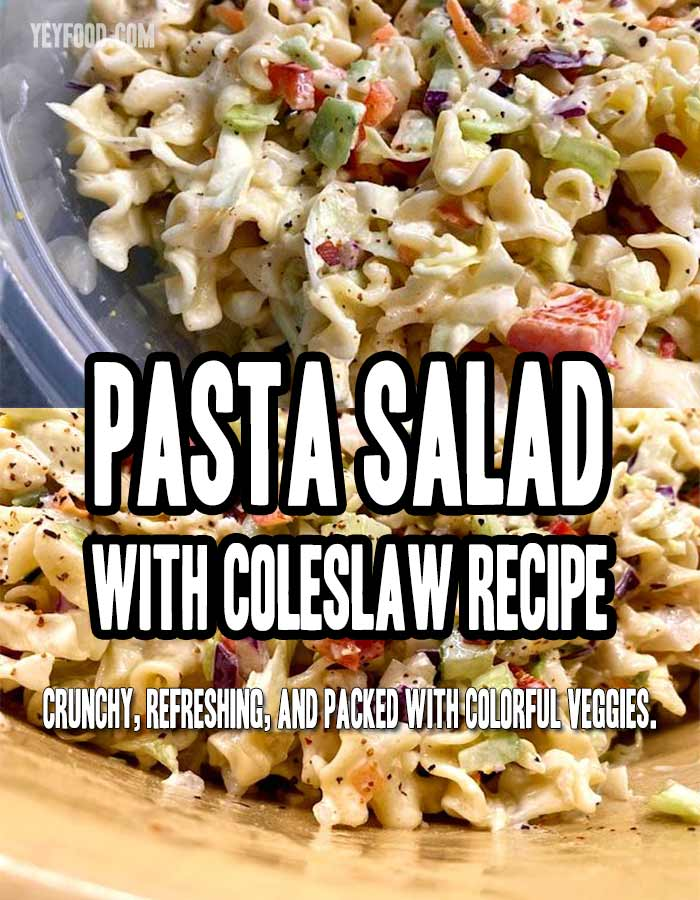 4 Reasons You Should Freeze Some Sweet Corn This Summer
How To Make The White BBQ Sauce That's Fascinated Us Since 1925
German Sauerkraut Casserole With Bacon And Brown Sugar
If you like these recipes, you are our people! You can check some related articles below or search via categories on the right. But be warned; you will be on here for hours. Enjoy!