I Would Never Have Guessed It Could Be This Good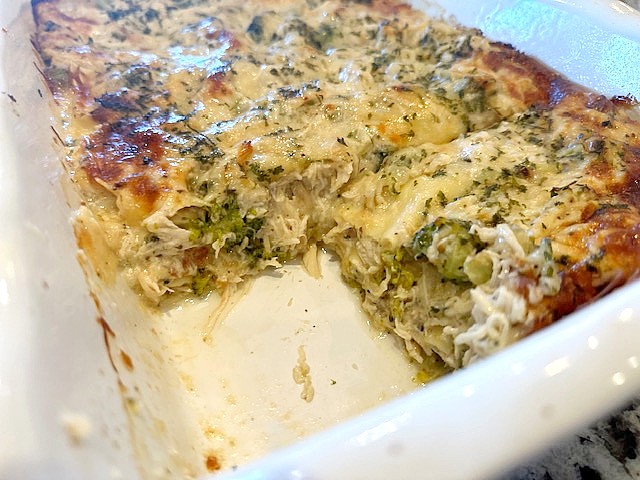 Recently, a friend suggested a recipe. When I read through the ingredients for chicken broccoli lasagna, quite frankly, I was underwhelmed. Compared to a hearty meat lasagna with a fabulous red sauce, I did not think it could compete for deliciousness. Well. I. Was. Wrong!
I cook and write about food daily, but my husband and I can't begin to eat everything I make. I love feeding people, and giving food away makes me very happy! I do it a lot!
When I made this recipe, I intended right from the start to give it away. My daughter suggested a wonderful family that's been undergoing a lot of challenges. Perfect! I was excited to begin!
As I began putting this recipe together, I realized it was amazing! I knew it had something really special going on. I taste as I go along, do you? When I started to assemble the chicken broccoli lasagna and sampled the filling, it was love at first bite!
I knew handing over the whole pan would be like giving away the cutest puppy in the litter! But the minute I saw the big smile on the momma's face, I was overcome with joy! When she shared how much they all enjoyed it, I beamed! And now, I can't wait to make it again when more people are around my table!
Here Is How To Make This Wonderful Chicken Broccoli Lasagna
I am all about cooking from scratch, but I am a fiend about using as few pots and pans as possible. I started this recipe by cooking about two pounds of boneless, skinless chicken breast in my Instant Pot. I used one cup of water, one tablespoon of my beloved Better Than Bouillon Roasted Chicken Base, and seasoned salt and pepper.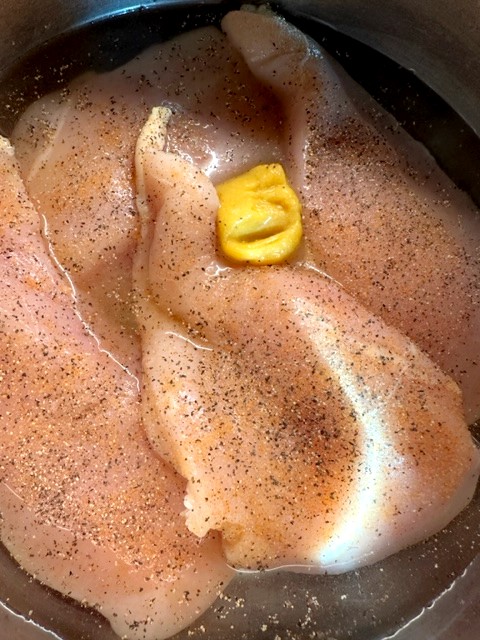 An Instant Pot is a great way to make shredded chicken to use in any recipe, but there are some things you can do to make your chicken as juicy and tender as possible. For two pounds of chicken, use a full cup of chicken broth or bouillon.
Two pounds of chicken only takes about eight to ten minutes of cooking on high pressure, but it will take about ten minutes for the Instant Pot to get up to pressure.
Let the pressure come down naturally for about ten minutes when the timer sounds. Do not touch. This ensures the juices stay inside the meat and helps keep it juicy and tender. Patience pays off!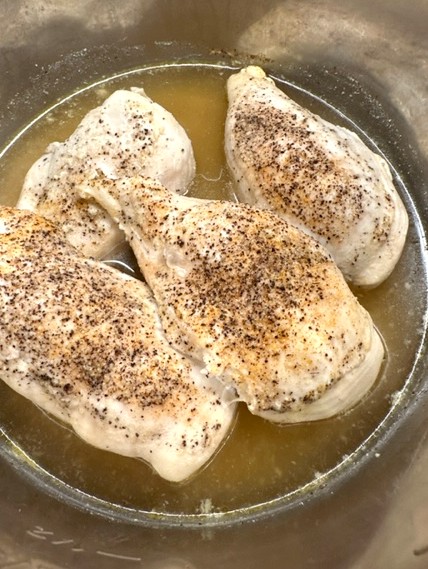 Don't dump that yummy broth! I pulled the inner Pot out of the cooker and used my hand mixer to shred the chicken right in the Instant Pot, and all that broth happily soaked right into the meat, making it moist, tender, and flavorful!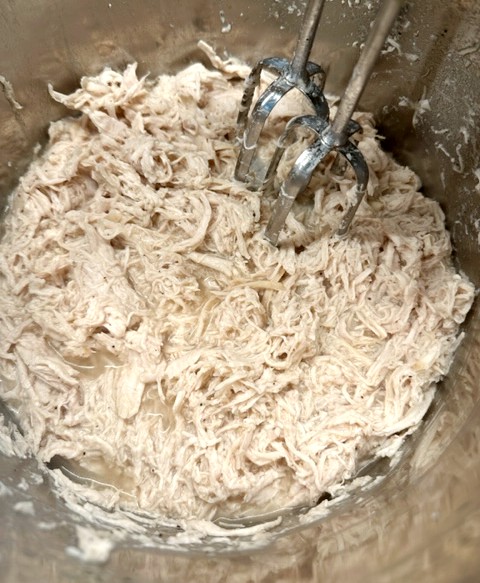 Now that you have shredded your chicken set the Pot aside and move on to the next step. You will combine all the filling ingredients in the same Pot before layering it with the lasagna noodles.
Let's Make The Amazing Sauce For Our Chicken Broccoli Lasagna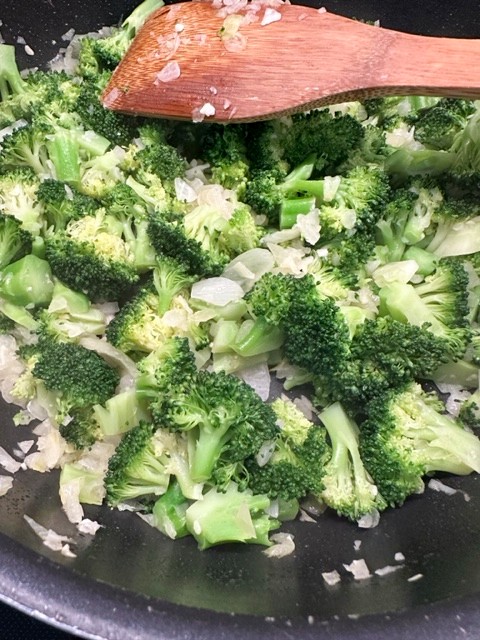 The original recipe called for frozen broccoli, but I only had fresh on hand. I steamed it a bit before adding it to the skillet with olive oil, onion, and garlic.
Sautee the mixture until the onions are translucent, which should take about ten minutes, then add the vegetable mixture to the chicken in the Instant Pot. In the same skillet, melt the butter and combine it with the flour to make a roux.
Gradually stir in the chicken broth until the mixture thickens, then pour the milk in slowly until it thickens again. Stir in the parmesan cheese and the Italian seasoning.
Pour the sauce into the chicken and vegetables and gently stir it until all the ingredients are thoroughly coated with the sauce. You are ready to build your lovely lasagna!
Yield: 12 servings
Chicken Broccoli Lasagna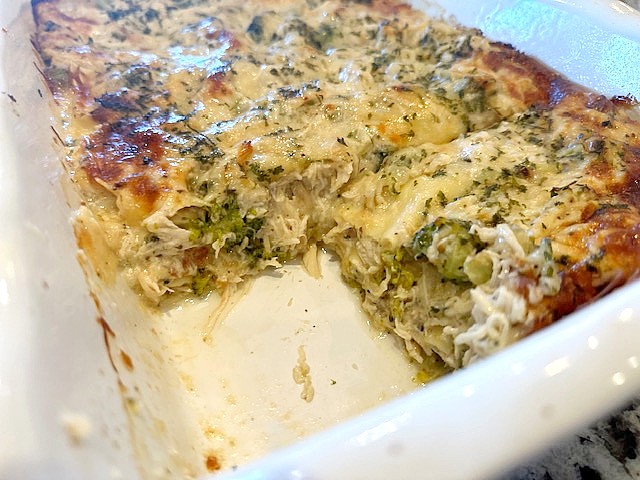 A delicious spin on lasagna with chicken, broccoli, and a delightful sauce! It's a complete meal in itself.
Total Time
1 hour
10 minutes
Ingredients
2 pounds of boneless skinless chicken breast
1 cup water for shredded chicken
1 Tbsp better Than Bouillon Roasted Chicken Base for the shredded chicken
Seasoned salt and pepper to taste
One 9-ounce package no-boil lasagna noodles
2 cups chopped broccoli, fresh or frozen
1 small yellow onion, diced
2 cloves garlic, mashed or equivalent
1 cup grated parmesan cheese
1 Tbsp olive oil
1 Tbsp Italian seasoning
4 Tbsp butter
4 Tbsp flour
1 cup chicken broth for the sauce
1 1/2 cup whole milk
2 cups shredded mozzarella cheese
Instructions
Place chicken in Instant Pot with 1 cup broth, Better Than Bouillon Roasted Chicken base, salt, and pepper.
Cook on high for 10 minutes, let pressure drop naturally for 10 minutes or more, shred chicken using all the broth in the pot, and set aside.
Preheat the oven to 350 degrees.
Saute broccoli, onion, and garlic in olive oil until the onions are transparent, then add them to the shredded chicken.
In the same skillet, combine flour and butter to make a roux, then gradually add the chicken broth and cook until it's thick.
Add the milk gradually and continue stirring until the mixture thickens again.
Stir in the parmesan cheese and Italian seasoning.
Pour the sauce over the chicken and vegetables and stir until everything is well coated with sauce.
Spray a 13" by 9" casserole dish and layer the lasagna, starting with the uncooked no-boil noodles, then one-third of the chicken mixture, and one-third of the shredded mozzarella cheese.
Repeat the layers, reversing the direction of the noodles in each layer and ending with shredded mozzarella.
Spray aluminum foil with non-stick spray and lay it on top of the casserole dish and crimp the edges closed.
Bake for 30 minutes covered.
Uncover and bake another 10 or fifteen minutes until nicely browned.
Allow lasagna to sit and cool for about 10 minutes before cutting it into serving pieces.
Notes
You can make the shredded chicken any way you like or use rotisserie chicken.
Nutrition Information:
Yield:
12
Serving Size:
1
Amount Per Serving:
Calories:

384
Total Fat:

17g
Saturated Fat:

8g
Trans Fat:

0g
Unsaturated Fat:

7g
Cholesterol:

117mg
Sodium:

651mg
Carbohydrates:

16g
Fiber:

2g
Sugar:

3g
Protein:

40g
Let's Layer Our Lovely Chicken Broccoli Lasagna And Get It In The Oven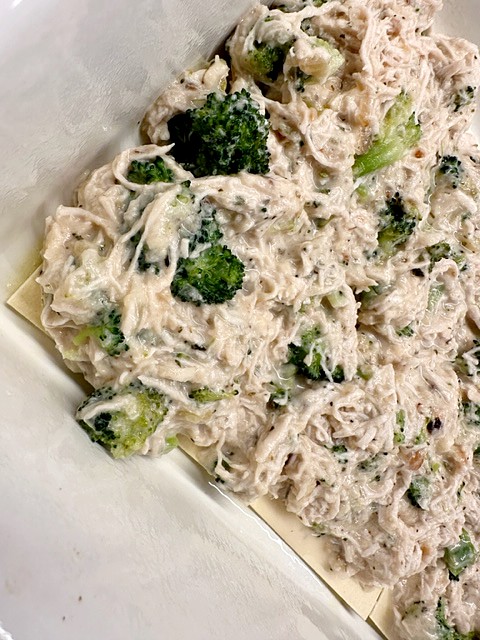 This was my first experience with oven-ready or no-boil lasagna noodles. It all came together really quickly because I didn't have to cook them. Spray a thirteen-by-nine-inch baking dish and start with a layer of noodles.
They will expand as they cook, so don't worry that they don't quite reach the edge of the pan. With each layer, change the direction you lay the lasagna noodles.
Spoon one-third of the chicken mixture on the noodles and spread it as close to the edge as possible. Add one-third of the shredded mozzarella on top, and then repeat the layers ending with shredded mozzarella.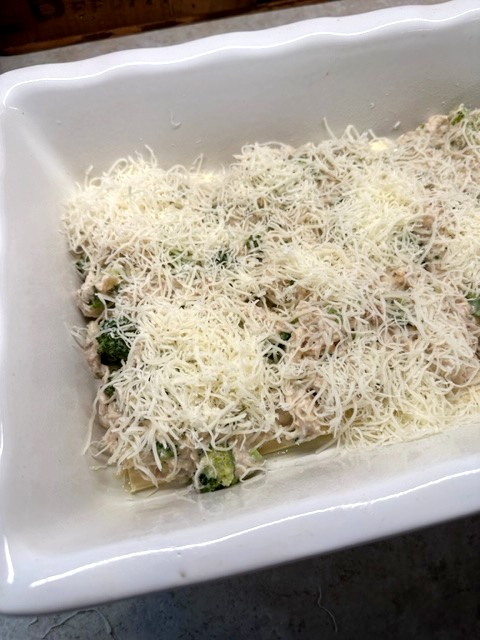 Spray aluminum foil with cooking spray lay it on the pan, and crimp it in place. Bake the lasagna covered for thirty minutes, then uncover and continue baking until the cheese turns a lovely shade of golden brown. This will probably take ten to fifteen minutes.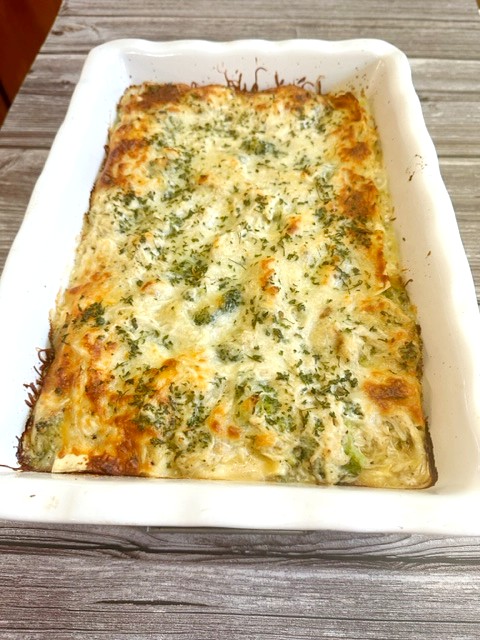 As with all lasagna, it's important to let the pan sit and cool for ten minutes or so to allow it to firm up a little. This will ensure that you get lovely servings of chicken broccoli lasagna that will stand up nicely.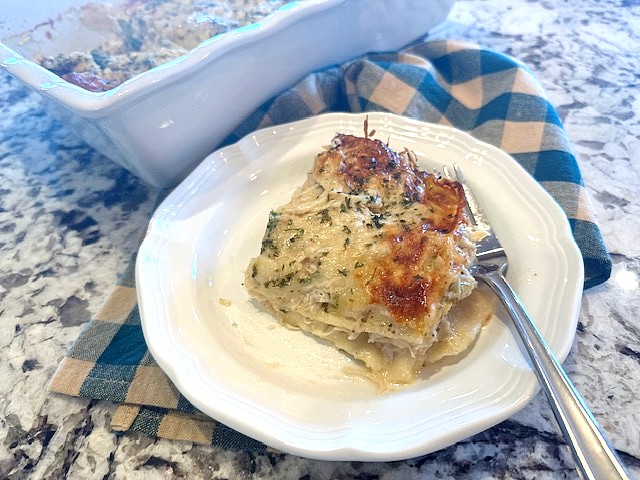 This chicken broccoli lasagna is a meal in itself! All you need to add to make it a feast is a tossed salad and maybe some toasted garlic bread! We love one-dish meals! Here are some of our favorites! Hamburger Pie, Turkey Tetrazzini, Shepherds Pie, Tuna Casserole.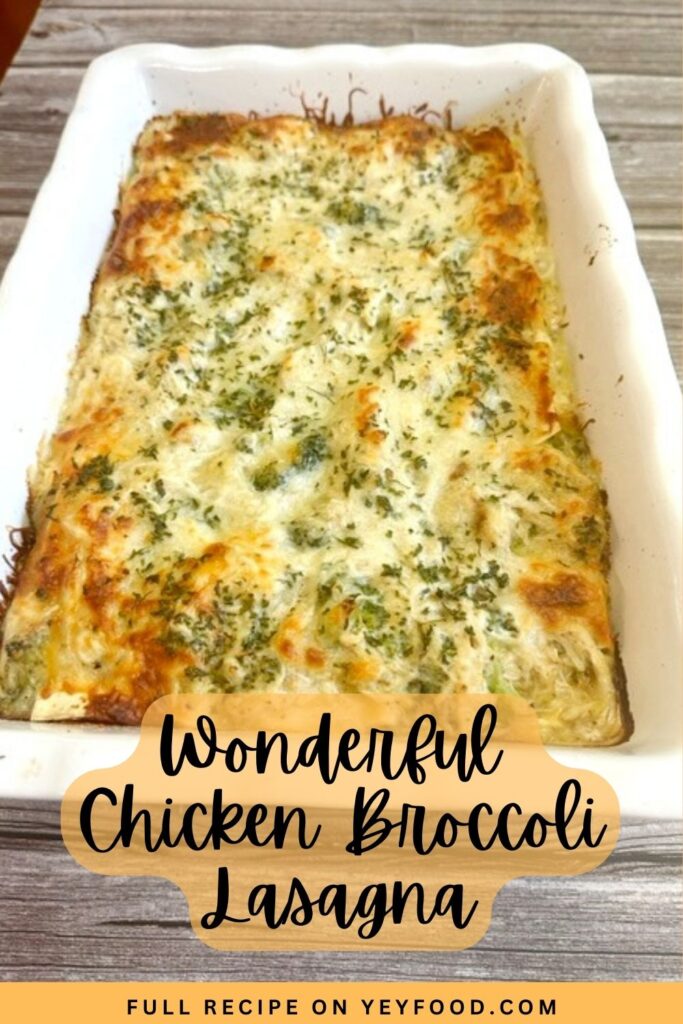 MORE OF OUR QUICK AND EASY FAMILY-STYLE RECIPES: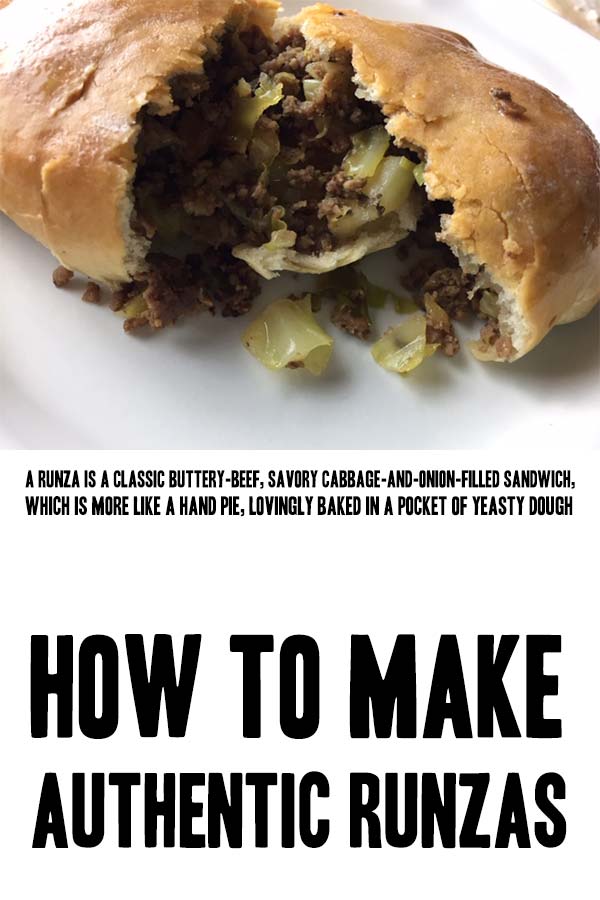 The Ultimate Bread and Butter Pickle Recipe
The Number 1 Practically Perfect Poppy Seed Bread
How To Make Authentic Runzas Right In Your Very Own Kitchen
If you like these recipes, you are our people! You can check some related articles below or search via categories on the right. But be warned; you will be on here for hours. Enjoy!