Fancied Up Lemon Cake Recipe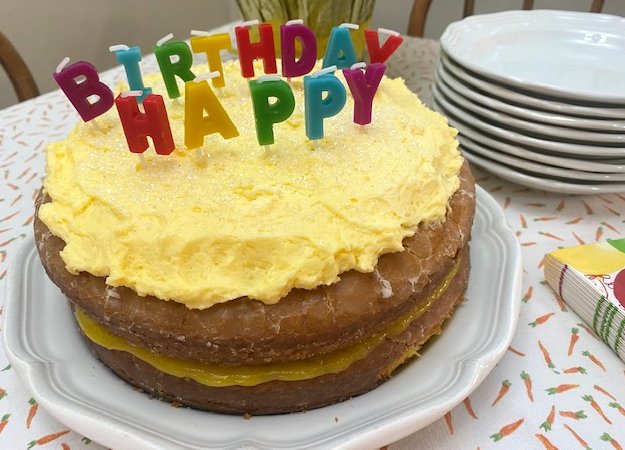 The recipe for this simple lemon cake has been around for at least sixty years, and it starts with a cake mix. Don't be fooled by the simplicity, though; it has stood the test of time, and it's absolutely delicious. It's a family favorite, and I decided to dress it up for a birthday party!
Our youngest granddaughter does not love chocolate as so many others in the family do, so I wanted to make something fun and special for her! The whole family does agree on this simple lemon cake recipe, but a birthday celebration calls for something more!
To begin, I baked the simple lemon cake in two nine-inch round pans instead of the usual nine-by-thirteen-inch oblong. While the cake was still hot, I poked both layers full of holes with a fork and poured the "magic" mixture of lemon juice, powdered sugar, and oil over it. This step has always been the secret to the amazing slightly crispy crust and the beautiful moist texture of the cake.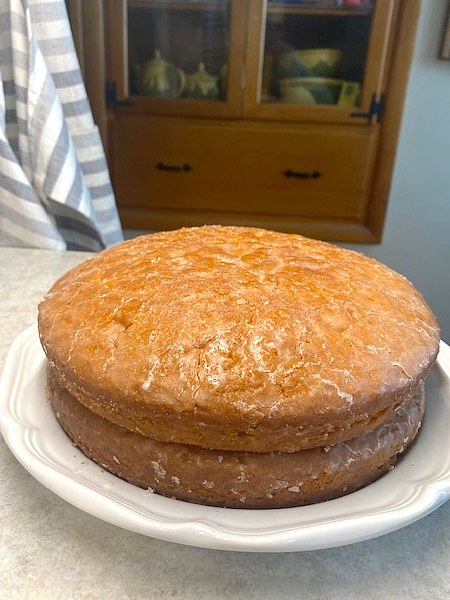 Next, I made up a batch of homemade lemon curd from my simple old stand-by recipe. It's so yummy! It took about half of the finished mixture to make a gorgeous filling between the two layers. I was left with enough lemon curd to fill some cream puffs, but I would have been delighted to sit down and eat the leftovers with a spoon!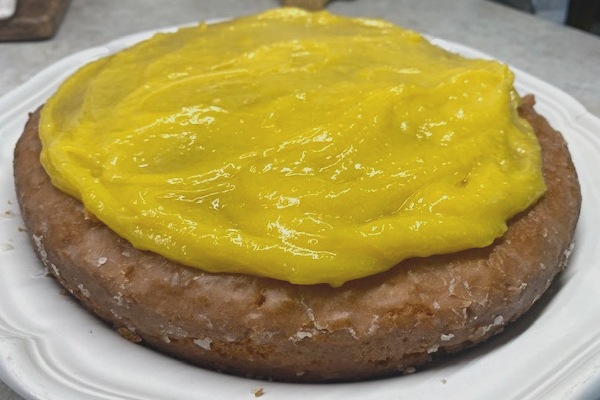 Sparkle Up A Simple Lemon Cake With A Crown Of Luscious Buttercream
Finally, I whipped up a batch of the creamiest, most wonderful lemon buttercream and frosted just the top of the cake. If you want to get fancier, this buttercream would look gorgeous piped-on instead of spreading it on with a spatula the way I did! I wanted to feature the pretty crispy edges of the cake and not overdo the whole thing. The final step was a sprinkle of coarse decorative sugar which gave it some sparkle and a bit of crunch.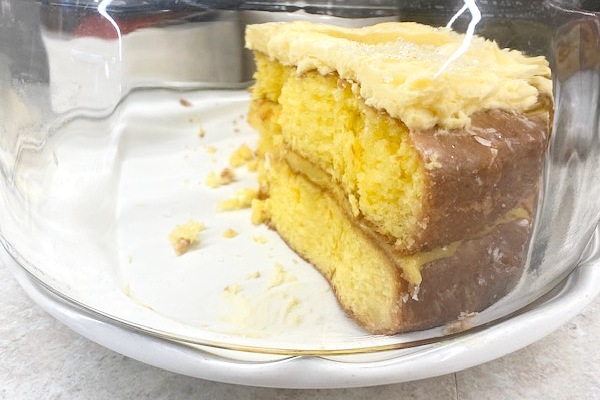 The cake was a hit, and after the guests left, I noticed a lot of "snitch marks" on the cake where some of them had taken just "one more little bite!" 😉 That always makes me smile!
You could also make this recipe into cupcakes and use the icing and lemon curd together for the topping! Beautiful and so very springy!
Yield: 15 servings
Simple Lemon Cake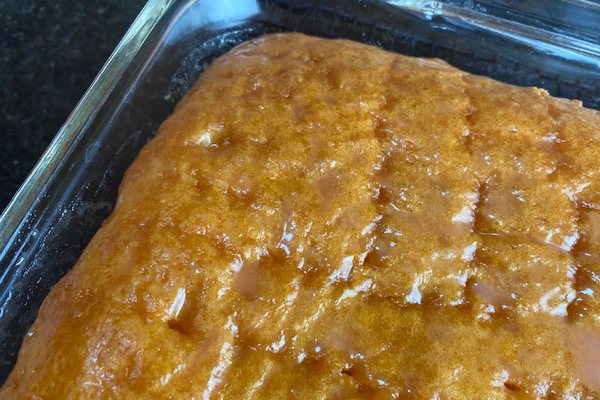 A moist, dense cake with a tart, crunchy, lemony glaze. This recipe has been around since the 1960s!
Ingredients
1 box lemon cake mix without pudding in the mix
4 eggs
1 small box instant lemon pudding
3/4 cup vegetable oil
3/4 cup water
Glaze:
2 cups powdered sugar
1/3 cup lemon juice, you can also use orange juice or lime juice.
2 T. vegetable oil
1/2 tsp. lemon extract (optional)
1/2 tsp. butter flavoring (optional)
Instructions
Combine the cake mix, oil, eggs, pudding mix, and water.
Pour the batter into a sprayed 9" x 13" pan.
Bake for about 25 minutes in a 350-degree oven.
While cake bakes, mix the glaze ingredients.
To test if the cake is done, a cake tester or toothpick should come out clean, the top should spring back when touched lightly, and the cake should pull back slightly from the edges of the pan. Do not underbake.
While the cake is still hot, use a fork to poke holes all over the cake.
Pour the glaze on the hot cake. Use a rubber spatula to coax the icing into holes.
Notes
You can also bake this cake in two 9-inch round baking pans.
Nutrition Information:
Yield:
15
Serving Size:
1
Amount Per Serving:
Calories:

351
Total Fat:

16g
Saturated Fat:

2g
Trans Fat:

0g
Unsaturated Fat:

13g
Cholesterol:

51mg
Sodium:

313mg
Carbohydrates:

49g
Fiber:

1g
Sugar:

32g
Protein:

3g
Yield: 1 pint
5 Ingredient Lemon Curd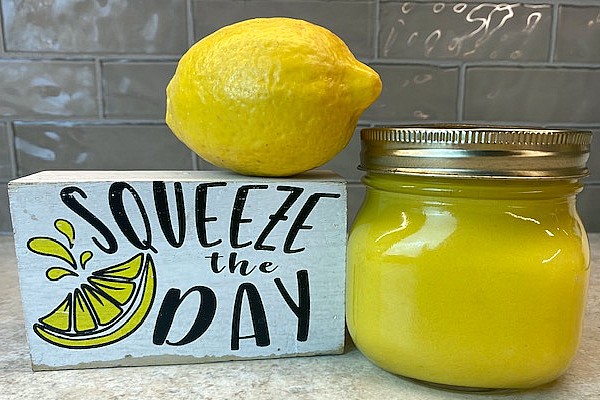 Incredible smooth and silky spread that's tart but sweet and buttery for desserts and more
Ingredients
5 egg yolks
1 cup sugar
3-4 fresh lemons zested and juiced
1/2 cup butter cut into pats
pinch salt
Instructions
Use the fine side of a grater (or a zester if you have one) to remove the zest from lemons. Use only the yellow part. Set zest aside to put in the lemon curd.
Put lemons in a bowl of hot water or microwave whole lemon until warm, then roll on the counter to soften.
Extract the juice with a juicer or squeeze lemon half between your hands. Remove seeds. Measure 1/3 cup of juice.
Whisk egg yolks and sugar together until well blended, then put on a low-medium low stovetop or double boiler.
When the egg/sugar mixture begins to warm, add lemon juice, lemon zest, and a pinch of salt. Mix well.
Cook slowly over low heat, constantly stirring until mixture begins to look translucent and coats the back of the spoon. Do not let it boil.
Once bubbles begin to form as it approaches boiling, remove from heat and stir the butter in a few pats at a time until completely melted.
Pour into a wide-mouth pint jar and put the lid on immediately. If you pour the mixture into a bowl, put plastic film directly on the surface so a film will not form on top.
Refrigerate, covered, for up to 2 weeks.
Nutrition Information:
Yield:
16
Serving Size:
1 tablespoon
Amount Per Serving:
Calories:

122
Total Fat:

7g
Saturated Fat:

4g
Trans Fat:

0g
Unsaturated Fat:

3g
Cholesterol:

73mg
Sodium:

57mg
Carbohydrates:

15g
Fiber:

1g
Sugar:

13g
Protein:

1g
Yield: Frosts one layer of cake
Lemon Buttercream Frosting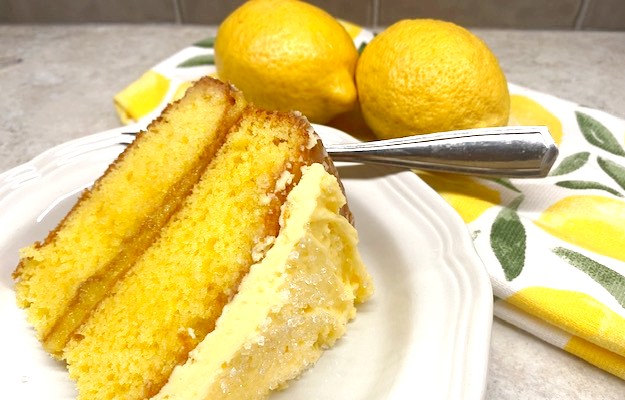 Here is a light, luscious, tangy lemon buttercream frosting recipe.
Ingredients
3/4 cup of butter (one and 1/2 stick) at room temperature
2 cups powdered sugar
1 tsp lemon zest
4 1/2 tsp fresh lemon juice
1 1/2 to 2 Tbsp heavy whipping cream
Instructions
Beat the powdered sugar, lemon juice, lemon zest, and butter. Begin with the mixer at low speed.
Gradually increase the speed until all the ingredients are well combined.
Add whipping cream gradually and continue beating until you achieve the desired light, smooth, and silky spreading consistency.
I hope you can use these three recipes to make many yummy things! All three are easy to make without expensive, fancy, or unpronounceable ingredients! The lemon curd is great in cream puffs, thumbprint cookies, a cake roll, or served on biscuits or scones!
Bake the cake in a regular oblong baking pan any old time and serve it with fresh fruit or ice cream; it's always a crowd-pleaser! The lemon buttercream would be awesome on cupcakes, and the recipe is easy to double if you want to frost an entire two-layer cake!
Do you love lemon desserts? Here are a few more to make you smile; Lemon Meringue Pie, Busy Day Lemon Bars, Lemon Blueberry Muffins, Lemon Blueberry Cheesecake Bars.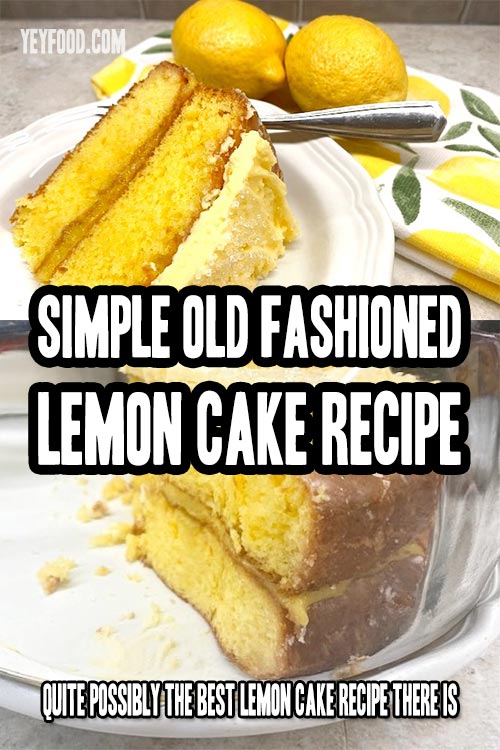 MORE OF OUR QUICK AND EASY FAMILY-STYLE RECIPES: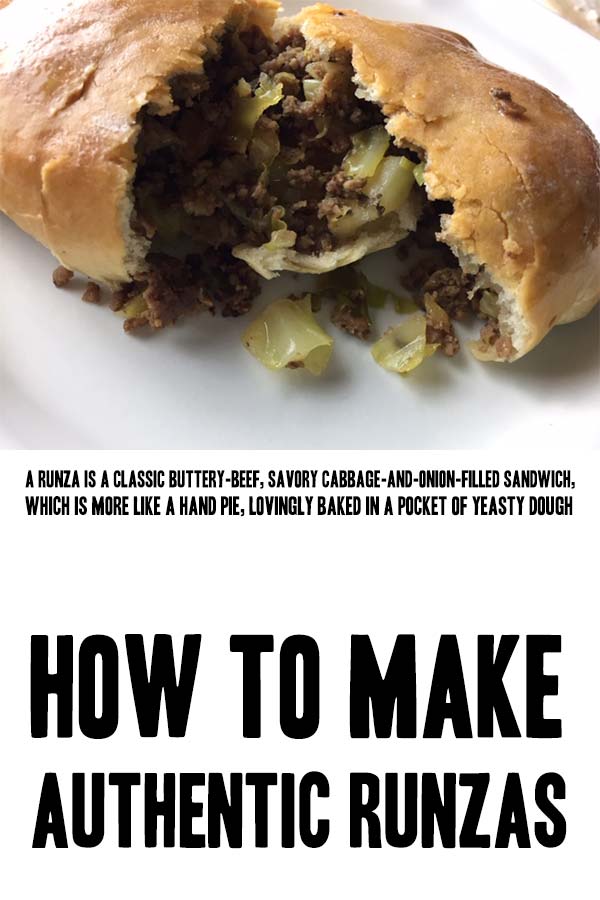 The Ultimate Bread and Butter Pickle Recipe
The Number 1 Practically Perfect Poppy Seed Bread
If you like these recipes, you are our people! You can check some related articles below or search via categories on the right. But be warned; you will be on here for hours. Enjoy!