This Salsa Is Fresh Fast Flavorful And It's Healthy To Boot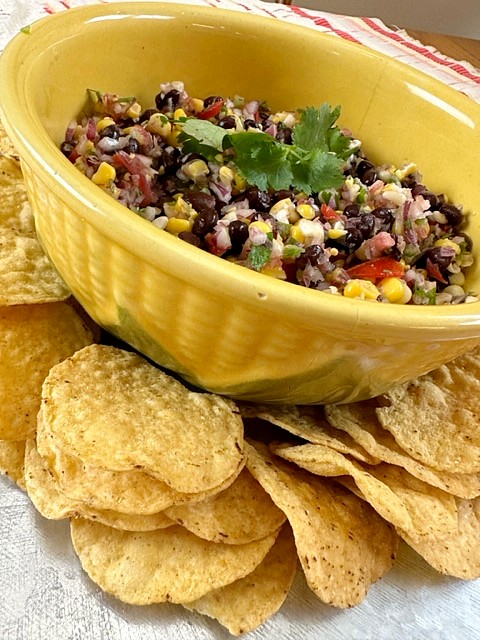 Why make black bean and corn salsa? Because it's beautiful, colorful, and fresh-tasting! This amazing salsa is the rockstar of dips, packed with flavor and pizzazz. It's like a fiesta in your mouth, bursting with a vibrant mix of sweet corn, zesty black beans, and tangy tomatoes. Plus, it's ridiculously easy to make.
What makes it so good? Well, it's got the perfect balance of textures—crunchy corn, creamy beans, and juicy tomatoes. The combination of flavors is like a mariachi band serenading your taste buds—refreshing, satisfying, and addictive.
Black bean and corn salsa is a nutritional powerhouse, so you don't need to feel bad about eating it! Those little black beans are hard-working protein champions, packed with fiber, vitamins, and minerals. The whole thing is vegan and gluten-free!
The corn adds a dose of antioxidants and vitamins, while the tomatoes add lycopene, potassium, and vitamins B and E. The peppers, onion, and cilantro also offer a nutritional boost. It's a guilt-free indulgence that'll have you salsa-dancing your way to a healthier you.
Here's How Easy It Is To Make Black Bean And Corn Salsa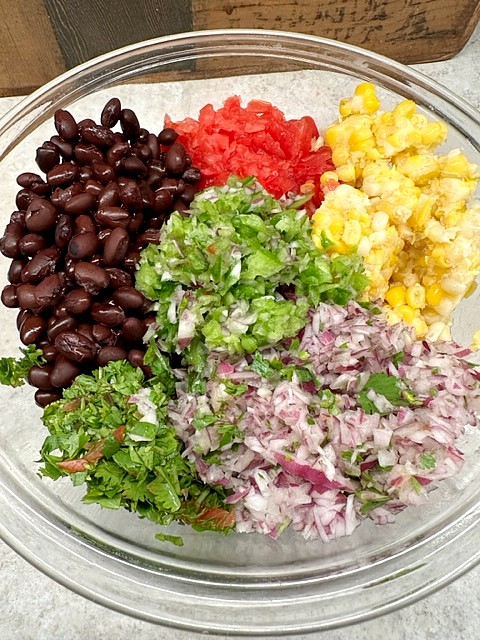 Drain and rinse one 15-ounce can of black beans. Add two cups of whole-kernel corn. You can use canned or frozen corn, but for this batch, I used the very last bag of home-frozen sweet corn I put up last summer. You can use tomatoes or not, but if you do, choose a meaty tomato like a Roma, remove the seeds, and chop them fine.
To ensure every chip has a little bit of everything on it, chop all the vegetables pretty fine. Seed and chop the green (or red, or yellow, or orange!) bell peppers and do the same with the onion. I used red onion for more color and a sweeter taste.
Seed and chop the jalapenos, and be sure to wash your hands thoroughly after handling them, and whatever you do, DO NOT TOUCH YOUR EYES when you are working with them until after you have washed your hands!
Did you know some people think cilantro tastes like soap? I'm one of them, and research suggests it's genetic. My kids would call it a flawed mutation, but If you are not a fan of cilantro, you can use flat Italian parsley instead.
This black bean and corn salsa was created to make you smile and be happy, so feel free to add avocado, chopped celery, carrots, jicama, or any other veggie you love.
The dressing is a simple mixture of lime juice, olive oil, salt, and cumin powder. You can add a smidge of sugar if you are old school like me. Whisk those ingredients together and pour them over the veggies, then let in all sit and chill for a while so all the flavors can get to know each other before serving it with crisp tortilla chips.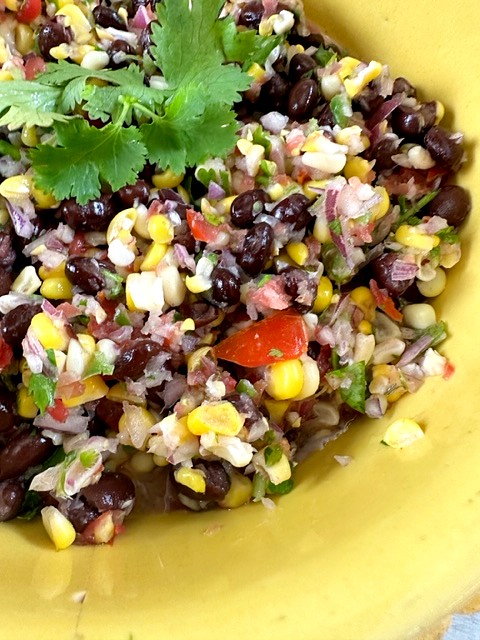 What Else Can I Do With This Beautiful Black Bean And Corn Salsa
But wait, there's more! Besides being the MVP of chip dipping, this salsa is a versatile superstar. Top your tacos or burritos with it, and spoon it over grilled chicken or fish for a fresh and zingy topping.
Mix it with cooked quinoa or couscous for a vibrant grain salad. Use it as a filling for quesadillas and elevate your Mexican feast to a whole new level. It's salsa with a side of endless possibilities!
So, grab your ingredients, get chopping, and let the black bean and corn salsa magic happen. Your taste buds, health, and reputation as a kitchen genius will thank you! Ole!
Yield: 16 servings
Black Bean And Corn Salsa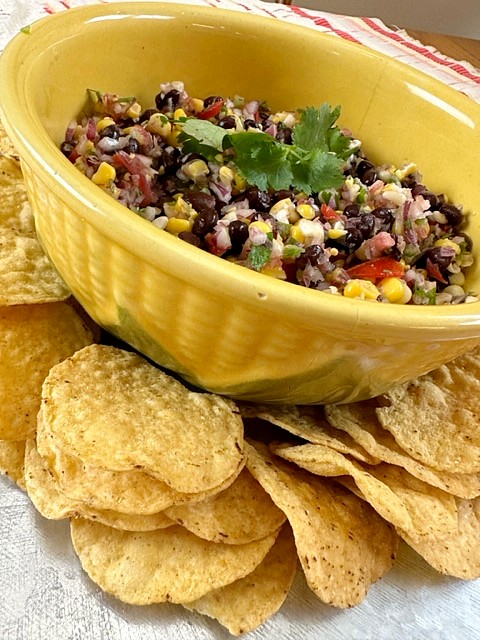 A lively, fresh-tasting salsa you can stir up in ten minutes, Great served with tortilla chips!
Ingredients
One 15-ounce can black beans drained and rinsed
Two cups of canned corn,  drained, or two cups of frozen corn, defosted
½ medium red onion diced
One medium bell pepper, any color you like
⅓ cup chopped cilantro (can substitute flat Italian parsley)
One or two Roma tomatoes, seeded and chopped
One or two fresh jalapenos, seeded and finely chopped, or to taste
¼ cup extra virgin olive oil
1/4 cup lime juice
½ tsp. salt
½ tsp. cumin powder
Instructions
Place all the chopped vegetables into a mixing bowl.
Combine the dressing ingredients and pour over the vegetables.
Give everything a good stir.
Chill for 30 minutes or more.
Serve with crunchy tortilla chips for a tasty dip.
Notes
Spoon this glorious mixture over tacos or burritos over grilled chicken or fish for a fresh and zingy topping. Put it inside a quesadilla, or mix it with cooked quinoa or couscous for a vibrant grain salad. It's salsa with a side of endless possibilities!
There's something about Mexican food that's perfect for eating outside in the summer! Here are some of our favorite recipes for the deck and patio! Easy Mexican Corn Dip, Holy Guacamole, Sheet Pan Nachos.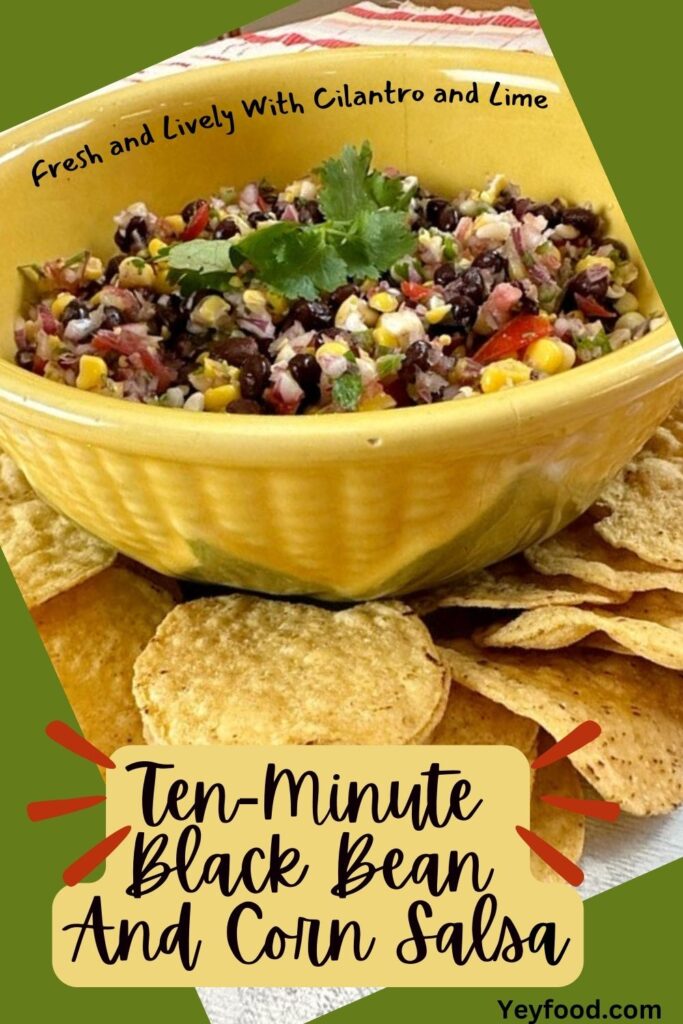 MORE OF OUR QUICK AND EASY FAMILY-STYLE RECIPES: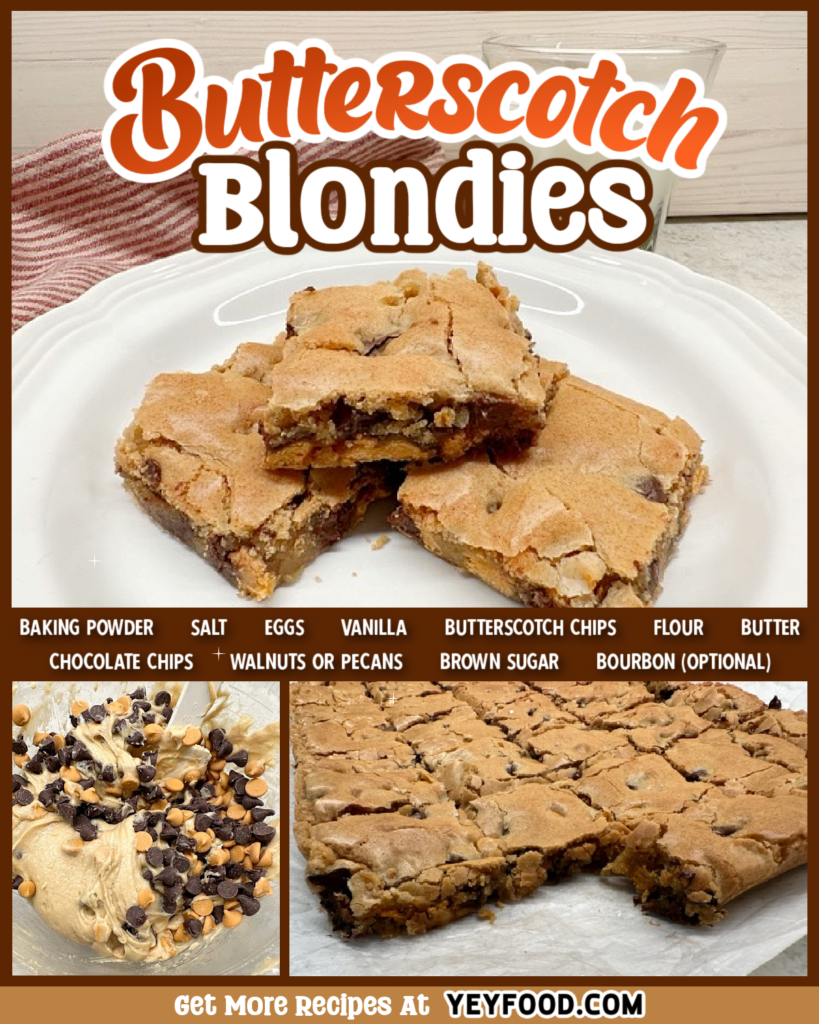 The Ultimate Bread and Butter Pickle Recipe
The Number 1 Practically Perfect Poppy Seed Bread
One Perfectly Amazing Butterscotch Cake
If you like these recipes, you are our people! You can check some related articles below or search via categories on the right. But be warned; you will be on here for hours. Enjoy!