If You Can't Afford Hawaii Take Your Tastebuds To The Tropics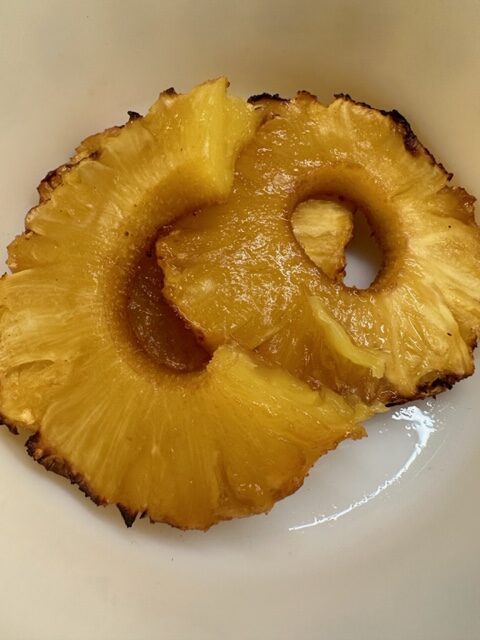 Alright, let's do this! I waited too long, don't you waste another day! Here's how to make air fryer pineapple using fresh pineapple and why you need to try it!
Now, why should you make pineapple in your air fryer? Well, it's a sweet and juicy treat that will satisfy your cravings. But you must try it because it's like a tropical vacation for your taste buds! The combination of caramelized sweetness and tangy acidity is enough to transport you straight to a beach in Hawaii.
So what are you waiting for? Grab some fresh pineapple, fire up that air fryer, and prepare for a flavor explosion that'll leave your taste buds begging for more. Don't blame me when you become addicted and can't stop making it.
Proceed By Picking A Perfect Pineapple
You can air fry pineapple you have cut into chunks, spears, or rings, as I did here. Have you ever wondered how to select a perfect pineapple in the produce department? Here are a few tips to help you fearlessly find the best one.
Look for a pineapple that has a golden yellow color on the skin. Avoid pineapples that are mostly green or brown.
Smell the base of the pineapple. It should have a sweet, tropical aroma.
Gently press the skin of the pineapple. It should be slightly firm but not too soft or mushy. If it's too hard, it may not be ripe yet.
Check the leaves at the top of the pineapple. If they are green and fresh-looking, it's a good sign that the pineapple is ripe. However, the pineapple may be overripe if the leaves are brown or wilted.
I have also learned that a bottom leaf close to the fruit should pull out fairly easily, showing the fruit is beginning to get a bit soft, how we want it!
It's So Easy To Turn Pineapple Into Something Magic
However, it can be daunting if you have never peeled and sliced fresh pineapple into pretty rings.
You'll need a sharp knife and a cutting board to peel and slice fresh pineapple. Here is how you do it, step by step. If you are not a direction reader like me, you can search online for many videos explaining how it is done. Here are the steps:
Cut off the top and bottom of the pineapple: Use a sharp knife to slice off the top and bottom of the pineapple.
Stand the pineapple upright: With the flat bottom of the pineapple facing down, stand it upright on the cutting board.
Slice off the skin: Starting at the top of the pineapple, use your knife to slice downward, following the curve of the fruit and cutting off the skin in strips. Continue slicing until all the skin is removed.
Make sure you cut just deep enough to remove only the tough outer layer of the pineapple. The sweetest fruit is at the outer part of the pineapple, so cut just deep enough to remove the thick skin.
Cut out the tough, woody "eyes." You can use a paring knife, but I use the tip of my potato peeler to remove them, just the way I use it when peeling potatoes.
Lay the pineapple on its side and slice it like you would slice a loaf of bread. When you plan to air fry the slices, cut them in uniform thickness so they cook evenly.
Cut out the tough, fibrous core. A small round cookie cutter or an apple corer works great, but if you don't have one, use a paring knife.
That's it! You should now have a stack of fresh, juicy pineapple slices ready to transform in your air fryer. The size of the pineapple will determine how many portions you get. I got seven slices, each about 3/4 inch thick, from an average-size pineapple.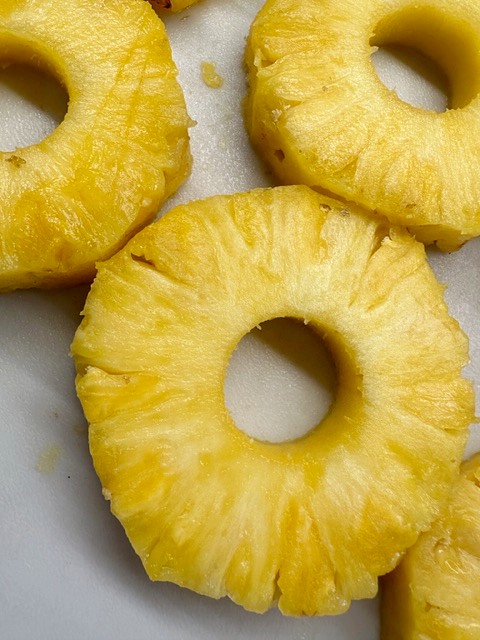 Here's How The Air Fryer Pineapple Magic Begins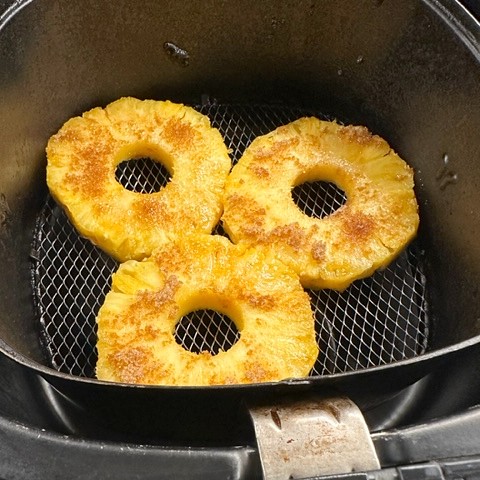 Preheat your air fryer to 400 degrees. I sprinkled a small amount of brown sugar on the slices to speed up and enhance the caramelization of the pineapple slices, but it is certainly optional.
I love my Philips brand air fryer. It's the perfect size for the two of us, but it isn't very big. Put the pineapple slices into the air fryer basket in a single layer, making sure they are not too crowded.
Air fryer pineapple turns out so beautiful, with charred, golden edges just like on a grill! Air fry the slices for about eight to ten minutes, flipping halfway through. If you want a deeper brown edge, add time but watch carefully toward the end.
Serve the slices immediately in any way you choose. I have had great luck refrigerating and reheating the air fryer pineapple slices in the microwave.
OK Now What Do I Do With This Air Fryer Pineapple
Air fryer pineapple is so versatile! Here's a list of things to eat with it! Don't wait! Try this soon, and don't be surprised if you make it again and again! It is so craveable!
Serve it with vanilla ice cream: the perfect balance of hot and cold, sweet and tangy, creamy and crispy.
Can it be a dessert all by itself? You bet your sweet tooth it can! It might just be the best dessert you've ever tasted. It's like a guilt-free indulgence that's so delicious you won't even miss the chocolate. (And Weight Watchers agrees!)
Coconut whipped cream: why not add tropical vibes to the mix?
Grilled shrimp: Combining sweet pineapple and savory shrimp is a huge win!
Pork: it's like a tropical twist on your favorite pork dish. Sweet and savory, all in one bite. Very Aloha!
Chicken: the perfect way to add some zing to your chicken game. Your taste buds will thank you.
Ham: Who doesn't love a little sweetness with their salty ham? Oh yeah, we LOVED this air fryer pineapple on our grilled ham! It was like a match made in "hog heaven."😉
Yield: 6-8 slices
Air Fryer Pineapple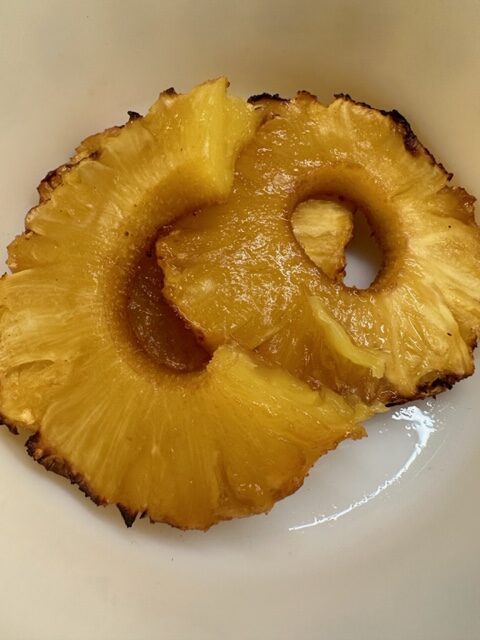 Pineapple rings turn into an extra special treat when you air fry them. They are slightly crispy on the outside with beautifully browned caramelized edges and super juicy on the inside!
Ingredients
One fresh pineapple, peeled, cored, and cut into rings or spears. Pieces cut in uniform size help the pineapple cook evenly.
1 tablespoon brown sugar (optional)
1 teaspoon ground cinnamon (optional)
¼ teaspoon ground nutmeg (optional)
Instructions
Preheat air fryer to 400 degrees.
Sprinkle slices with brown sugar and spices on both sides if desired.
Place pineapple in the air fryer basket in a single layer.
Fry for eight to minutes, flipping halfway through, until desired brown edges are achieved.
So go ahead, get creative! Add some air fryer pineapple to your favorite recipe, and watch as the flavors come alive. Don't be surprised when your family begs you to make it more often!
Our readers love their air fryers and are always looking for new ideas for using them. Here are some of our most popular air fryer recipes. Air Fryer Hot Dogs, Air Fried Pickles With Bacon And Ranch, Air Fryer Desserts With Puff Pastry. What is your favorite thing to do in your air fryer?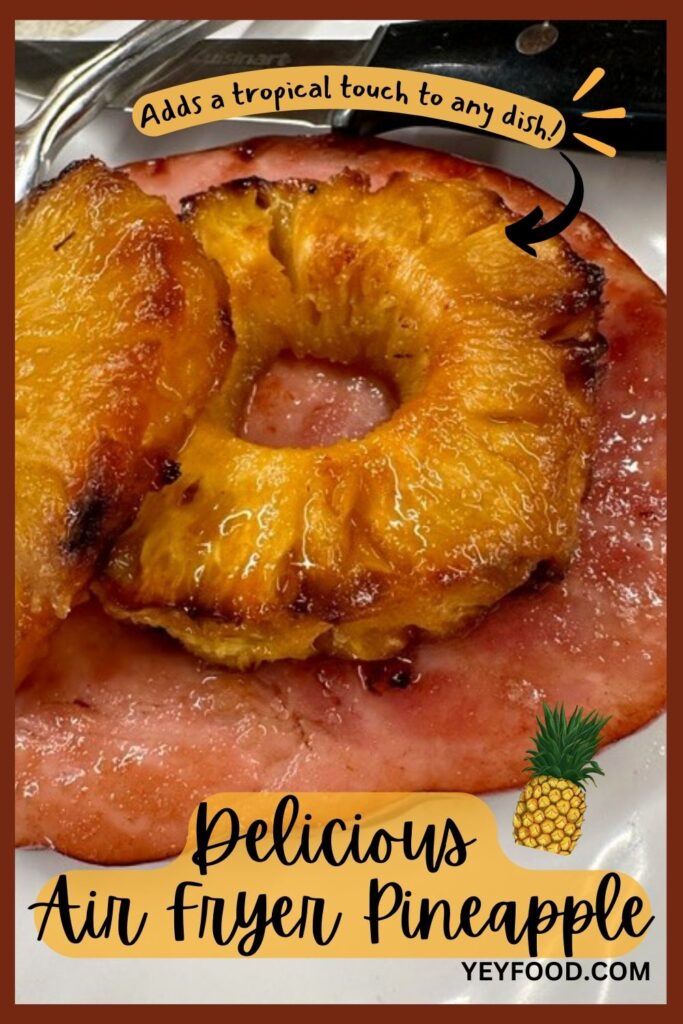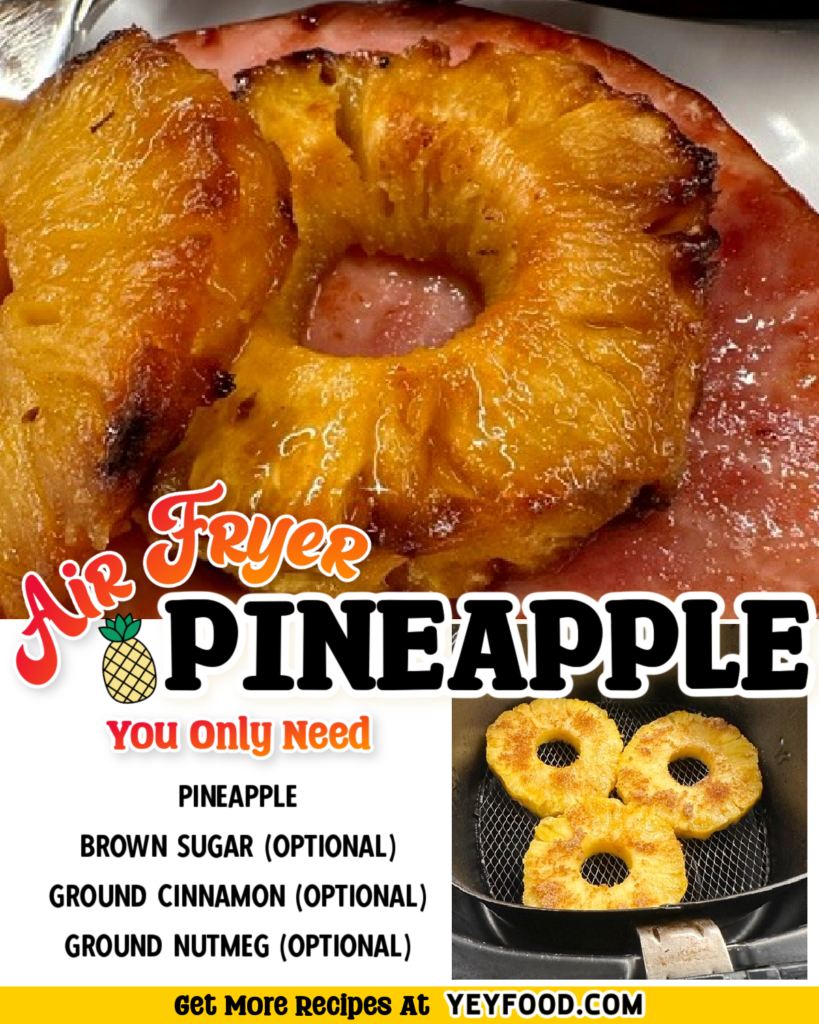 MORE OF OUR TASTY FAMILY-FRIENDLY RECIPES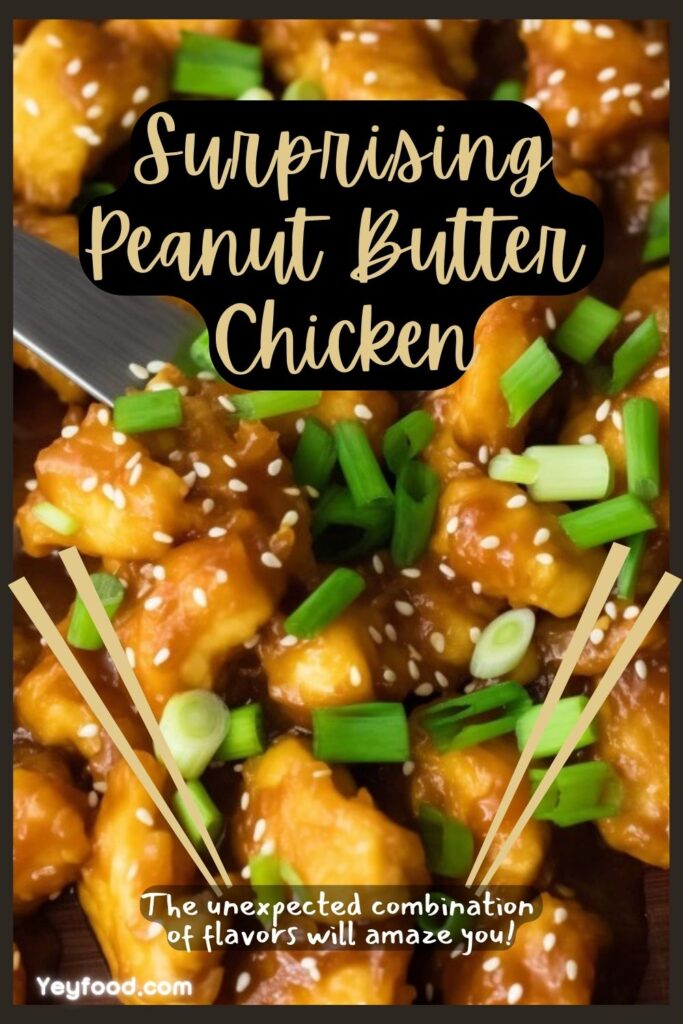 4 Reasons You Should Freeze Some Sweet Corn This Summer
How To Make The White BBQ Sauce That's Fascinated Us Since 1925
German Sauerkraut Casserole With Bacon And Brown Sugar
If you like these recipes, you are our people! You can check some related articles below or search via categories on the right. But be warned; you will be on here for hours. Enjoy!